Why is the dog always so smelly?
Hello, hello, how are you doing?
It feels like aaaaages since I've written a catch-up chat blog post and I've really missed it!  Having said that, I have thoroughly enjoyed the posts of the last month or so – not so small daughter's trip to Japan, the WYS Nutcracker yarn launch and last week's post about embracing my inner toddler – but it'll be nice to show you some other photos today.
Thank you so much for your comments on all my recent posts.  I have replied to lots of them but they don't always appear in chronological order in my system so my apologies if I've not replied to you.  I can read them all as they come in so I don't miss any, but for some reason, WordPress gets a bit shy about letting me reply (I have to remove myself from my own spam filter on a regular basis!) 🙂
But back to today's post and an eternal question in our house – why is the dog always so smelly?  I think my husband was worried that he had some terrible Smelly Dog disease but it's not rocket science …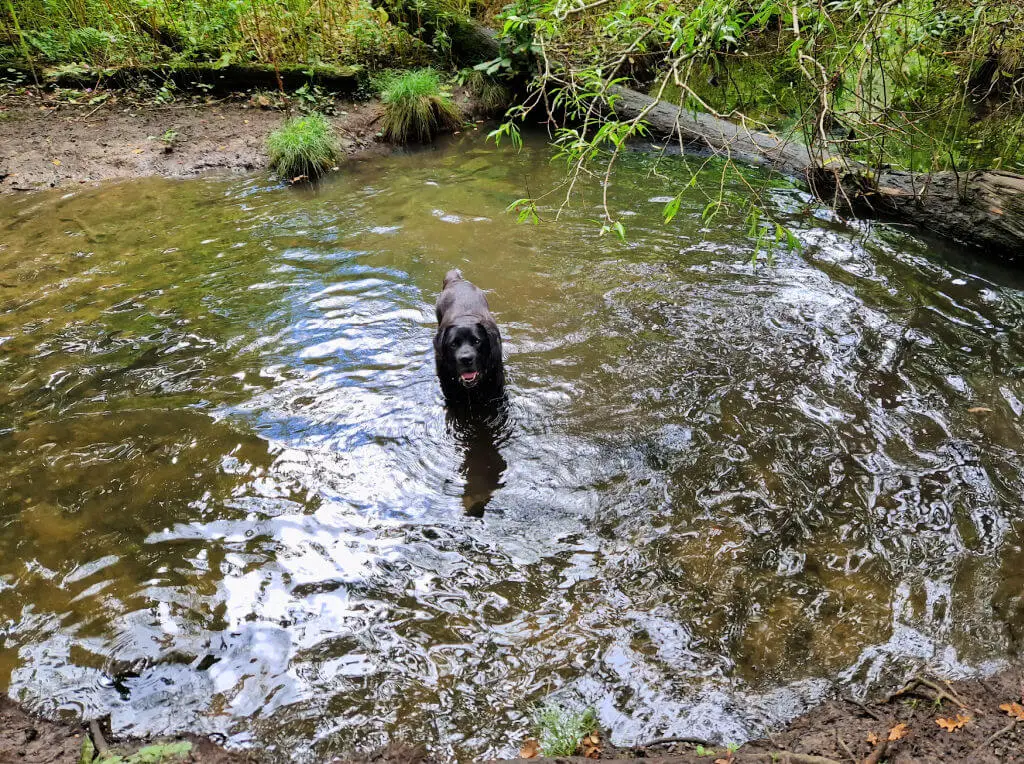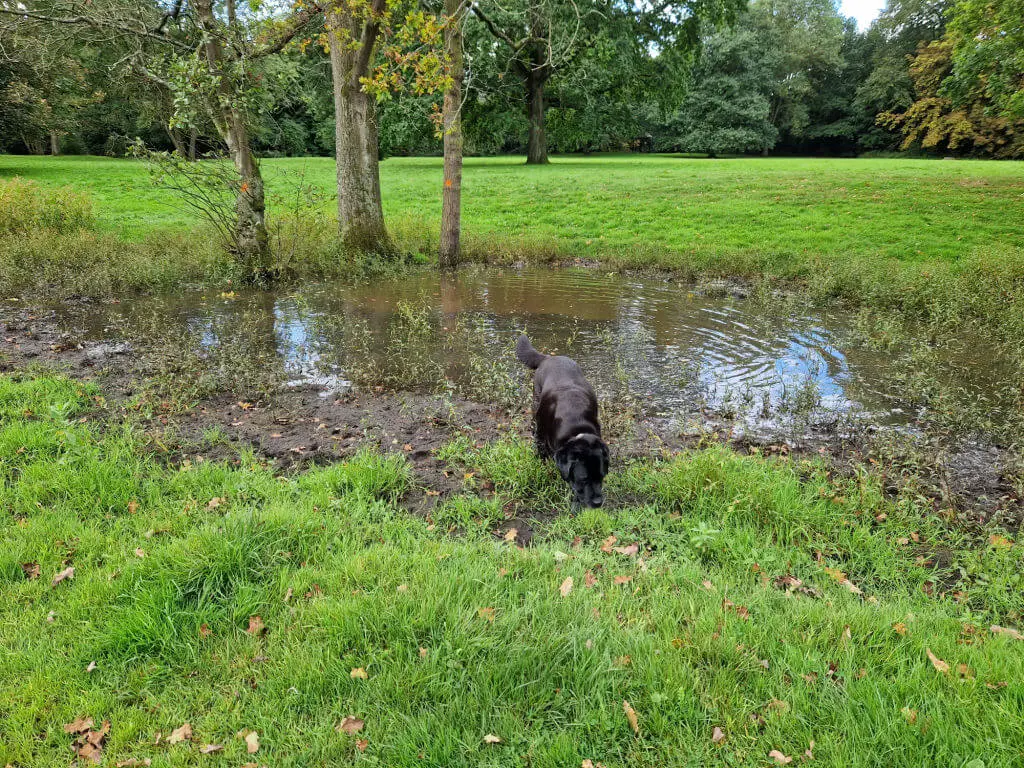 This is every day, every walk.  Every day!  If there's a puddle, no matter how small, he's in there, lying down in it and wallowing like a hippo.  He doesn't like to be out of his depth so he'll only go into water where he can walk around, but there's a surprising number of pools and puddles on the walks that we tend to do – and even when you think there's no water around, you can be sure that he'll find some.
"Can't you give him a bath?" asks my husband.  Every day?  Well, aside from the fact that it wouldn't be good for his coat, I don't have time to wrestle a large and reluctant dog into the shower every day (for a dog that likes to wallow in any available water, he's remarkably reticent about getting into clean water) and then have to clean the bathroom, myself and half the house as he hurtles through to the garden to dry off – which apparently seems to involve rolling in the flower beds which seems to defeat the object of getting clean in the first place!
So no, we have a hosepipe by the back door, old towels on hand and the dog always exudes a gentle whiff of Eau de Puddle.  Of course, I could take him on walks where there are no puddles at all, but he's decided that he doesn't like walking on pavements any more (he's 12 now so I can only presume they hurt his feet in some way) and it makes him happy to be in the water (look at that grin in the second photo!) so it feels mean to take that away from him.  And so it is what it is – we've got a happy dog with his very own "fragrance" and I wouldn't haven't him any other way.  Hooray for scented candles – but if you've got any good ideas, I'd love to hear them! 🙂
And look what the dog and I saw – I had to look twice as I wasn't quite sure what it was that I could see right up the footpath (I've zoomed in a bit on this photo so hopefully you can see more easily) …
It's a swan!  Just standing by the footpath, not too far from the canal where they usually are, but this one looks like it's heading off to the shops for a few supplies!  I think you'd get a bit of a shock if you came round that bend in the path and weren't expecting to see it 🙂
We saw more swans further along – the dog wasn't on his lead as I hadn't expected them to be there so I was a bit worried that he was going to launch in and introduce himself.  The dog is out of shot on the left and I don't think he'd even noticed the swans as he was busy minesweeping for bread left for the ducks, but Mr (or Mrs) Swan had certainly clocked him and there was lots of wing flapping and hissing.  The dog didn't flinch and trotted off in disgust as there were no tasty pickings left for him.
This is the group of swans and cygnets from the other side of the canal.  They're so big now!
In other family news, not so small daughter has gone to a reunion weekend with her Team Japan group and it's amazing to think that it's nearly two months since they set off to the airport to fly to Tokyo.  She is still talking about the trip – in fact, she was back at the Brownie pack where she helps out with photos and stories this week, and I like to think that one day, one of those very little girls will be inspired to travel because of a story she heard from not so small daughter.  There have been some more comments on her posts and she's been very pleased to know that you enjoyed them, thank you!
I've been working in the garden (very much on and off because of weather and other commitments) and my veg-boxes-turned-flower-border is slowly taking shape.  I think that because we're heading towards the end of the season, I'm not feeling any great urgency to get it finished but I do need to get my plants in before the weather turns colder.
This might not look much further than the last time I showed you and I have made some progress since, but it's taken me a while to get the frame sorted and reasonably straight (it looks decidedly wonky in that photo!) – I decided I wanted to keep a frame so that the soil would stay contained and not track all over the paths when we move the bins.  I've also been digging out masses of couch grass and bindweed roots that are still probably going to plague me forever in this border but at least there are a few bucketfuls less of the roots to grow now.  I've got lots of plants in pots ready to go in, and bulbs that I ordered have started to arrive too so I definitely need to get a move on.
I've been stalled by not being able to decide whether I need to order some more topsoil to build the level up – but it will get dropped off by a local farmer by the tonne (1000kg) and that's a lot of barrowing although it's the cheapest way to get the soil by a long way – or whether I might just get away with a few big bags of compost from the DIY superstore down the road.  I really need to get out there this weekend and make a decision one way or another, or it's going to stay like this forever and this is not what I had in mind as a beautiful flower border!
I don't really want to think about it getting closer to autumn although I can't deny that's getting colder in the mornings – and it seems like an excellent time to be wearing new socks!
Ta-dah!
These are the Emergency Socks that I've been carrying around with me for a while, and now they're on my feet!  The pattern is my Basic 4ply Socks and the yarn is Autumn Leaves, one of the West Yorkshire Spinners Signature 4ply Winwick Mum colours, and I feel like I've finished them just in time!
Look what I found whilst I was out in the woods the other day …
As much as I'm resisting it, I think that autumn is on its way!
I've got a new Emergency Sock on the needles now (an Emergency Sock is one that you have in a bag ready to go whenever you think you might have to wait somewhere; easy knitting to keep your hands and mind occupied.  Mine usually lives in the car!) and if you think you've seen this yarn before, you have!
Not so long ago, it was a sock for my husband – he's already got a pair in this yarn that he loves, and I thought I'd get on and make him a second pair from the leftovers, and try out the Fish Lips Kiss heel whilst I was at it.
Unfortunately, it turns out that there wasn't enough yarn for two pairs in his size and I'd saved the rest of the ball for a pair of socks for me – but I didn't remember until I ran out of yarn!  I've been keeping this sort of information written down in a notebook so I don't know why it didn't occur to me to check it before I cast on, but I didn't.  Anyway, it's now becoming a pair of socks for me instead and I'm very pleased about that!
It feels like good timing as September always feels like a new year to me, and a much better time for me to make resolutions than in January when they all go to pot in about three weeks.  This year, I am determined to get to grips with the amount of stuff that's going on – I think realising that I'd not checked my notebook about the socks because I was too busy/couldn't find it fast enough/had completely forgotten about it has made me think that I need a better system for everything that's going on, and writing to-do lists in my planner is not going to cut it any more.
Remembering that the definition of insanity is supposedly doing the same thing over and over and expecting different results, I have avoided spending not so small daughter's first week back at sixth form college writing a huge list of jobs and spending hours with coloured pencils and my planner as I have a lovely time colouring in but don't actually do anything about the list of jobs. Actually, that's not strictly true as I do get on with the list of jobs but because it feels like the list is continually growing faster than I can deal with it, it all gets overwhelming quite quickly.
I thought that this "new year", I'd do something completely different – and I've started with "Emails to Zero".  Oh my life, there are so many emails in my inbox, in folders, in the sent folders, even in trash as I try to keep on top of four email addresses, two jobs, emails for me, emails from college or Rangers for not so small daughter, emails offering me vouchers and discounts … I regularly unsubscribe from email I don't want (and if you need to unsubscribe from mine, it's fine, I'd rather not be causing clutter stress!) and still it comes in.  Or it did.  There are lots of videos on emails to zero, or inbox zero or whatever someone chooses to call it – I'm using the one from the STEP program from Learn Do Become as I wanted more than just a YouTube video – and I've done it!
I think the last time I saw that screen was when I first set up my email!  I can't tell you how good that feels, and it's been surprisingly easy to keep it like that in the couple of days since I did it too (I'm hoping it stays this easy!).
The only thing that I would say if you're tempted to try something like this is NEVER EVER delete the settings between your email client and another web server if it's a POP link and you don't want to see every single email in that particular inbox disappear, never to be seen again (and even if you get an email from your web host telling you that you need to change the settings).  And you can ask me how I know that one – and it was a bit of a shock!  They were my day job emails; thank goodness I had a back up because of some recent server maintenance, and after I'd got over the shock and realised that everything was OK and I didn't need any of the old emails that gone, it was quite liberating – but it's absolutely not the way that I would recommend getting to email zero! 🙂
Of course, just clearing out the inbox isn't going to magically sort out the to-do list and I'm going to be moving onto those next, but it's exciting to feel that I'm doing something that is a bit different and may just help – and I'm excited about the possibilities of the "new year" too – I've got so many ideas after a summer where I managed to have a good rest despite everything else that we had going on.
Right then, I'll leave you to the rest of your weekend – big daughter is on her way over from the yoga class she's been teaching to have brunch with us before she zooms off to her next thing and I have to go and pick up not so small daughter from the Scout camp where she's been this weekend.  It never stops, does it?! :