À Paris – part two
Not so small daughter and I were up bright and early the next morning to get to the Louvre before the crowds (you can read about our first day in Paris here) … or we would have been, if I had remembered to change the time on my alarm from being an hour later than the time in Paris.  Oh no!  Automatic time zone changes are great when they work – and when they don't, you are left chasing each other out of the bathroom to try to get ready to go out in 10 minutes flat!
Luckily, we had already bought our tickets online (it was free for her to get into the Louvre although we still had to print out a ticket, and under-18s get a reduced rate in all of the other places we visited which is great!) and although we had missed our time slot, we were still allowed to go in.  Not so small daughter couldn't begin to imagine how we got inside the pyramid and the answer is down some steps!
Once inside, it's a vast area which was still relatively quiet but got progressively busier whilst we were there.  We had a plan to see the Mona Lisa first, the reason that not so small daughter wanted to visit the Louvre, because we knew that it would get busy as the day went on.  It was well signposted with small pictures of the painting to point us in the right direction, and we knew we had found it by the number of people buzzing around the doors of a large room.
I had warned not so small daughter that the painting might not be as big as she expected, but she was still a little surprised by the size.  It's not a tiny painting by any means, but compared to some that you see on art gallery walls, it isn't the biggest either.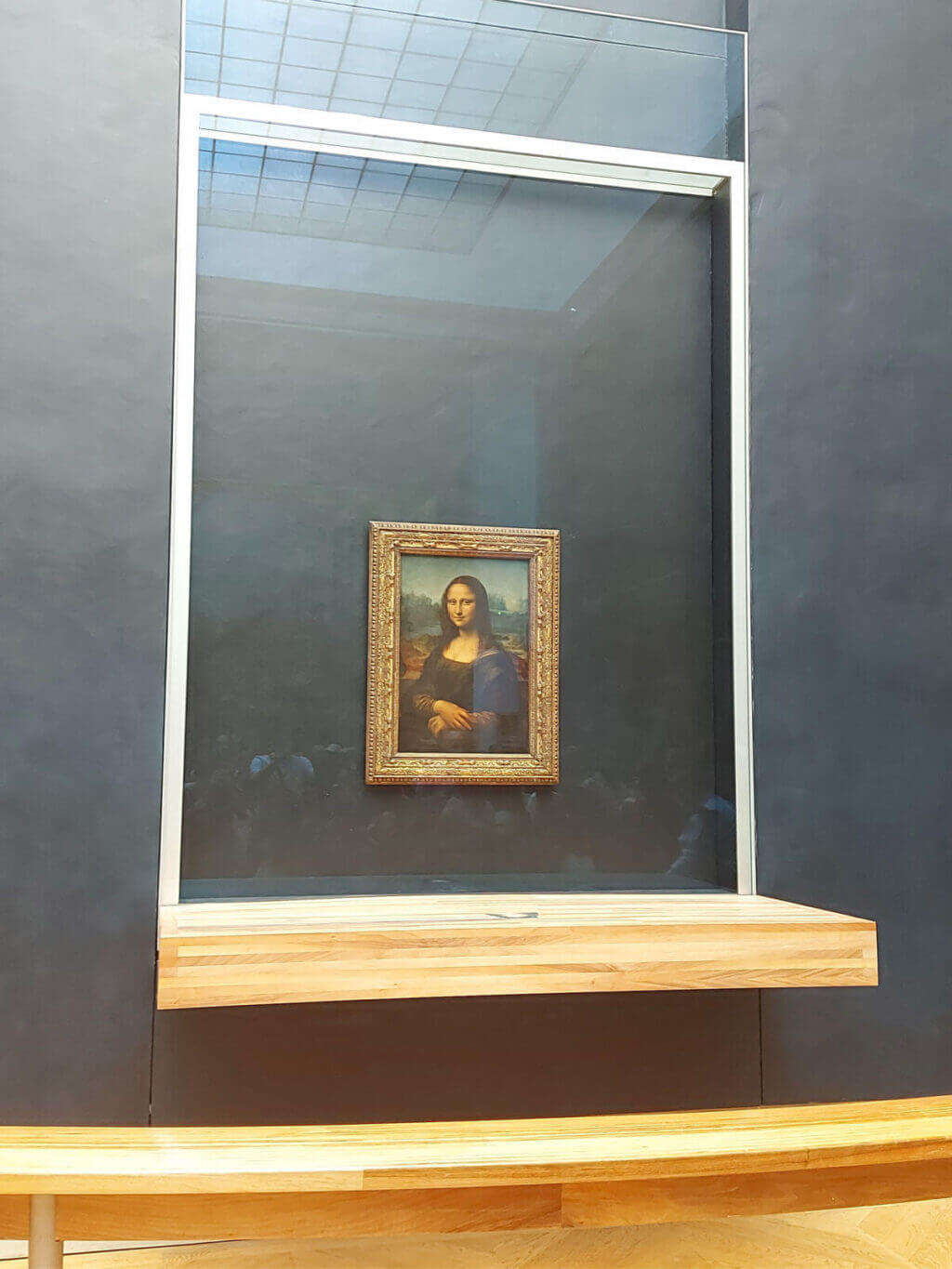 If you look closely, you can see people reflected in the glass – there were two lines that snaked towards a viewing place where you could get up reasonably close to take a photo, under the constant watchful gaze of security staff.  I'm not quite sure what La Joconde (the French name for the Mona Lisa) has ever done to attract the unwelcome attention that she gets as she has been attacked quite a few times (including recently) as she looks pretty harmless to me.
From harmless to armless (groan) as we went to find the Venus de Milo, also housed at the museum.
First, though, our priority was breakfast as we had left the hotel in a hurry, but always with the intention of eating out as I had read tthis article about visiting the Louvre and it mentions a cafe that is generally a bit quieter (and cheaper) close to the Mona Lisa which sounded just what we were after.
We got very good at eating croissants for breakfast!
After our pit stop, we set off to find the Venus de Milo, taking plenty of wrong turns but with lots to see along the way.  It turns out that not so small daughter has inherited my fascination with classical sculpture and we spent a long time looking at the details of the statues and the room itself – look past the statue at the ceiling and columns!
This is Artemis, goddess of the hunt, with her sacred deer.
I really can never get over that this was once a lump of stone but now, it's a person who wears clothes.  You wouldn't think that underneath Artemis's robes is just uncarved rock, I absolutely believe that it's a body!  The detail is incredible on both Artemis and her deer.
Fingernails, ridges on the antlers, the folds of the fabric … it's stunning and I wish I had the talent to do something like that.
I'm not going to bore you with hundreds of photos of statues, but suffice to say that we saw plenty!
We also saw the Napoleon III apartments which were something else on not so small daughter's must-see list.  I probably could have lived without seeing that bit (I'm afraid I'm just not a stately home kind of person) but she really wanted to find them so we did, and she was enthralled by it all so I'm glad that we did.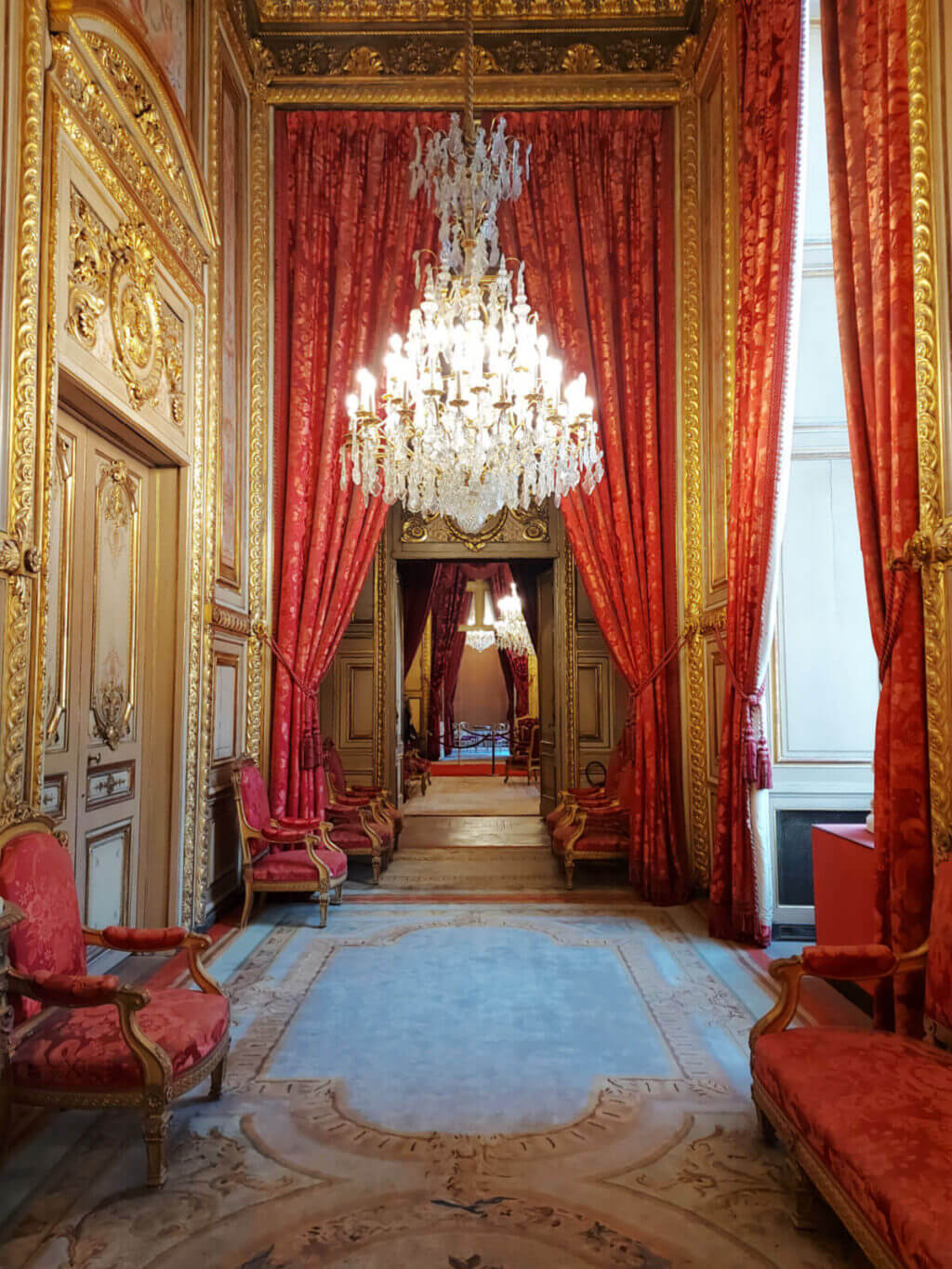 What I was really glad that we saw when we were there, though was the view through this window, left open by the museum and ignored by other visitors for the most part.
The reflection, the Eiffel Tower .. it's all a bit magic, I think, and not at all an accident.  It makes you realise how clever architects can be.
Finally, after taking more wrong turns and thinking that we were doomed to stay in the apartments forever, we found the Venus de Milo.
By this time in our holiday, it had became a bit of a game to try to take photos in the split second when people moved so that it looked as if no one was around.  Our own private viewing … 🙂  Not so small daughter did actually get one of the statue without (human) arms in the way but I like this one – the couple belonging to the arms were arranging themselves to get a photo and the man on the chair looked hot and bothered (a bit how I was feeling at this point!).  Real life in a still life gallery!
From here, it was time to find the exit.  We had quickly discovered that Paris is no different to any other place with tourist attractions and the exit is always through the gift shop … sometimes it was easier (and cheaper) to leave than others! 🙂
It was really hot by the time we left the Louvre – over the weekend the temperature went up to about 33 degrees C (91.4 degrees F) and it got a bit warm to be wandering about.  We headed back to our hotel and on the way, passed the bouquinistes which are book stalls built onto the walls overlooking the Seine.  They sell second-hand books, pictures, posters, souvenirs, comics … the stalls are green metal boxes which fold over at night to keep the stock safe and then open up in the day to create a roof over the stall.
Not so small daughter loves books and we enjoyed looking at them although they were mostly in French so I knew that we weren't going to have an argument over trying to fit them into our luggage – her GCSE French is good but not quite novel-standard yet!
This was the book shop that she really wanted to go to.
The shop, Shakespeare and Company, has been around for years; an English-language bookshop in the heart of Paris, but has discovered a new fame through social media, and that's how not so small daughter heard of it.  Downstairs is the bookshop where new books are for sale, and upstairs is a library of hundreds of books which visitors are welcome to read but not remove.  There are also beds upstairs where, in years past, writers, artists and intellectuals have stayed in exchange for a day's work in the shop, reading a book a day and writing a page of autobiography – you can read more about it here.
Not so small daughter has wanted to visit this book shop for a long time and suddenly, we were there.  I don't think she could quite believe it!  In one of the upstairs room is a piano for visitors to play and with a little encouragement, she sat and played whilst other visitors browsed nearby or sat and listened to her.  I was super-proud, and I think it will be a moment that she won't forget.
And yes, we did have a "discussion" about how many books we could fit into our luggage (we'd only taken carry-on bags) and yes, we did leave with probably more than was sensible!
Our evening visit was to the Arc de Triomphe – we didn't intend to stay as late as we had done the night before at the Eiffel Tower but we knew that the monument was open until quite late which was good as we could go when it was a bit cooler.
The cars are on the famous roundabout that you see on TV and in films, usually full of traffic, although it really wasn't that busy, even with us playing the "pretend no one is around" game.  There's a subway that you walk under to get to the Arc – you don't want to attempt to cross that road!
The Arc de Triomphe was originally started to commemorate the victories of Napoleon but this was later changed to commemorate the soldiers of the French army, and in 1921, the Tomb of the Unknown Soldier was added beneath the arch.  The flame is lit every day at 6.30pm to remember those in all of the wars who died but were never identified.
You can go up to the top of the Arc so of course that was what we did.  Steps!  Lots and lots of them … we'd just got to the point where we thought we needed a breather and there we were, in an exhibition room under the viewing platform.  We watched a video about the Arc being wrapped up as an art installation and then climbed more steps to the very top.
As the sun went down, so we did we, back down all the steps to the ground and it was time to go and find something to eat.  As we left, the queue to go in was getting longer as obviously people wanted to be there at night to see the Paris lights, and you'd get such a good view.
For us, it was the end of another fabulous day.  There's more – just one more post so that I don't bombard you with too many photos in one go – and then I'll talk to you about "the usual" stuff again; I wanted to record this trip, though, and I hope you don't mind coming with us!  I'll see you soon!