À Paris – part three
There has been so much to write about the few days that not so small daughter and I spent in Paris – I certainly didn't think it would take up three blog posts! – and today's instalment is the last.  I've crammed in all of the photos from our last two days so that we can look back and remember … and what a weekend to remember!
On Sunday, we decided that we would head up to Montmartre to see the Sacre Coeur basilica.  We'd seen it from a distance across the city and I knew that not so small daughter would be amazed when she saw it close up.  I'd read that it was better to go there later in the day to see them as artists generally don't get up too early, so we decided to visit another must-see on not so small daughter's list first.  This was the Musée de la Vie Romantique, another place that she had found on the internet.
The house originally belonged to the painter Ary Scheffer and many of his paintings are there, along with paintings by George Sand, a famous French artist and novelist.  There's a tea room with a rose garden surrounded by trees and we sat there for a while with a cup of tea and listened to the buzzing of the bees, a small oasis in a busy city.
Then it was time to head on to the Sacre Coeur.  I knew it was going to be busy and this was probably the busiest place we had been to so far.  It was also very hot so we got in the queue for the funicular instead of climbing the steps – it's included in the metro system so if you've got a pass (we'd bought a 5 day ticket – it's very easy to buy multi-day visitor tickets from the machines in the metro stations), you can hop on without needing to buy another ticket.
We didn't see any artists at all.  I am sure that when I was last in Paris about 30 years ago, the area in front of the basilica was full of artists painting views of the skyline and caricatures but now, the only people there were selling souvenirs and "love locks" to attach to the fence.
A lady standing next to us was very excited as she found a lock that she'd put there with her husband several years ago – I was pleased for her, but I was sorry not to be able to show not so small daughter the artists I had promised.
Instead, we bought sandwichs jambon and almond croissants from a boulangerie across the road and sat on the grassy hill below the Sacre Coeur in the sunshine to eat them.  I wonder how many photos we'll be on! 🙂
Then we moved on – it was early afternoon and getting busier as what looked like bus-loads of tourists started to arrive so we walked back down the hill.  Our eyes were taken by the colours in this soap shop …
and we had a lovely time sniffing them all to see if we liked the scent.  And yes, we did buy some after sniffing them – I've gone back to using soap rather than shower gel as there's no plastic involved, and one of the ones that we found was anti-mosquito which we thought might be useful for not so small daughter to try when she's camping with the Guides.
The weather was fabulous whilst we were there, we were so lucky, but it did get very hot mid-afternoon so we generally made our way back to our hotel then for an hour or so before going out again later.  We could often find a shady path to walk along …
just seeing what we could see.  Not so small daughter was fascinated by the gardening shops and plant stalls – we saw plenty of balcony gardens, some with absolutely huge trees on them – I did wonder how the balconies didn't fall down!
Sometimes we sat in a cafe close by the hotel – this photo was taken from the table outside the cafe at Shakespeare and Company …
We saw these flowering trees everywhere, I have no idea what they are but they're lovely!
We discovered a small supermarket over the road from our hotel which sold fresh fruit and we bought cherries, peaches and pears to snack on in our room.  There were plenty of opportunities for not so small daughter to practice her French and she was even complimented on her accent by the man on reception at the hotel which absolutely made her day (it's caused a re-think in A Level choices too!).  That was never going to happen to me – my French is not brilliant; I can read it pretty well but am far too self-conscious when it comes to speaking, completely overthink everything and then end up not saying what I wanted to say.  Between us, though, we managed really well and most people spoke to us in French first and not always switching straight into English when they heard us speak which felt like quite the compliment!
Monday was our last full day to explore.  Last on not so small daughter's must-see list was the Palais Garnier or Opera House, and I must say that I was a little surprised that she chose it – I had thought she might have gone for something a little more modern but she was really keen so who was I to argue?!  We bought our tickets online before we left home and also bought the self-guided tour so armed with the relevant paperwork (yes, I know you can show things on your phone these days but as I'd forgotten to switch my phone to roaming before we left the UK and then had no internet, I was glad that I had printed them off!) and headed off on the metro to see what there was to see.
Paris reminded me of London in so many ways.  I didn't notice the similarities as much when I was there last time, but I think that the perspective of being older and have visited London more made quite a difference this time.  I think it's probably the case in most cities with history, but the way that the magnificent old buildings are just there amongst everything that's more modern is quite incredible sometimes.
I was very taken by the decorative lamp posts …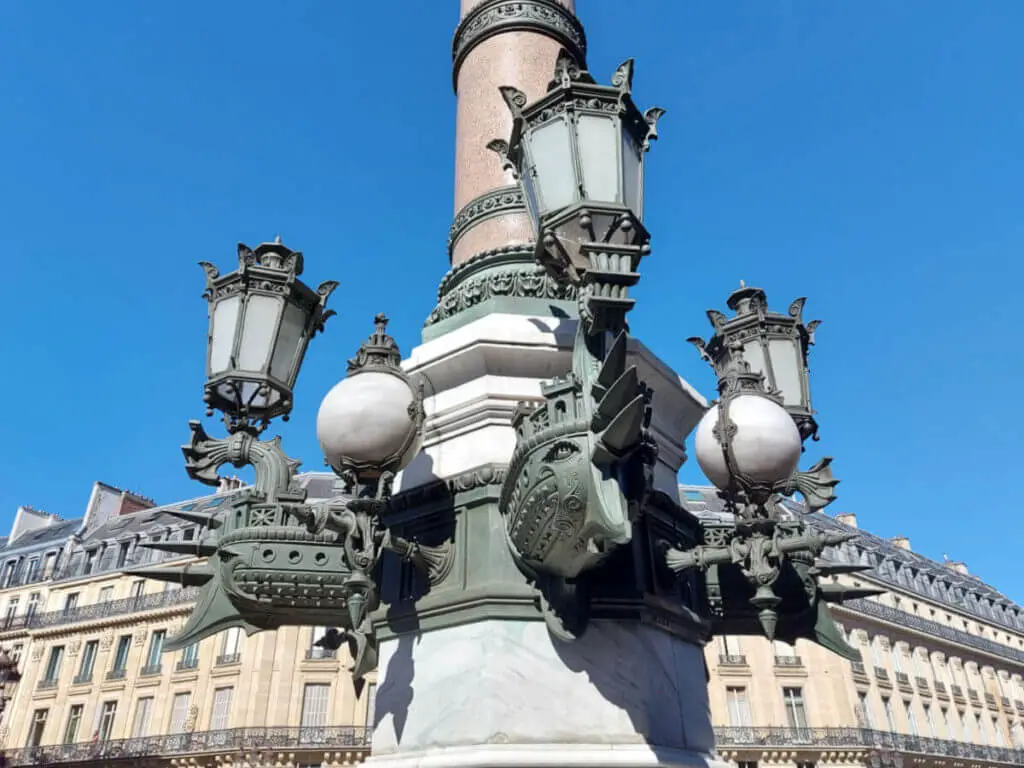 They're so detailed!
I think the appeal of buildings created in the period that the Opera was built – late 1800s – is the sheer opulence of them; the grand scale of the buildings themselves before you even get inside.  Nowadays, architectural style and taste has changed and the cost of producing something like this would be prohibitive – I definitely appreciate the history more now that I'm older.
Inside, we showed our tickets and picked up our tour guides – iPads with headphones, very posh! – and I have to tell you that the tour was brilliant.  I think it's the best one of this sort that I've ever done; it was a really good mix of factual details with an "expert" who appeared every now and again to drop in some anecdotes, and a clever video which showed you into places that you couldn't see, such as the dressing rooms, the auditorium and a 3D view of the whole building including the underground lake.  I'd definitely recommend spending the €6 on it if you go!
The building, designed by architect Charles Garnier, is awe-inspiring and that's before you start to look at the decoration.  I said in my last post that I'm not a stately home kind of person and this could be included in that bracket, but I loved looking around the Opera.  This is the sight that greets you as you head up to the main staircase.
And here's the staircase …
Imagine walking up there in your grand clothes … wow!  The staircase and the balconies that surround it were designed for the ladies of the time with their marvellous hairdos and clothes to be admired, and I was very amused by the way it was being used for the same purpose over a hundred years later by people who were obviously taking photos for their Instagram accounts – not just here, but all around the building.  People taking photos for blogs, now that's completely different 🤣
Whilst we were there, the curtain was lifted and we saw the stage – it's huge!
We were at the level of the boxes and it's quite a view!
The ceiling was specially commissioned and painted by Chagall and it's quite a sight to behold when you're inside the auditorium.  The chandelier is featured in Gaston Leroux's 1910 gothic novel, The Phantom of the Opera, after a real-life incident where a fire melted the rope holding a counterweight which fell, killing a woman in the audience.  Box 5, the box the Phantom in the novel demanded be left free for his use, is to the left of the stage, the box with the grand decoration. Not so small daughter has watched the film of the musical version of The Phantom of the Opera several times since we got home (once was enough for me) and the opening organ chords of the title track have become a familiar sound … I feel like I should be wafting around the house much more dramatically than I usually do!
I wanted to show you this ceiling from the Grand Foyer painted by Paul Baudry …
I didn't take a photo of it but it did make me smile that amongst all those paintings on the ceiling, there's one with a cherub in the corner holding up a sign with "Baudry" painted on it – now that's the way to sign your artwork!
And how about this one from the Loggia outside?
I'm thinking of doing something like this with the ceiling chez Winwick Mum.  What do you think? 🙂
We spent far longer at the Opera than I expected us to, and it was such a good visit, I'd highly recommend it.
From there, we crossed the road to Galeries Lafayette, a huge department store with a rooftop terrace that gives a fabulous view across the city.  It's free to go up so is perfect if you're travelling on a budget and don't intend to visit the Eiffel Tower or the Arc de Triomphe – you get a good view of the Eiffel Tower from there (I don't think there are many places where you can't see the Eiffel Tower in Paris if you're up high enough, except if you're standing on the Tower itself!) and that's the Opera on the left …
and from there, we hopped on another Metro and found ourselves here …
La Droguerie is a yarn shop and not so small daughter particularly wanted us to come here so that I could buy some yarn from Paris.  I have plenty of yarn so I really wouldn't have minded if we hadn't been able to find it, but not so small daughter was determined that we did and I'm glad.
It's not like any yarn shop that I've been into at home.  They only sell a few weights of their own yarn but in many different colours – it looks amazing as you walk in!
They didn't have any sock yarn and the fingering weight wasn't really suitable for socks, but after some thought (and having no intention of leaving the shop empty-handed!), I chose a yarn called Caresse which is a DK weight blend of 15% silk, 18% mohair, 34% bamboo, 10% angora and 23% wool.  You can actually see it in the top photo – it's the yarn to the left of the photo and I chose the one next to the bright blue – it's called Plume de paon which translates as "peacock feather" and I would agree that's exactly what it looks like!
You can't take the yarn from the racks, you have to go and queue up at an old-fashioned counter which is covered with stands with beads and jewellery findings and wait for someone to serve you.  The counter that was open was to the right of where I'm standing, but it looked just like the one that you can see in this photo.
The whole process seems very old fashioned now, in these days of picking up what you want and taking it to a checkout to pay, and there is a certain charm to this system of days gone by – but it's very slow, especially when the staff have to get everything out for you (we watched one of the assistants painstakingly counting out buttons for a customer to choose from) and I could imagine that someone on a time deadline might find it a bit stressful.
It was a joint effort buying the yarn – I remembered enough French to say that I would like to buy wool, not so small daughter is better than me at the numbers as we had to say how much we wanted, and we pointed out the yarn and then the shop assistant collected the colour from this enormous display …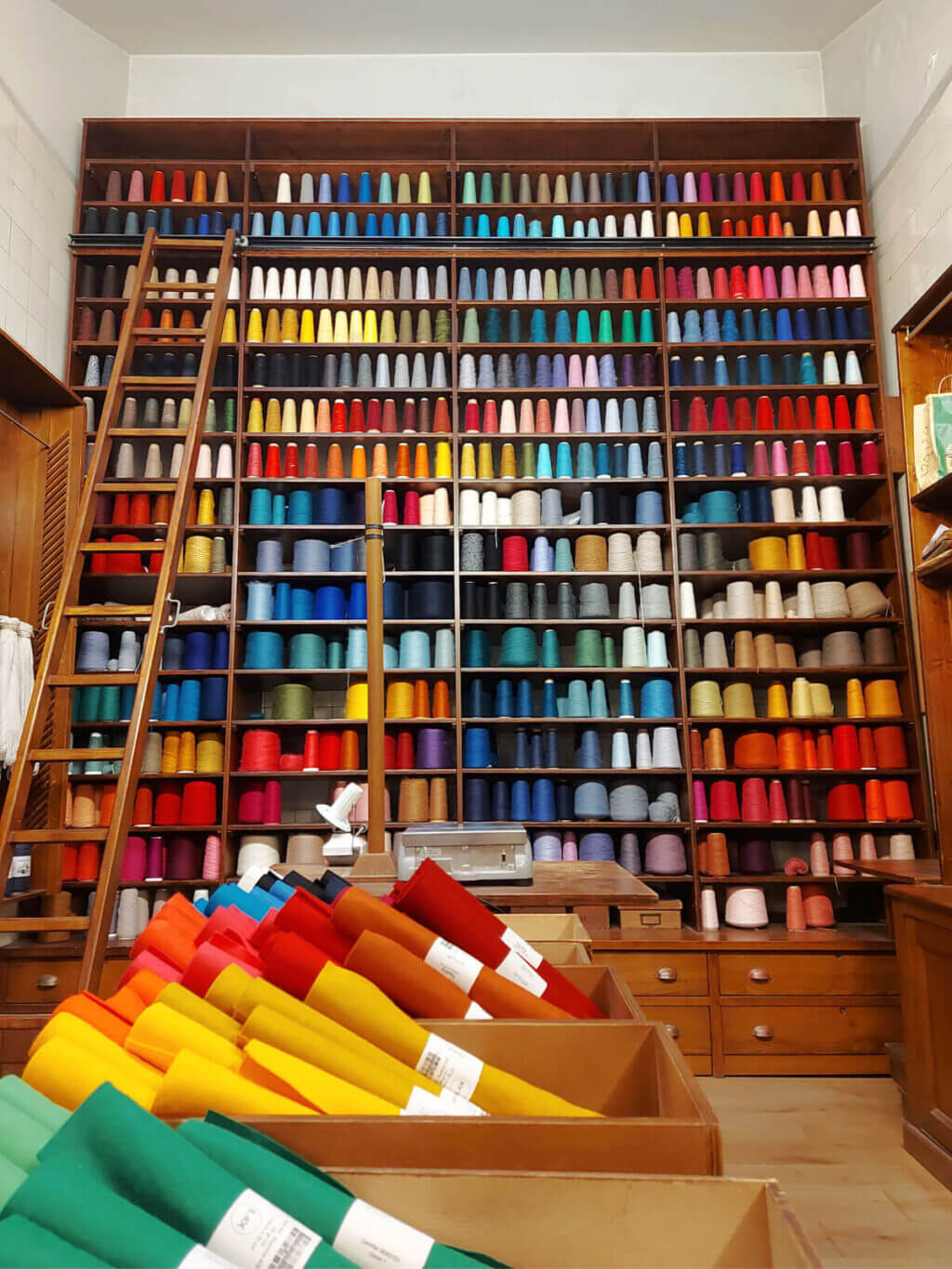 Doesn't that look stunning?!
The yarn was wound off the cone into a cake and here it is!
It's certainly a good system in terms of not having waste or leftovers as you only buy what you need (in theory), but you would have be sure that you were knitting to the right tension for a pattern or that you over-estimated to make sure you didn't run out.  I just bought 50g as I didn't want to buy a huge amount of yarn that I might not know what to do with, and I think I'm going to knit myself a pair of fingerless mitts for the Winter.  I found last year that my hands got cold when I was working at my desk and this Winter, we're all going to have to watch the heating bills so some mittens might be just the thing.
Our final "big building" was the Pantheon.  It was inspired by Agrippa's Pantheon in Rome, originally designed to outdo the churches of St Peter's in Rome and St Paul's in London, and is now a mausoleum housing the remains of some of France's most famous citizens including Voltaire and Emile Zola.
We didn't go in but instead sat outside on a large wooden seat and listened to a busker playing his saxophone.  It was lovely!
And here's the one and only photo of my knitting out in the wild in Paris …
I didn't bother trying to carry it during the day as all of the places that we went to had security and I didn't want to have to explain my sock or worse, give it up, so it was only when we were sitting by the Pantheon that was close to our hotel that I took it with me.  The yarn is Elements DK by West Yorkshire Spinners – I was using it on another sock here – and at some point this will be a pattern, but it's slow progress! 🙂
As the sun started to go down, we took ourselves off on a last walk around the streets where we were staying.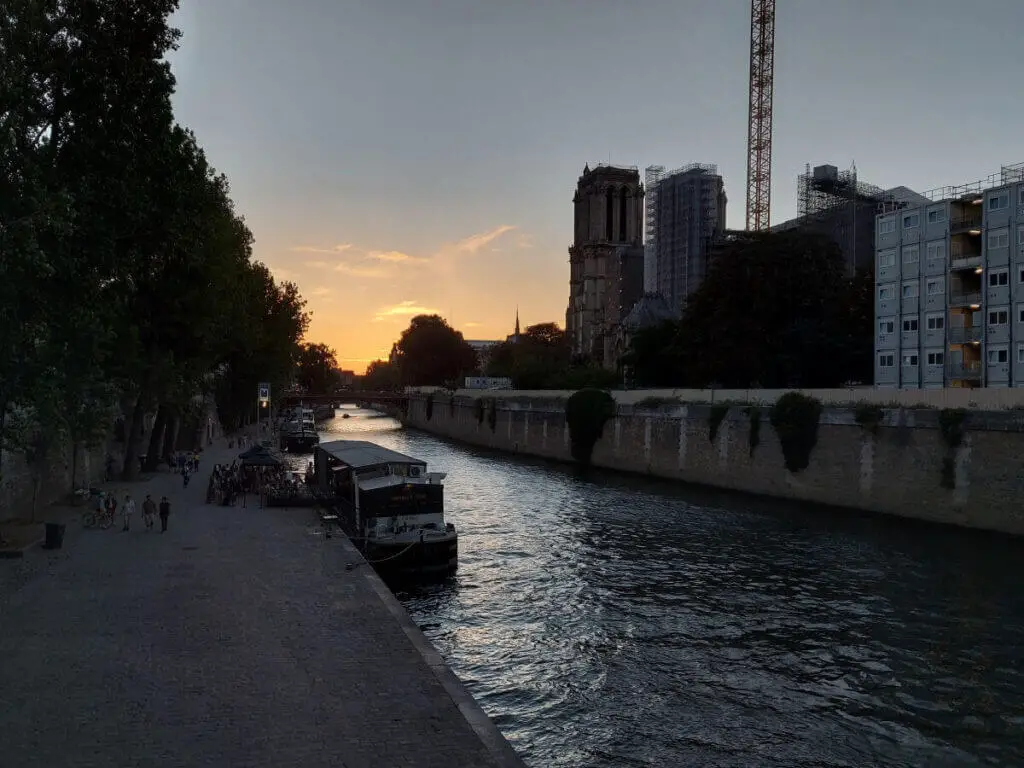 At night, we could see the lights of the Notre Dame from our hotel window …
but we weren't ready to call it day – or end our visit to Paris – just yet.
One more ice cream (ice cream with macarons are our new favourite thing!), one more walk to the Notre Dame, one more stroll past the river … what a wonderful break we had had and how lucky we are to have been able to do that.
It may have been 30 years since I last went to Paris, but I'm quite sure it won't be that long before we return.