Winter Haven KAL 2022 – Week 4
And just like that, it's the last Friday in January!  This is the last of the posts for this year's Winter Haven KAL and January seems to have flown by!   I hope the month has passed well for you and that you are ready for a brand new month next week.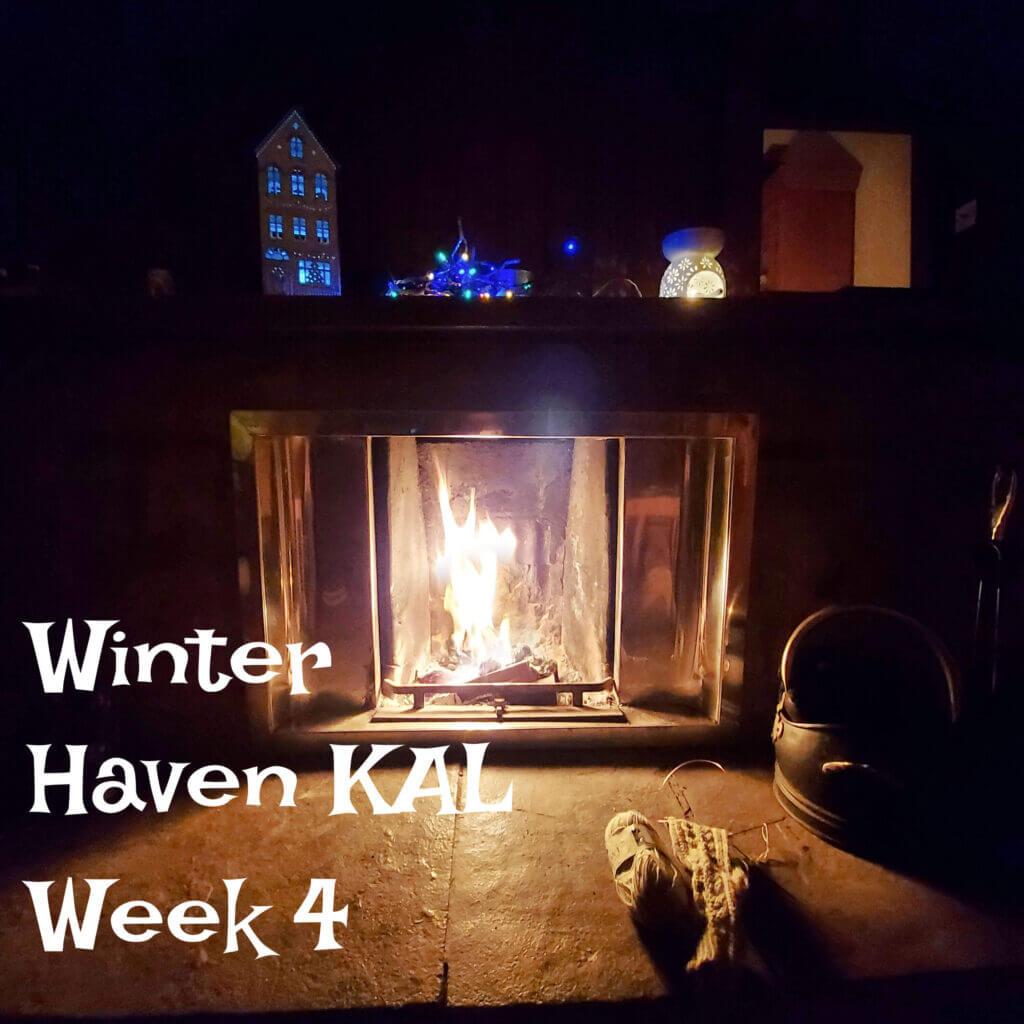 A big part of me will miss the excuse to sit by the fire whenever possible, although of course just because January is nearly over, it doesn't mean that my Haven space has to be dismantled and packed away until next year.  For the last couple of years, thinking more about what I'm doing so that I can write these posts has meant that I've found myself taking on a new habit or way of thinking that has lasted far longer than the 31 days of the first month of the year, and I hope this year will be no different.  Still no furniture acrobatics here, but I am still doing my stretches first thing in the morning!
🕯 My space
Just like last year, we've found that having the fire lit next to the armchair has been a bit of a magnet for others in the family and my husband has chosen to spend a few evenings warming his toes in the chair whilst reading his book.  Even though Spring is around the corner, we're used to Winter weather continuing for another couple of months here in the UK – it's not unheard of for us to have snow at Easter time – so there will still be plenty of time for cosy sessions in front of the fire and I am not sorry about that at all!
Here's a last look at some of your spaces … all super-cosy!
I hope that you will be able to keep your Haven spaces going after the KAL has finished; having somewhere to retreat to so that you can have a few minutes to yourself is something that I have realised is very important, especially as we are still living in difficult times.  I love that these spaces are all different; it just goes to show that you can have a Haven space anywhere!
Even Flo the cat has found her comfy space – and I hope she approves of the yarn! 🙂  (She does look rather stern … I'll imagine that she's warning Helen, her owner, off her stash!)
🕯 Project
I'm really close to finishing my sock – only three more pattern repeats and then the toes to go – but I'm not quite there yet.  Not to worry – and don't worry if you're in the same situation – there is no deadline for finishing anything at the end of this KAL and I think we're going to be glad of our projects, both new and ongoing, and our cosy spaces for a while longer yet.
There's really not much more to do so I will definitely get it finished – these socks have been hanging around for long enough and I've got plans for the needle so I do need to get on with it.  That's my weekend sorted!
Also, because I've been asked before and just in case you fancy a pair of personalised sock blockers of your very own, these were made for me by Victoria of D19EcoFriendlyLife and you can get 10% off using the code Winwick10 if you want to buy any.  This is a permanent code, there's no expiry date so you can always use it at some time in the future if you don't need blockers right now.  It's not an affiliate link, but the blockers were a gift to me.
Here's how you've been getting on with your projects …
First up, the Easy Mosaic Socks.  I've combined all the colours in this week's photos and I love them all!
That's just a small selection but aren't they glorious?  So many colour combinations … you can put pretty much any two contrasting colours together and they look fabulous with this pattern which makes it a great stashbuster too!
This week's other projects have included …
A Shortie version of the Easy Mosaic Socks using the Basic 4ply Shortie Socks pattern …
An Aardvarkish shawl …
In case you're wondering where the name for that pattern came from, it's derived from the Aardvark, a one of a kind animal and the shawl was designed for a one of a kind skein of yarn 🙂
Also this week were more pairs of Basic 4ply Socks … I don't think you can go wrong with a striped yarn and a plain sock pattern!
I'm going to write a round up post next week and I'll cram as many photos into that as I can so do keep posting your photos, I love to see them!
🕯 This week's recipe
This week, I decided to have a go at Bakewell Tarts.  Well, they would be Bakewell-Tart-esque because the real Bakewell Tarts (or Bakewell pudding) come from Bakewell in the Peak District, but they have been reproduced many times in many recipe books and by many cake manufacturers so I decided that this week, we would have a Winwick version.
I used this recipe from the BBC Good Food website for mini Bakewell Tarts which uses ready-made pastry (yes, yes, I know, it's cheating but I went for it anyway!) and they were actually much quicker and easier than I expected.
I've never made frangipane before – for some reason I always thought it sounded very complicated – but it's actually really easy and made me feel like I'd accomplished an incredible culinary feat (I'm easily pleased!) 🙂
I don't think that anyone in Bakewell or at any of the cake manufacturing companies have anything to worry about with my tarts, and if I'm honest, I'm not sure that ordinary shortcrust pastry really works that well (I think I should have used sweet pastry) but I'm prepared to give it another go another day with a different recipe.  In the meantime, these weren't too bad with my mug of tea and nobody else in the family seemed to have any complaints either!

🕯 Something green
One of the things that I have learnt about recently is the Wheel of the Year.  The Wheel consists of eight annual festivals or sabbats celebrated by Pagans as the year progresses, marking the Solstices and the four seasons.  I was brought up in a Christian household so the extent of my religious festival education for many years extended to Christmas, Easter, Harvest and that was about it (we weren't a terribly religious family!).  The first step away from that was an A Level in Buddhism (really!) which I absolutely loved learning about, and as I've grown older and information has become easier to access thanks to the internet (there is a limit to what you can discover from the library of one small village!), I have learnt about so many more religions than I ever knew existed as a child.  Religion is a such an emotive subject and often people brought up in one faith feel that it's wrong to explore others, but I think that there's nothing wrong with exploring.  It doesn't mean that I'm going to change faith, or that I don't like what I have, just that there is more to know than I already do – and when it boils down to it, the basis for all faiths is love so sometimes it's surprising to see how much they have in common after all.
So … my something green for this week is to do with the light changing, and seeing the sunshine appear again through the window as I sit in my Winter Haven space, and feeling a pull towards the garden and a need to be outside and working with the earth.  I've dug out seed catalogues and leafed through gardening books, almost without consciously thinking about it, missing my lilies which have finished flowering but looking forward to other flowers later in the year.  This happens to me every year: Winter comes and I think that the gardening bug has left me, then Spring arrives and I know it hasn't.
The Spring festival from the Wheel of the Year is Imbolc on 1 February, which celebrates mid-Winter and the coming of Spring.  How lovely to have a festival mid-way through the Winter!  It occurred to me when I read about it that somehow, feeling that I was ready to be outside in the garden again, that something in me must have known about it already and I wondered how many of us are more in tune with Nature than we've ever given ourselves credit for.
It's been really important to me to have greenery around during January and although I may not have spent as much time in the garden as I would have liked to over recent years, I am still a gardener and being outside nourishes my soul as much as knitting does when I'm inside.  I hope that having some greenery around you this last month has helped you to feel more connected to an outside space when it's been too cold (or too hot) and that your greenery is thriving!
🕯 Light it up!
Now that my lilies have faded, I have returned to my wax burner.  This week's wax favourite has been Orange Blossom – I splurged on some soya wax melts from The Botanical Candle Co and they're just lovely.  I loved the Winter melts they make and used quite a few of those over the Christmas/Solstice period.  I do like the Late Summer scent very much but as much as the sun and lighter nights are returning, I can't quite pretend that it's late Summer just yet so I'm imagining Spring and orange blossom in a country that's warmer than ours instead!
The end of the KAL won't see the end of my use of my burner.  I am definitely a convert to it now and there's always one lit in the room where I'm spending time.  I think I might even prefer these to scented candles as I can change the smell more often, sometimes even putting a new melt in with an old one to combine scents, and that suits my impatience very well!
🕯 Listen up!
This week, I've returned to vinyl records and one of not so small daughter's in particular – "This Empty Northern Hemisphere" by Gregory Alan Isakov (paid link).  She's been playing me songs from this album in the car on the way to school for quite some time now, and the album was one of her Christmas presents.  I like that we're a family that plays vinyl records, although I had forgotten that it's a bit of pain having to get up to turn the record over half way through (I'm so lazy now in the days of CDs and streaming!).  Both of my girls have introduced me to artists that I probably wouldn't have discovered for myself, and I like that.  It certainly feels like an improvement for me on "turn that noise down!" which is generally the conversation about music that I had with my parents! 🙂
🕯 Self-care
I surprised myself this week by going for the ultimate in self-care – I wasn't feeling on top form one day so I took the day off.  I still had some things to do for my other job so I got those out of the way and then spent the rest of the day snoozing in front of the fire, reading my book and drinking mugs of tea.  I'm very good at "just getting on with it" instead of taking it easy sometimes, and of course if I had a job where I had to turn up at an office then it would be much more difficult to decide on the spur of the moment that I wasn't going in, but I decided that I do enough talking about self-care in my blog posts and it was time to take my own advice!
No phone, no laptop, not even any knitting.  I did the lateral flow test because we all immediately assume now that feeling out of sorts equates to the virus, but it was negative.  I was, indeed, just out of sorts.  And after a day of doing not very much, I was back in sorts again so I can highly recommend it!
I'm not finding the Millie Johnson book that I started is gripping me as much as her other novels have done so I have put it to one side for now and I've started another book – "Home" by Penny Parkes (paid link) which I am enjoying much more.  I bought my copy from the supermarket but you can read the blurb through the link if you'd like to 🙂
🕯 Thank you
Thank YOU for still being here with me at the end of the month!
It's a funny thing, writing a blog and sending the posts out to readers unseen.  I so appreciate every single comment and photo that I see, showing me that I'm not just shouting into the wind with my Winter Haven madness, and I have absolutely LOVED seeing all of the colour combinations that you've come up with for the Easy Mosaic Socks.  I've loved seeing all of the projects that you've made and more than that, I have been overjoyed to see brand new sock knitters taking part in the KAL, starting and finishing what will hopefully be the first of many pairs of socks.
Thank you too, to everyone who has bought me a brew (the donation button is in the left hand side bar in case you wondered how they did it 🙂 ), bought a copy of my books or a Winwick Mum Sockalong badge; your support means a great deal!
Thank you also to Heather, who sat next to me last time I was at the Coopers Cafe Bar in Skipton for the Knit n Natter, reminded me why I write this blog and who is knitting the most lovely teal blue pair of socks 🙂
Writing down what I have been grateful for every day has taken on a new significance this month for me as despite January being my favourite month, I've found the continual grey days difficult.  Remembering that there is still something that shines in the day has stopped them blurring together as they often do when time seems to move faster than you do.  I hope it's something that has been helpful for you too!
I'm going to write a round-up post again as I have done for the last couple of years and I'll post that next week.  I'd love you to be part of the post with me, so if there's anything you'd like to show – finished projects, part-finished projects – or you'd like to share, please get in touch so that I can include you!
Don't forget that the social media hashtag is #WinterHavenKAL, so you'll still be able to see posts on Instagram and Facebook if you're a social media user, and you can get hold of me through email as well.
I hope you have a wonderful week in your Winter Haven – see you next Friday for the round up! xx