Exciting things!
Hellooo!  How are you doing?  Thank you for all your comments on my last post about the Yarndale Sock Line socks – all the socks are in their new homes now and are being very much appreciated!
Well, it's exactly a week to go until Christmas if you celebrate it, and you're either very organised and enjoying the run up, or you're (like me) very glad that it's not Christmas Day tomorrow!  I am nearly ready, though, and I'm very pleased to tell you after this month's Monthly Musing that all my Christmas cards are sent and I've been feeling very festive this week!  😀
This is such a busy time of year for us all (and especially if you're in the US and you've had Thanksgiving to organise recently as well!) and I am quite sure that you'll be hoping for a few quiet days to put your feet up once the festivities are over!  
So … I've got a couple of exciting things to tell you about both for now and to look forward to in January (in the new decade, doesn't that sound like a whole new adventure?!) when we have all got our breath back.
Here's the first of them …
Well, would you look at that!  
I'm really thrilled to have more patterns published in a magazine this month.  These ones come in an exclusive booklet with issue 111 of Knit Now which is out in the shops today.  There are four patterns which use my WYS Signature 4ply Brightside and Seascape yarns, along with Bubblegum, which I think contrasts beautifully well!   
As you know, I always write my patterns to be manageable, even if you're quite new to knitting socks.  There's nothing in these designs that you won't have practised knitting already, either in one of my other patterns or perhaps in another project that you've knitted.  You'll have to do a bit of counting, and perhaps tick off rounds on a chart but that's all!
Boxy Rib socks are a variation of the basic Sockalong sock, so super-easy even if you've not knitted socks before.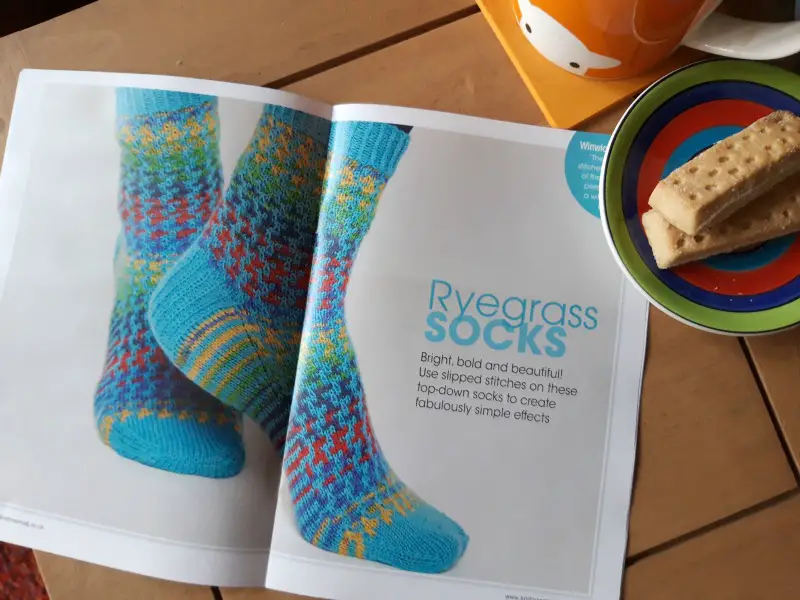 Ah, I LOVE these (even if I say so myself!).  Ryegrass is knitted with Brightside and Bubblegum, and the clever mosaic stitches (they're just slipped stitches, you can do this!) change the way the colours appear.  I am very VERY happy at how these turned out!
I love a cable and I couldn't bring myself not to include one in this set of patterns!  Love Spoon socks are so called because of the cable design down the front – it looks to me just like a Welsh carved wooden love spoon!  Don't let the idea of cables put you off if you've never knitted them before – there's a beginner tutorial to go with my Easy Cable Socks which you can read through which will help you to get started with charts and cables.
Finally, Carousel socks – also knitted in Bubblegum and I liked the contrast between the bold colour and the rather delicate pattern.  The lace reminds me of the poles of the carousel at a fairground – I was imagining beautifully painted wooden horses whilst I was knitting these!
Along with the pattern book – which is actually a supplement to the main magazine – comes a set of sock blockers and a magazine chock-full of fab patterns and articles.  It's such good value for £6.99 when you think that you could pay that for a single pattern on Ravelry!  It's due out in the shops today (Thursday 19 December 2019) and you should be able to get a copy from newsagents and supermarkets.  If you live overseas, you won't be able to get a paper copy unless you have a subscription (MoreMags post worldwide), but you can buy a single digital copy which comes with the supplement.
Do you like them?  One of the best things about social media is that I get to see what people are making, and it's lovely when I see my patterns and my yarn being used!
Now, on the subject of my yarn, it's been eight months since the WYS Winwick Mum Collection arrived in the shops.  This time last year, I was busily knitting up the sample socks ready for the photo shoot in January – and I couldn't tell you anything about it!  I asked recently if anybody had any photos of their projects knitted in Winwick Mum yarn that they would be happy for me to share in a blog post, and there were plenty, so thanks to everyone who has let me share their photo!  Are you ready for some Winwick Mum yarn spam? 😀
First of all, here's the yarn knitted up as the basic 4ply Sockalong sock.  
L-R: socks knitted by Vanessa, Tricia and Sheryl
L-R: socks knitted by Diana, Colin and @alchemilla72
L-R: socks knitted by Hannah, Libby and Fiona (these are baby socks!)
L-R: socks knitted by Sharon, Alison and Sam Antha
Then there are some variations … socks knitted in the patterns that I designed for the yarns, available in the WYS book …
L-R: Wildflower socks by Alison, Wildflower socks knitted in Hidden Gem by Helen, Seascape socks by Helen and Brightside socks by Carole
L-R: Hidden Gem by June, plain socks on the left and Seascape knitted in Brightside on the right by Christine F
Socks knitted using my other patterns (all available for free here on the blog) …
L-R: Easy Lace Socks by Caroline, Easy Lace socks (reversing colours) by Caroline, Neat Ripple Socks by Jen
Socks knitted using other patterns …
L-R: top – Undulance by Tricia, Aquiphobia by @Fenwench, pattern not given by Anita

L-R: middle – short sock with picot edge by Carrie, modified Jaywalker by @norahowley, Jaywalker by Anita

L-R: bottom – pattern not given by @chamelonwoolshop, rib socks by Allison, rib socks by @sarahjomakes
Not just socks …!  It's been lovely to see the yarn knitted up into other projects too.  I like the way the stripes come out differently to when they're knitted as socks.  Brightside, in particular, has been popular as a choice of yarn to use with other projects.  I think the stripes look as if they've been drawn on with crayons with this hat …
Sockhead hat knitted by Vanessa
and look at this tank top knitted by a yarn shop customer for her grandson!  I think it's called a vest in the US, although my recollection of a vest is something that I used to resist having to wear under my clothes in the winter when I was a child – and is the first thing I'm pulling out of my wardrobe at the moment! 😀
Knitted by a customer of @thelostsheepwoolshop
Here are some more projects.  I think they all look fabulous!
L-R: Easy Fingerless Gloves by Sam (@sconch), Pincha shawl by @moonwm, baby hat by Jennifer
L-R: Hitchhiker by Michelle, fingerless mitts by @thehareandoak, crochet Virus shawl by Bertha
It's been lovely to see the yarns out and about, too.  I do think that there is more knitting in public these days, and I think the world can only be a better place for it.  
Knitting beneath the Angel of the North – @knit.one.stitch.one
And …
Source: L – (c)Ryne_Ryynänen_Facebook,

top R – Joona-Kotilainen-Tovari-Oy, bottom R – (c)Ryne_Ryynänen_Facebook 
This is Heather, taking part in the Heavy Metal Knitting World Championships in Finland earlier this year.  Yes, this is a real thing, and that really is a Brightside sock that she's knitting!  How fab is that?!
That's quite a selection of photos, isn't it?  What I'm REALLY hoping that you're thinking now is that you're feeling inspired to cast on something for yourself in the Winwick Mum yarn that is stashed away in your house (I know it's in there, you told me at Yarndale! 😉) … or that you've seen in a yarn shop … because just maybe, I can interest you in something that I've been working on for the New Year …
A Knitalong!  
I haven't done anything like this since the Sockalong tutorials (although they are a permanent knitalong which anyone can join in with at any time), and January can be such a long, dark month that I thought it might be a nice idea to have something to look forward to.  There's no pressure to join in, of course, and if you do join in, there's no pressure to have finished your project within the month; this KAL is all about being kind to ourselves, about recharging our batteries after the busy-ness of Christmas and getting ready for the Spring to arrive.
Does that sound like something you might like to do?  
The KAL will run for four weeks from 10 January to 31 January 2020.  I've got a brand new sock pattern to share with you which I'll post on 10 January, but you can knit any pattern that you like – if you're new to socks, knit the Sockalong pattern; if you're experienced at knitting socks, knit my new pattern or another one that you've had your eye on – perhaps one of the ones in the Knit Now supplement, or perhaps last month's Simply Knitting magazine – or perhaps a completely different pattern altogether as it doesn't have be one of mine; if you don't want to knit socks at all then pick something else that will make you feel good to knit.  We only want to feel calm and happy in our Winter Havens!
Each Friday, I'll post with ideas of how to create our own Winter Haven over the coming weeks, and I'll share photos of people's projects too, so do make sure that you tag me on social media posts if you're going to join in – there will be a special hashtag that I'll share with you when the KAL starts.  (Oh, and don't worry if you haven't got any Winwick Mum yarn – I'd love to flood social media with projects knitted in the Winwick Mum colours, a bit of brightness in the depths of winter, but you can still take part if you don't have any.)
I know that everyone is super-busy at the moment, so I'll remind you of this again as the date gets closer, and I really hope you'll be able to join in!