Yarndale Sock Line Roundup 2019
With just a week or so to go before Christmas, now feels like the perfect time to tell you what happened to the Yarndale Sock Line socks that were donated this year.  I've been delaying sending them out over the last couple of years because the organisations I've sent them to have told me that they'll be given as Christmas gifts, or when the weather is particularly bad, so it has seemed easier to keep them here in one bag rather than have them cluttering up cupboards or offices before they're needed.
So, back to the beginning of the story …
At the end of June this year, I sent out the Yarndale Sock Line request – this is the 5th year that I've done that, isn't that incredible?  If you're new to the blog and the Yarndale Sock Line, you might want to take a quick look at the post which is here, and tells you what it's all about.
Every year I say this (and every year it's true) – that I wonder whether people will have the time, the energy, the spare cash to find to buy yarn to make a pair of socks to give away, and every year I am blown away by the generosity of you all.
"I've got a few pairs of socks for you to pick up," said Lucy, when I was on my way up to Skipton to see her.  That's fair enough, I thought.  Things are tough for lots of people this year and even a few pairs is a generous gift.
This is what I collected …
Those "few pairs" turned out to be more than just a few!  Wow!  So many socks were coming in, with more arriving every day.  Small daughter (she's my Yarndale Sock Line buddy!) and I made a start on unpacking them, and just as in every year before, it's an absolute joy to see the socks come out of the parcels – big socks, small socks, bright socks, dark socks, patterned socks, plain socks … each one of them has been knitted with the intention of sending a gift of woolly love to someone and you can tell.
We log each of the pairs of socks as we open the packets so that we can keep track of them – I love to be able to tell you where each pair of socks has gone to, and I'll give you the link for that a little bit later in the post.  You can see the socks as we were opening them in this post.
We also put a photo of the socks up on the Yarndale Sock Line Pinterest board – here's this year's board – and you can see previous years' boards here.
Unfortunately, there isn't a photo for every pair of socks that went onto the Sock Line.  If they arrived after the time when I could log them before Yarndale, or over the Yarndale weekend, they were logged when I got home but not photographed – putting the pictures up on Pinterest is a time-consuming process and there just isn't time after Yarndale for me to do that.
The space that we have to display the socks at Yarndale changed last year and instead of them being up high in the Knit n Natter lounge, they're now able to be displayed around the seating area – close enough to squish, and I see plenty of that going on!  
It's always a lovely moment to walk into that space, still smelling of sheep and disinfectant, and know that it's going to be transformed into a woolly blankety socky happy place in just a short time!
Because it's a circular seating area now, it doesn't make it that easy to take photos so I hope you can get a sense of how great the socks looked from these pictures!
AJ – you sneaked all these beautiful pairs in and I didn't get to say hello – again! 🙂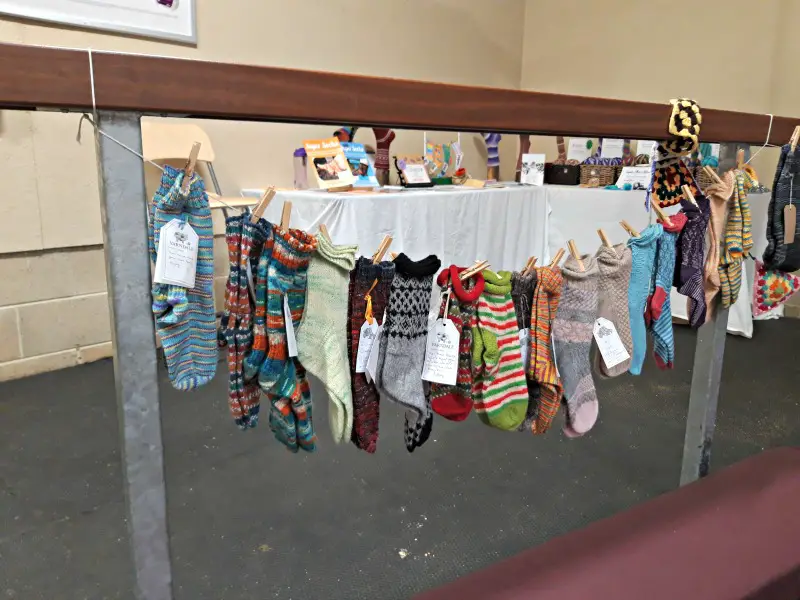 There weren't many quiet moments, but I did manage to get a few stitches in on my own sock! 😀
There were 150 pairs of socks hanging on the Sock Line this year which is just fabulous!  I know that there are so many demands on our time and resources, so I am grateful for each and every pair that is sent in for me to give away.  And there's more good news … 
This means that after 5 years, we have given away 931 pairs of socks, which is truly astounding.  Thank you – THANK YOU – THANK YOU!! – what an amazing thing you have done here!  And I know that every single pair is appreciated, because the people who receive them tell me so.
After the doors of Yarndale close for the year, the socks are carefully taken down from the Sock Line and brought back here to Winwick.  I log all the socks that have come in over the weekend and then begins the task of finding them all new homes.
Every year, I ask for suggestions of places to send them and every year I contact all of them.  Not everywhere wants them, for a variety of reasons, and some places just don't even get back to me.  Others want to take the socks to sell, but we have always made the decision that to the best of our knowledge, the Yarndale socks go to places where they are given directly to the people who will wear them – as knitters we all know how undervalued our projects can be by people who are not crafters themselves, and it would break my heart to know that our beautiful socks might be sold for less than the yarn cost because that's all that people would pay for them.  Yes, I quite understand that the charities need the money, but I have always believed that someone being able to put a pair of socks onto their feet that somebody else has knitted and gifted to them is worth far more than the few pounds that would go into the shop's cash register.  Luckily, although some organisations that have turned our socks down, far more agree with our put-the-socks-on-feet view and have welcomed them with delight.
My next job is to sort the socks out into piles of sizes – yes, I know that doesn't look like it here but I know exactly where each size of sock is (and for those who might worry, I've vacuumed the rug very thoroughly too) …
And then I box the socks up according to what the organisation says they can use.  I could just post a selection off to them and hope for the best, but with all the time and care that's gone into them, I would feel that I had failed at the end if I didn't take the time myself to make sure that the socks were going to be used.
This year, I've been able to send the socks out to six organisations – two children's hospices, a unit for 11-18 year olds with acute mental health issues, a centre that offers shelter from domestic abuse and two homeless organisations.  Such a range of people who will all feel the love that's been knitted into those socks.
Now, I know that you really like to know where the socks have gone so if you click on this link here, you can see where your pair is warming somebody's feet.
So all that remains for me now is to say thank you again, for taking the time to knit the socks, to post them to me, to send me treats and money to go towards the postage costs, and for coming to Yarndale to see for yourself what a wonderfully generous community we are part of.
Thank you.  And here's to next year!  xx