And there it was …
Friday, just like that!  It seems like only minutes that it was Monday but then again, it has been a busy week!
Monday … I went out for lunch with my husband.  This is a rare occurrence as he's always super-busy so you can forgive me for announcing it as an event of the week.  We sat outside a small cafe in the next village to ours eating the biggest ploughman's lunch I've ever seen and we caught up on all kinds of stuff that we don't often get chance to talk about at home.  It was so lovely – sunshine, good company, good food …  it's not often that you can feel that time stops but every now and again with moments like these you feel that it just might be possible.
Tuesday … I went to see my friend Lucy in Skipton – we walked in the woods at Bolton Abbey, relishing the last of the bluebells and noticing that the wild garlic is so close to blooming.  Every now and again we got a waft of garlicky air, along with that gorgeous woodlands-in-the-sunshine scent that makes you feel as if you never want to leave the place.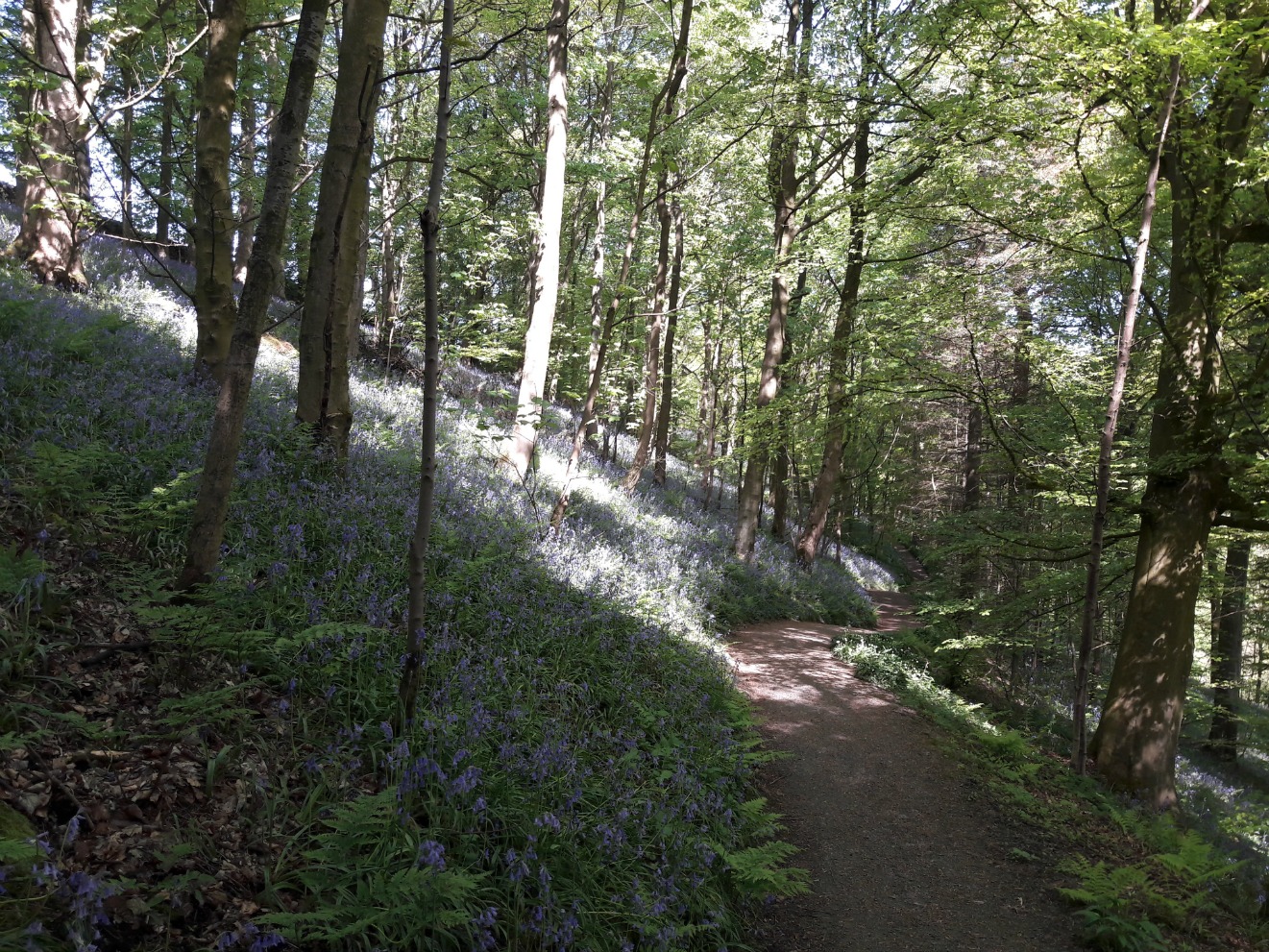 The bluebells have been lovely this year, there have been so many of them – and not just bluebells but white bells and pink bells too (are they still classed as bluebells if they look the same but are a different colour?).  Lucy and I sat in the shade for a while at the cafe by the car park, sharing a rather hefty piece of chocolate and cherry brownie cake to go with our tea and coffee, watching the walkers, the cyclists, dogs and small children go past, all enjoying the sunshine.  Another time-stopping moment for sure.
Wednesday … I went over to Stockport, about half an hour's drive from Winwick, to watch a photo shoot for Knit Now magazine.  I've been wanting to go for a while to see how it all gets put together for the magazine – I like to know how things like this work, it must be something to do with being an engineer's daughter 🙂 – and finally the shoot date coincided with free time in my calendar and Kate, the editor, was kind enough to let me see behind the scenes.  I've got lots to show you but that'll be a post for next week because then there was …
Thursday … I spent most of Thursday afternoon and evening trying to finish the editing videos for my new sock tutorial.  Yes, I've mentioned this a couple of times over the last few months but they take me such a long time that I don't like to announce things too early in case everything goes wrong and I can't meet my own deadlines – but I think I'm nearly there now.  There was a bit of a disaster at 10pm last night, the details of which you don't need to know (let's just say there were some rude words, quite a lot of "I don't believe it!" and a laptop lid being firmly slammed as if the laptop were to blame instead of me) but I'm hoping to get all that fixed this afternoon.  
This afternoon?  Yep, that brings us right up to date with Friday.  I've walked the dog with big daughter after dropping the car off for a service, I've chatted with the next door neighbour, I've eaten a fabulous lunch of home made garlic mushrooms on homemade toast (I love having a daughter who cooks!) and having exhausted all procrastination avenues I'm now about to see about fixing last night's video problem.  Will you get to see the tutorial this weekend?  I hope so, but if not then there should be enough to keep the world occupied over the weekend with the Royal Wedding and the FA Cup final (depending on your interest) and there'll be a new sock tutorial along very shortly.
That's the plan, anyway 🙂