Bank Holiday Weekend
Here in the UK we have had another Bank Holiday long weekend.  For small daughter, it's the start of a two week break and for big daughter it's the end of her time at sixth form college and she's only expected to attend for exams now.  For many people around the country, it's an opportunity to spend the weekend stuck in a traffic jam on the motorway as they attempt to have a day out in the sunshine.  We very rarely go anywhere over Bank Holidays for this reason!
Instead, I have spent this weekend catching up and finishing off – catching up in the garden and finishing off these beauties!  Oh, how I love love love these rainbow stripes!  The yarn is Rum Paradise by West Yorkshire Spinners and contains a proportion of Blue Faced Leicester wool which is a breed of sheep unique to Britain and a good soft alternative to merino as the UK is too damp for merino sheep to thrive so the wool has to be imported from elsewhere.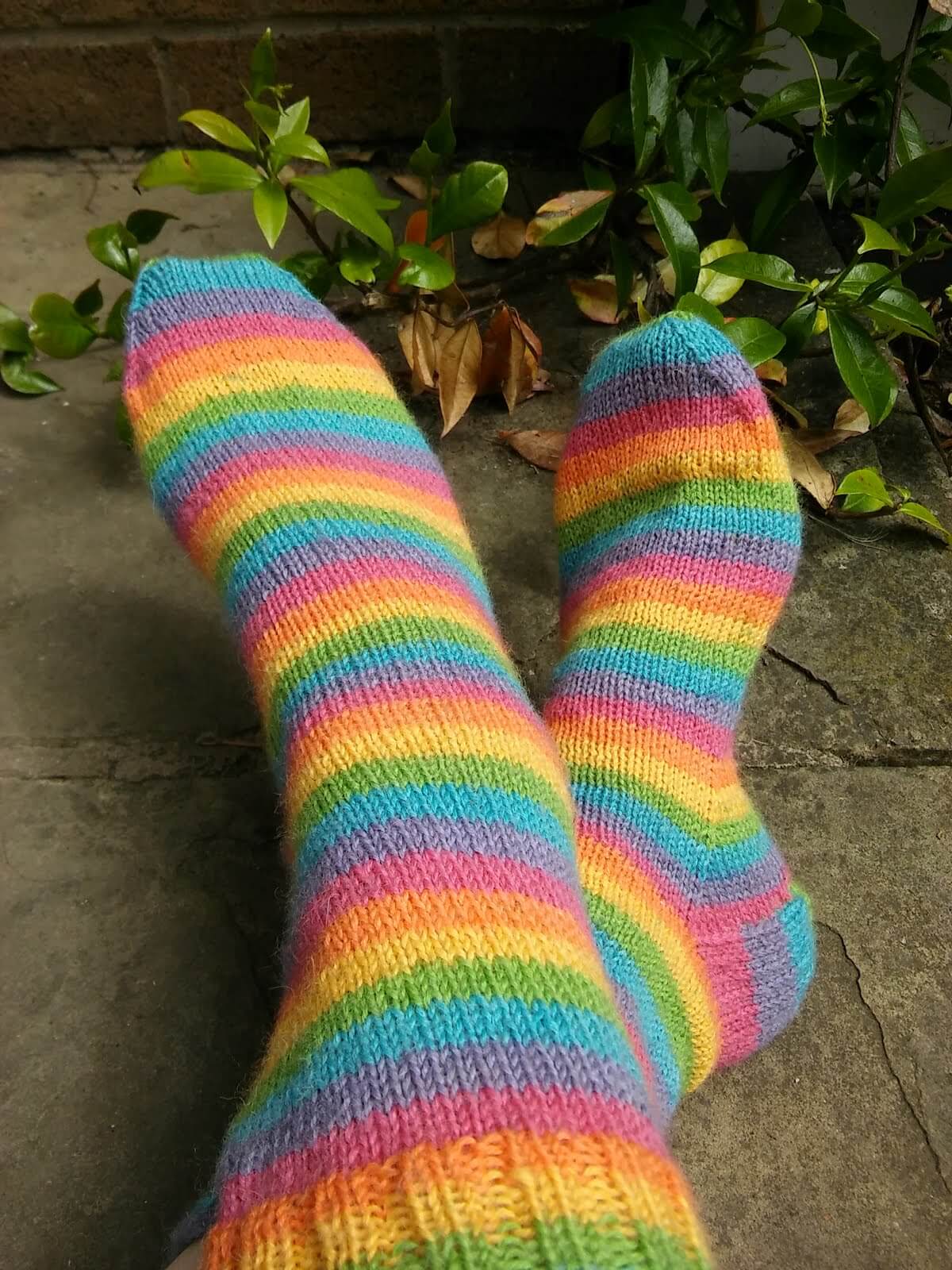 It's been a joy to knit these; the yarn has slipped easily around the needles and the short colour changes have made it feel as if they have grown very quickly and yes, they are nice and soft.  Now that they're finished, I've cast on another very special pair of socks (four times, actually, despite my tension swatches!) which I'll tell you about very soon.
Catching up in the garden is always a bigger job than you think.  This jumble of seedlings needed dealing with, as did the raised bed that they were sitting in.  We have a proliferation of slugs and snails in our garden so quite a few of my beans had been munched even in the seed trays.  It was time for some action!
In fact, it's not just the beans.  Nothing is safe – this is a Rudbeckia standing in a tray of water and the snails have still managed to make lacework out of the leaves.
Soon, though, the beans and the peas were safely in their own raised bed.  I don't have so many problems once they're in there so the plants do get a chance to grow.  They've grown even since I took this picture!
Time for a brew.  I don't know about you but it's been very hot and sunny here this weekend which has been perfect for encouraging you out into the garden, but gets quite exhausting when you're digging away in the sunshine for any length of time.
Small daughter and my husband were in change of the kettle but seemed to have got distracted by football stickers.  I'm not sure who was more excited about peeling off the backing paper and sticking the footballers' faces onto their team pages, but it's lovely to watch them together doing something that my husband has enjoyed doing since he was a little boy.
Back in the garden, it was time for drastic action against the pests – not the snails this time but the cats!  I've had to put netting up as within five minutes of me turning my back, one of our cats had been digging in the peas, flinging the seedlings in all directions.  It's hard to tell which of the cats it was as they never crack under interrogation but instead give you that slow feline stare as if to say "wouldn't you like to know?", but I have my suspicions.  My money is on the one who likes to disguise himself as a carrot in the summer time, hiding amongst the feathery leaves and closing his eyes – after all, if he can't see you then you can't see him.  He's very lovely, our cat, but not terribly bright.
Here are all the raised beds with their various cat deterrent measures – fingers crossed they work! My Dad's garden fork is in this picture too, because I've been using it and it's felt good.  I've missed him this weekend; not because we used to do our gardening together because we didn't, but because I used to talk to him a lot about it.  We would usually compare our seed orders, he would grow the tomato seedlings and then bring them over for me to plant in the greenhouse, and we would discuss the merits of cut and come again lettuce over his firmer headed varieties.  He used to tell me not to keep every single seedling that came through (I can't bear to throw them away!) and he would grow the vegetables that would take up too much space in my raised beds, like sprouts and cabbages.
This year, I'm growing sprouts and cabbages for the first time.  It's difficult, that year of firsts after someone dies, isn't it?  Up until now I always thought that birthdays and Christmas would be the hardest part.  I never thought it would be sprouts.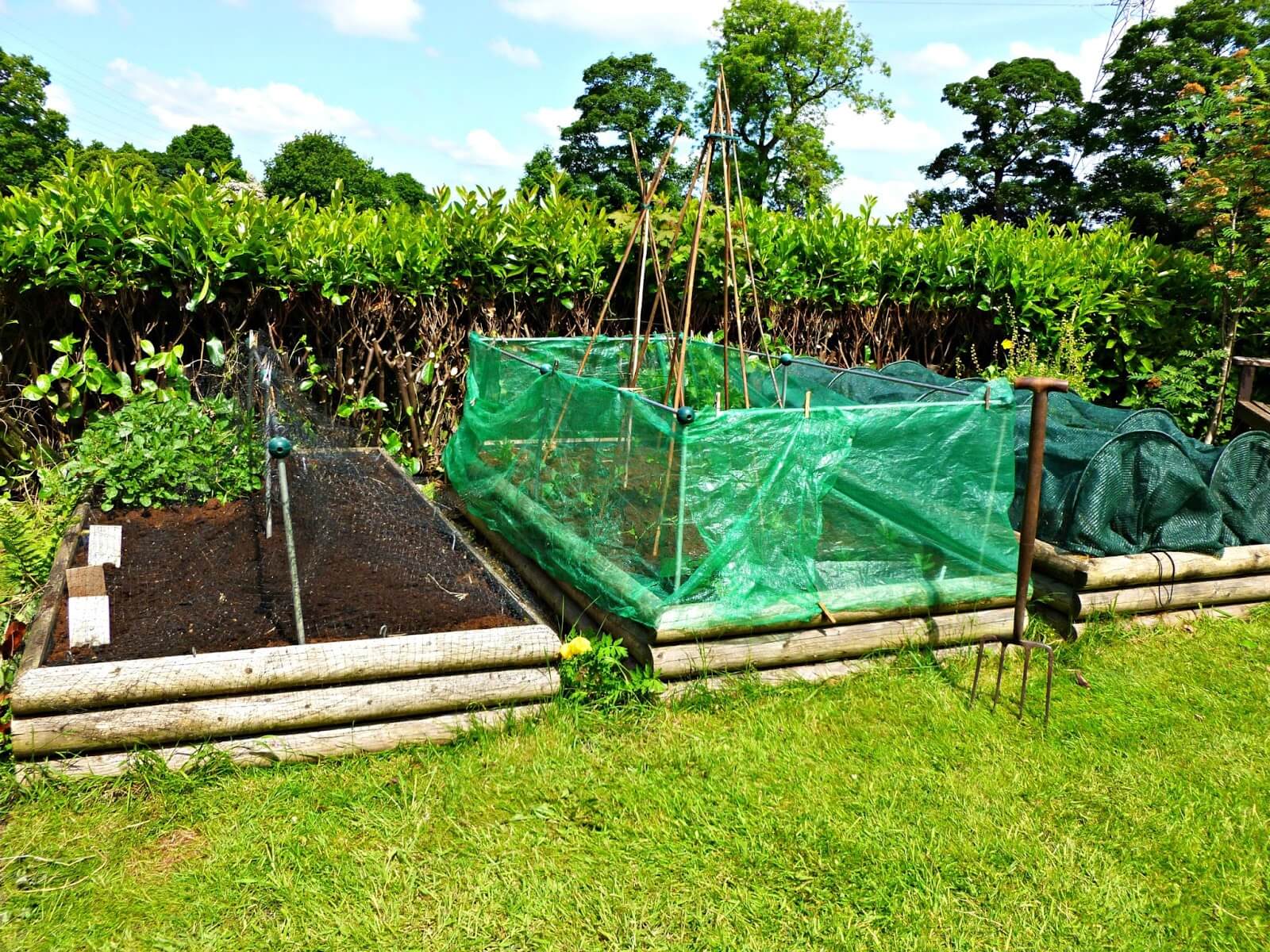 My tomato plants are very small too, because I forgot that I needed to plant them (or maybe put it off?) and they look a bit lost in the greenhouse border at the moment.  
Not for long, though.  It's surprising how quickly they seem to grow once they're out of their small pots and in the ground.  I'm looking forward to sun-warmed tomatoes and have sown a new variety of plum tomato which I'm hoping will produce enough fruit to keep small daughter going for a few weeks – she's got a thing about plum tomatoes at the moment and I'm having trouble keeping up with the demand!  
It's felt like a very productive weekend and now all I need to do is keep an eye on the plants whilst they grow.  It'll give me the opportunity to get on with some other garden jobs – we've got some big hedges and they all need renovating this year which is never a five minute task – and I also want to get a bit better at sitting in the garden and feeling that I don't have to be jumping up to do something all the time.
I thought this weekend would be a good time to practice.
I hope you've had a great weekend too!