Simple Twisted Cowl pattern
Earlier this year, Black Sheep Wools asked me if I'd like to trial some new Noro yarn that they were bringing into stock for the autumn season.  I've often looked at Noro (and in particular the sock yarn, although that won't be a surprise!) and admired the vibrant colour combinations but until now, I've always been put off by the variations in the yarn thickness, despite this being a key characteristic of the yarn.  This would be an ideal opportunity for me to try it out so I jumped at the chance!
The yarn Black Sheep gave me wasn't sock yarn but instead was more of an aran weight.  and the trail ball was a bit like a lucky dip – there was very little information on the yarn band and no needle size suggestions at all.  It took me some time to gauge which needles to use, although what I did discover whilst making my swatch was that it knits up into a much softer fabric than I expected. In the end, I used the wraps per inch method and settled on 4.50mm needles which produced a nice firm fabric.  (You can see my swatch getting bigger as I changed needle sizes!)
I was surprised to find that despite the differences in the yarn thickness on the ball – in some places it was almost lace-weight and in others as thick as chunky – it didn't seem to make a great deal of difference when it was knitted up.  It has a slubby texture which is quite attractive, so this is not the yarn to use if you only like smooth knitted fabrics.
I did enjoy being able to sit and knit in the afternoon with a legitimate purpose instead of sneaking in a few rows here and there between other jobs as I usually do – although I felt as though I should be looking over my shoulder every few minutes to make sure that I wasn't going to be caught out skiving!  I could quite get used to this!
I was told that I could make anything I liked with my ball of yarn, so I decided to try to use it all up.  Big daughter started sixth form college this week and is busy trying to define the style she wants to present now that she no longer has to wear school uniform.  This is what I did with the ball …
and this is how she wore it …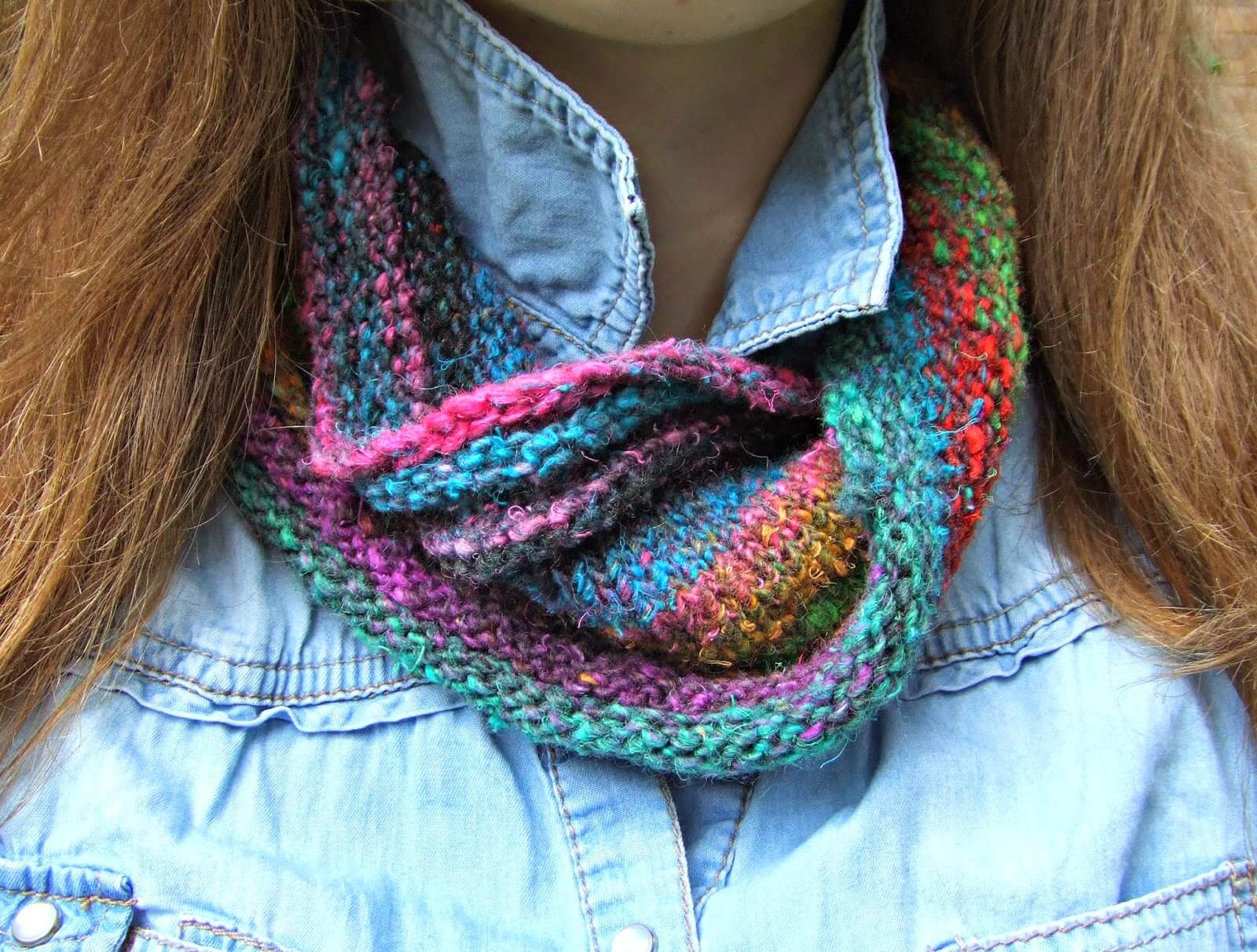 This easy knitted cowl is designed with a twist in the stitches so that it is easy to wear without have to get too fiddly with how you arrange it.  Big daughter found it very easy to pull on and I'm sure you'll agree, it looks good with her denim shirt!
The cowl is a simple knit and purl version which took almost exactly one ball (I think I had about 5 inches of it left) and knits up quickly in the round on a circular needle.  If you'd like to make one for yourself, the pattern is below, and is also available as a PDF.
Simple Twisted Cowl
Materials
1 ball of Noro Hanabatake (shade shown is 09)  (2021 update – now discontinued)
5.00 mm needles (optional – see note)
4.50 mm circular needle in 60cm length
Wool needle
Gauge 
16.5 sts and 31 rows to 4″ (10cm)
Pattern
Cast on 100 sts loosely with 4.50 mm circular needles.  (Note – if your casting on tends to be tight, use 5.0mm needles then transfer to 4.5mm circular needle for round 1)  Before joining into the round, twist the stitches once, place marker and
join to create a circle.
Round 1-2:         Knit
Round 3-4:         Purl
Round 5-7:         Knit
Round 8-9:         Purl
Round 10-43:    Knit
Round 44-45:    Purl
Round 46-48:    Knit
Round 49-50:    Purl
Round 51-52:     Knit
Cast off loosely (use 5.00mm needles again if required) and sew in ends.
Finished size:  depth approx 15cm, circumference approx 60cm
The yarn is now available at Black Sheep in a choice of 8 colours and all the information on needles and tension is on their website, so there's no need to worry that you've got some complicated swatching to do!
Would I recommend this yarn?  Yes, I would.  I was very pleased the way it knitted up, it didn't split or break and despite the thickness changes the finished fabric felt very even.  I liked it, and big daughter seems very pleased with it too.
This pattern copyright © 204 Winwick Mum All rights reserved.
The yarn for this project was kindly provided by Black Sheep Wools.

This cowl pattern is free and will always remain so, but if you have enjoyed using it and would like to buy me a brew, it will be much appreciated!  You can find the donation button on the sidebar on the left hand side.  Thank you! xx