Should I slip knitwise or purlwise?
"Should I slip knitwise or purlwise?" is one of the most common questions that gets asked in my Winwick Mum Sockalong Facebook group (the real-time help group for the Sockalong tutorials).
The question relates to whether it matters if you slip your sock heel flap stitches knitwise or purlwise and when faced with a pattern that simply says "Sl1" (slip 1), it's a reasonable thing for a beginner to ask.  It's questions like this that remind you how much of knitting knowledge is assumed, as the convention for slipping stitches is to slip purlwise then your stitch stays mounted the right way around on your needle for when you work the purl row, but if nobody told you that, you would have to work it out for yourself.  If you slip your stitch knitwise, the stitch twists on the needle and you'll end up working a twisted stitch on the purl row.
Obviously, if you're knitting a jumper, a hat or some other project where you need the stitches to look the same then this is an important consideration but to be honest, I don't actually think that it matters that much for a sock heel, and my answer to the question of "Should I slip knitwise or purlwise?" is to go for the method that's either easiest or gives the effect you like best.  I like the twisted stitches of the knitwise slip so I often use that one, but I also slip purlwise on other pairs and it just so happens that I've done both on these socks.
The sock on the left has the stitches slipped purlwise, and the sock on the right has the stitches slipped knitwise.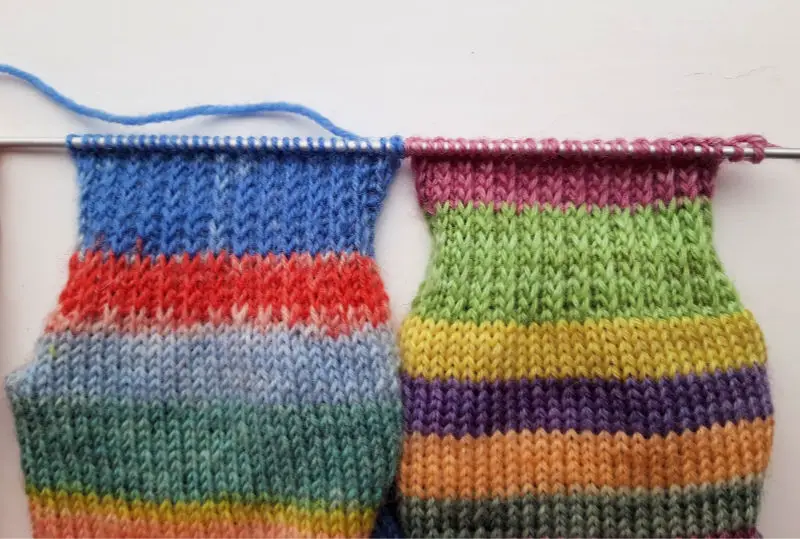 There doesn't really look to be that much difference, does there?  And you'd be right – it really is something that a blind man on a galloping horse wouldn't notice (one of my Nan's favourite phrases 🙂 ) and unless you pointed out what you'd done, I don't think that anybody else except another knitter would spot.
Here's a closer picture of the purlwise slips – you can see if you look closely that the raised V stitches match the Vs in the stocking stitch lower down, and the stitches sit proud of the heel flap …
whereas the twisted stitches sit a little flatter and if you look closely, you can see that the V stitches are twisted … you do have to look quite closely, though!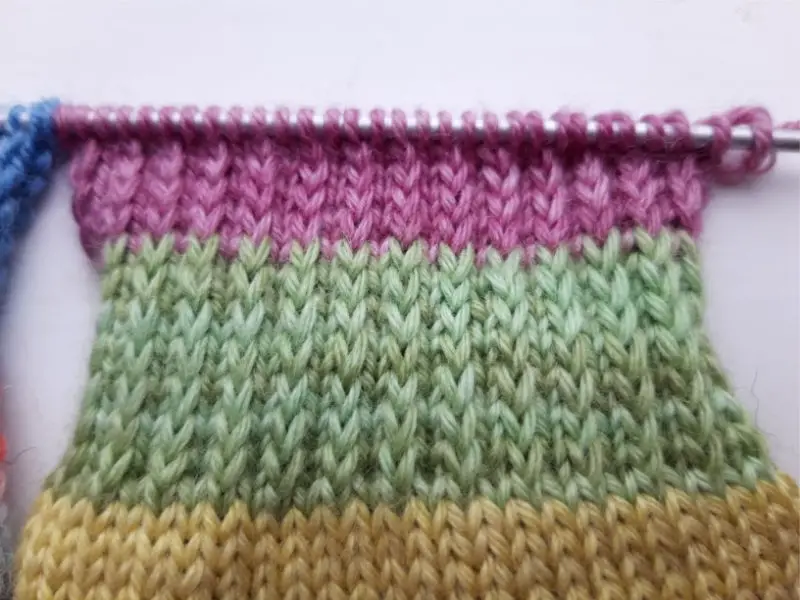 Having made and worn socks using both methods, it really doesn't seem to make any difference to how the socks wear so if slipping knitwise is something that you've done inadvertently, don't worry that you've knitted socks that are going to wear out faster.
My problem is going through the toes with my pokey toes but I can slow the damage down by using the same heel stitch on the toes – there's a post on reinforcing soles, heels and toes here if it's something that causes you problems too 🙂
Here are a pair of my twisted-heel-stitch-heel-flap socks …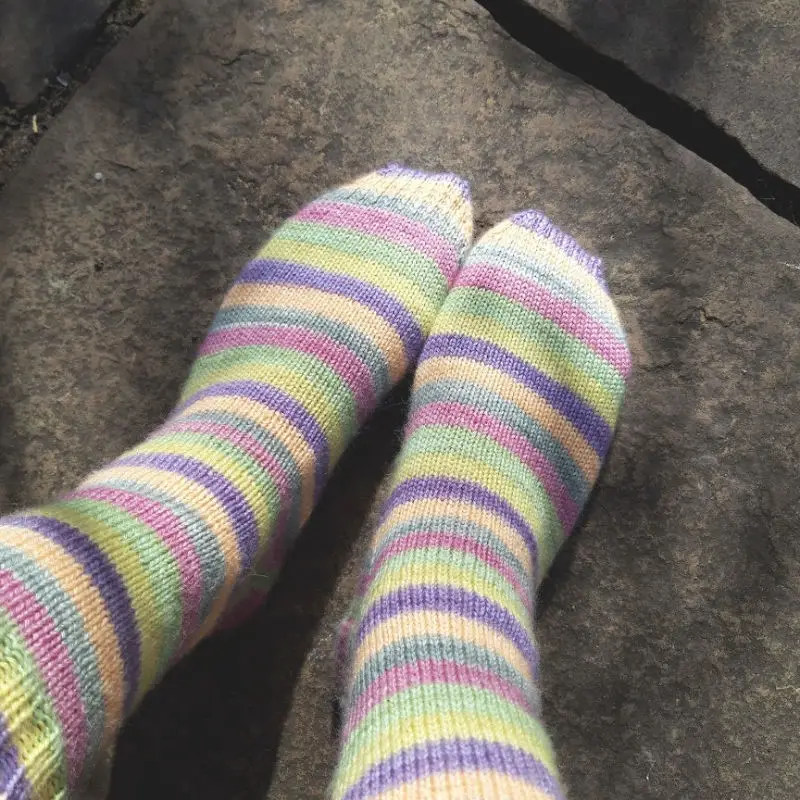 Unless you stop to look closely, no one will ever know and choosing to slip knitwise or purlwise can be your secret – another reason why hand knitted socks are special and unique compared to bought socks!
The yarn used for these socks is merino/bamboo eco yarn from The Yarn Badger in shade Allotment Harvest, and the pattern is my Basic 4ply Sock pattern.
You can find the free pattern and step-by-step Winwick Mum Sockalong tutorials for beginner sock knitters HERE.