Saturday
Hello!  How are you doing?  It's the end of the week already and the end of our first week of Easter school holidays.  It hasn't really felt like school holidays for us as not so small daughter has been in school pretty much all week for extra GCSE revision sessions – it's been hard going for all the young people who've been caught up in exam chaos after the lockdowns – two years later and it's still having an effect!  Anyway, not so small daughter's school have been brilliant in doing what they can to make sure that their students have caught up, and there was pizza and cake on offer for those who turned up to the sessions so it softened the blow of getting up (reasonably) early in the holidays somewhat 🙂
Thanks for all your comments on my last post about the football match both here on the blog and on social media – I really enjoyed reading your thoughts about football and Ryan Reynolds!
I think with this post I've pretty much caught up with everything I wanted to tell you that was hanging over from the end of last month …
I've finished the first of my Sheepers slippers and the sewing together bit was actually easier than I expected.  In fact, I think this turned out to be the easiest bit of it all so far and I'm pretty pleased with it – but I want to show off the pair when they're done so I'll have to get on with the second one!  I've been distracted by sock knitting (some I can show you and some that I can't) so it's taken a bit of a back seat for now, but having made one then the second one should be easier and faster (ha!  just like learning to knit socks!) although it's quite tough on the fingers to get the needle through the sheepskin so I can't do too much at once.
What else?  Oh yes, I was sent this very lovely project bag by a Danish company called Muud.
It's called a Saturn bag and it's perfect for holding a couple of balls of sock yarn and all the kit you'd need to knit them with.   It's got slim pockets on the outside and more on the inside, and where the two zips meet is a small gap separated by the popper flap and that's perfect for colour work as you can separate the colours to stop them getting tangled.  Genius!  There's also a larger Saturn XL bag which would be ideal for holding a sweater's worth of yarn if this has taken your eye but you tend to have bigger projects.
Inside, there's a zip pocket in the lid which I have already decided is where my short circular needles are going to live when I'm working …
and this is what it looks like on the inside.  You can fit a fair amount in – these are two of the four 50g balls of West Yorkshire Spinners Elements DK yarn that I bought, along with some Hiya Hiya stitch markers and you can see how the inside pockets work.  My pen is in one of them, and that's a tube of hand cream in another.  I discovered Nursem quite a few years ago and it's been the best thing for my hands which can get quite dry when I'm doing a lot of knitting.  They do an amazing cream for cracked heels too, and they send a month's worth of cream to a nurse or midwife for free whenever you buy any for yourself which I think is a fabulous thing for them to do.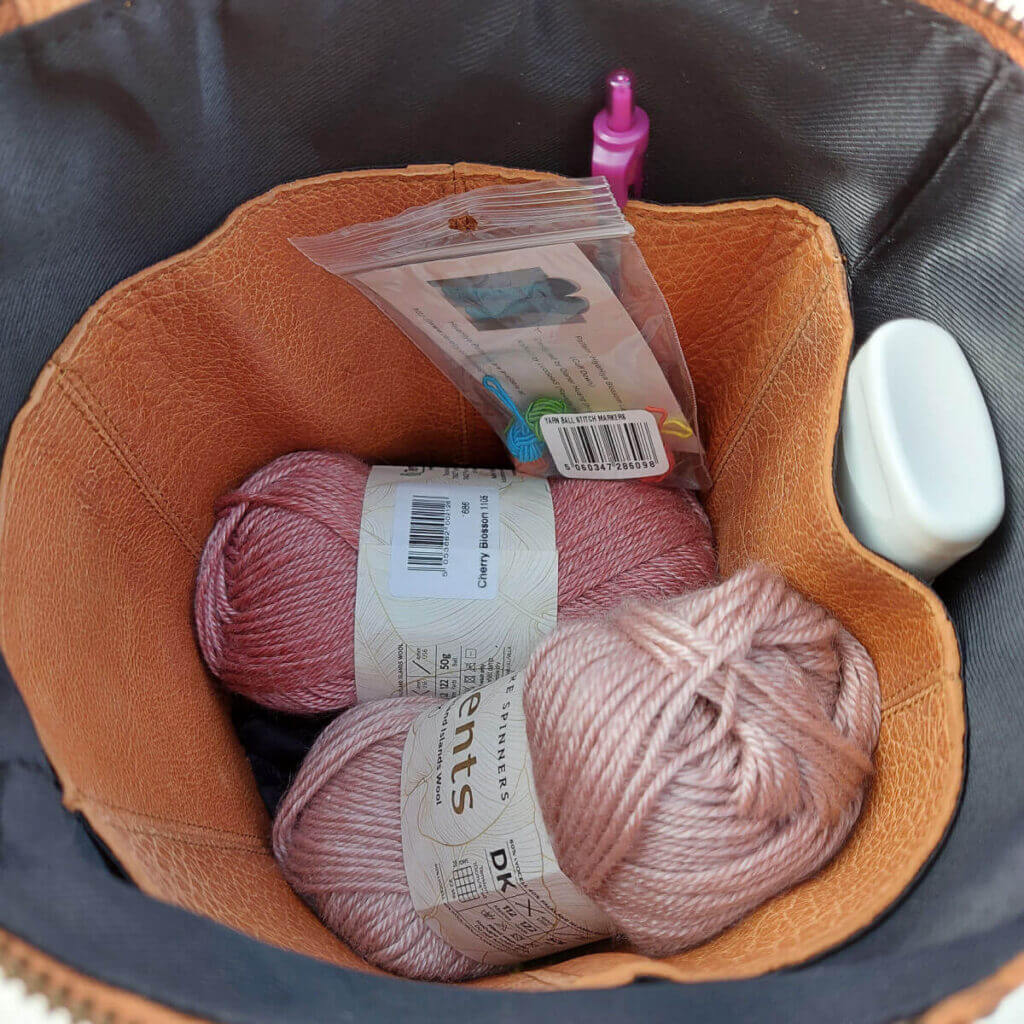 Here's the bag with all four balls of yarn in it …
They fit really nicely and once your sock is in there as well, that's the bag full and you've got everything you need.  I hadn't heard of Muud before but they've really thought their projects bags – because there are more of them! – through and I am very happy that they got in touch!
They also sent me scissors case (this is called Espoo on their website) – my Hiya Hiya unicorn scissors didn't quite fit, unfortunately, so I bought a pair of the gold stork scissors that I think pretty much everybody except me seems to use ( 🙂 ) and they fit perfectly.
I feel very grand having a scissors case!  I'm afraid I have been known to bite my yarn which is really bad for your teeth and then neaten it up with scissors later …
And because in our email conversation, I mentioned that I like to take my knitting out and about, they also sent me this amazing rucksack which fits my laptop and my knitting into it.  Wow!
It's got lots of pockets, a magnetic fastener and an inside zip closure as well as a drawstring which makes it feel much safer if you're travelling about.
I did feel very spoilt when the box arrived from Muud, I have to tell you, and despite what it might look like in this post, it's really not a usual occurrence for me to be offered sheepskin slippers and lovely leather bags!  They're also not gifts without expectation – I am showing you, after all! – but I would never accept anything that I knew I wasn't going to use on a regular basis so you can expect that my bags and slippers will be making appearances in my posts for some time to come!
Finally in the sock-related news for today, I have some lovely news in that Winwick Mum is being featured as Hiya Hiya's Blogger of the Month for April.  I was really pleased to be asked – I thoroughly enjoyed trying out their needles for my review a short while ago – and you can read the post here.
Before I go, I thought you might like an update on our Teeny Furry Trashers … they are still treating the house as a race track and climbing frame and there have been a few stern words but we can't stay cross with them for long.
Hattie fancies herself as my assistant but doesn't quite seem to have the hang of it …
Astrid always wants to be up.  Up on the windowsills, up on the stairs, up on the curtain poles.  She's going to think her name is "Astrid Get Down" as we're having to lift her off the curtain pole several times each evening when we go to watch TV, and even sitting comfortably and looking like a tiny tabby leopard in the savannah that's just eaten a small gazelle doesn't let her off.  I have no desire for her to be a large tabby leopard surveying the plain as the curtain pole falls down!
And then they do this …
(these are my Scheepjes socks in case you're wondering about the yarn)
and this …
and even the dog doesn't mind that they are snuggling on his bed.
They have us all wrapped around their tiny furry paws!