Winter Haven KAL 2021 – Week 4
Hello to you!  Today is the last post for this year's Winter Haven KAL – I don't know about you, but those weeks seem to have flown by!
It's been so lovely to spend January chatting with you about your cosy spaces and Winter projects, and I hope you've enjoyed seeing the photos too, both here on the blog and in social media posts.  I do love this yarny connection that we share at this time of year!
Thank you for sharing your photos with me again this week and for your emails and your comments here on the blog and social media – I've really felt that being able to see your photos has made me feel very connected to you in your Winter Havens, and it's been lovely to know that we're all crafting and making time for ourselves together!  Even though this is week 4, if you're on social media you can still post photos and find other people's using the hashtag #WinterHavenKAL.
If you're brand new to the blog or the idea of the Winter Haven KAL and you're wondering what it's all about, you've come in just at the end as the KAL is finishing now, but the ideas that I've suggested through the KAL are valid all year round, so do feel free to take a look at the other posts: Week 1, Week 2 and Week 3.
As with other weeks, it's time to have a look at what we've all been doing, so for the last time this month, are you ready?
🕯 My space

I have so enjoyed spending time in this cosy space again!
We've all made much more use of this space this year – my husband has commandeered my chair for himself when he thinks I'm not looking and it's been lovely some evenings for us both to sit here (not in the same chair, luckily we've got more!) and listen to music instead of watching TV.  Even the dog has chosen to sit with us and he often prefers to go and lie on the stairs in the evening (we have a turn in our stairs where he can sit, he doesn't lie on the treads waiting to trip us up!) and it's felt super-cosy and very comfortable to be able to do that.  My husband has been reading whilst I sit and knit and that's definitely a good thing as it means he's not swiping on his phone or watching some gruesome detective drama!  It looks like the Winter Haven might go on for a few more weeks in our house!
Here's a look at a few more Winter Havens (I'm going to miss this nosey into your cosy spaces!) …
Irune sent me this photo by email.  She's all set up here and tells me she's a total sock convert now – and it sounds like her friends and family are definitely seeing the benefit of that!  I think socks make such special gifts – for special people, of course! – as there's so much thought that goes into choosing the yarn and making them the right size.
Source: Irune via email
Jennifer has her swift and winder in her Haven and that's such a good idea if you're using skeins of yarn and you're a quick knitter too!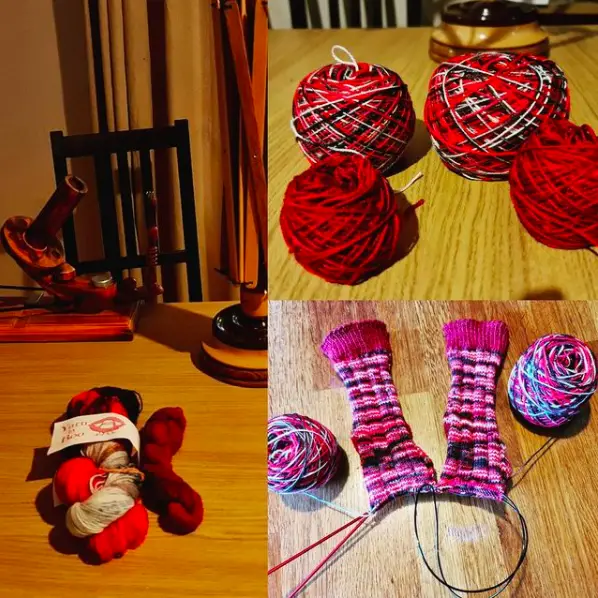 Source: @yeoldeenglishrose
Knitty-Cat is also well set-up here, complete with furry friend who looks less than impressed at being photographed but I am sure is an excellent knitting companion!
Source: @knittycatward
This year more than ever, I have certainly appreciated knowing that you've also been able to create yourself a space to sit and take time for yourself – it makes me feel as if we're able to support each other even though we might never meet.  The internet is magic like that, isn't it?
🕯 Project
I have a confession to make … I haven't quite finished my pair of Basic 4ply Knee High socks!  One of them is done and the second would be except that I've taken it back to below the heel to make the leg longer as I had yarn left over.  I did say last week that I thought I might do that, and after using up all of the yarn with the other sock, I now need them to be the same!
It shouldn't take me too long to get the sock finished now – it's easy knitting although I'm finding the yarn a little splitty now that I've unravelled it so I'll need to be careful that I don't end up with loops because I'm too busy watching TV to watch what I'm doing!
I'm not going to worry about it, though – and you shouldn't worry if you haven't quite finished your projects either.  Though this might be the last KAL post, there is no official finish date and I think we might all need our cosy spaces for a while yet so take your time and keep on being kind to yourself!
Here's my finished sock.  Using up all the yarn made it so high that it comes over the top of the blocker, but it feels great to be able to pull it right up to and almost over my knee.  A bit like school socks but infinitely better!
Do you like my knee high sock blockers?  I never knew that such a thing existed, but Victoria who made my other blockers messaged me to say that she had a pair of long blockers with my name on (literally! 😀) and would I like them?  At the time, no one knew that this year's KAL pattern was going to be knee high socks so I took this as a sign that I should definitely be writing it and said "Thank you very much"!
She had also made me this sock ruler and needle gauge which has come in very handy already as I managed to drop some interchangeable needle tips on the floor and I can never tell what they are by looking at them.
Victoria has both the longer blockers and the ruler/gauges for sale in her Etsy shop and you can get 10% off using the code Winwick10.  This is a permanent code, there's no expiry date so you can always use it at some time in the future if you don't need blockers right now.  It's not an affiliate link, but the blockers were a gift to me.
Let's have a look at your projects – and be warned, there are LOTS of them this week!

This is Brigitaema's first pair of socks and they are going to be fabulous!  She said that she might not have chosen the red (it was in her stash) but I think it's a lovely colour!
Source: @brigita.ema
This is a pair of Easy Lace Socks and they look lovely in this yarn with the contrast heels.  I've seen lots of pairs knitted in this pattern just recently and it really is very easy if you want to get into adding patterns to your socks but haven't tried it before.
Source: @warmfeetwarmheart
Wow!  Look at this bright pair!  Those are self-dyed yarns and I think they go brilliantly well together!  Even if we might dress conservatively on a day to day basis, wearing bright socks is a great way to let your own style shine!
Source: @socksandskeins
Knitty-Cat has been on a roll with her projects during the Winter Haven KAL weeks!  This is her second pair of Split Mittens and she has a pair of socks on the go as well!
Source: @knittycatward
More Split Mittens on the go here – whilst watching a philosophy lecture!  I think that right across the world, the lockdown restrictions have encouraged every knitter to perfect their technique of knitting whilst listening to lectures and being on video calls (just keep your hands low and your movements small then nobody sees your shoulders move 😀) and actually, I think it's a good thing.  Personally, I find that I can concentrate more if my hands are occupied so I find myself properly listening rather than doodling shopping lists or surreptitiously trying to tidy my desk without really moving!
Source: @k_dootje
Dr Sara was doing so well until there was an unexpected item in the knitting area … love it!
Source: @drsarawickham
Sarah is on her second pair of Basic Knee High Socks here.  They're going to look so good in that sparkly Silent Night yarn (the West Yorkshire Spinners Christmas yarn for 2020) – and she's reminded me that I haven't finished reading my copy of The Golden Fleece yet either.  The big thing that this KAL has gifted to me is that my reading mojo finally seems to have returned.  It's taken more than a few years, to be honest, and I did wonder if it ever would, but I've already found my copy and put in my reading pile.
Source: @penberthyarns
Brenda started a pair of knee high socks for her daughter …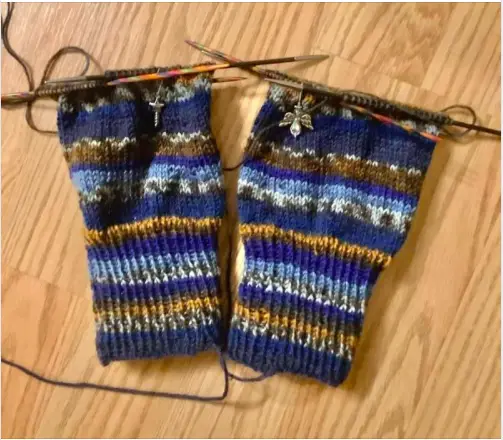 Source: Brenda via Facebook
and finished them!  She's made adjustments so that they fit her daughter properly and I know they're going to look fabulous!  I love it when people feel confident enough to make changes to the pattern – after all, that's why our hand knits are so comfortable because we can make them to suit our own shapes and sizes!
Source: Brenda via Facebook
Claire has finished these contrast socks and don't the colours go well together?  The main yarn is WYS Florist in Foxglove and it certainly makes interesting patterns down the socks!  I don't think it's possible to match this yarn exactly (I made a pair when the yarn first came out and you know what I'm like with matching socks!) and even one stitch difference can completely change the look of the pattern so it's definitely a yarn for colour adventurers!
Source: Claire via Facebook
Jasmine finished her pair of Easy Cable Socks.  She's also got a yarn with a pattern in it – I've never seen yarn that looked like little spots before, isn't it great?
Source: Jasmine via Facebook
Jean used the helical knitting method along with her contrasts for her socks.  Because you work with two yarns (although only one at a time which makes it easier than colourwork knitting), you can split a variegated or striped yarn to change the way the colours work together.  It's also a really good way to use up leftovers as you don't use a whole ball of either colour for your pair.  I first wrote about using this method last year – you can read the post here if you fancy giving it a go!
Source: Jean via Facebook
Jo has used Comet, the WYS Christmas 2020 pattern, for her socks with Candy Cane yarn.  They look great!  You can see the lace pattern design really well through the stripes – I might have to try this myself!
Source: Jo via Facebook
Finally for this week, here are Kristi's LikeMinded socks.  That purple yarn is lovely and it's worked really well with the pattern too!
Source: Kristi via Facebook
🕯 This week's recipe
This week, I've gone back to the biscuits.  I love home made biscuits and am always looking for my new favourite recipe.  This is a good one – Vikki Bird, who you might have heard of as she designs fabulous patterns for Knit Now and I Love Knitting magazines, shared this recipe on Instagram some time ago and it's definitely at the top of my home bake list at the moment!
The recipe is for M&M cookies and I should have put those in but I didn't have any so I chopped a bar of plain chocolate into large chunks and used that instead.  It's very easy to swap the butter for Flora in this recipe so that big daughter can eat the biscuits too, and you can find the recipe here if you want to try them out for yourself.
And what about you?!
Nikki has tried out the Cheesy Nibbles from last week's post with a chilli dipping sauce – that sounds really good!
Source: @nsevio22
Annette tried out the Scotch pancakes from Week 1's post … you can quite easily get 15 or so pancakes from the batter which always feels like plenty as they're very moreish!
Source: Annette via Facebook
🕯 Something green

Daffodils!  I spotted them in the supermarket this week, the buds tightly closed and look, a few days later the flowers are out!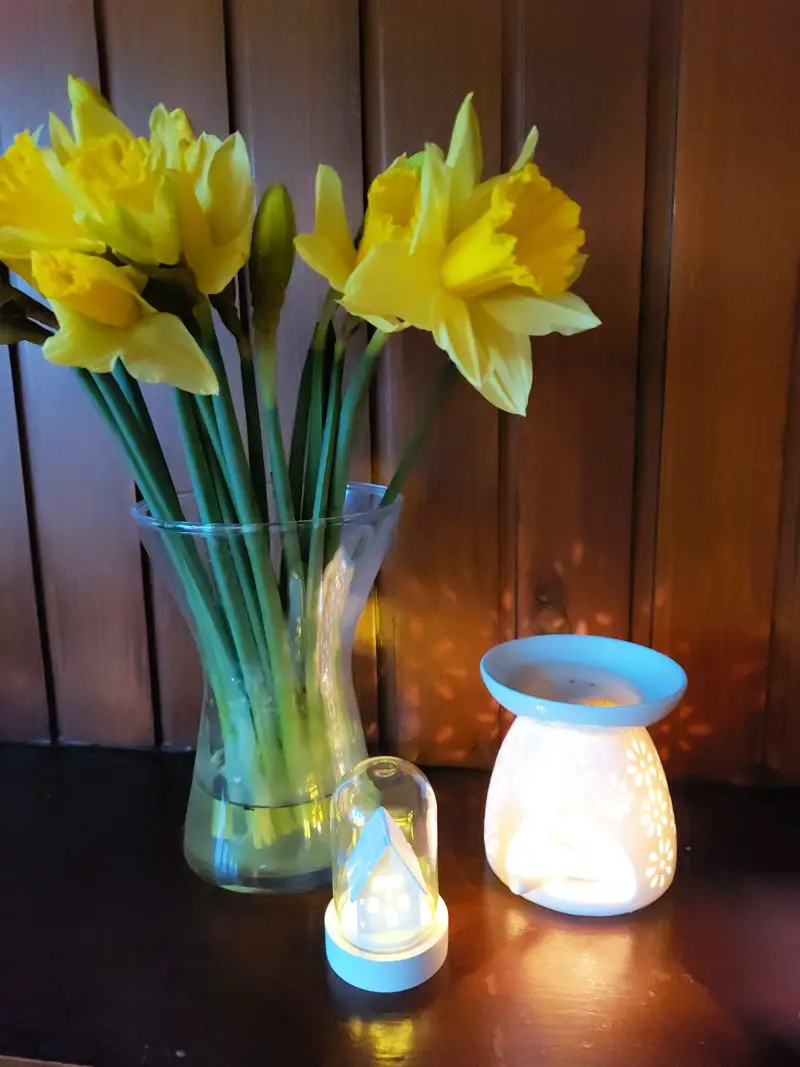 There are lots of bulb leaves coming up in the garden too, which still feels very early given that we had snow again the other day, but they're nowhere near flowering.  It is so lovely to have Spring flowers in the house!
The primula that I bought last week has opened up a little bit more but not as much as I thought it might have done by now.  It just makes the anticipation last that bit longer!
🕯 Light it up!
I'm actually going to use the Something green photo for my Light it up! photo this week.  I have the wax melt burner going pretty much all day and it's so lovely to get the wafts of scent around the room.  What I like is that it doesn't smell chemical-y as some air fresheners do (and we do have to have a few of those, thanks to our elderly cats turning into cantankerous beasties who can't always be quite bothered to make it to the litter tray … I am an expert in mopping up and removing that smell now, so do ask me if you need ideas!) and I love that the scents seem to last so long too.  I'm definitely a convert to these over candles now!
I bought the little light-up house at Christmas but couldn't quite bring myself to put it away in the attic with the rest of the Christmas decorations.  The weather has been quite dismal again this week (although it did snow briefly which cheered me up!) so it's been good to be able to have extra lights dotted around the place.

🕯 Listen up!
I've been back in the vinyl collection this week.  My husband has started to bring some of his record downstairs to play now that he's moved his record player into the living room and we do have shared taste for some of it (this does not include the Pink Floyd record with lots of screaming on it that makes the dog bark, or some of his really heavy rock records!) so it's been good to be able to play his records along with some of mine.
I do like a bit of Pink Floyd, I have to say!  I went to see them in concert at a Manchester football stadium years and years ago, even before I met my husband, and they were excellent – this album is The Division Bell.  My favourite album is A Momentary Lapse of Reason followed by Wish You Were Here but some of the earlier stuff than that tends to lose me.
This week has been The Week of The Gravelly Voice with Chris Rea (Shamrock Diaries, a teenage favourite album) and Robbie Robertson (Robbie Robertson – the song "Somewhere Down the Crazy River" always sends shivers down my spine!) getting an airing.
I've really enjoyed making more time to play the records during the day when I'm in the living room, it's something that I'd definitely like to try to continue this year.
🕯 Self-care
Self-care for me this week has involved trying to work on the clutter in the house.  It's not easy at the moment as there's only so much you can put in the bin or the recycling bin (we always seen to have so much cardboard!), and none of the charity shops are open to make donations, and ordinarily this would have been a good excuse for me to leave it all for a bit longer, but I'm trying not to do that this year!
I am working on the theory that even one thing out of the house in a day is something less that I have to worry about later, and I've found that quite a good way to start clearing things is to look at the stuff I've had piled up to "do something" with later.  Today's example is empty candle jars with bits of wax left at the bottom after the wick has burned away.  Often they've been in pretty jars and I've thought that they would make good tea light holders but they've all ended up in a box in the garage so I have lined them all up on the Aga to melt the wax to make firelighters.  I can't remember where I saw the idea originally but I've been making these for a year or so and they work really well!  This link shows you how if you've never tried them before and they would be useful for you to know how to make.
The jars, despite being pretty, are going into the recycling.  I don't need any more tea light holders and although I have good intentions about making candles as gifts, it's probably not going to happen so I'm trying to remind myself that it's better to let them go and make the space!
I mentioned earlier that my reading mojo has returned and it really has!  This week's book recommendation is another from my Christmas gift pile … Miss Benson's Beetle by Rachel Joyce.
I've been saving this one – I have to be honest and tell you that I was a little bit worried about starting it because it was Rachel Joyce's earlier book, The Unlikely Pilgrimage of Harold Fry that contributed to my reading mojo disappearing because I loved it so much that no other book could compare … and then I just got out of the habit of reading.  Anyway, so far, I am thoroughly enjoying Miss Benson's Beetle and now that I'm back into the swing of reading again, I feel less concerned that this book is going to put me off for the next umpteen years!
🕯 Thank you
I have much to be grateful for again this week – continued good health, managing to get Google Pay to work on my phone after I'd put petrol in my car but forgotten to take my purse, video chats with friends … I definitely will be much more mindful about the freedom that we have when we ever get it back!
This week, I've also been grateful for …
blue sky!  It's been so lovely to see it after the endless clouds and rain!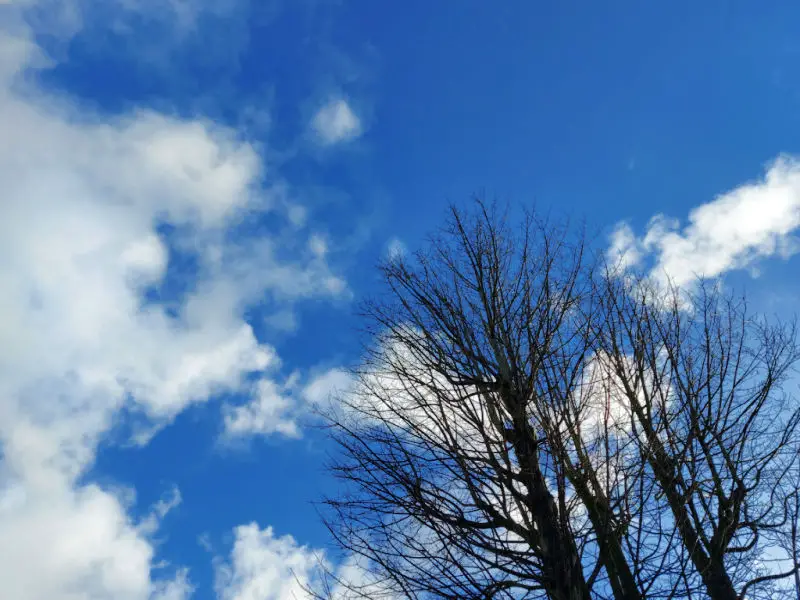 Snowdrops!  Spring is definitely on the way as there are all kinds of bulbs shooting up in the garden, but the majority of them are snowdrops.  I didn't realise there were quite so many of them, although I do know that they multiply every year.  The rest of the garden is in a bit of a shocking state at the moment, but the snowdrops look fabulous!
Snowdrop spam coming up … 😀
And how could I not be grateful for this?!  I've still not got any more that I can tell you about than I did in my last post, but it won't be long!
Thank YOU so much for being part of the Winter Haven KAL with me again this month, I've had such a lovely time and I hope that you've enjoyed having a cosy space too.  It seemed a shame to just stop abruptly with this post last year, so I wrote a round up post and I'm going to do the same this year.  I'd love you to be part of the post with me, so if there's anything you'd like to show – finished projects, part-finished projects – or you'd like to share, please get in touch so that I can include you!
Don't forget that the social media hashtag is #WinterHavenKAL, so you'll still be able to see posts on Instagram and Facebook if you're a social media user, and you can get hold of me through email as well (look for the envelope symbol underneath my profile picture at the top of the page – it's how I'm attempting to deter spammers! 😀).
I hope you have a wonderful week in your Winter Haven – see you next Friday for the round up! xx