Socks … and more socks
Hello hello, how are you doing?  The days are speeding towards Yarndale – it's less than a week away now – and I'm busy getting myself organised (it does happen every now and again! 🙂 ).
This post is all about my favourite subject … socks!  First up –
💜 Yarndale Sock Line socks
Well, what can I say?!  Once again you have stunned me with the number of socks that have arrived to be shown off at Yarndale and then given away.  I was going to write about them on this post but decided that they should have a post of their very own, so that's coming up in a day or two.
💚 Christmas Robin socks
Christmas Robin socks?  Yes, you've heard right!  Christmas Robin is the new Christmas yarn from West Yorkshire Spinners.
If you think that it looks familiar, then you would be right – it's a new permanent addition to the Country Birds range and I think it fits in perfectly.  You might always be wondering if there's a free pattern to go with the yarn again this year – and you would be right again!  I was thrilled to be asked to design the new Christmas sock pattern, especially as you may have noticed that I have a bit of a soft spot for robins, although it is most peculiar to be knitting Christmas socks on your summer holidays! 😀
The pattern is available at yarn shops as it's free with every ball of yarn sold, and it's been beautifully designed as a Christmas card this year – those WYS graphics people are so clever!  Would you like a closer look at how it knits up?  I'm always a little sad to hand over the socks when I've made them, but I know that the proper photographs are going to look so much more professional than mine!
See?  You want to be by that fire with that mug of tea too, don't you?  I know I did!
Choosing the right pattern for this yarn took some thought.  I tend to think of the Country Birds yarns as classic yarns and I wanted something that reflected that, and also that would be suitable for anybody to wear all year round.  After all, we see the robins in the garden all year round so why not wear the socks all year round too?
I knew very quickly that I wanted to choose a cable pattern – but which one?  There are so many variations to choose from, but as soon as I spotted this one, I knew I had to use it.  Can you see what I could see?
Paper chains!
Well, I was very pleased with that, I can tell you!  A classic cable with a nod to Christmas that will work all year round.  Just what I wanted!
The cable isn't too difficult to work, you'll be pleased to know, although you do use two cable needles – don't let that put you off, there are instructions in the pattern to talk you through it, and if you've never worked a cable before, have a quick look through the Easy Cable Socks tutorial which talks about how cables are written in a pattern and created in the yarn.
The yarn has been officially launched so will be winging it's way (ha!) to local WYS yarn shop stockists – it has arrived in some stores already but do phone just in case to save a wasted journey.
2021 update:  You can download the pattern (now renamed "Blitzen") for free HERE
💛 Commission socks
Oh, I've mentioned them once or twice and haven't been able to show you anything – I still can't show you anything but one of the commissions is finished at last – hooray!
💙 WIPs
Oh dear, I thought that I'd better take a look at what I had hanging around in project bags and see about finishing them off, especially as I've put my toes through a couple of pairs of socks and I thought it might be easier to finish new pairs than darn them.  (Sadly, that's code for "I'm a bit too lazy to darn them at the moment"!)  It was worse than I thought, so I am going to lay out my Work in Progress socks in all their glory to encourage myself into getting them off the needles and onto my feet.
In my defence, I have been busy with Christmas socks and commission socks and Yarndale socks and my husband's socks, but that's still not really any excuse for the length of time some of these have been on the needles …
Angee – this is a pattern from Sock Innovation by Cookie A and the yarn is Blueberry Mash by Wool is the Answer.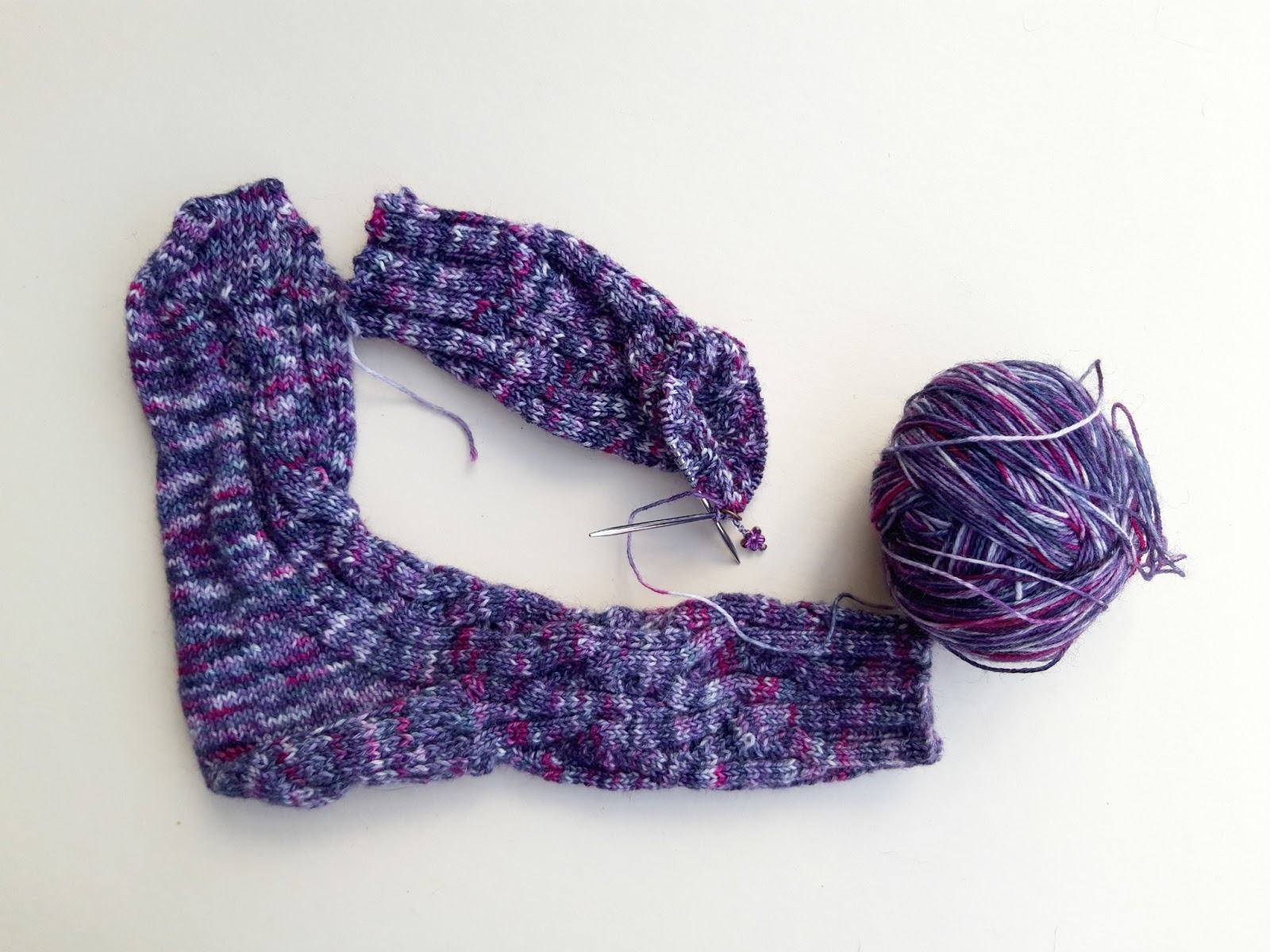 These have actually been on my needles for over 2 years now (how embarrassing!) but I think that the reason I've not finished them is that I didn't choose the right pattern for the lovely variegated yarn but had gone too far to want to rip it out by the time I was convinced of that.  I'm on the heel of the second sock now so I will finish them and wear them, but if I was to use this yarn again I'd choose a pattern that wasn't so busy so that the yarn could speak for itself more.
Dorset Horn – a no-nylon yarn from Skein Heroine which I was doing really well with using a new cable design, until I realised that I'd got carried away with my cables and I couldn't actually get my foot into the sock.  I've made the adjustments to the pattern now, but other projects got in the way.  As they do.
6 ply boot socks – this one is quite ridiculous.  Look at that, I'm so close to finishing!  I have no idea what I was doing with that toe and why it is hanging off DPNs, but I'm sure it wouldn't take long to fix it so that I could actually wear the socks.
Neat Ripple – my emergency car knitting sock.
Except that currently, it's in the house because I need to start the toe and I wanted to try the sock on to do that.  Not something that I would recommend whilst you're in a queue on the motorway!
Hey Jay yarn Soul Circussocks – I cast these on whilst I was away with big daughter and I've got as far as the heel … and stopped.
My husband's latest pair of socks – the yarns are British Skies by Sheepish Fibre Art and Sarsaparilla by West Yorkshire Spinners.  I did actually finish the toe last night whilst watching an old episode of Midsomer Murders with big daughter (she was working on the heel flap of her sock), so there is progress with these ones.
Seascape socks – I've got as far as the heel on this one too.  I can see a marathon heel session coming up! 😀
Is that it?  Phew! I think that's quite enough!  Once Yarndale is over and my other commissions are on the go then I think I'll be able to get these socks finished.  I loved them all when I cast them on, it's a shame for them to sit in project bags!
💜 Two at a Time (TAAT) socks
I promised you a tutorial for these socks – and a tutorial you shall have!  I've written up the photo tutorial and I'm editing the video (you really need me to do this, it's rivalling Gettysburg* at the moment 😀) but I'm hoping to have it done really soon now.  My original plan was to have it up on the blog before the Yarndale weekend but I think that may be a bit ambitious now, so let's just say that I'll be as quick as I can!
I've got to hurry up with this anyway, because these socks are going on the Yarndale Sock Line and will be going to their new home in a few weeks so I'll need to make sure I'm finished with them before they do!  I'd better get a move on!
💛  Finally, I'm going to be at Wool n Stuffin Wakefield on Saturday 5 October if you live locally and can come over to say hello!  There's not much time after Yarndale to give you notice so I'm popping it in here!
* The longest film I have ever sat through in my life.  4 hours and 8 minutes.  I may have snoozed.  There were no fluffy kittens in this film.