Don't You Want Me Socks – free pattern
Have you ever heard of the online magazine called Knitty?  It's the longest-running free knitting magazine on the internet (it's been around since 2002) and each issue has some fantastic patterns by some fantastic designers, articles, knitting technique help and lots of other stuff too.  It's well worth a look!  It's funded through Patreon and I've been a supporter for several years now (you can see my Patron badges at the bottom of the right hand side bar) – I think it's amazing that we have free access to this information, and free patterns from designers that I've always admired too, and I am glad that my contribution will help it continue.
It's long been an ambition of mine to be able to write a pattern that I thought was good enough to submit to Knitty, and for Knitty to think that it was just the right sort of thing for them to publish.  I'm super-proud to tell you that a brand new free Winwick Mum pattern is available in the latest edition of Knitty – the link is here.  Called "Don't You Want Me", they are inspired by the bright colours of the 1980s (and yes, that is a song title as the sock name – you're going to be singing it for weeks as I have been!) and are intarsia socks similar to the Patchwork Socks and Flow Through Socks.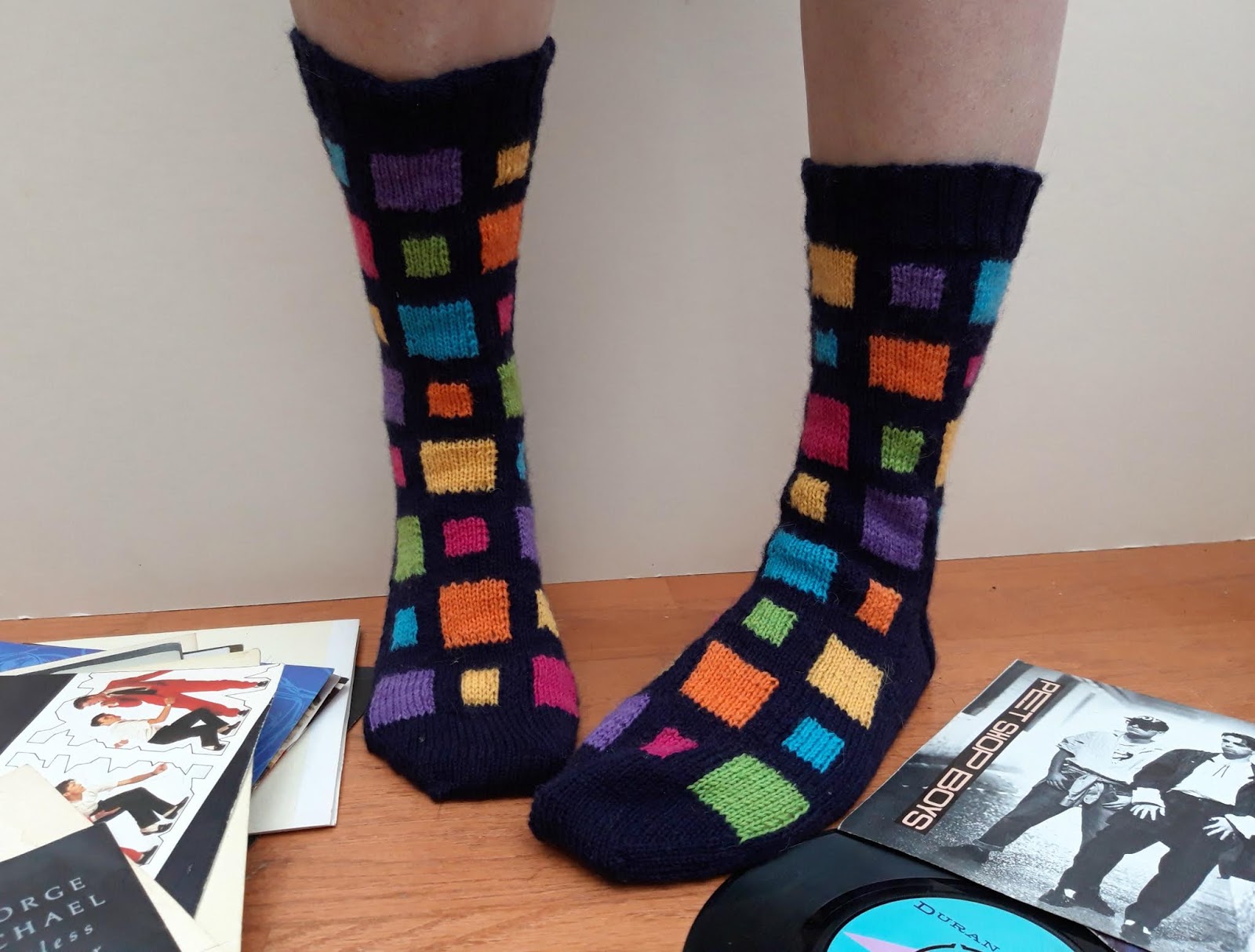 They're knitted with a ball of navy blue Opal Uni 4ply and a ball of West Yorkshire Spinners Signature 4ply Rum Paradise to make the blocks; you could easily use leftovers if you have them instead.  They were good fun to knit, and I had a lovely time rootling through my old 45rpm singles for the photos too! 😀
The pattern that's published on Knitty is written in their house style so it's quite different to my usual wordy patterns – if you get stuck with making the sock you can find help on the Patchwork Sock tutorial as there are lots of photos to help create the wrap and turn join and there's video help for the Patchwork Socks on my YouTube channel too, but you shouldn't have too many problems as it's been very thoroughly edited to make sure that all the information you need is there, as well as good descriptions of how to work the joins in the Knitty abbreviations section.
You can either use the pattern online or there are printing options if you'd prefer to have a paper copy to work from – you can find those on the Knitty website.  You can find the listing on Ravelry too – please do link your project if you decide to have a go at making them!
Click HERE for the link to the pattern.