Wiseheart Studio visit
If you're in the Peak District over the Christmas period, you might well be tempted to follow the Peak District Yarn Trail (although do check opening hours before you visit!) – you might remember that in early November I went to Peak District Yarns in Tideswell … a couple of weeks later I went to Wiseheart Studio in Whaley Bridge as Kate, Martyn and Annie who own the Studio were celebrating their 2nd Studio birthday.
It was another cold day (I was glad I'd put lots of layers on!) but the winter sun lit up the hills as I drove past Manchester Airport and out into the countryside.
Ah, breathe in that fresh air!  I always stop the car before taking photos like these and sometimes it's very tempting not to get back in, but to keep breathing in that fresh air, or to set off across the fields, following the footpaths to see where they lead.
But get back into the car I did, and soon found myself in Whaley Bridge where Wiseheart Studio is based.  To help with the celebrations, there was a pop-up shop featuring the Derbyshire Dyers, which is a hand-dyed yarn collaboration between a few local hand-dyed businesses.
And here I am, with my name on a board.  It makes me feel very grand!  And look – The Sock Person – I love it! 😀
Inside, the Studio was packed with yarn, project bags and accessories and the Derbyshire Dyers!  There was just enough room left for me to squeeze onto a comfy chair …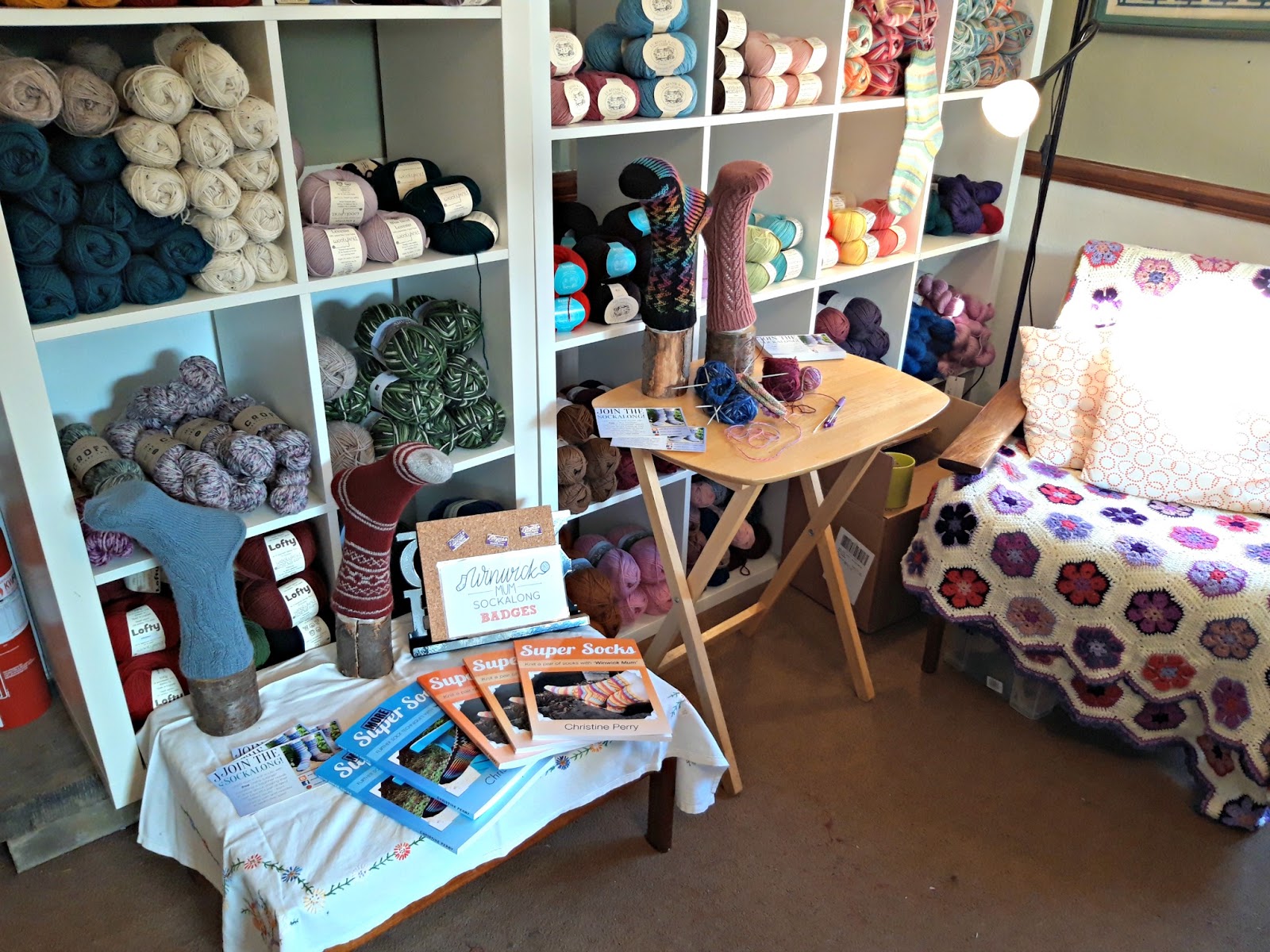 but look at all this temptation!
This is yarn dyed by Annie who, as well as working at Wiseheart Studio, dyes her own yarn as Wild Spinster.  Many of her yarns are locally sourced from sheep that live in the surrounding fields, including the elusive Derbyshire Gritstone … 
Elusive to me, that is!  I've heard a lot about Derbyshire Gritstone sheep and how their yarn is fabulous for socks, but I've never been able to track any of it down.  The reason for this, apparently, is that it doesn't make it past the hand-spinners who like to keep it all for themselves! 😀  Annie had some Derbyshire Gritstone in her stock (it's the pink and purple one in the middle of this photo) but it was a thicker weight than I'd usually choose to knit socks in for everyday use – but the good news is that she knows another lady called Becka (whom I met at Peak District Yarns) who owns Derbyshire Gritstone sheep and there just may be a collaboration resulting in some sock-weight yarn next year … (you heard it here first!)
Next to Annie was Hayley of Ducky Darlings, and behind her on the wall were the yarns of Sonic Knits.  I've seen Hayley's yarn featured quite a lot in sock knits in the Winwick Mum Facebook groups and I've often wondered about the name of her business.  "Ducky" is a local term of endearment and Hayley's darlings are her grandchildren, so that makes it a very lovely business name indeed!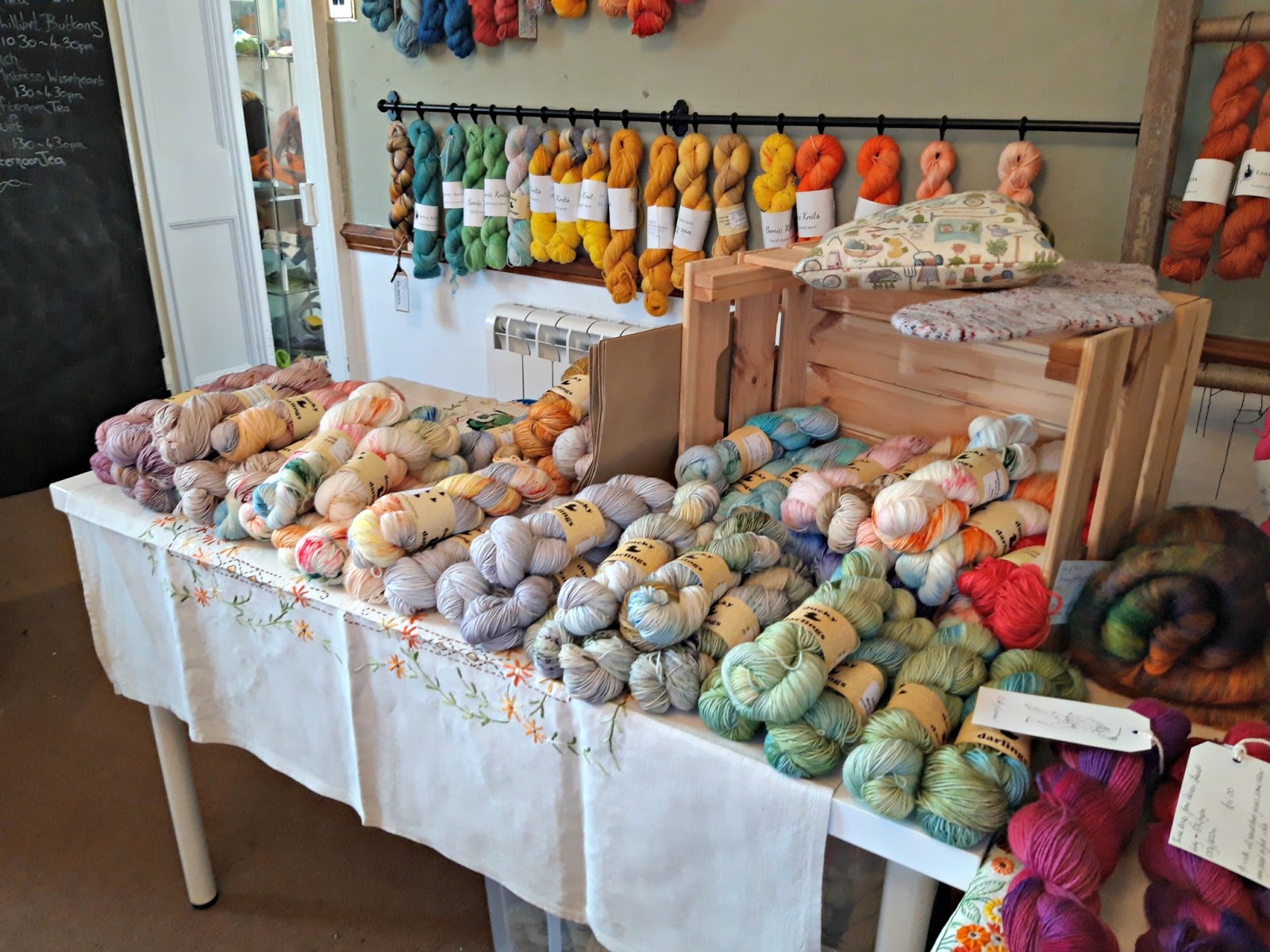 Along the long wall of the Studio were Laura of CraftmongerLau with her gorgeous project bags, many of them festive-themed as we were heading up to Christmas …
Suzanne of Greenlambkin Yarn with yarn (including sparkly Christmas yarns!) and accessories …
and more fabulous and festive project bags made by Wendy of JazzKitten Craft.  
Here are Laura, Suzanne, Wendy and Hayley soaking up the winter sunshine and knitting … socks!  Hooray!  There was plenty of sock knitting going on, although I was kicking myself at having forgotten to take my own sock to work a few rounds on.  It's so companionable to sit in the company of knitters and hear the click of the needles between pauses in the conversation.
Wiseheart Studio stocks a range of commercial yarns (West Yorkshire Spinners and J C Rennie amongst other British yarns) as well as a regular supply of hand-dyed yarns from the Derbyshire Dyers collaborative and, of course, knitting and crochet accessories.  There is a range of textile art on display, and there are regular knit n natter groups each week, including one that's dedicated to spinning.
The Studio is ideally suited to workshop groups; it's big enough to fit people around the tables but not so big that the groups are an unwieldy size and participants feel left out.  Workshops that have run this year have included weaving, beginner spinning, yarn dyeing, felting and rag rugging – all workshops with an emphasis on traditional techniques so if you've always fancied having a go at something like this, Wiseheart Studio could be your place!
I think it's super-important that we support small, independent studios and yarn shops like this one; anyone who owns any kind of shop knows that it's tough to stay in business these days so it was lovely to see so many people popping in to say hello to Annie and the other dyers, and also specifically to pick up certain yarns or to check on orders that the shop were bringing in for them.  This is what a community store is all about, and whilst I believe there is a place for both online and bricks and mortar stores, the advantage that bricks and mortar stores have is their opportunity to develop relationships with their customers that go beyond simply choosing items from a computer screen.  The internet allows us to source products that we would never normally get to see or buy and that in itself is an amazing thing, but being able to walk into a store and have someone smile and say hello to you is something that we shouldn't take for granted – or undervalue.
I left Annie and the Derbyshire Dyers to head back home (calling in first at The Bridge Bakehouse as recommended – I ordered a sandwich and some Bakewell tart and it was very yummy!), and it struck me as I drove back along the winding country roads that if you're going to follow a yarn shop trail, the Peak District is a very nice place to do it!
Wiseheart Studio re-opens on 4 January 2019.
With many thanks to Wiseheart Studio for looking after me!