Happy New Year
It's January 2018!  
This year feels like it's going to be a fantastic year, don't you think?  I love these first few days of the year, they're like an open book of blank pages and we can write the story of the year however we like.  Yes, of course there are going to be unexpected pitfalls and disasters along the way (our Aga has turned itself off without notice, that was pretty unexpected but at least it waited until after our guests had left on New Year's Day!), but there are also going to be triumphs and successes that are just waiting for us to celebrate – and we need both good and bad to be able to appreciate the other.  Bring it on!
I am pretty good at remembering to say "thank you" on a regular basis – gratitude was one of the things that I was determined to cultivate in a big way last year – and before I blether on any more, I must say thank you to you for all your comments and support on my blog last year.  I lost the plot with replying to them all before Christmas (I lost the plot with a lot of things just before Christmas but the world is still turning 🙂 ) but do be sure that I do read them all and am very grateful that you have taken the time to write to me.
So what's new for this year?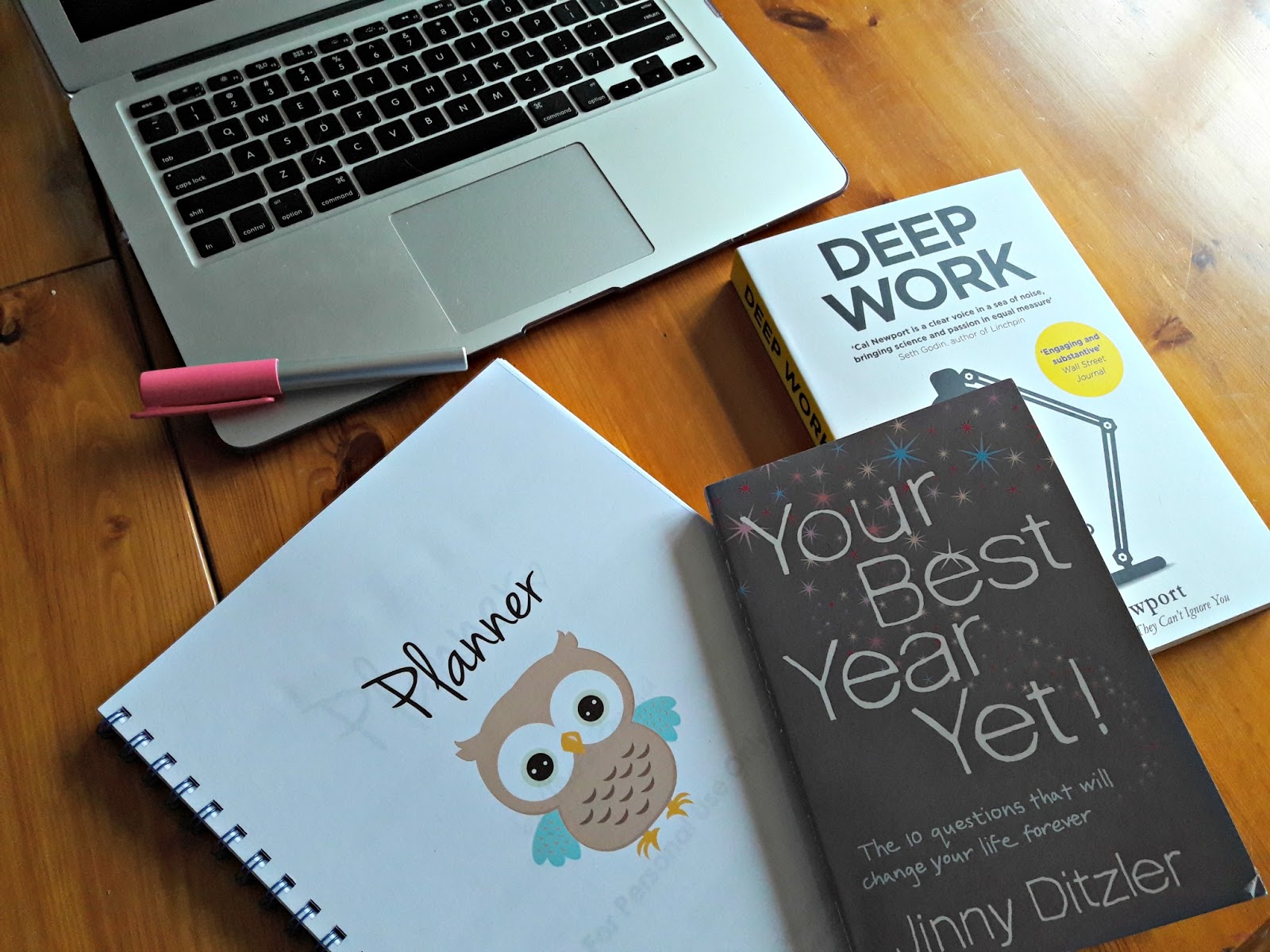 I have a new planner!  I looked back at my post from this time last year and I was writing about last year's planner and expecting to have stopped using it by February.  Actually, although there were a few times during the year when I did forget decide to see how I'd get on without one, I found that between it and my Google calendar which we use as a family, I was reasonably organised, and when the new download became available, I decided to use it again this year.  My planner is from Krafty Owl and I use this version as I prefer my weeks to start on a Monday rather than a Sunday.  It's a free download and I get it bound at our local Office Outlet (one of those big sells-anything-to-do-with-offices-and-stationery stores); to be honest, it probably costs me as much in ink and paper as it would do to buy a ready-printed planner, but I like the layout of the pages which are pretty basic with lots of space for me to write my endless lists, and it doesn't make me feel guilty about not having written down goals or drawn mindmaps to focus my first two weeks of January year.
I've also fished out my copy of Your Best Year Yet by Jinny Ditzler.  This is a cracking book for making you think about what's important to you and what you want to focus on in the next year in all aspects of your life, not just business-type goals.  There are still no mind maps or demands to create goals that always end up making me feel more anxious than motivated, but there are ten questions that you answer and by the time you've put it all together, you've got a picture of how you want to spend your energy which is an interesting way of looking at it all.  I did all the questions a couple of years ago when I first bought the book and was fascinated with how it all turned out, but I never quite found the time to do them the next year (ha!).  Never mind, I'm working my way through the book again now and I'm going to set aside some time next week to write down all the answers to the questions again (the book says it takes 3 hours which is nothing, really, out of a whole year which makes it all the more embarrassing to say that I didn't have the time to do them previously) and then make sure it all fits with my planner.
I've bought myself another couple of books to read this year, too.
The first one is Deep Work by Cal Newport, which I'm hoping is going to help me deal with my Olympic-standard propensity for procrastinating.  Yes, yes, putting off doing more things by reading a book, but according to the cover, by the time I've read it I'll have "rules for focused success in a distracted world".  That sounds very grand but if the basis of it is "spend less time on Facebook" then I'll be cross, because that's where the Winwick Mum Sockalong groups are and I've no plans to stop spending time there, but we'll see.  I'll keep you posted!
The other one that I've had my eye on for a while is by Kate Atherley and is called "The Beginner's Guide to Writing Knitting Patterns".  I've written quite a few patterns now and I always do my best to make them as good as they can be, but there's always more to learn and often books aimed at beginners have more information than those aimed at intermediates as there's much that's assumed.  I'm also a big fan of Kate Atherley and her patterns so I'm looking forward to reading this just because I can, as much as anything.
I don't try to knit socks for Christmas presents these days as I know that I often don't have the time to hit that 25 December deadline, so this year I used my IOU letter and gave balls of yarn instead.  Big daughter and her boyfriend are both lined up for a pair of (matching) socks this year (yes, I must be mad, offering to knit another pair of size 14 socks without being under the influence of too much Sangria as I was last time!) and I've noticed that some of my husband's socks are wearing a bit thin too so he was also the recipient of a ball of yarn. "Ooh, black yarn – that must be a present for you," he said, handing it back to me.  Yes, I suppose it is, really!
We've been watching the Amazon TV series Extant which has been good knitting TV (not so scary that I've had sweaty palms which is no good for socks, interesting enough that we've watched "just one more episode" which has meant time for more rounds) and they're coming along nicely.  This purple heel will forever be the "James Bond heel" as we watched Spectre last night (I love Christmas holidays, an excuse to watch far too much TV!) and I ended up unpicking it more than a few times as I was too busy watching the action to watch what my needles were doing.  I'm quite partial to a James Bond film every now and again; I used to watch them with my Dad when I was younger and then he would watch with us at our house and although we did always prefer the earlier films, this one was pretty good.  They always make me think of Christmas – or possibly New Year's Eve, although I remember a few years when the only film that seemed to be shown before the midnight countdown was Zulu which was definitely not one of my favourites!
So, resolutions for this year?  Have you got any?  I don't tend to bother these days as I know that the likelihood of vowing that I'll get up early every morning to do some yoga stretches or I'll polish the windows every week are likely to get forgotten very quickly.  However, I do like to set myself some intentions – be kind, be honest, be grateful, be helpful, be polite, that sort of thing – which feel much more useful than polishing the windows and are actually far easier to remember to do.  
I do have one resolution, though, and that's to keep knitting socks, write the blog, write patterns and tutorials, be in the garden … I've counted them as one resolution as they all make me very happy and there's nothing wrong with having a resolution that makes you happy, is there?  Better than a wholesome, window-cleaning-type one that isn't going to make it past the second week in January!
The first tutorial for this year will be coming up as soon as the light is good enough for me to start videoing (oh, does that count as procrastinating?  I haven't read the book yet! 😉 ) and it's continuing the theme of developing new skills with the basic Sockalong pattern.
My sock is also knitted from no-nylon yarns so I'll be continuing to write about them too – I've got another review for you shortly on a pair of socks I've been wearing for a while – my Easy Lace Socks which were knitted in Doulton Flock Border Leicester yarn.  It seems like such a long time ago that I finished those socks, but I do like to give them a good testing out for six months or so before I review the yarn so it's the right time now.  (And do you like my new foxy project bag?  It was made for me by Ann of Busy Pottering – I love it!)
I don't know if my mission to take over the world one sock at a time is really a resolution or a declaration of something more sinister (mwah ha ha) but I think that a world full of people with cosy toes could be a much nicer place so don't be thinking that I'm turning into a Bond villain after all this TV watching.  If you're in the North East of England, I'll be heading up your way at the end of January to visit Woolaballoo in Durham (actually, I'm super-excited that it's in Langley Park which is mentioned in a Prefab Sprout album title and I'll finally get to see what the place looks like!) so do come along and say hello.  I'm going to be there on Saturday 27 January and it'll be great to see you!
Here's wishing you a wonderful year full of good things!