DJ Winwick Mum
Another weekend already!  I hope you're having a good one!
It's been another busy week here – small daughter is still loving high school  and had a new friend over to play (it's been a big relief to know that her first couple of weeks have been a success and yes, they're still at that age when they "play", which is lovely) and big daughter went back to university this weekend.  She's not very far away from us and it suits us all very well for her to come home whenever she feels like it, although I'm not sure that I always appreciate all the washing that comes back with her, or the food that disappears from the fridge when she leaves again!
You'll see that the title of this post is "DJ Winwick Mum" – no, I'm not about to become a disco queen or take to the airwaves, but as I was writing it struck me that all of the things I want to tell you about are connected, so I hope you'll forgive my DJ links! 🙂
First up, Yarndale looms ever closer – it's next weekend!   Are you coming up to Skipton?  You are going to be stunned by this year's Yarndale Sock Line if you are – there are so many pairs of socks and they are all beautiful.  Such a range of sizes too, we're going to be keeping toes cosy from the tiniest to the largest pairs of feet and that's amazing!
I spent a lovely day in Skipton with Lucy on Tuesday and brought home another huge bag full of sock parcels – Thursday afternoon saw me logging them all and taking more photos.  This is what my cloud drive looks like at the moment …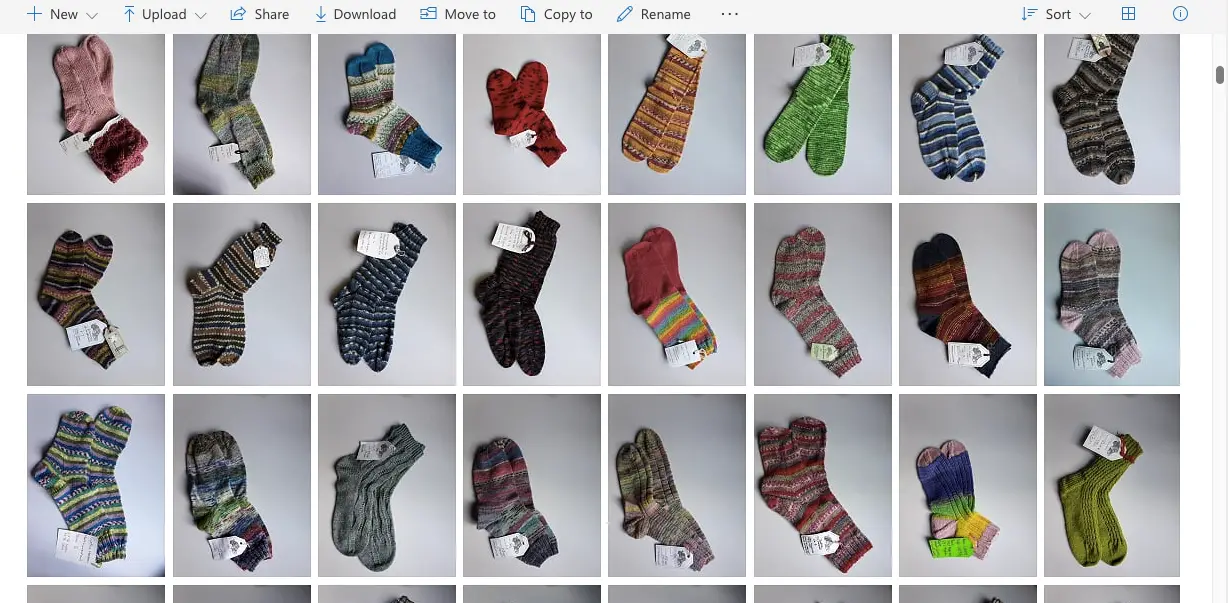 socks, socks and more socks!  I'm a bit behind with getting them all up onto Pinterest as I managed to max out my camera storage but the camera didn't stop me clicking away – I only realised when I came to upload the photos and discovered that they weren't there!  Aargh!  I've got some of them up on the Yarndale Sock Line 2017 Pinterest board now and the rest are coming, I promise – once I've photographed them again!  Don't worry if you didn't get your socks to me in time, if you're coming to Yarndale then just bring them with you and hang them on the Sock Line yourself.  I'll photograph the socks that come in over the weekend after Yarndale so they'll still go onto the Pinterest board before they go out to their new homes.
Still on the subject of Yarndale, I have finally had a minute to work out a swatch in Blacker Yarns' new Brushwork yarn which is their birthday for this year.  It's going to be launched at Yarndale so you can squish it there, and then it will be available on their website until stocks run out – like all of their birthday yarns, it's a limited edition one so if you like it, you need to buy it!
I wrote about the yarn a few weeks ago and showed you the gorgeous colours that it's been dyed in – it's a very special blend of Scottish Bowmont, Castlemilk Moorit and British Alpaca – but at the time I hadn't had chance to do more than squish it myself.  The sample that I have is a lovely heathery purple colour and I've knitted up a small swatch to see how it comes out.
This is how it looks.  I struggled to capture the exact colours with my camera; there are subtle variations throughout the swatch and even the heathery shade changed from moment to moment as the strength of the light changed.  This is it in one moment …
and here's the same swatch two minutes later.  Can you see the difference?  I think this will make for a very attractive garment which will pick out colours in a whole range of clothes that might be worn with it.
I started off using the pattern from my Watercress Leaves socks, and I think it works very well.  The stitch definition isn't quite as crisp as with some other yarns, but I think that works well with the more muted shades of the yarn palette and it certainly wouldn't put me off knitting a lace pattern with it.
Blacker Yarns are in the process of re-working some of their patterns in new yarns (you can see their free pattern downloads here), and I also think this yarn would work well with one that I've had in my Ravelry queue for a long time which is Lush by Tin Can Knits.  I have no idea when I am ever going to find time to knit myself a cardigan, but I live in hope! 🙂  This is how the yarn looks in plain stocking stitch.  I really like it – it's soft and smooth and light too, which would make it ideal for lots of projects.  I haven't found a yarn by Blacker Yarns yet that I don't like, and this one is no different.  It seems that they have the magic touch when it comes to blending yarns!
Do go and have a look at the new yarn if you're coming up to Yarndale – I'd always recommend going and having a look at the Blacker Yarns stand anyway as it's lovely – but it's always extra-special to be one of the first to see a brand new yarn too!
Now we're switching to something else brand new – I'm getting good at this!  Do you remember the cat nip socks?  I first mentioned them back in April and because they were a commission, I could only show you a few pictures.  This is one of them …
Oh, I so enjoyed knitting these socks!  They were knitted with West Yorkshire Spinners Candyfloss and Pink Flamingo yarns and I just couldn't put them down!  Well, now the cat is out of the bag (don't groan, I'm on a roll here!) and I can tell you that the pattern for these socks is now available …
It's called Simple Rib Socks and is published by West Yorkshire Spinners.  You'll find it at local yarn shops who choose to stock it and also from the WYS website as a digital download or a paper copy. They are knitted in the round (the pretty pink straight needles are for decoration!) and if you can knit my basic Sockalong socks, you can knit these ones.  The ribbed pattern is very simple and also suitable for any of the WYS yarns so the socks are ideal for both male and female feet.  There are two versions of the pattern – one for the contrast heel and toe socks and one for the plain socks which are pictured on the inside of the leaflet.
I can't tell you how proud I am to see my socks as a published pattern, and I'm delighted to have been able to work with WYS on these too.  And I've loved seeing this photo on social media – it's kept me smiling all weekend!
Are you ready for my last link?  Can you guess what it is?
Hooray!  Full marks if you guessed it was going to be big daughter's boyfriend's ginormous socks, knitted in West Yorkshire Spinners Rum Paradise.  He's very pleased with how they're coming along, which is just as well as I'll be expecting him to wear them every day until the socks fall apart 🙂  I've cast on 84 stitches so these are definitely the biggest socks that I've ever knitted, but those delicious stripes make the knitting easy and it's only taken me a short while to get to the heel flap.  I'm going to be taking them to Yarndale so that I can knit a few rounds in quiet moments – you never know, I might even get one of them finished!
I think you've probably had enough of me and my cheesy links for one blog post so I'm going to stop here, wish you a lovely rest of your weekend and I'll be back soon!