Winwick Mum Sockalong 1st birthday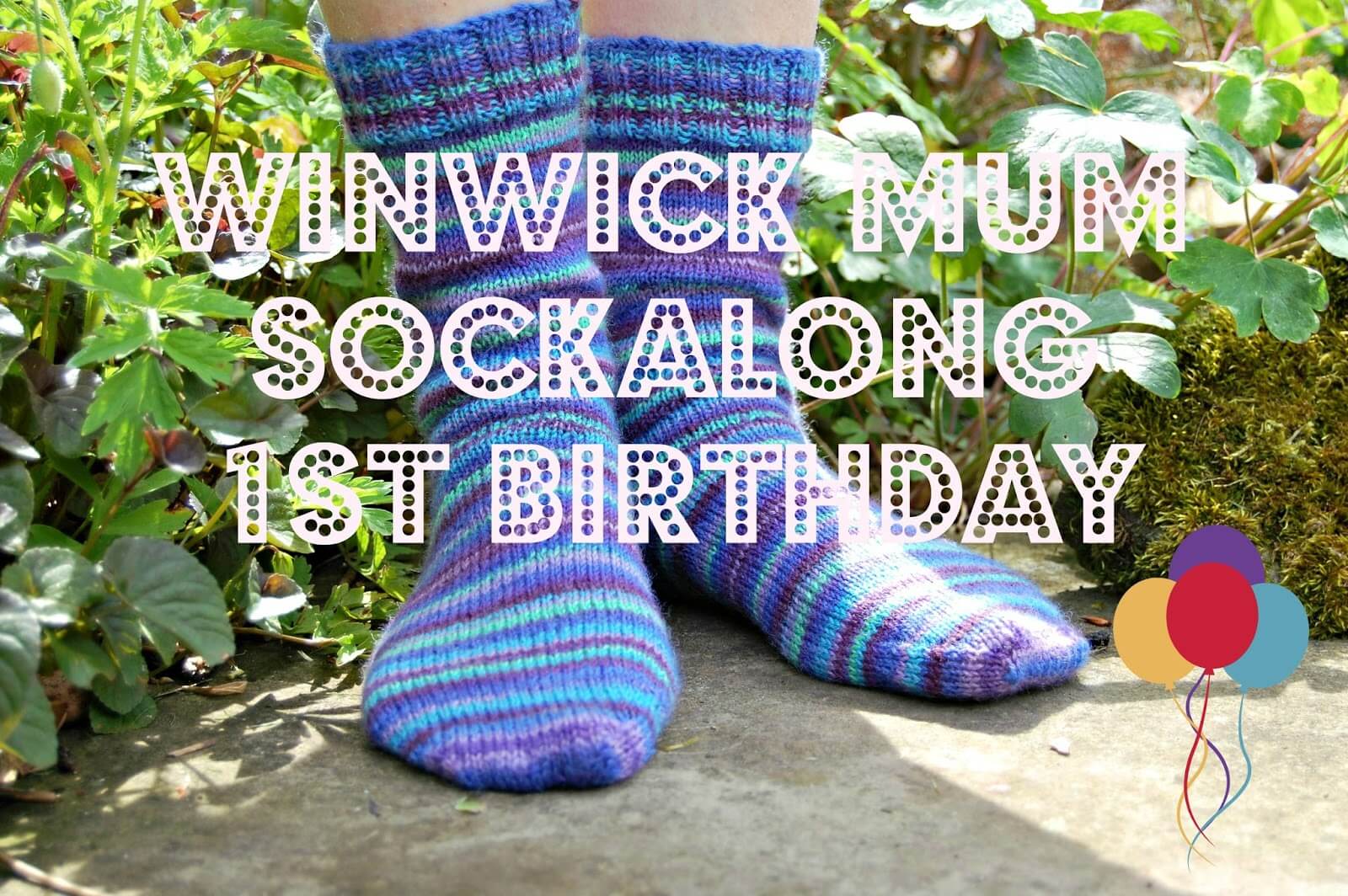 Goodness, can you believe that it's been a whole year since the very first socks were cast on in the Winwick Mum Sockalong?  And wow, what a year it's been!
It's been quite amazing, and quite emotional too, to know that the Sockalong has helped so many people all around the world to knit a pair of socks.  There are so many reasons why it's been important to people to produce their own pair of hand-knits, and I can't tell you what a privilege it feels to have been involved in making this to happen.  There's something very special about knitting your own socks, whether they're for you or for a gift, and I know there have been a lot of happy feet this year.  I also know that there's been a shortage of short circular needles, a rise in sock yarn sales and an increase in international friendships through our Facebook groups.  Magic of all kinds through the pointy sticks!
So what happens now?  More of the same, of course!  The tutorials are staying on the blog, the book is staying on Amazon and the Sockalong is still running.  It's never too late to jump in and start a pair of socks, and my hope is that more people who have always wanted to knit socks but never managed it for whatever reason will find the tutorials and be able to join in.
We do need a celebration though, so feel free to sing "Happy Birthday" at the top of your voice whilst doing your happy dance in your socks – and if they're still on the needles you can sing anyway.  If the materials for knitting your socks are still in the bag, now's your chance to get them started! J
I also thought that a giveaway might be in order so with the help of a few friends I have gathered together some lovely treats and here's what you can win …
There's a signed copy of Super Socks so that you can follow the tutorials wherever you are.  The information is the same as the blog tutorials but split by needle type rather than by sock section. It's a good size to prop open whilst you work and there are just as many pictures to help you get to grips with knitting your sock.


There is a set of very cute tea and cakes stitch markers which have kindly been donated by Rachel Horton.  They're perfect for a birthday party and will help you to keep track of your decreases very easily.  You can see more of her stitch markers here.
A skein of very gorgeous Peak District Yarns merino 4ply sock yarn in the colourway "Azalea Walk", which is the generous gift of Carrie Warr, the talent behind all of the Peak District Yarns. 


A year's subscription to adopt an alpaca at Charnwood Forest Alpacas.  If you've ever fancied owning your very own alpaca, this is as close as you can get without needing a paddock!  You'll get a choice of alpaca to adopt, an adoption certificate and photo of your chosen alpaca and information about the herd at Charnwood Forest.
And last but by no means least, this very beautiful Harris Tweed knitting bag with a matching accessory bag and DPN/circular needle roll with 16 compartments.  This has been specially made for the Sockalong 1st birthday and gifted by Hilary of The Fabulous Mr G and is just the thing for transporting your socks (or any other project) in style.  Harris Tweed is rather special material and Hilary's attention to detail is superb.  You know you'll be the talk of your knitting group with these bags – and that's before they see your knitting!
If you would like to enter the giveaway, it's very easy.  I'd love to get an idea of how many socks have been made through the Sockalong over the last year, so if you've knitted socks, please tell me how many pairs you've knitted.  If you haven't knitted any socks yet but would still like to enter the giveaway, just tell me who your second pair of socks is going to be knitted for – because your first pair will be for yourself! 
I'll be drawing the winner on Sunday 8 May to give as many people as possible chance to see the post, so please do share it if you can.  Won't it be wonderful to have some idea how many pairs of socks are out in the world?  I'm very excited just thinking about it!
Good luck – and here's to many more Winwick Mum Sockalong birthdays!