Fyberspates Vivacious Kids pattern book review and giveaway!
Anybody who knits will know how many patterns are available to knitters, whether as paper copies at yarn shops, downloads through blogs like mine or on websites like Ravelry.  Most of these patterns are single copies which is usually fine as that's often all you want to knit – but if there's one thing that I do like, it's a a pattern collection.
I've got a few books of patterns – Kaffe Fasset (one of my earliest aquisitions), Debbie Bliss and Alice Starmore amongst others and what I love about them most is the photography.  I love to see people wearing the designs and looking as if they're wearing them properly, not just posing for the camera.
So when I was asked if I would like to review the new Fyberspates Vivacious yarn collection, Vivacious Kids, I was delighted to see that all of the jumpers, hats, socks and mittens are being worn by children who are doing anything but just posing.
There are seven patterns in the book, suitable for both boys and girls from age 2 to 10 – a hoody cardigan, a cabled sweater, a stripy dress, two hats mittens and socks – all knitted in the gorgeous Fyberspates Vivacious DK and 4ply colours. 
Who wouldn't want to knit this dress for their tiny tot?  I'd have loved to have knitted this for my girls!
I think what I like most about these patterns is that they are designed for children to wear whilst going outside to do what children do best – playing!  Ella Austin's sweater, cardigan and dress are comfortably styled so that they will not restrict activity, and Rachel Coopey's hats, mitts and socks are practical designs which won't get pulled off at the first opportunity (not that socks would hopefully be pulled off anyway unless playing indoors, but small daughter doesn't believe in keeping hats or mitts on any longer than strictly necessary even in freezing temperatures!).   
I've already been working out how to enlarge these socks for my bigger feet!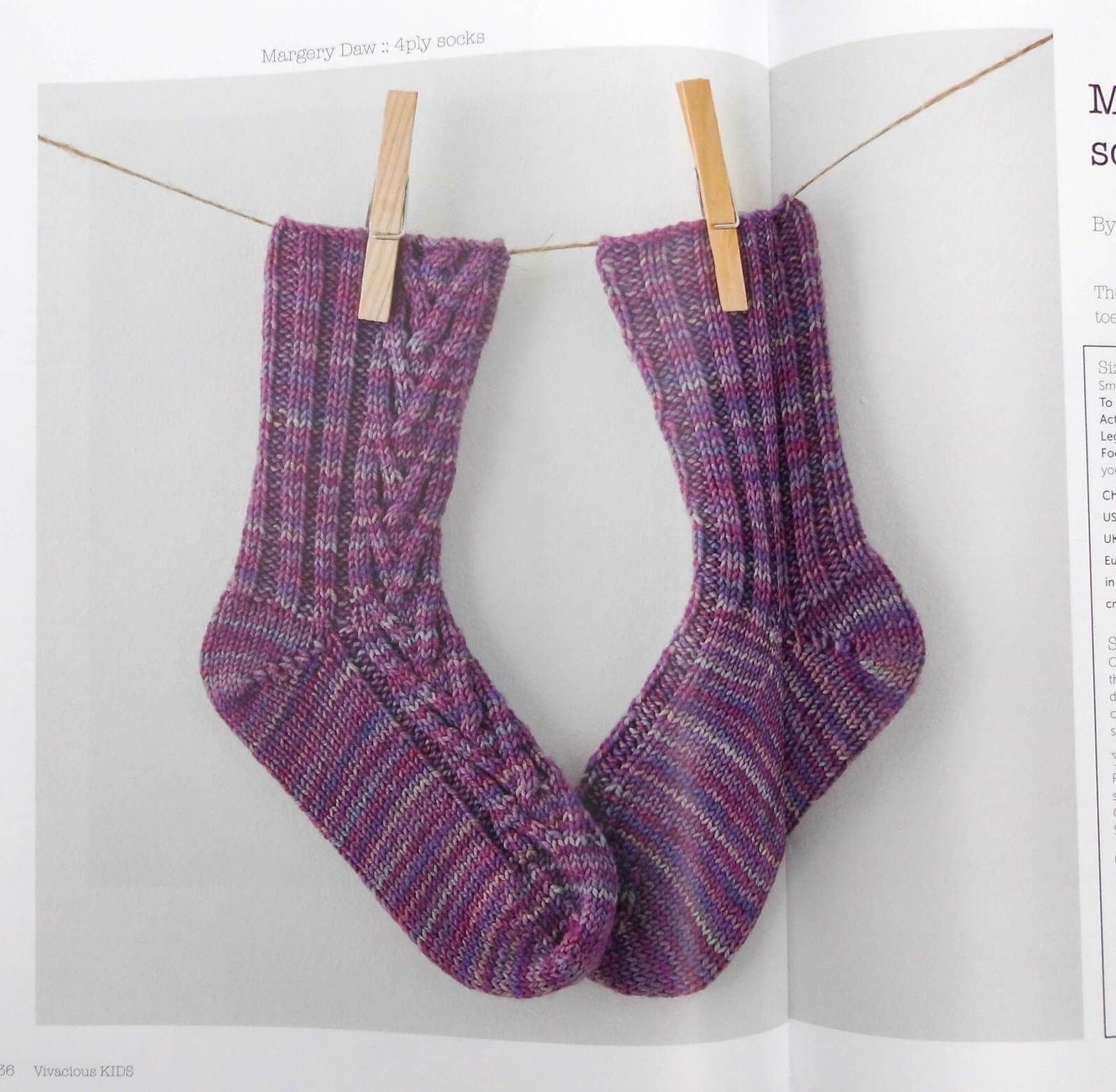 As well as the patterns, there are useful sections on sizing, techniques such as grafting, blocking and finishing, and advice on general care.
I love this cheeky smile!
I would be happy to make any of these patterns for my daughters.  Sadly, big daughter is too big for the sizes now but small daughter has still been known to hang over fences and climb trees, and as I spend a lot of time shouting "Where's your coat?" into thin air as she hurtles outside, it would be good to know that she's wrapped up warm in cosy yarn even if she hasn't got a coat on!
The collection comes in both print and PDF format for those who prefer to download their patterns.  The download is easy to manage through Ravelry, and sits happily in your library until you choose to download it to your computer.  The book version is printed on high quality, glossy paper which really shows up the beautiful colours of the yarn, and purchasing the book also entitles you to a PDF download if you want one.
I'm very pleased that Jeni at Fyberspates has kindly given me a PDF copy of the patterns to give away – they're so lovely it would be a shame not to share!  You can view all of the patterns here on the Vivacious Kids Ravelry page.  All you need to do to win is leave a comment saying which pattern you would knit and why, along with your Ravelry name so that the ebook can be sent to you, and I'll pick the winner next Monday 6 July at 8.00pm (BST) using the random.org generator so that it's completely fair.  Only one entry per person.
For anybody who can't wait that long to see if they've won, Fyberspates are offering 25% off any single pattern or the ebook with the code WinwickMumVivacious until the end of the day on Monday 6 July (BST).  Vivacious KIDS is available in print from your local Fyberspates retailer 
for rrp £10.50/$22.00 and you can also purchase an eBook through Ravelry for $16.00.  If you buy a pattern and win the giveaway, Fyberspates will reimburse the cost for you.  Don't forget that you will need to click on "add coupon code" in the Ravelry shopping basket before you pay through PayPal.
Do let me know if you make any of the patterns – I'd love to know how they turn out!
Thanks to Fyberspates for sending me the book and the PDF to review!