The Joy of Socks
I love hand-knitted socks.  I love knitting them and I love wearing them.  I love the round and round simplicity of plain socks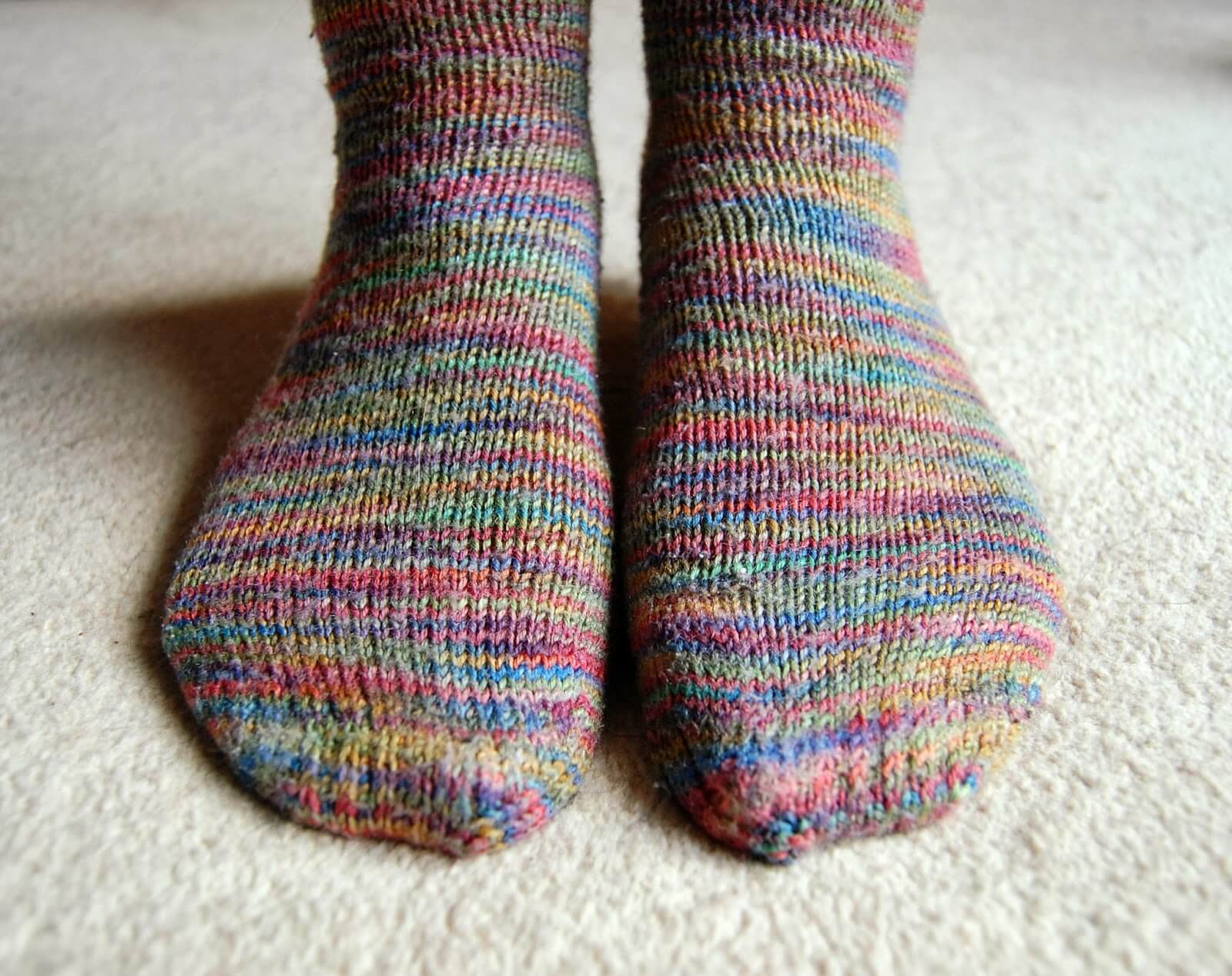 and I love the concentration required for making complicated lacy, patterned socks.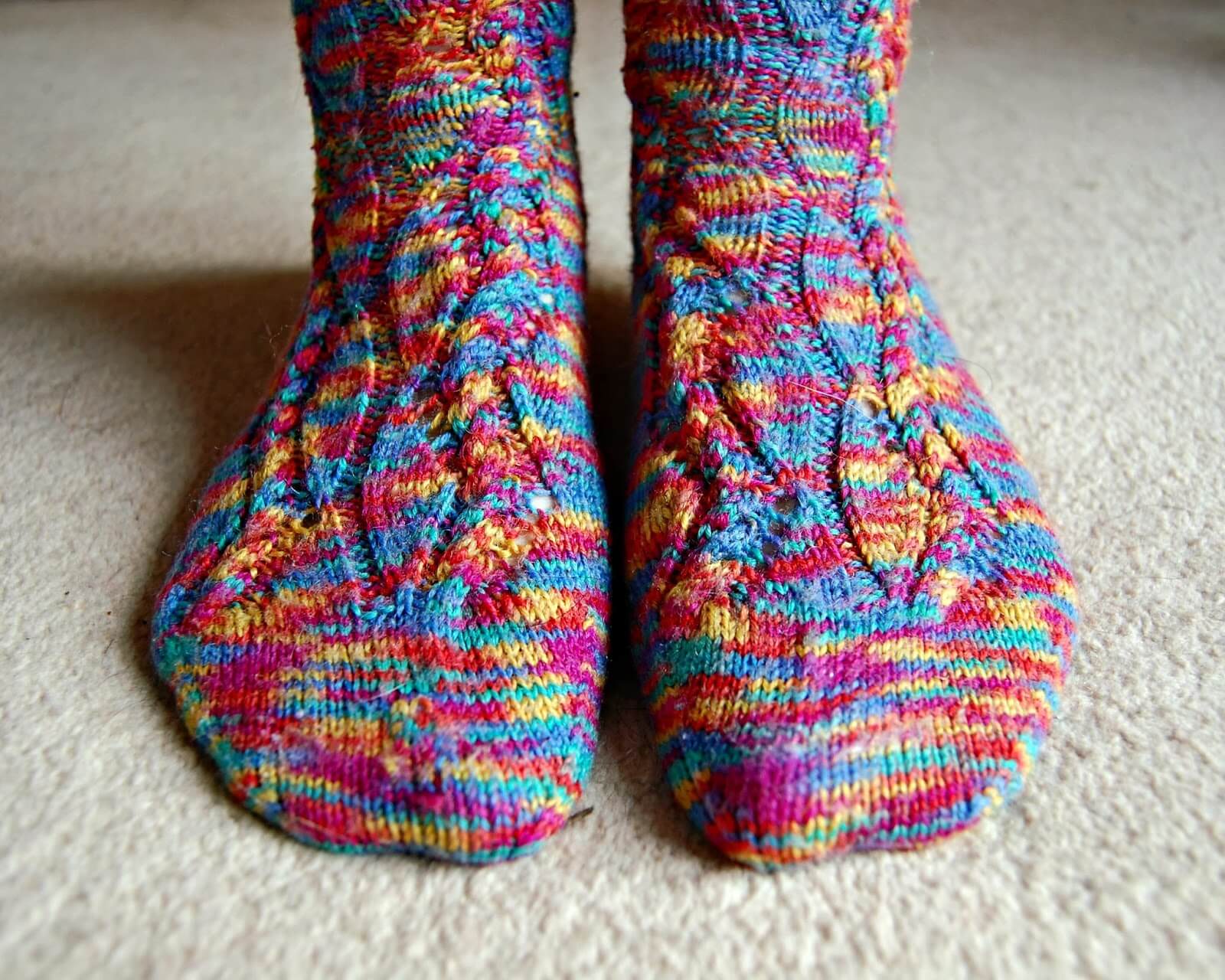 I'm not one for plain socks – I love the way the colours come out of the ball of yarn and create patterns of their own.  Often, even with a picture on the ball band, you have no idea how the socks will knit up until you start as a different number of cast on stitches will create a different pair of socks every time.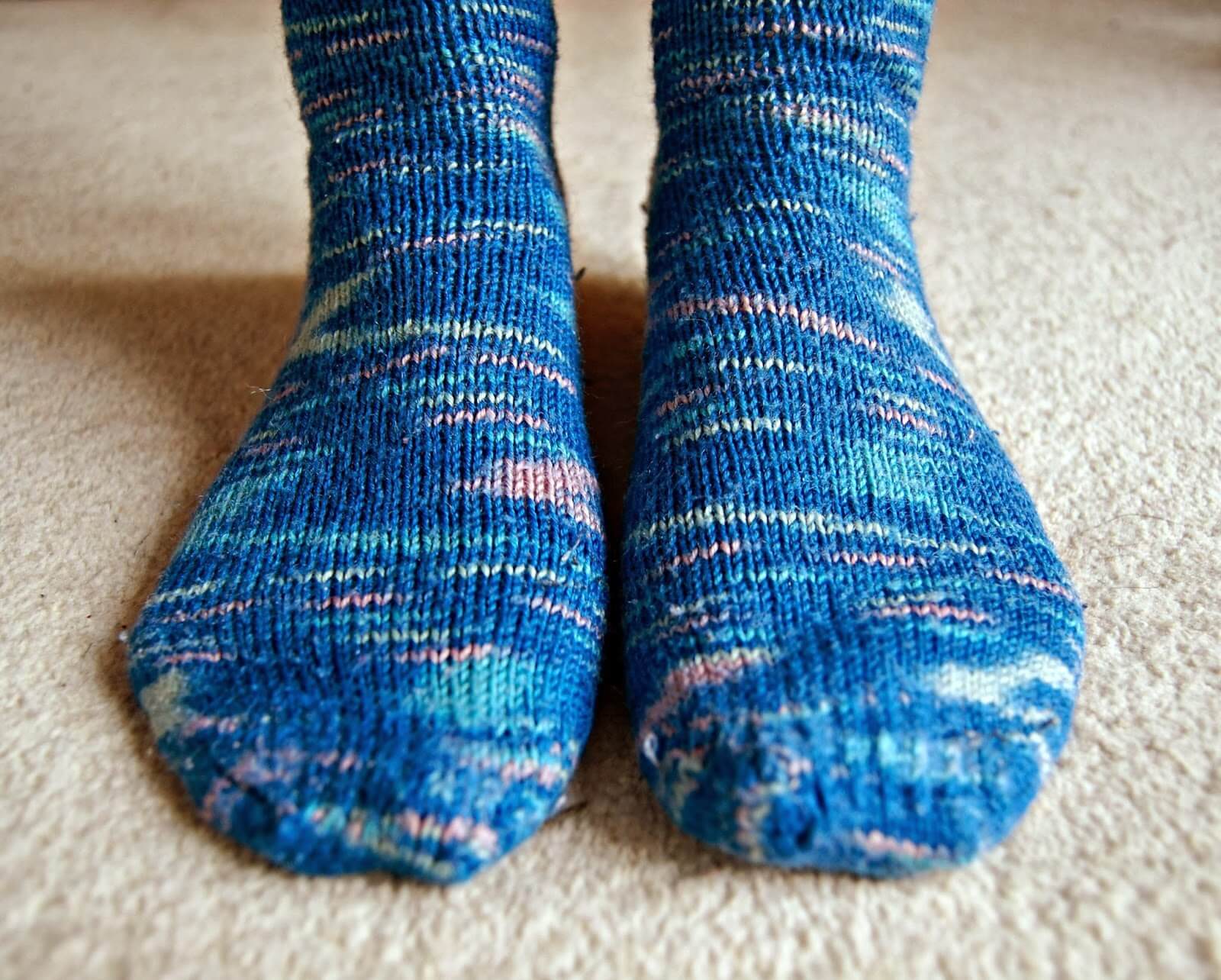 Although I do have one very firm rule and that is that my stripes have to match.  I can't bear mis-matched stripes!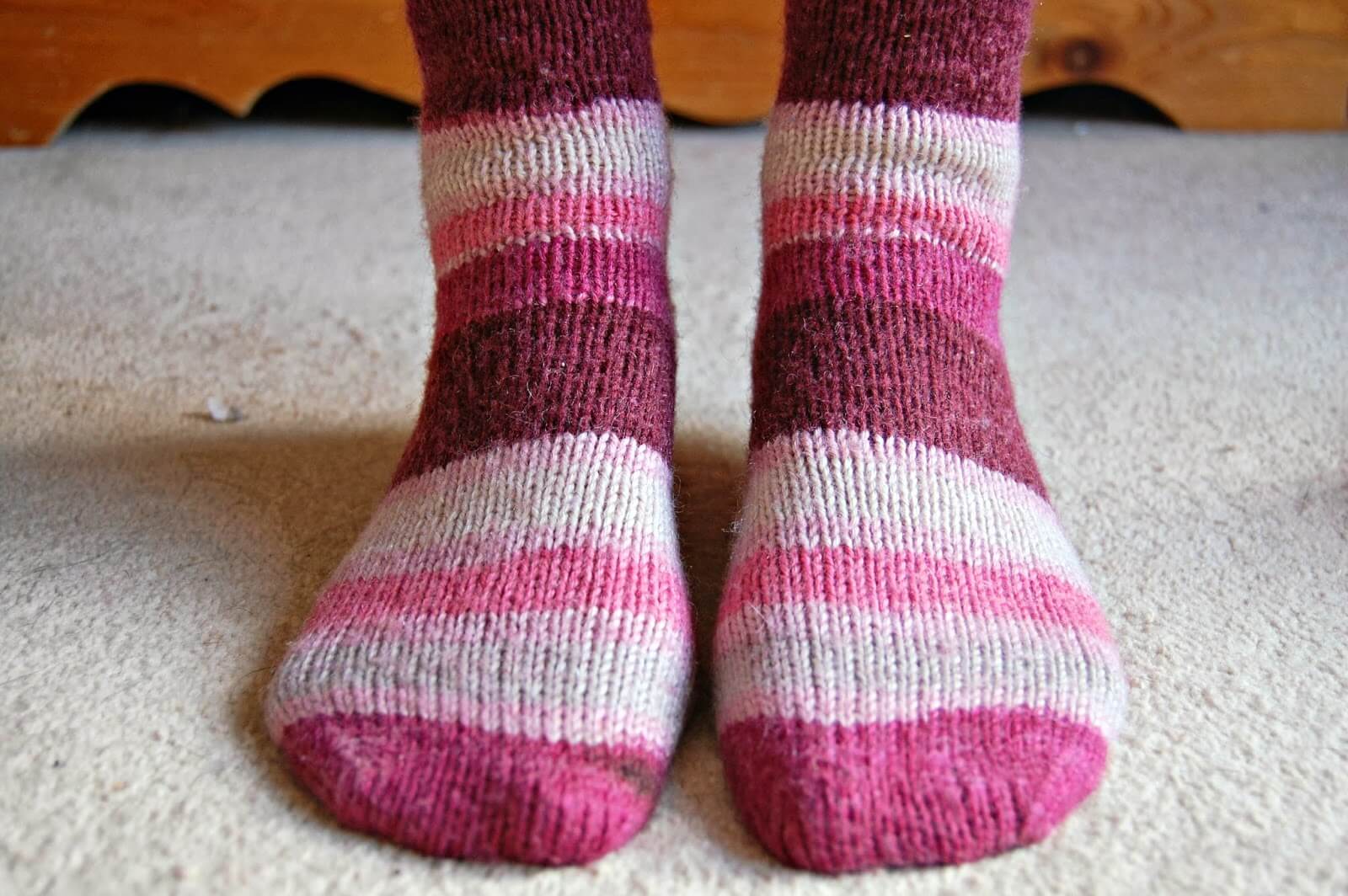 All of my family wear hand-knitted socks (with the exception of small daughter who refuses to keep any socks on for any length of time).  Big daughter has a couple of pairs, my husband has several pairs for work (he calls them his "proper" socks), my Dad, my brother, my sister-in-law, my favourite uncle and my best friends … they all agree that you can't beat a pair of hand-knits!  It suits me quite nicely as well because I'm never short of a pair of feet to knit for!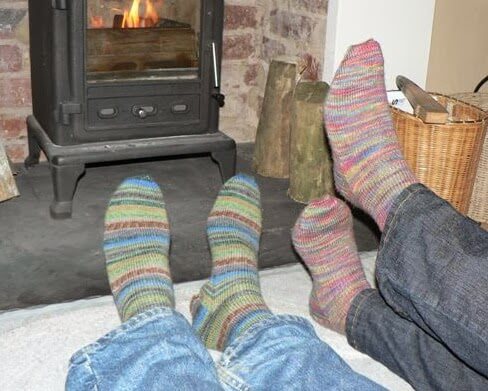 (You may have spotted that my sister-in-law on the right is wearing socks the same colour as mine in the first picture – I loved the colour of the yarn so much I ended up making three pairs!)
Socks are the perfect take-along project for anywhere that I'm going.  I've got a small bag with everything I need – 30cm circular needles, ideal for socks; double pointed needles for casting on and off and creating heels; scissors, needles, stitch markers, safety pins, emergency chocolate … it's all in there and it goes almost everywhere with me.  It's looking a bit battered these days as it's travelled some miles in cars and aeroplanes (always in the suitcase, though!), but it's just the right size so I'll use it until it falls to bits and then think about what to do next.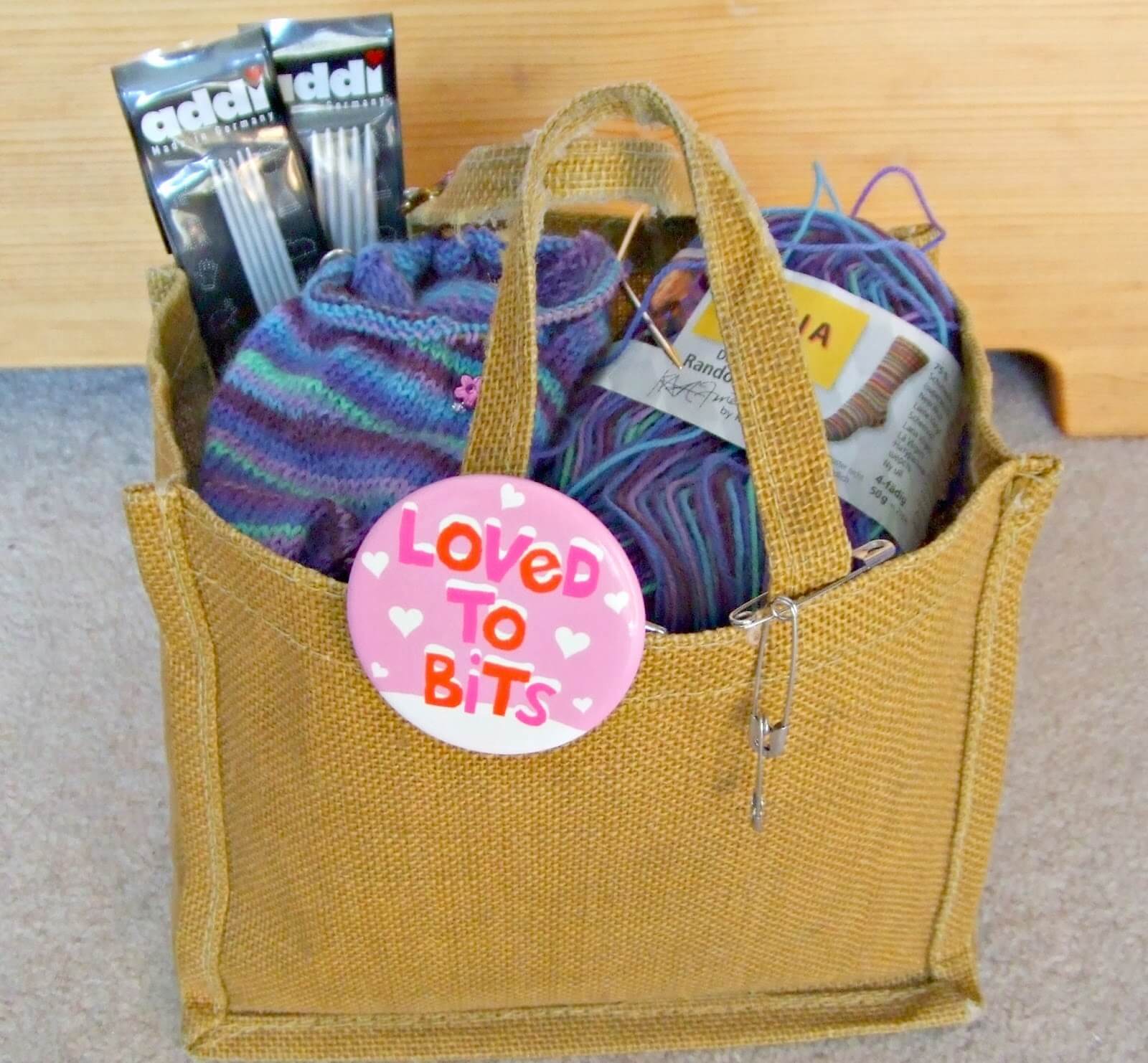 (The badge was a gift from my lovely husband who, having put up with the click-click of needles for so many years, now worries that something is wrong if I don't have knitting or crocheting in my hands when we sit down together in the evenings!)
I've knitted in waiting rooms, in cars (as a passenger, of course!), at swimming and piano lessons, on trains, at the pub, in cafes – practically anywhere you can think of, although I haven't taken my socks to church -I don't think that would go down very well!  I've found that people are fascinated by what I'm doing; even if they don't speak to me about it (and I've had a fair few conversations about what I'm doing!) I notice that their eyes are drawn to the rhythmic movement of the yarn and the needles going round and round.  Children are the most likely to ask me about my socks.  I think it amazes them at someone would make something that they mostly never think about except when they can't find two of them in the drawer.
The best thing about hand-knitted socks is that they fit.  For someone with size 5 feet, standard bought size 4-7 socks never really worked for me.  They were either too baggy or too long, or I had to pull the heels up the back of my legs.  I'm like the Princess and the Pea – I can feel the slightest wrinkle in my socks so they have to be just right in my shoes or I'm uncomfortable for the whole day.
So now, I wear socks that fit my feet perfectly, whether they're boot socks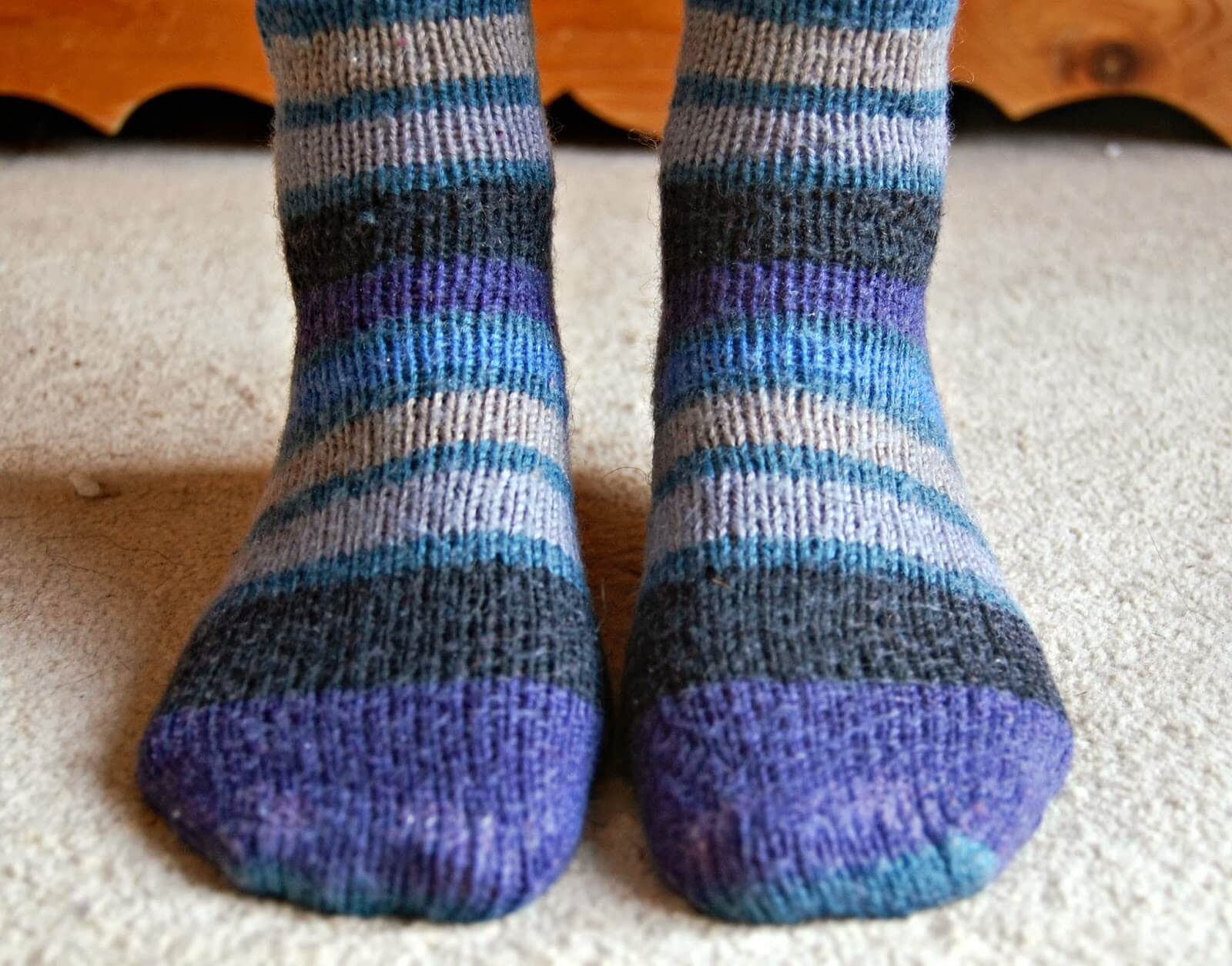 (with matching stripes, please note!) or everyday socks.
I mostly knit with 4ply sock yarn, which is a mixture of superwash wool (so that it doesn't shrink in the wash) and nylon (to help hold the shape).  My boot socks are in 6ply.  When I first started to knit socks, I had no idea there were so many brands or colour varieties.  It's like being let loose in a sweet shop – particularly once you start searching online!  Most of my yarn is from large commercial manufacturers such as Zitron or Regia, but I did treat myself to some beautiful hand-dyed yarn from Eden Cottage Yarns at Yarndale last year.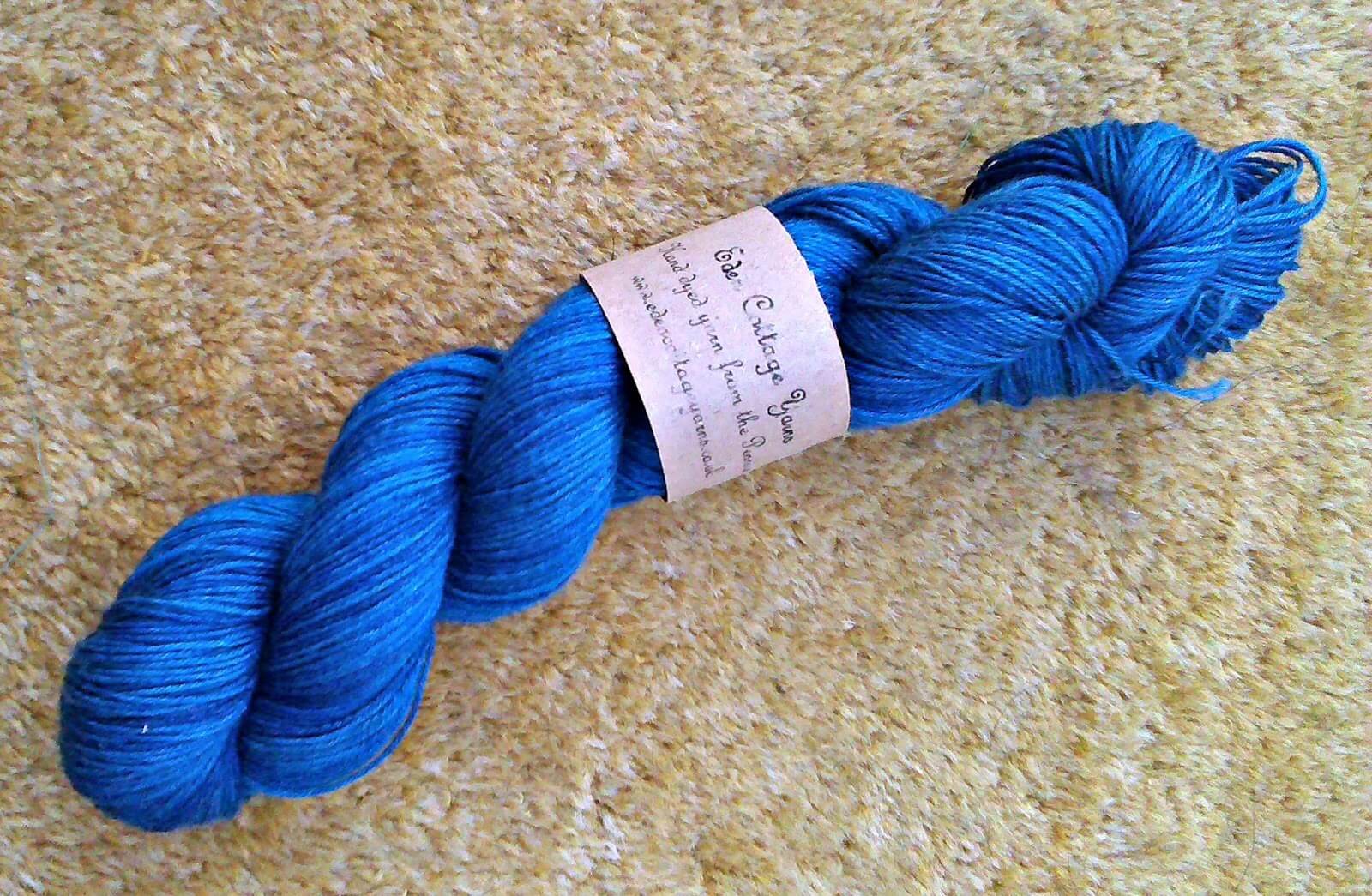 It's called Damselfly, and it really is the most wonderful shades of turquoise blue.  The photo just doesn't do it justice – which is why it's still sitting in its original skein waiting for me to do something with it.  I feel that I need a particularly beautiful pattern to go with it, but I haven't found the one I'm looking for yet.
And on the subject of patterns – I've mentioned before that some yarn is very picky about what it wants to be, and this yarn certainly was!  I tried four different patterns before finally settling on this one which I created for myself using a shawl pattern.  They're called Watercress Leaves socks and I've nearly finished writing up the pattern so I'll be able to share that with you very soon.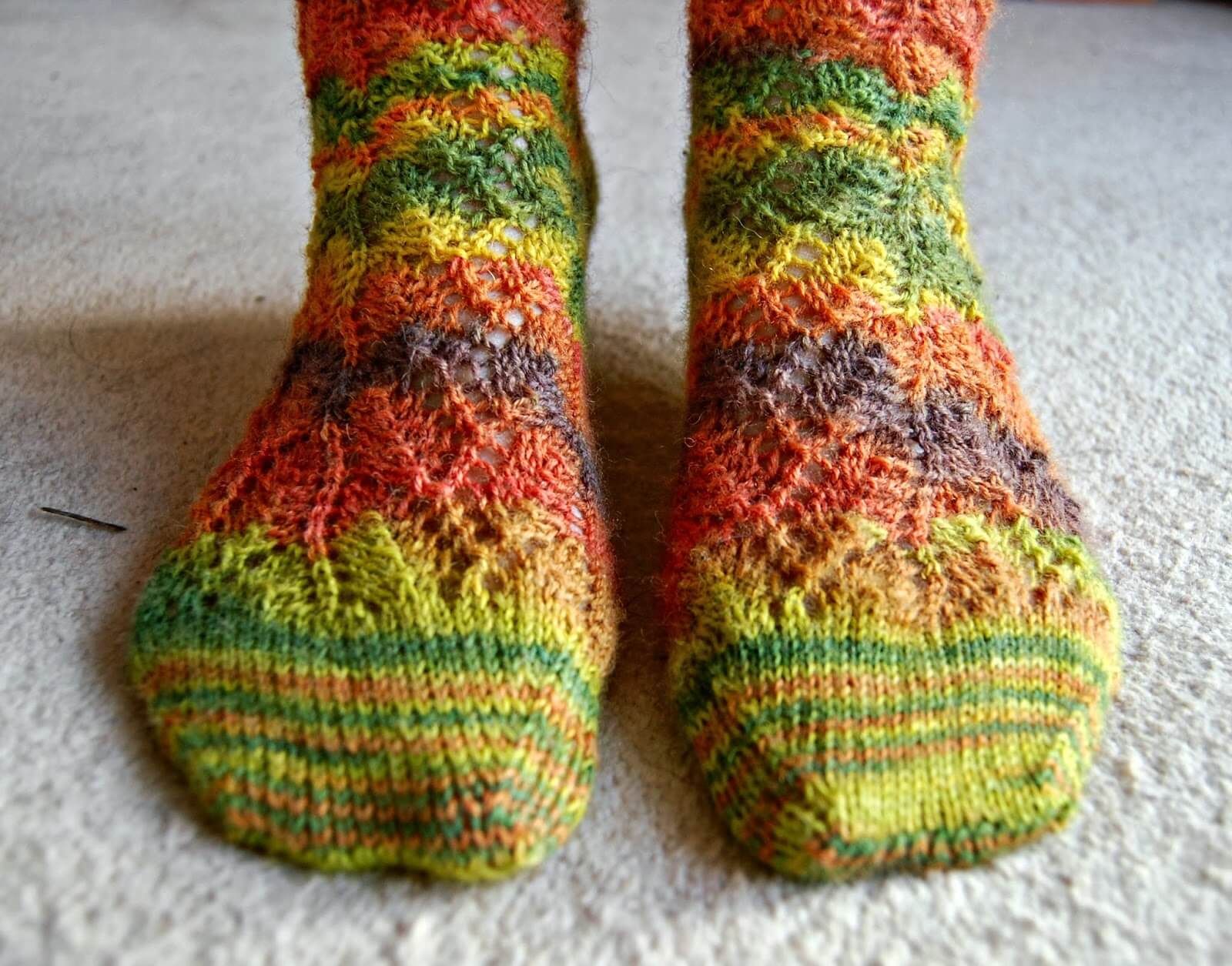 What I particularly love about these socks is the way that the colours have blended on the sole of the foot.  That was totally unexpected, given the way that the strips run in diagonals on the rest of the sock – but is another reason why I love patterned sock yarn!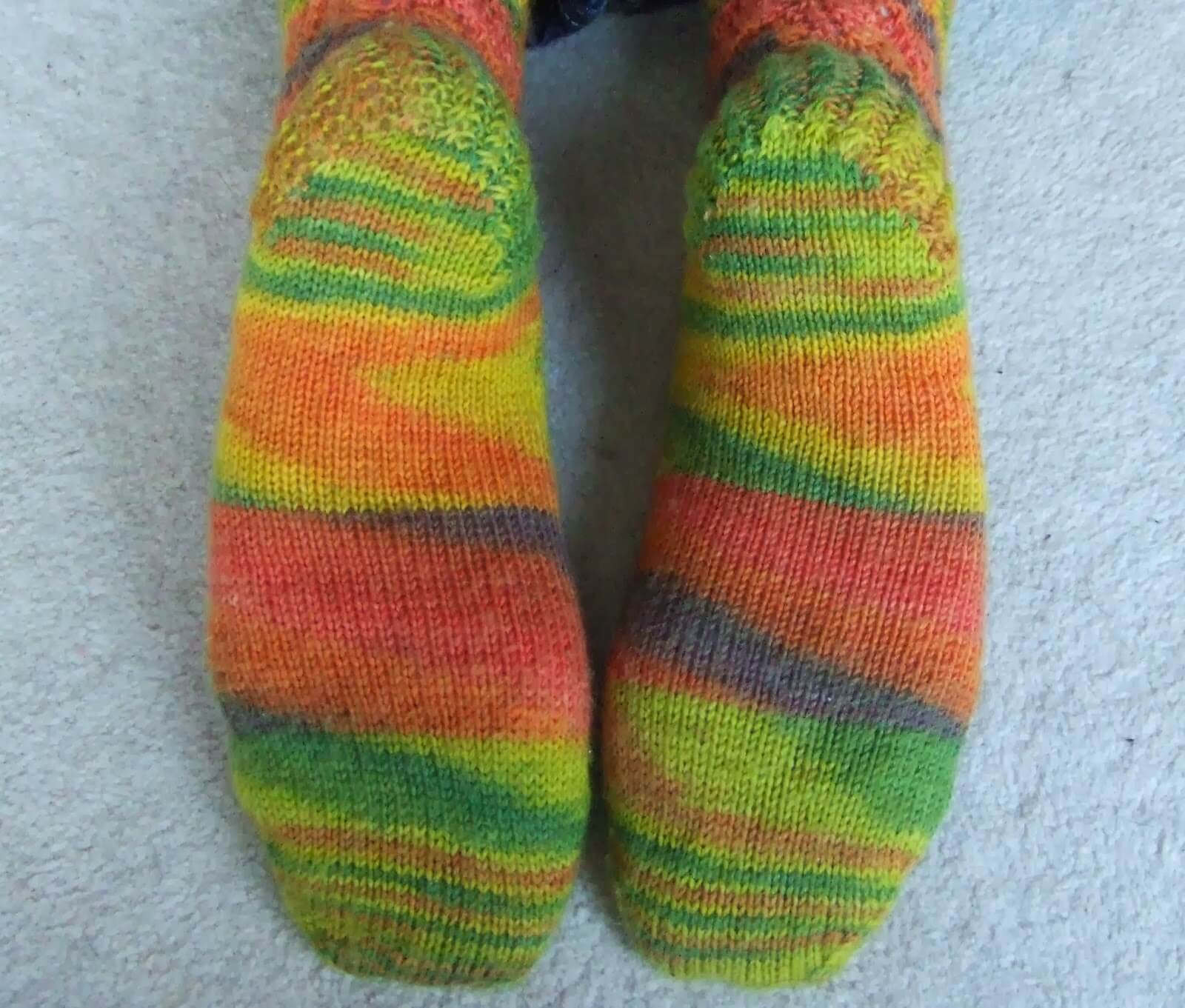 I wanted to create a different type of heel, too.  I've used this one before and it's easily as comfortable and hard-wearing as heel stitch, but not very hard to do which makes it a good alternative to the usual heels I make.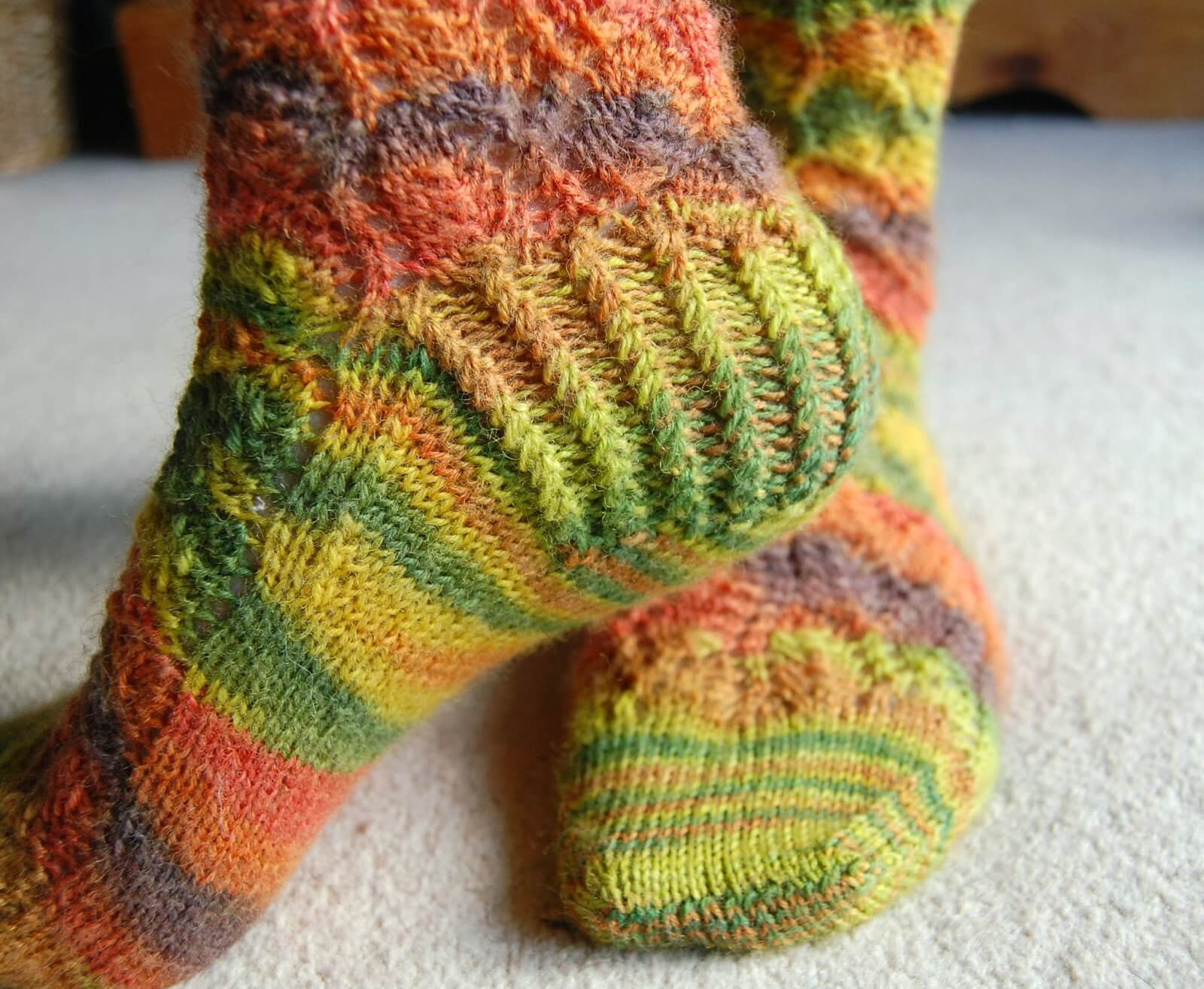 I wear my socks almost every day, especially in the winter, and although I've had to do a bit of darning here and there as I have pokey toes, they're wearing remarkably well.  I made my first pair six years ago and they're still being worn – which is not what you can often say about shop-bought socks!
I never get tired of looking at the patterns on the internet, on websites such as Ravelry or Knitty, or on blogs or knitting forums, knowing that there's always something that will take my eye.  I never realised that sock-knitting was such as rich vein of creativity both in terms of patterns and yarns.
These socks of my Dad's are from self-patterning yarn.  He loves the yarns that create Fairisle stripes and patterns.
This is also self-patterning yarn, but I put a cable in to add a bit of texture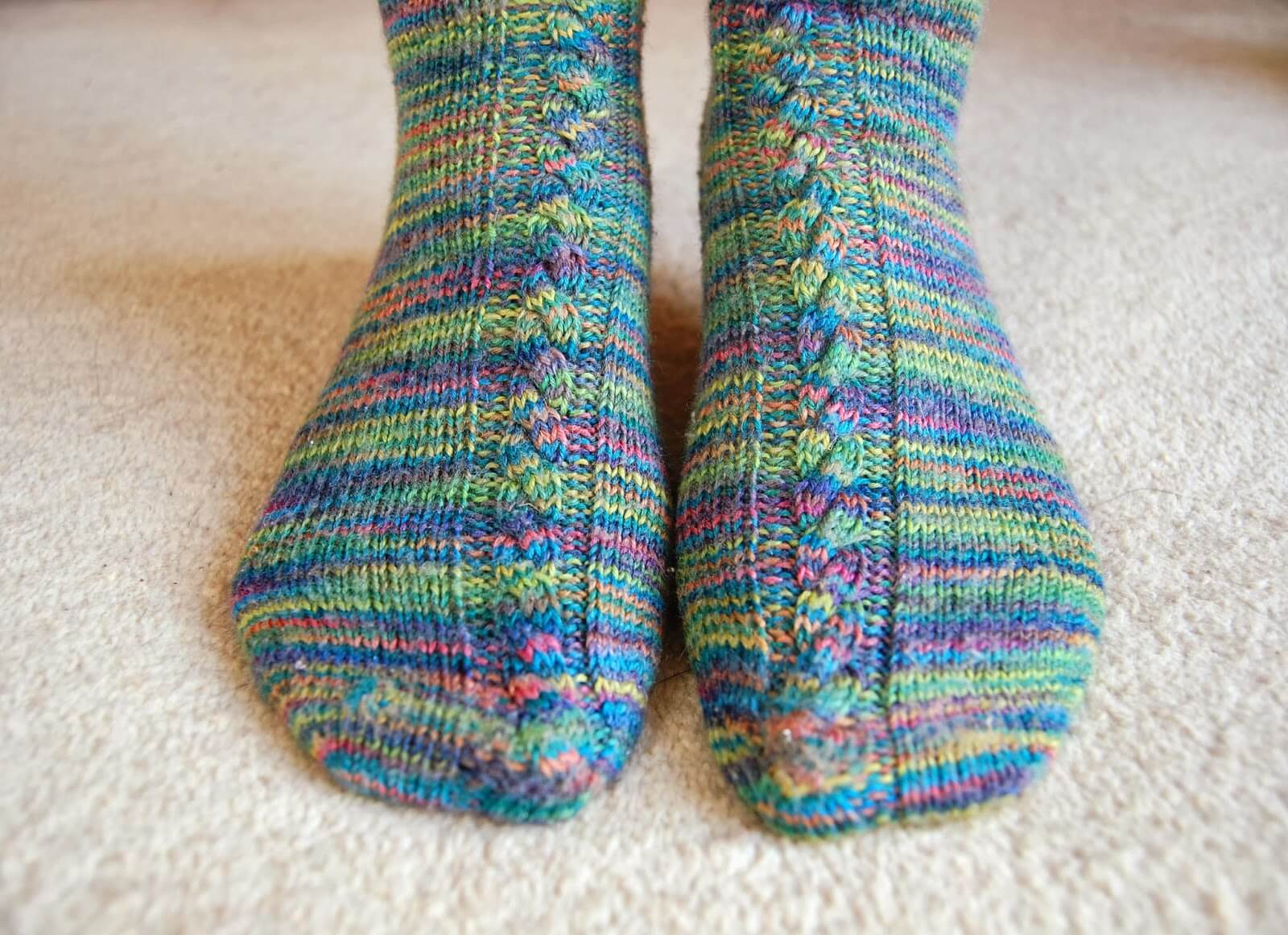 This is my latest pair.  I fancied something simple after the complicated Watercress Leaves socks so they are just plain knit – but the yarn!  It's called "Random Stripe" and I think it just may be my very favourite sock yarn ever!  I originally chose it because of the blue and the purples, but that pale green stripe, the maroon and the pink just set them off so well – I have a feeling these socks may wear out faster than the others!  I've just turned the heel which is why it looks a rather strange shape – a few more rows and it will look like a proper sock.  Magic!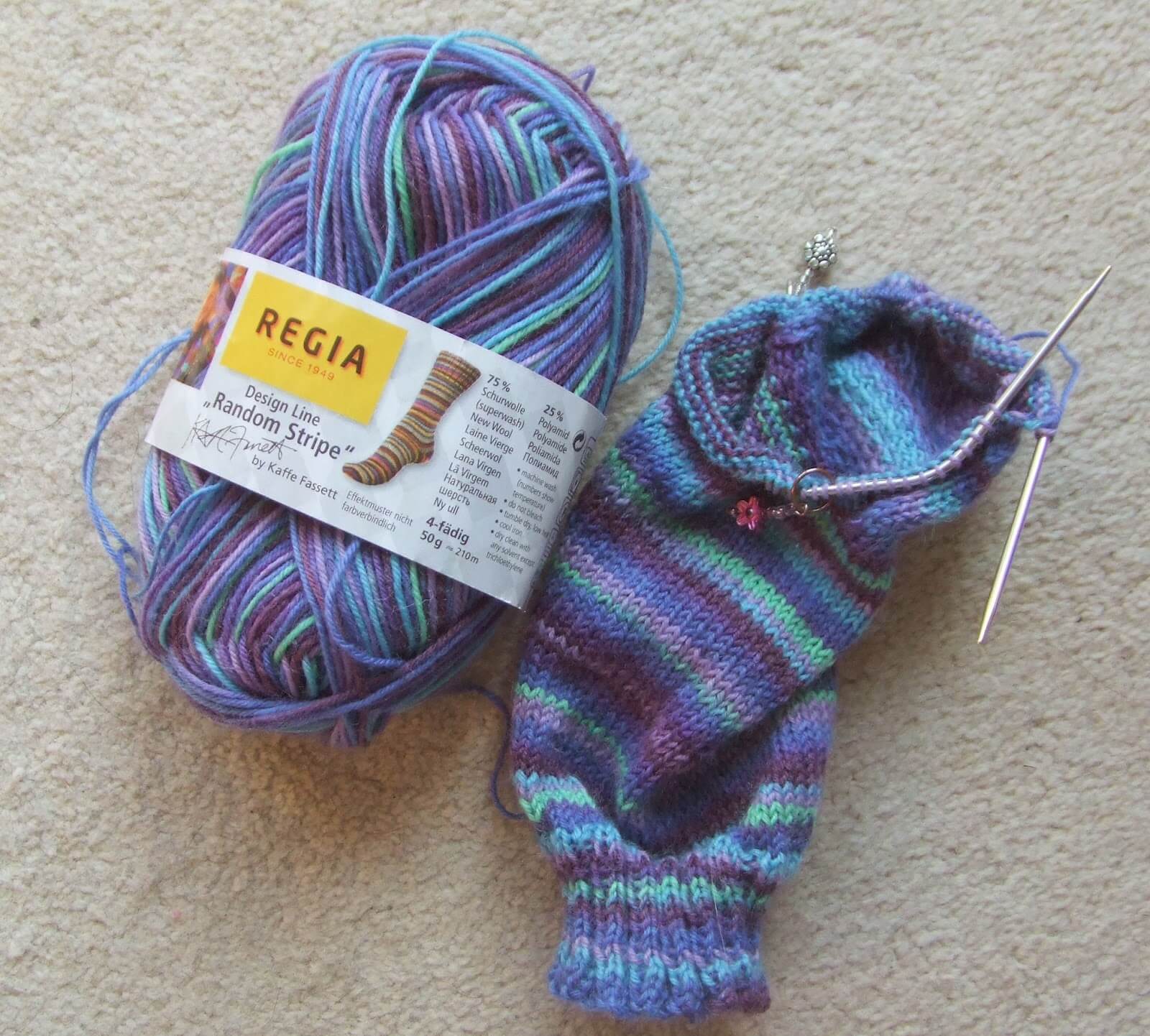 There's just something about socks that makes them my favourite project.  I love that you can play around with a plain pattern and make it your own.  I love the way that nobody else will have a pair of socks quite like the ones I have made, even if they have used the same yarn, because they've been knitted specifically for the person they're intended for.  They're a statement, a talking point, and nearly 50 pairs later, I don't think I'll ever get bored of making them!