Winter Haven KAL 2022 – Week 1
Hello, hello, it's lovely to see you!  Welcome to Week 1 of the Winter Haven KAL 2022!
Outside, there are alternating showers of snow and hailstones, it's bitterly cold and I think there's probably no better day to light the fire and start the Winter Haven KAL!
That's how it is for us in the cold, dark, Northern hemisphere, at least – elsewhere I know you're sweltering and turning on the air conditioning but that won't stop us being able to join together virtually through the magical power of the internet!   Hooray!  I love this knitalong time of year!
If you've never taken part in the Winter Haven KAL before, you might be wondering what it's all about, especially if you're used to a knitalong being for a particular pattern or using a particular yarn.  This one is a bit different as I want it to be more than just about the knitting; I believe so strongly that knitting is something that makes us feel safe and calm, that it brings us joy and allows us to pass that on to others through our woolly gifts and through being nicer because the knitting has made us calm … 🙂 … that I wanted to find a way to focus on and incorporate that into the KAL and make sure that we give something back to ourselves.  Finding a cosy Haven space, making time to sit and knit, finding ourselves treats, books, focussing on our own self-care is so important and never more so than at the start of the year when we have just spent weeks or months thinking about what we can give to others.
This is your gift to you.
So what is this Winter Haven, then?  Is it just a chair by the fire, or some other place that you like the look of?
On the face of it, yes!  Over the last couple of years that I've run it, though, I have to come to think of it as a bit more than that.  For me, it's permission to sit down for even a few minutes instead of rushing through from the minute I wake up to the minute I collapse into bed.  I've already been trying to alter that by taking some time for myself very early in the morning when everyone is still asleep so that I can get my head together ready to face the day, but this is an opportunity to build on that and to remember that it is actually OK to sit down during the day!  I hope you will give yourself permission to do that as well if it's nothing something that you do already – and if you find it hard to give yourself permission, then I will give you the permission to have a moment to rest!
It's important that it's somewhere that you feel comfortable, where you can sit and think as well as sit and knit.  It's going to be your safe space, your command centre, your eye of the storm.  You don't have to sit there for hours but you know that the minute you are there, it's as if you've been able to step off the world for a few moments to get your breath back.  I think that certainly at the moment, we all need some place like that!
The Winter Haven KAL is about making that space and that time out a habit, at least for this month.  It's about knitting (or crafting) a project that makes your heart sing, certainly, but it's also about more than that.  For me, it's about fitting my own oxygen mask before helping others, and whilst knitting is a vital part of that for me, there is more that I can do to prepare the ground for the coming seasons.
Each week, I'll talk about what else I'm doing to recharge my batteries during the dark Winter days, and I hope there will be something useful in there that you might like to try too.  There's no rush here, no deadlines, just ideas to consider whilst you sit in your space and let your fingers work their yarny magic.
You can look back at the Winter Haven KAL 2022 Countdown post for more information on what this KAL is all about if you're new here (hello to you!)
🕯 My space

My space hasn't really changed over the last couple of years!  It's a rocking chair by the fire and it's a good comfy chair for sitting and knitting.  My husband has started stretching himself out on the chair and footstool to read and I am delighted about that – he is also someone who needs to be better at taking a few moments for himself, so I am more than happy to share my space – as long as he doesn't want to sit in it at the same time as me! 🙂
What does your space look like?  Is it somewhere that you think you can sit and have a few minutes to yourself?  Have you chosen it yet?  It might be your usual seat in the house but if you sit down at a time when you don't usually (because you're always rushing!) then it will actually feel different at different times of the day.  Some people like to have a basket or box containing their project, books and treats nearby and getting things out of a container that you don't usually keep next to you can also make a familiar place feel different if you felt the need for a change from the usual.
Part of creating a Winter Haven is making it feel as cosy as you can.  Embracing Hygge, if you like, which loosely translates as "cosy" but it is much more than that, because it's as much about experiences and feelings as about blankets and candles.  You might not want to evoke "cosy" quite so much if you're in 40 degree heat, but you can be comfortable and still have your own Haven space for sitting and knitting and thinking.
I do love seeing your photos and I spotted that @littleloopsknitandcrochet has a Haven space set up all ready.  Doesn't that look great?  Everything you'd need plus a beautiful blanket to wrap up in!
Well, that sounds very good but how is the KAL going to work if I'm sitting and thinking or reading a book?  And how is it going to work if everybody is doing their own thing and not knitting the same project?  

It does work because it's one of those magic things where everybody is connected by the yarn and by intention, even if they're doing their own thing.  It actually works brilliantly well because we're not all going to be doing the same thing.  One of the things that I love most about the internet is being able to see life in another part of the country or even the world and I hope that we'll be able to share some of that through the KAL.  I'd really like you to be part of my blog posts – do let me know what you're up to, show me your photos and let's make sure that we're all connected.
To join in with the KAL you'll be using either Winwick Mum yarn and/or a Winwick Mum pattern so that connects us even if we're not all making the same project – and is, I think, a much more flexible way of us all being able to join in together as not everybody wants to make the same thing all the time.  It also means that you don't have to miss out if you aren't using Winwick Mum yarn because as long as you've got one of my patterns, you can use stash yarn or support your local yarn shop or indie dyer and everybody wins!
The knitting itself is part of the whole experience; a way to sit and be creative even as your hands are busy, because all the best ideas come when you are relaxed and there's some thinking to be done over the next couple of weeks – it's not all about sitting and knitting whilst we eat treats!
And whilst we're on the subject of knitting …
🕯 Project
Have you chosen your project yet?  Thank you so much for all your lovely comments on the Easy Mosaic Socks – I'm delighted that you like the look of them and it's been brilliant to read your thoughts on which yarns you're going to use.  I'm really looking forward to seeing lots of pairs of those!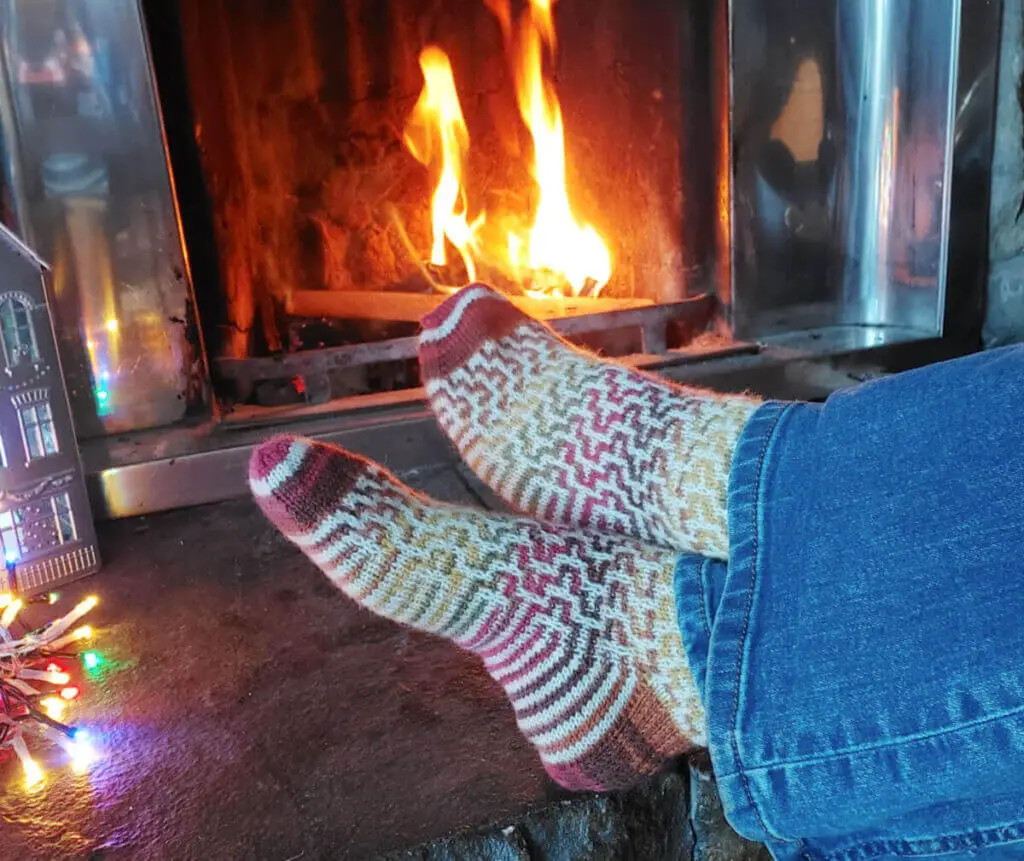 Although I designed the Easy Mosaic Socks for the KAL, I'm also looking forward to seeing what else you might have chosen to work on – remember that it doesn't have to be the Easy Mosaic Socks or even socks at all.  I'd love to know what you have picked that's going to make your heart sing, what yarn you have chosen – have you bought new?  Have you used stash?  You can let me know through social media on Instagram (use the hashtag #WinterHavenKAL) or Facebook, or send me an email (you can find the email link in the sidebar on the left).  If you have photos, I'd love to share them on Instagram and also through the weekly blog posts so do get in touch!
My project for the KAL is to finish off at least one of the WIPs that I have sitting in a project bag waiting for me to get round to it!  I'm going to start with the Falling Hues pattern socks which is one of my Seasons patterns created for the WYS Winwick Mum Autumn Leaves yarn.  I started these socks before the yarn was ready to use and then it got left once the yarn arrived and I needed to get on with the samples.  I'm using a merino, nylon, alpaca and possum blend yarn gifted to me by Pam from New Zealand so long ago that I'm surprised the yarn hasn't got cross and knitted itself now, and it will be good to finally finish this pair! 🙂
The pattern is working out so well in this yarn and I really need to get these socks finished so that I can wear them!
The sock ended up on a magic loop as I used it for a Yarn Lane demonstration and I've decided to keep it on that so that I can properly try out and review the knitting needles that were very kindly sent to my by Hiya Hiya Europe before Christmas.  I can't use their sharp needles as they poke holes in my fingers but these are steel ones and not quite so pointy.  I'll be sure to let you know what I think!
The needle tips are shorter than my usual Addi ones so that might take a bit of getting used to, but it will be interesting to see how I get on with them! 🙂
🕯 This week's recipe

Last year, the idea of making our own treats went down really well and I've got more than a few recipes bookmarked that were suggested by you!  I thought we'd do that again this year – you don't have to make whatever I make each week, but do find yourself something that is a treat, whether sweet or savoury, to munch whilst you're in your Winter Haven if you are able to do that (I know that January often means cutting back!).  Your Winter Haven needs to be a space where you feel like nothing is more important than you at that particular moment – that's how you refill your own well-being tanks! – so if a tasty treat helps you do that, so much the better!
This week, I've made vegan chocolate chip muffins from an Aga recipe which you can find here.  It is possible to use Aga recipes in conventional ovens, you just need to cook at a particular temperature rather than on runners as you do in the Aga.  I think you would cook these at whatever you'd usually go for – another recipe book suggest 170 degrees C for 20 minutes.
The recipe used curdled dairy-free milk which I've never used in a muffin recipe before and the mixture was very wet so I ended up using a soup ladle to spoon it into the cases!  They've turned out all right though …
and they don't taste too bad either!
Do let me know what you're having in your Havens this week, and if you've got recipes to share as well, that would be lovely!
🕯 Something green
Did you manage to find some flowers or a plant for your Haven?  I was looking at last year's photos and I had a lovely parlour palm that I had managed to resuscitate – but then my husband "borrowed" it for his working at home office and forgot to water it.  There was no resuscitating it this time!  🙄
I'm not quite sure what the plant I've got now is called – it's some kind of succulent that I've only ever known as a "money plant".  We've had these things in the family for years, and bits of it keep breaking off so they get replanted and never thrown away, presumably because that feels like bad luck! 🙂  Luckily, I do like this particular succulent (until they get to gigantic size, dropping bits of plant everywhere!) so it's no hardship to share my Haven space with it!
🕯 Light it up!

I got really into having candles burning around the house during the first Winter Haven KAL and now there's always a candle burning in my wax melt burner.  Aside from smelling wonderful, there's something very friendly and welcoming about the tiny tea light flame and I like to see it.
I usually put my fairy lights around the mirror for the KAL but this year, I put them by the fire and this little light-up house that a friend gave me for Christmas and I really like them there!  Oh, someone else would say they look untidy, bundled there on the hearth, but I can see them out of the corner of my eye when I'm knitting and the colours make me happy.  This is what this Haven space is all about, isn't it?  Things that make us happy!
🕯 Listen up!

One of the things that I enjoy most about the Winter Haven KAL is making sure that I sit down and listen to something that isn't my usual radio station.  I often don't have any music on in the house when I'm working (either Winwick Mum writing or my other day job) apart from piano music sometimes as I find that I can't concentrate on my own words when I'm singing along to someone else's!  Last year, I made a point of listening to vinyl records because my husband had moved our record player, and it's still being used now so it hasn't been moved back to where it came from!  Taking time out to listen to music or to a radio programme and knowing that it's OK to do that because I'm in my Haven space is just lovely!
Recently, I have started listening to Radio 4 more often.  In the UK we have a national broadcasting company called the BBC which produces programmes for both the television and the radio and there are a lot of channels to choose from depending on your interests.  Radio 4 is a spoken-word station with programmes on a wide variety of subjects – sport, music, gardening, current affairs, personal finance, comedy … you name it and there's probably a programme that includes it; plus it's own soap opera and a short story every day.  I used to listen to it a lot when I worked as a gardener as I stayed in one place for the whole of the programme, but now that I work at home I find that I tend to move around the house more and then come back into the room to find that the programme has ended and I've missed most of it.  The BBC have created an app called Sounds which lets you download all of the programmes to listen to later and that has worked so well for me.  It also means that you can listen anywhere in the world and you don't have to be in range of the radio frequency like you used to! 🙂  I've been catching up on old episodes of Woman's Hour like this one on knitting and coding (we are all computer programmers, did you know? 🙂 ) and this programme called A Gripping Yarn which is all about – you've guessed it! – knitting.  There's something very calming about Radio 4 with the presenters' measured voices and the nice thing about the Sounds app is that you can look through the listings to see if there's anything you fancy instead of listening live.  I definitely recommend it!
🕯 Self-care
Self-care comes in different forms.  For some people, it's a bit of personal pampering, for others it's taking time out in the fresh air, and for others it's writing things down on a huge list so that you don't worry that that you're going to forget everything that's in your head.
At this time of year, there are so many options to get us into good self-care habits and whatever your view of self-care is, there will be something for you.
Sitting and working on your knitting project is self-care time (I never EVER call it "selfish" knitting because knitting for yourself is important!) and that might be enough for you, especially if you're one of those people who is very good at looking after those around you and forgetting to look after yourself in the process – because many of us are – and as appealing as the idea of taking time out to pamper yourself might be, it's not always practical.
Self-care is also about looking after your best interests and being a friend to yourself.  We're often harder on ourselves than we would ever be to someone else and I'm hoping that we can all take time in our Winter Havens to think about that, and perhaps be a little kinder to ourselves.  This year, being kind to myself means that I am going to make sure that I continue to get up to spend time just sitting before the family starts their day – it's not always so easy on these dark Winter mornings but as long as I'm well wrapped-up, it's not so bad!  It's not too long either – an hour at the most – but it does make me feel so much better.
I'm going to add my book recommendations into this Winter Haven category as well, because I know that knitting and reading go very well together!  I'm not someone who can actually read and knit (although if I read an e-book on my laptop and knit a plain sock it's not too bad) so I do have to take time out to read – no bad thing!
The first book that I'm reading this year is Breath by James Nestor (paid link).  Oh my goodness, this book has been soooo interesting!  I was listening to the author being interviewed on the radio and immediately went to find out more about the book when I came home.  I often find that I lose interest part-way through a non-fiction book but I've not been able to put this one down.
The basis of it is that many people are mouth breathers when we are designed to be nose breathers (I know I do this more often than I should as my specs are usually perched on the end of my nose which closes it off!); our noses warm the air, filter out impurities and many other functions that I had no idea about and not using them as they are designed actually makes us ill.  I think what caught my attention quite early on is that the writer talks about a form of breathing called Sudarshan Kriya which I actually know how to do – I learnt this technique quite a few years ago but as a form of meditation; it hadn't occurred to me that the breathing was more important for everyday health!
The book is written as a factual account of the author's experiments in breathing using techniques that have been around (in some cases) for hundreds of years, interspersed with accounts of how practitioners have used breathing as a way to reduce the symptons of asthma, emphysema, snoring and other breathing disorders.  I'm trying really hard to make sure that I breathe through my nose much more now – not always easy as not using it has meant that it's often stuffed up, but using it again is clearing it – and I am feeling better for it.
I've also got two new fiction books – Call of the Penguins by Hazel Prior which is the sequel to Away with the Penguins which I read during the Winter Haven KAL last year and absolutely loved.  I must thank Geeha for telling me that there was a sequel out as I hadn't known about it!
I've also got My Kind of Happy by Cathy Bramley, which was a gift from big daughter.  I haven't read anything by Cathy Bramley before so I'm looking forward to this!  (all of these are paid links)
🕯 Thank you

Did you remember to find a book to write in?  It's all about saying "thank you!"  Thank you for being here!  But more than that this is also an important part of our Winter Haven.  We can get so busy living life from day to day that we forget to be grateful for what we have, and that's where your notebook and pen come in. 😀
Keeping a "gratitude journals" might sound a bit wishy washy but it's actually very powerful and thinking about what you've appreciated during the day or the week is a good way to remind yourself that life isn't all bad.  And more than that, the more that you focus on what's good in your life, the more of that you'll attract and notice – and we could all do with a bit of that at the moment, couldn't we?!
So go ahead and open up your notebook and think about what you want to write.  You can call it "gratitude", or "blessings", or "positive thoughts", or whatever you'd like to, but write something that you are grateful for.  And there's always something to be grateful for – even down to the air that you breathe, the clothes that you wear and having food on the table.  See if you can find three things in a day to write down, either as bullet points or you can expand into paragraphs if you want to.  You might think of more and that's wonderful, but don't feel pressured into writing every day if you're not inspired to.  If you're stuck as to where to start, having air to breathe, food to eat and someone to love (or to love you) is a good place to start 🙂
You might also choose to write down something good that's happened to you, or a compliment that someone paid you – these are also something to be grateful for, but again it's that thing that the more you tune into the good things, the more of them you'll have, and noticing positive experiences is definitely something to cultivate!
Finally, before I leave you in peace for the weekend – I'll be sending emails on Fridays with the KAL weekly updates but not if I post in between (although the links will be on the emails) as I don't want to over-email anybody!  If you're not signed up to my mailing list and want to join, you can do that by clicking here and you get a free Kitchener Stitch guide to download when you do! 🙂  Do remember to check your spam filter if you don't get a confirmation email – GDPR means that I need to send you double opt-in emails before I can send your download to you!
Also, if you feel the need for a Winwick Mum Sockalong pin badge to attach to your project bag (or yourself) as you're sitting and knitting, you can find those here.  You can imagine that it's a reminder from me to sit down and have a brew every time you see it! 🤣
And there we are … Week 1.  I hope this has given you some ideas for your time in your Winter Havens!  Next week, I hope to have more of your projects and ideas to share, so do tell me about your Winter Havens and your projects because I can't wait to hear all about them!
Until next week xx