After half term
Thank you again for all your kind words and enthusiasm about my last post about the Seasons patterns, it's been such an amazing few weeks and I am loving starting to see social media photos of the yarns being used now!
School has finished, been on holiday and re-started again since the yarn launched and it's very strange writing a blog post about being back at school after the half term holidays when "school" is just along the landing on a computer!
Small daughter is not impressed that she has to get out of bed before lunchtime (she's wholeheartedly embraced the teenage time shift and would happily sleep most of her day away given the opportunity) but is even less impressed at the news that the schools are re-opening in March as she has also wholeheartedly embraced the new "uniform" of hoody and pyjama bottoms that are almost certainly not going to acceptable when school re-opens!
We've still managed to do a fair bit over the half term holiday, though.  I got out into the garden at the weekend and started my seed sowing.  It probably is still a little bit early but I was feeling the need to get my hands in the compost and the seeds will grow as fast as they grow despite me!
I've planted climbing French beans, sunflowers (big daughter's favourite flowers), sweet peas and Rudbeckia.  I did take more out to the greenhouse with me but resisted the urge to Plant All The Seeds which is my usual trick – and then I end up with thousands of leggy seedlings that I don't know what to do with.  
I also had a rootle about in my worm bin to see if it looked like the worms had survived the Winter and it did!  I think this is the best worm compost I've ever made (ha! as I did any of the hard work!) so I emptied the compost out and left the worms in with a new layer of worm bedding (cardboard, some half-made compost) and lots of fresh new vegetable waste for them to chomp away on.  Worm compost is too rich to use as potting compost so I've got it safely in a bucket in the greenhouse for now and I'll probably put it into the bed where my tomatoes go as it could do with the extra nourishment this year.
It felt so good to be back in the greenhouse!  I must confess that I was also hiding as we've been painting small daughter's bedroom and decorating is not my favourite thing to do.  I can tell you now that I have not missed my vocation as a decorator – I like the finished result very much, but I don't enjoy the paint in my hair (every time!) or having to wash the brushes and rollers.
Small daughter decided that this shade of purple …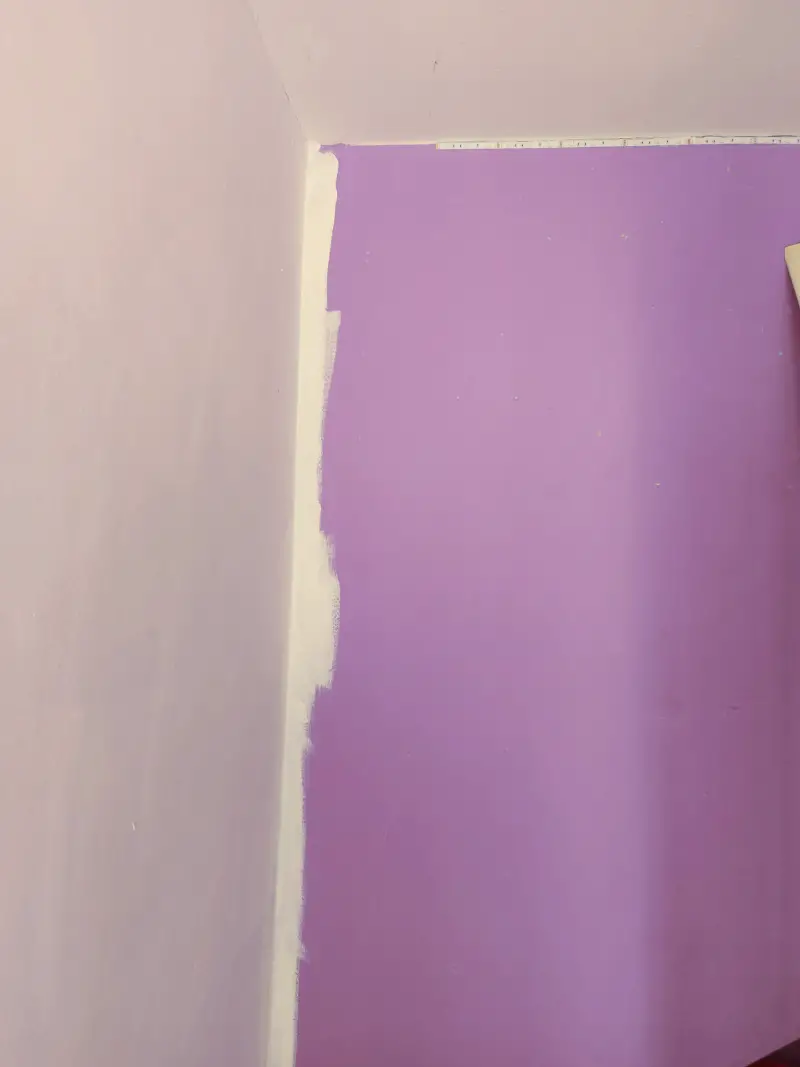 was no longer in keeping with her image.  I'm a bit sad, really – both of my girls have outgrown their brightly painted bedrooms and have gone for something much more adult.  I'd paint the whole house purple if I thought I could get away with it, but perhaps it's just as well that I can't!
Small daughter chose the bottom of the two colour samples; it's actually quite a nice off-white colour and she has lots of brightly coloured photos and pictures on her wall – and it makes the room look bigger so I think she's made a good choice.  The man at the local Crown paint shop was a huge help as well and recommended a paint that would pretty much cover up the purple in one go – and it did!  Yes, there was still plenty of it in my hair by the time we'd finished, but at least we didn't need to do more than one coat of the white before we started on the main colour.
What else?  Oh yes, half term has been some kind of comedy show as far as our pets are concerned – I'm on first name terms with everyone at the vet's now, and I've got appointments at our regular vets and the animal hospital with our daft cats and dog.  If I don't get an invitation to the Christmas party I'll be most upset – and I have been very thankful that we have pet insurance!
One of our cats is currently sporting a "cone of shame" after bringing something back to the house last weekend which bit him.  I say "something" as we don't actually know what it was – the dog ate it before we could see – and yes, this is the dog that's currently on an exclusion diet under vet supervision, allowed nothing but a special kibble made of chicken feathers, and treats made of cooked kangaroo steak.  I'm pretty certain that whatever the cat brought back was neither chicken feathers nor a kangaroo, but anyway, it's inside our dog now, and the cat is recovering from an infected paw and is constantly bumping into things because his sense of spatial awareness has gone to pot thanks to the cone.  My girls think it's hilarious: the poor cat has now been variously renamed "Pixar" (as in the jumping lamp from the Pixar logo) or "Space Boy" as he looks like a walking satellite dish.  Let's hope his paw heals quickly!
In between painting and hiding in the greenhouse, I've managed to sneak in more than a little bit of knitting.  Hooray!  Nothing like those soothing rounds to keep you calm!
I've been catching up with two socks that have been on the needles for a while – a Wildflower pair for me made out of all the leftovers I have from when I knitted up the first Winwick Mum collection socks and this violet pair that I seem to have been knitting for my husband for about 150 years.  I don't know why it's taking me so long to finish these socks off other than I find plain socks quite boring to knit so I've probably been procrastinating about doing them more than I thought.  I've done the heel now and onto the foot so hopefully it won't be too much longer before he can wear them – thank goodness it's the second sock!
I've also been getting on with the jumper that I started knitting over Christmas.  I've done all the yoke shaping now and I'm past the armholes and down to the waist so I'm pretty pleased with myself.  The rounds seem to take so long though – big yarn and big needles feel very odd after my usual 4ply on tiny needles, but at least every time I've finished a round it feels like it's grown enormously.  You never know, it might even be finished before next Winter!
I've managed to keep up with my reading since the Winter Haven KAL finished a few weeks ago, and it has been lovely!  I've been making a point of reading before I go to sleep and although I might only manage a page or two some nights, it's been such a pleasurable habit to rediscover.
I finished "Miss Benson's Beetle" by Rachel Joyce, which was the last book I was reading for the Winter Haven KAL, and thoroughly enjoyed it.  That seems quite a while ago now as I've also read "I Wish It Could Be Christmas Every Day" by Milly Johnson and thoroughly enjoyed that one too.  They're very different styles of writing but I couldn't put either of them down once I'd started!
The book on the top of the pile is "Tiny Habits" by BJ Fogg, recommended to me by Sharon (who also happens to be the only WYS supplier in New Zealand 😀) and this has been fascinating reading.  Not a fiction book this time, but it's all about creating new habits in your life by starting off in a tiny way and as well as being useful, it's an easy read – always helpful for this kind of book!  
In a few weeks, we're going to be transitioning back to some kind of "normal" (I'd like to think that it's going to be better than we had before) and I'm hoping that it won't take too long to get into routine again once we can add going outside and meeting people to our list of things that we can do.  I thought it wouldn't hurt to get some new habits started before that happens!
I'll miss seeing the roads this quiet (although the road outside our house has been really busy the last few days, I don't know what's going on!) but we can't live as we are doing forever.
I hope you're keeping well and safe, I'll catch up with you again soon! xx