Still here!
Hello!  And how is the view from your window today? 😀
Another week passes by and we're all still here, aren't we, safe at home and hopefully keeping well.
I must start this post by giving you my heartfelt thanks for all the love that's been shown for my Thoughtful Cowl– WOW!
I'm thrilled that so many of you have been going through your stash to find yarn to cast on, and I really hope that the pattern is a good distraction from what's going on in the rest of the world right now.
I have to tell you – in fact, I'll probably burst if I don't – that my proudest moment when the pattern was published was seeing it appear on the Ravely "Hot Right Now" page which shows the patterns that have had the most views in 24 hours.  That's pretty blooming exciting – and thank you very much!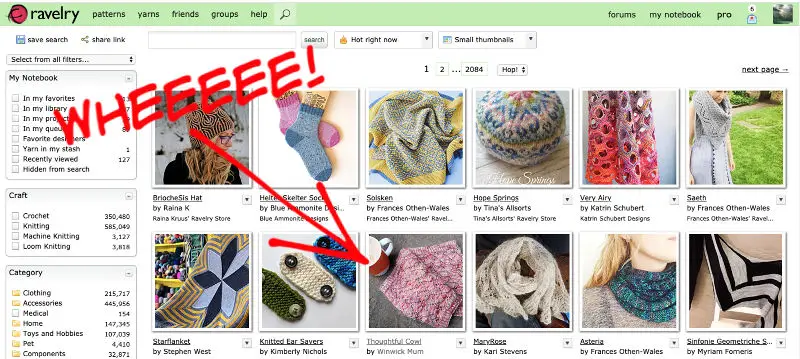 Anyway, coming back down to Earth, if you don't have a copy of the pattern and you would like one, you can find it here 😀.
Back in the real world, I've not been out except to the supermarket or seen anyone except my family, the postman, the window cleaner and the Amazon delivery man (from a safe distance, of course) so I'll do my best not to bore the pants off you with what I've been doing at home.
Amazingly, the sun has shone every day.  It's rained overnight a couple of times, but in the morning the sun has been shining again; it's been a bit like holiday weather, or perhaps the sort you see on a film or in nostalgic memories.  I'm not complaining at all – I think it would be much more difficult for us all if it had been constant rain like it was over Christmas.
It's given me the chance to get out in the garden far more than usual, which has been brilliant.  I've potted up some of the seedlings that small daughter planted for me a couple of weeks ago.  It's amazing how quickly they grow, isn't it …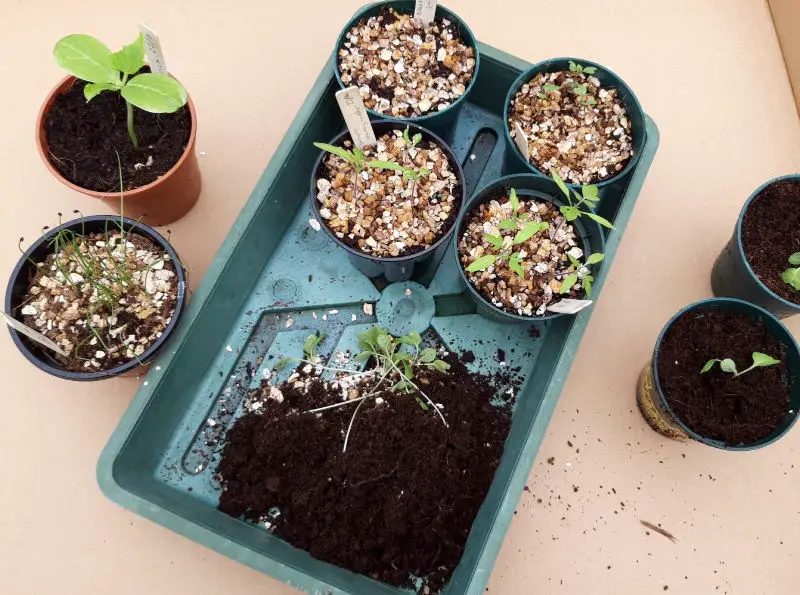 and once you've potted them on, they grow at an incredible rate.  My sprouts and tomatoes were definitely a bit on the leggy side so I've buried them deep in the compost in their new pots to give them chance to grow on a bit more sturdily.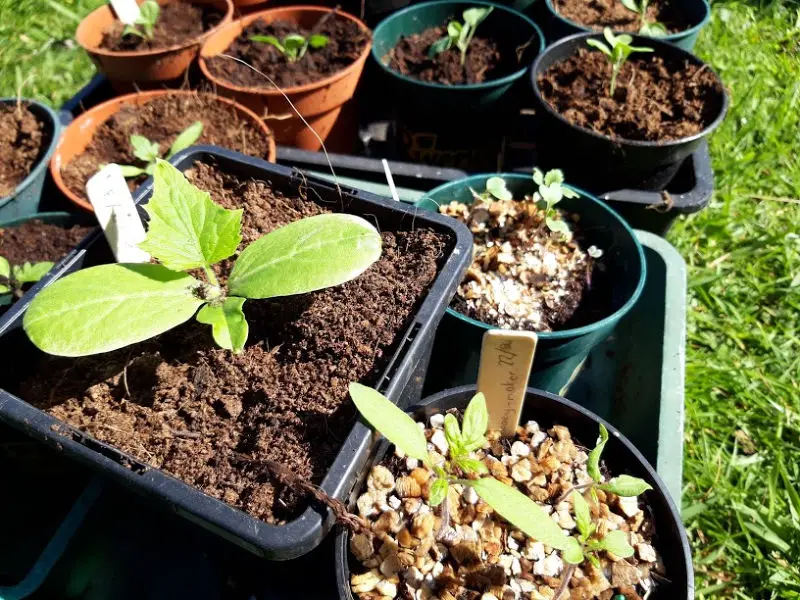 I've put the leeks into the raised bed and planted more seeds – carrots, onions – and planted my seed potatoes in the ground too.  They've been chitting inside for quite a while now so it's time to get them into the ground to grow.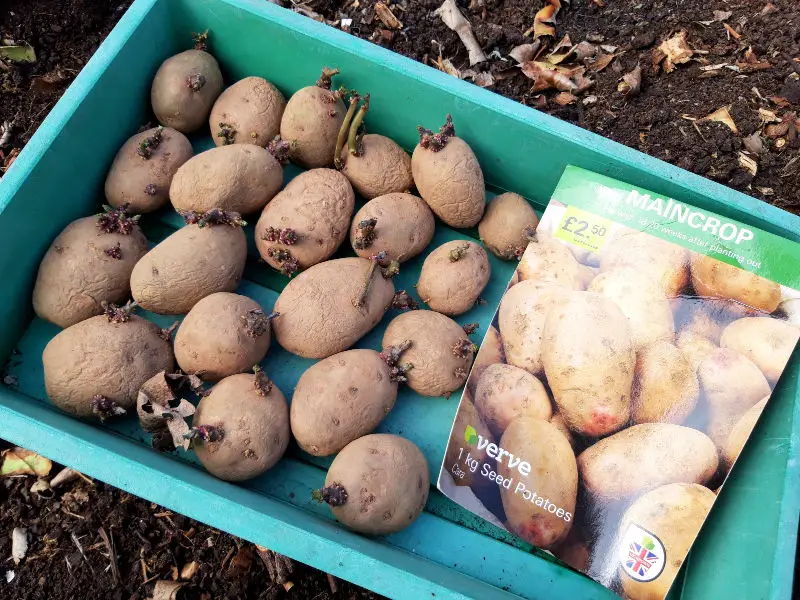 This is what a "chitted" potato looks like.  You can see that it's starting to grow shoots (like the potatoes you find in the bag at the back of the cupboard that you've forgotten about …) and they're what the potato is going to use to create a new plant.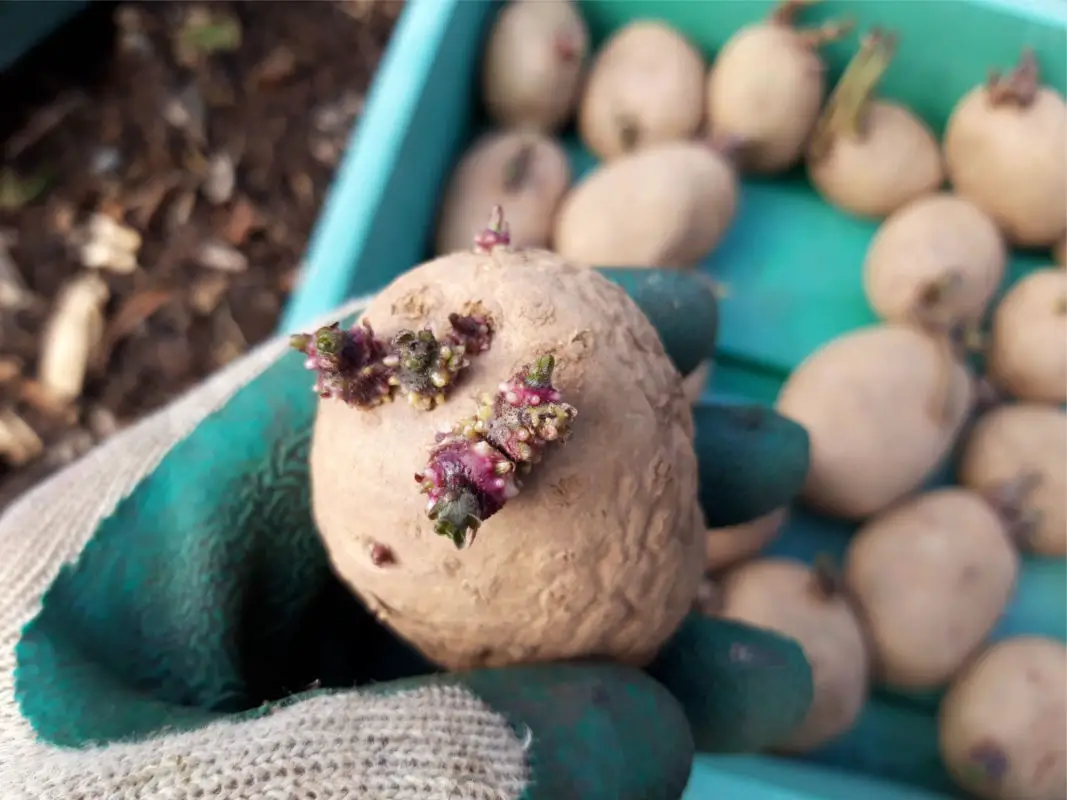 I hadn't planned to grow quite so many potato plants but there were 20 seed potatoes in the pack and I don't know anyone to give them to, so I thought I'd just grow them.  We can always eat potatoes!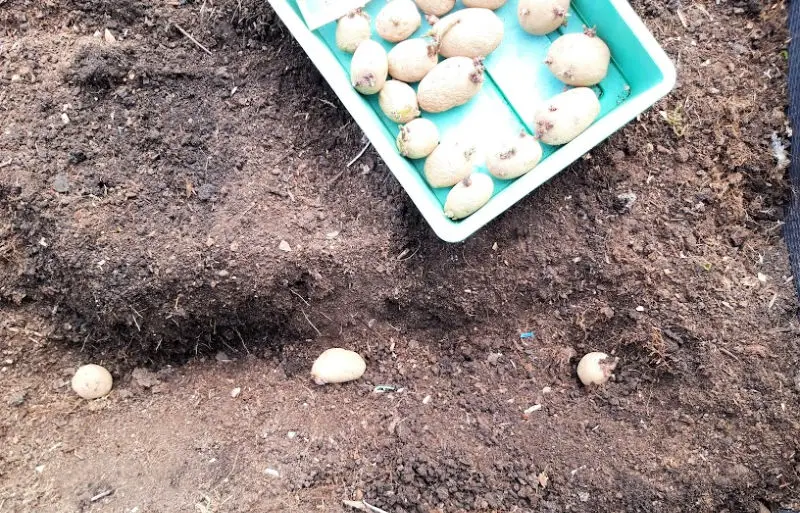 The robin has been around a lot this week, along with a robin friend (Mrs Robin?  I'm not sure, they both have red breasts and I thought that only Mr Robin had those colours at this time of year).  We were talking the other day about whether there were more birds around or whether we just noticed the birds that were always here more because it's so much quieter.  The birds seem to be more than making up for the traffic noise at the moment – particularly one Mr Blackbird who has taken up residence on the TV aerial and goes through his entire song repertoire from what feels like first light to the moment that he has to take himself back to his nest to rest his voice.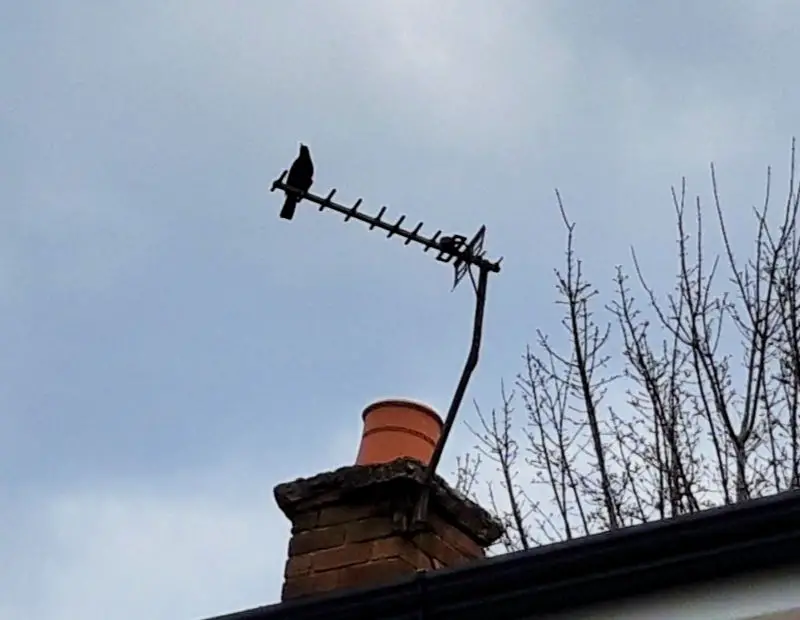 How do we know it's the same bird, you might ask?  Well, this one has a particular tune in his musical set and it sounds like the chorus from "I'm a Barbie Girl" by Aqua so now we've heard him singing "I'm a Barbie girl", we can't unhear it, and we know that unless every flipping blackbird in the world sings this tune, this is very definitely our blackbird!
Elsewhere in the garden, alliums are sprouting …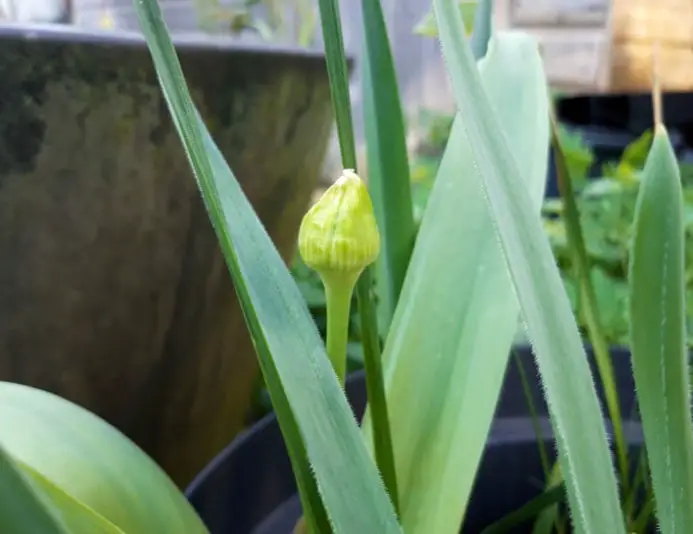 and the forget-me-nots are blooming in every nook and cranny where I haven't pulled them up.  We're a bit over-run by them, but they are so pretty that I'm not always heartless enough to pull them out.
Out on walks with the dog, the blossom trees are in full bloom in the churchyard.  I love our church building.  I haven't been to church all that often recently (well, not at all at the moment!) but I do feel very strongly that our church is a part of the community, both within the village and the church community, and I really love living so close to such an ancient building.  The church has been here for over 900 years and is mentioned in the Domesday book of 1085.  I'm a history graduate, this sort of thing fascinates me.  It makes me wonder what the church has seen, standing there on it's hill; two World Wars, definitely, for the soldiers are remembered in the church, the Black Death in 1347, Cavaliers and Roundheads fighting it out in the Battle of Red Bank (also known as the Battle of Winwick Pass) in 1648 … generations of families moving in, growing up, growing old, moving on … and now this virus that moves invisibly, keeping us all indoors.  I wonder what they would say if those big, solid walls could talk?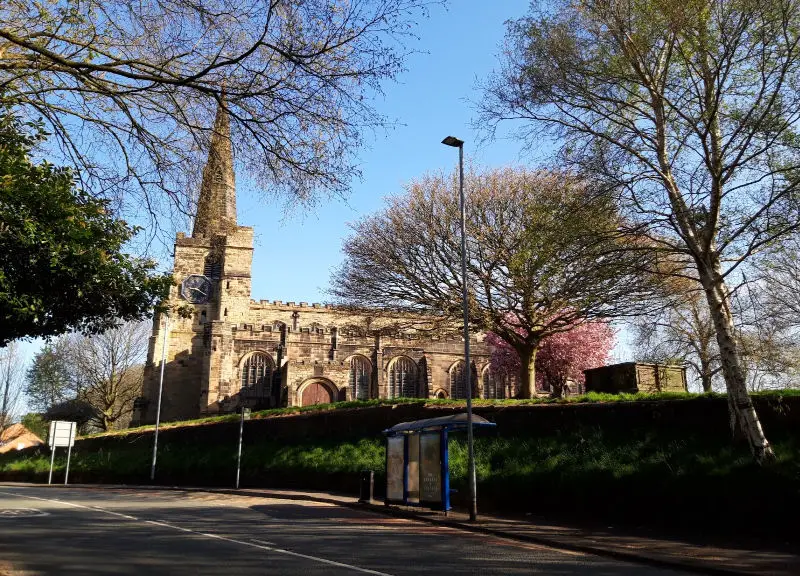 The dog isn't interested in the church or what it would say to him, but instead wants to make the most of being off his lead when there's no one around.  He knows this walk well and we know most of the dogs that we might meet so I feel safe to let him run for a short while at least.  The bluebells have started to appear in the wood where we walk and it's lovely to see them.  These are proper English bluebells; I've got a mixture of those and the broader-leaved Spanish interlopers in our garden.  I did think about digging all of those up but decided that because I don't share them with anyone or plant them outside of our garden that I'd leave them to be contained there.  Interlopers they may be, but they're still very pretty!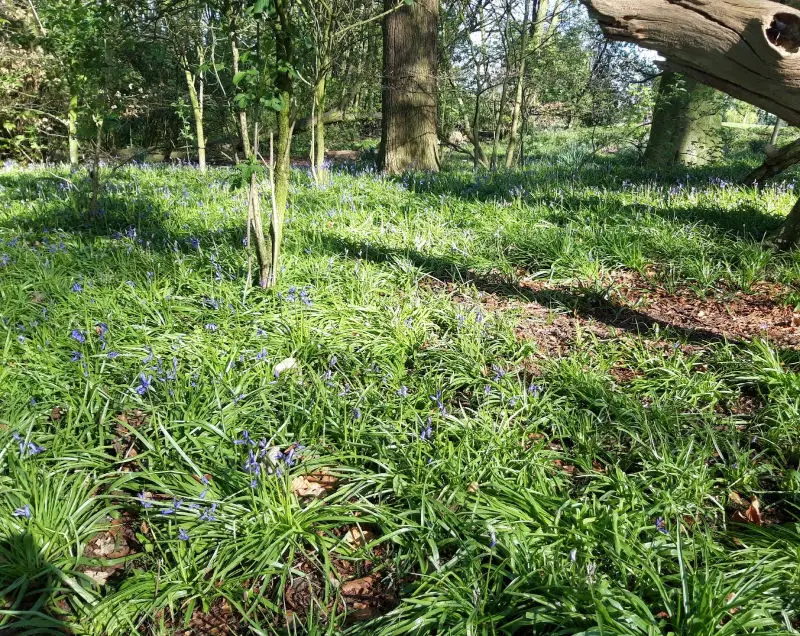 Do you remember me showing you the horse chestnut leaves unfurling a week or so ago?  This what they looked like then …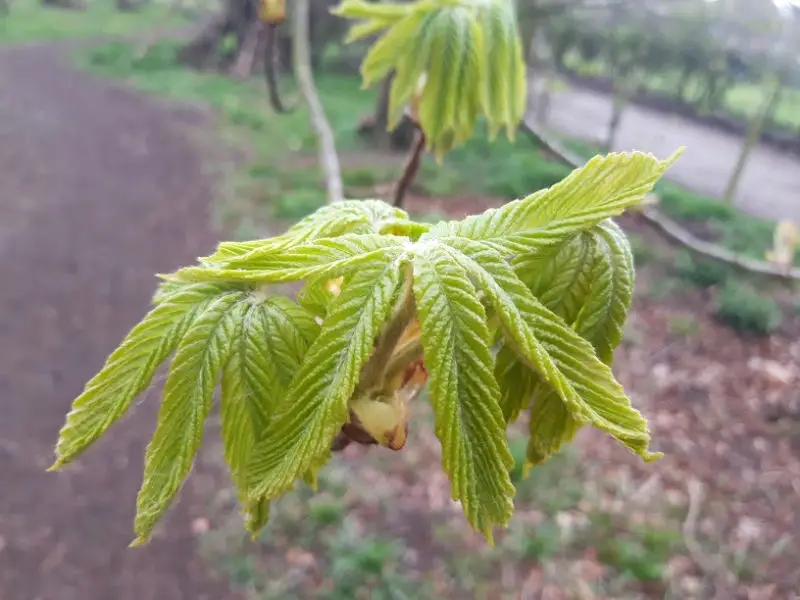 And two weeks later, this is what they look like now.  They're pretty much full size now – what a difference, eh?!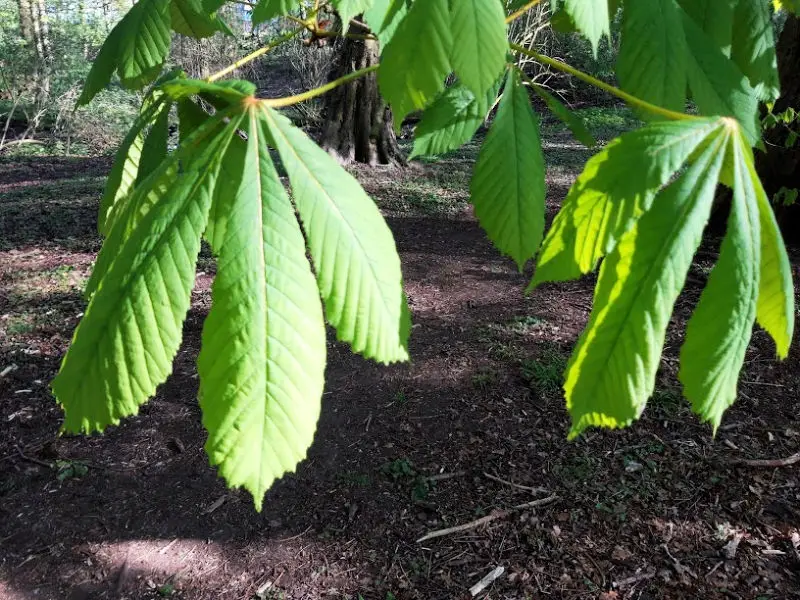 I mentioned the other week that I hadn't been getting as much knitting done as I had expected to, but it's all changed this week.  I've finished two pairs of socks!  This pair in West Yorkshire Spinners Aire Valley DK in the shade Rum Paradise …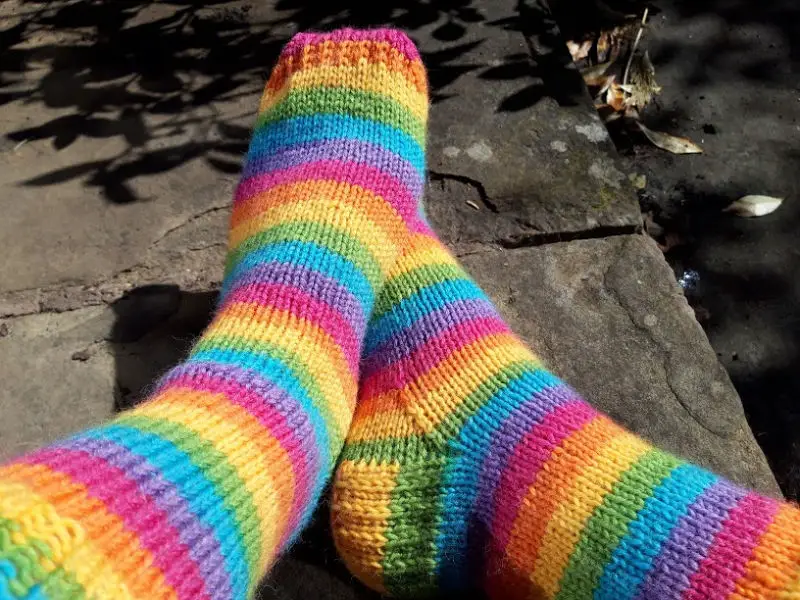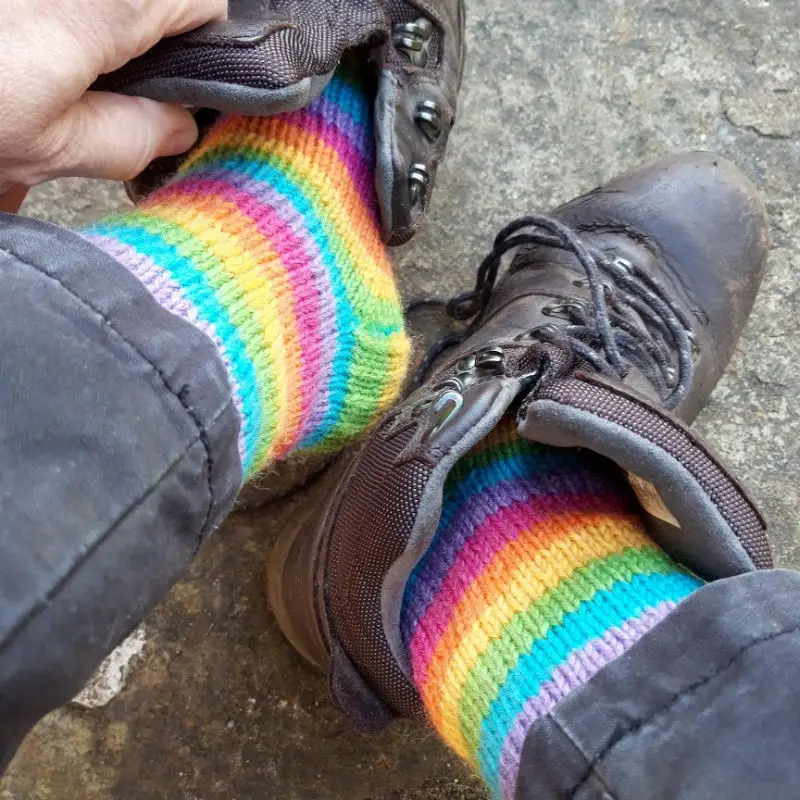 Aire Valley is now discontinued and has been replaced by Colour Lab – I found this yarn in my stash and thought it would be better to wear it than look at it 😀.
I finished this pair too – these are Stylecraft Head over Heels in shade Red Pots.  I feel like I've been knitting these forever so it's good to have these off my needles and onto my feet!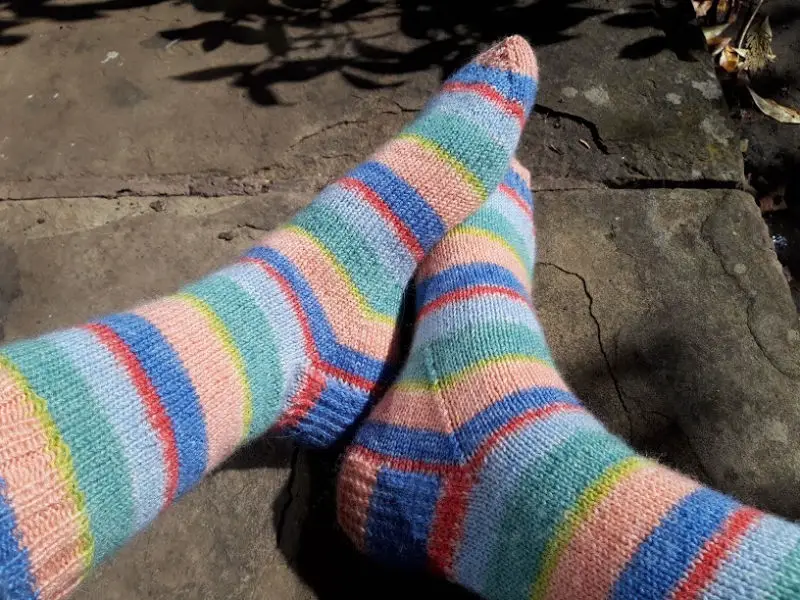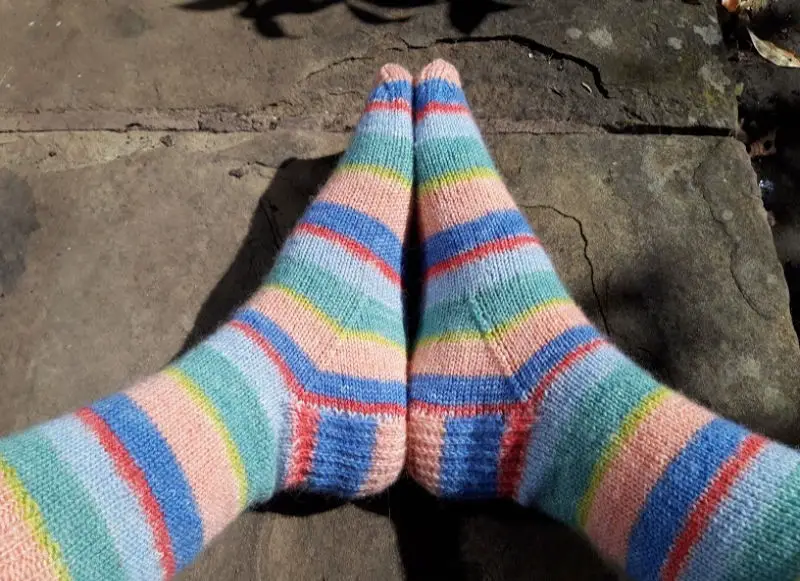 I've added my Red Pots square to my leftover blanket.  It's still going to take some time before it's any use to anything bigger than a hedgehog, but at least I'm working on it!
I've been digging through my WIPs and I found this pair of socks that had been abandoned – this is indigo-dyed Dorset Horn yarn from SkeinHeroine and it just doesn't know what it wants to be.  I started cabling with it and it does take a cable very nicely, but I wasn't loving the pattern so then I thought I'd knit the socks two at a time and then changed my mind again.  I decided that I would just knit a pair of plain socks – the yarn is wound into balls ready to go and it's a shame to leave it abandoned in a project bag.  It's very woolly to knit with after the Head over Heels – as you'd expect from a no-nylon yarn – and although it's more like a 6ply in weight, it's not knitting up quite as quickly as I thought it might do.  I keep doing rounds here and there, though, and that usually gets the socks done!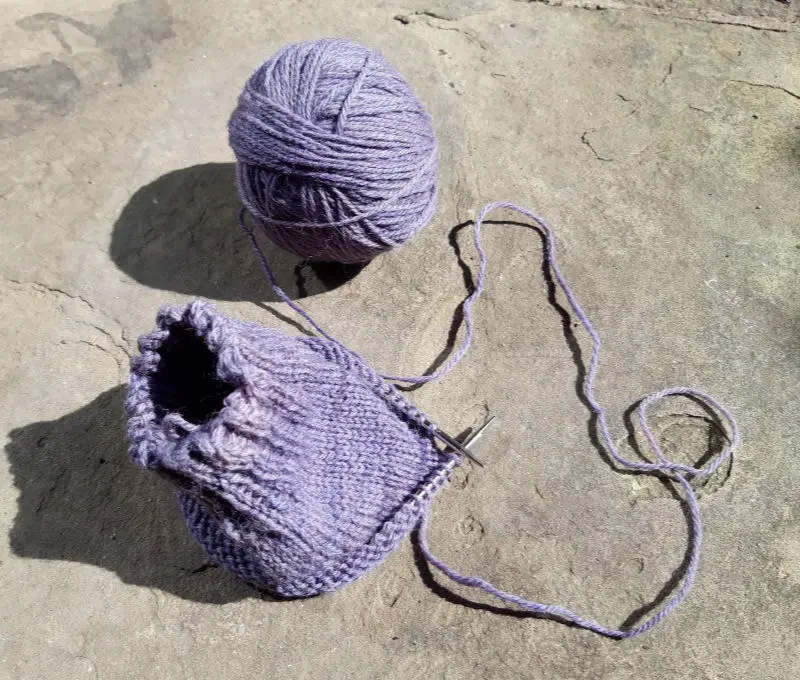 I bought some hand-dyed yarn last year for my husband who decided that he was branching out from black socks (hooray!) after he fell in love with his Mind The Gap ones.  I bought a skein of British Skies from Sheepish Fibre Art with the intention of getting two pairs of socks from the skein.  Here's the first pair …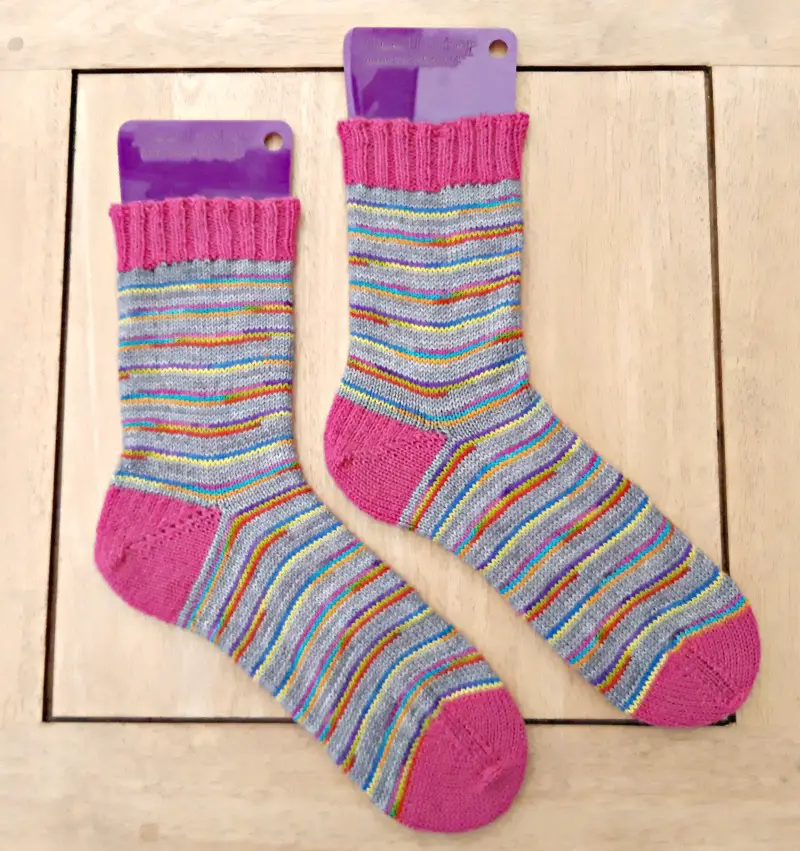 And here's his second pair on the needles …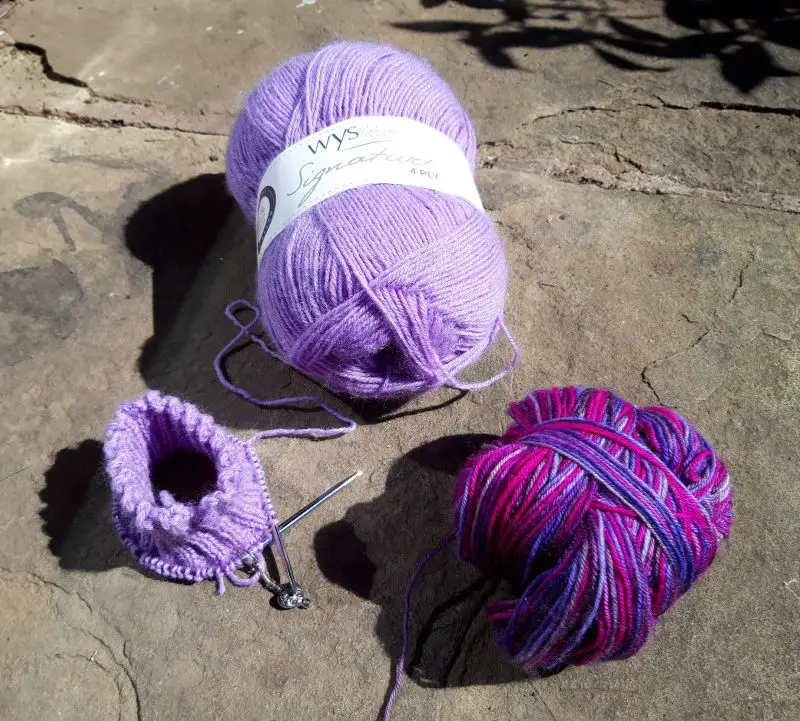 You might think they look nothing like the first pair and you'd be absolutely right.  He's not worn his first pair very much at all (I don't think anything can compete with his Mind The Gap socks, to be honest!) and when I interrogated asked him about why this might be and whether he really wanted a second pair in the same yarn, he said that he didn't and he'd like some purple ones instead.  So these new socks are WYS Signature 4ply in Violet with Hey Jay Yarn hand-dyed contrast heels and toes (leftovers from my socks).  Actually, I think they'll look really smart.  And they're not black.  And I can have a pair of British Skies socks for myself.  It's all good.
I'm nearly at the end of today's rambling tales.  It's keeping me amused writing all this stuff, even if you're all passing out there on the other side of the interweb 😀.  It's lovely to know you're around, by the way, I do appreciate all your comments even though I'm not always very good at replying to them all.  I don't know if anyone ever goes back to read them – I don't go back to check for replies on comments I've left on anyone else's blog – perhaps I should!
Our piano has seen more use just recently than it has for rather a long time and I think it appreciates it.  Instruments are meant to be played, aren't they?  Small daughter should have taken her first exam a couple of weeks ago but it was cancelled – a shame but not the end of the world.  I don't think she was devastated!  Her piano teacher (who also happens to be my piano teacher) has got an online lesson system going so we're both still able to have lessons from home.  I always feel a bit self-conscious about telling people I have piano lessons (I feel like it makes me sound like "a lady who lunches"), but the fact is that I enjoy playing and I think it's good for my hands after all the knitting.  I like the way that when I'm playing, I can't think about anything else except the music and what I'm doing with my  hands.  Even big daughter, who stopped having lessons at about the time she went to Peru in 2015, has been rifling through our music stash to find things to play, and I am glad of it.  I think we have to nurture our creativity in every way we can at the moment.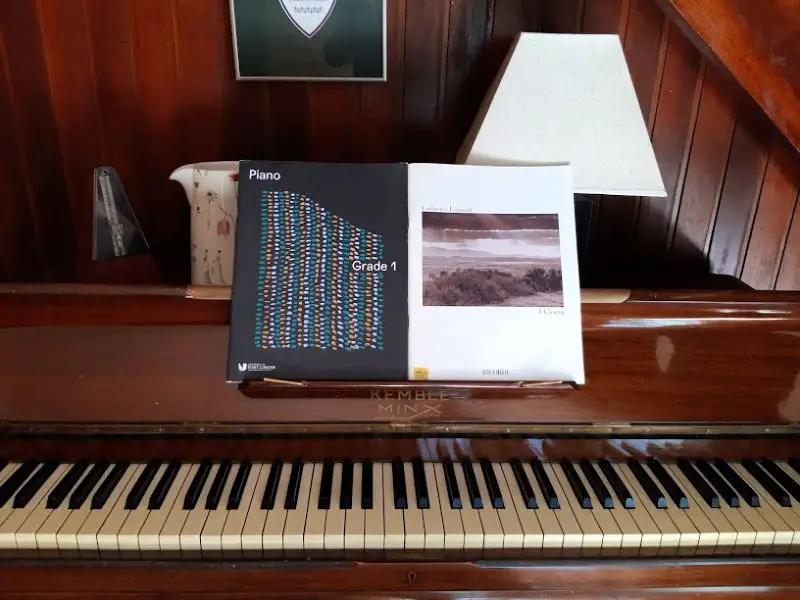 And that's me done for today.  It's felt very important to me just recently to "look for the extraordinary in the everyday" because we are so contained within our own spaces, and I have found that I am appreciating the little things – like seedlings and sheet music – more than ever before.
Do continue to stay well, it's good to know that you're around.  Until next time xx