It's got my name on it ;)
Can you believe that it's a month since Yarndale already?  Doesn't the time fly?
That means it's also been a month since More Super Socks was launched … wow!  A whole month!  It's been a pretty amazing month and I'd like to say thank you very much everybody who's bought a copy.  Spending your hard-earned cash on my book is not something that I take for granted and I am truly grateful.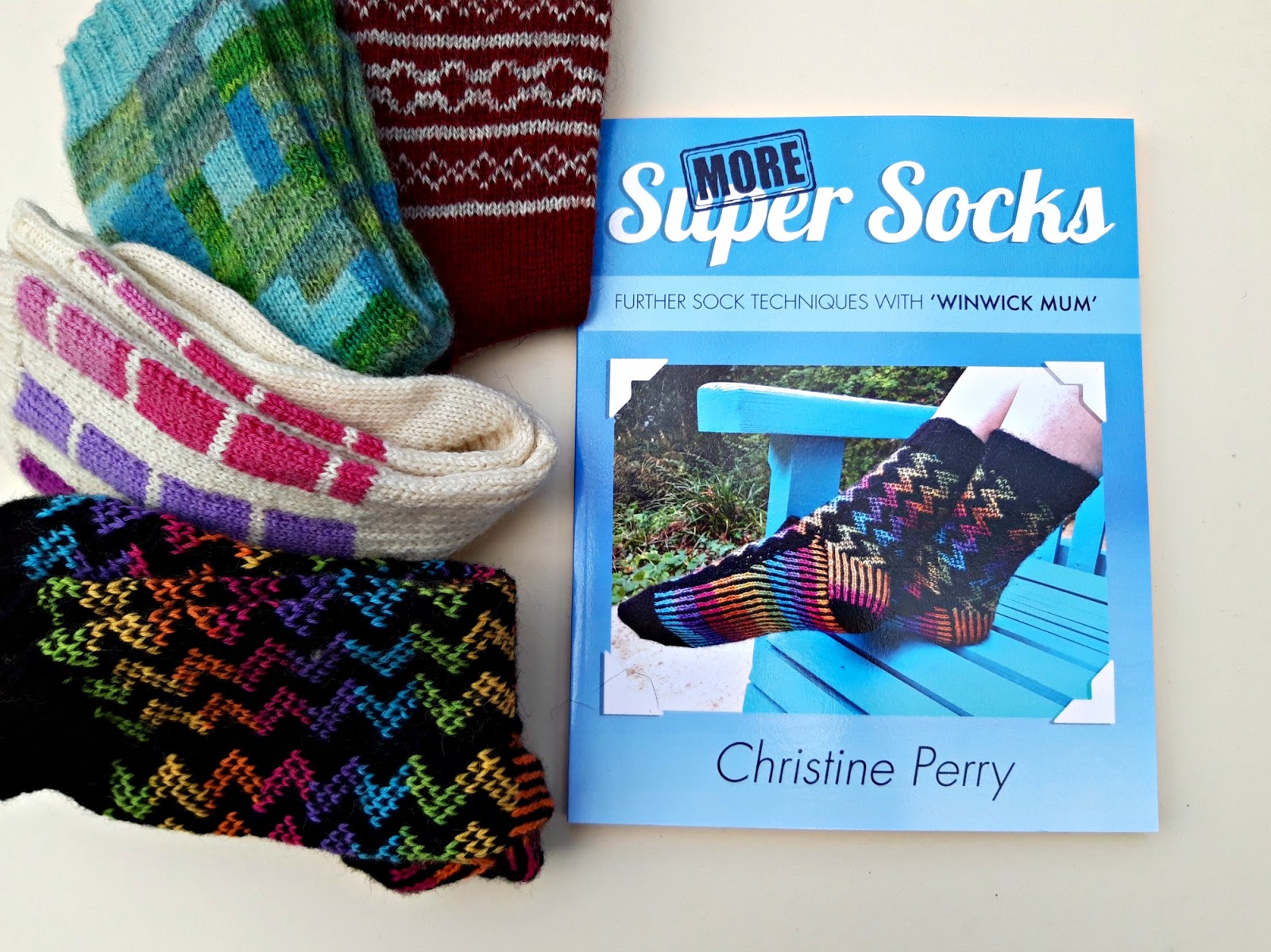 It really is something very special to see your book appearing in yarn shops, on websites and in social media photographs and I never get tired of the thrill of it.  I've wanted to be an author from being quite small and it always seemed like something that other people did.  I still can't quite believe that there are books all over the world now with my name on the cover, and most importantly, that people are able to use what's inside to knit socks and fulfil ambitions of their own.  It's a kind of magic!
If you haven't had a look inside More Super Socks yet and you'd like to take the tour, you can do that here.  Also, I wonder if I could ask a favour?  If you've bought a copy of the book, would you be kind enough to leave a review on Amazon for me, please?  It's been the wonderful reviews that have helped to make Super Socks so successful in getting people knitting socks and I'd love for More Super Socks to be just as successful in helping people to understand how different patterns work.  Thank you! xx
Moving on, there's something else with my name on it at the moment, and that's this year's Christmas sock pattern from West Yorkshire Spinners.  It was released to the shops a week or so ago so you might already have seen it – indeed, you might already have knitted it! – but if not, I'm going to tell you all about it 😀
Way back in July, the nice people at WYS asked if I'd like to knit up their Christmas socks again (you may remember this pattern from last year) and of course I practically snatched their hands off.  It's no secret that I love WYS Signature yarns; they're perfect for beginners, there's such a wide range of colours now and it's a good quality yarn at a good price – I couldn't wait to see what this year's festive colourway was going to look like!
This is what arrived through the post.  The new Christmas yarn on the right is called Fairy Lights, and the contrast yarn on the left is Cayenne Pepper – although you can also tone this yarn with Chocolate Lime, Blue Raspberry and Milk Bottle to look equally fabulous.
I hadn't even seen a sneak peek of this yarn when I unpacked it and although I knew it was Christmas-themed (obviously), I couldn't begin to guess what it would look like.  It's not often that you get a ball of commercially spun yarn that you have absolutely no idea what it's going to look like when it's knitted up (I'm differentiating between commercially spun and hand-dyed here as hand-dyed by it's very nature is more variable); we're so used to looking up pictures on the internet to see if we like something or not before we buy it that we don't even think twice before we do it any more.  Would it be stripes like the British Birds and the Cocktail ranges?  Or would it be more like the Florist yarn which knits up quite differently?  You can be sure that I didn't spend too long pondering and cast on!
And … it's stripes!  I think that Fairy Lights is the perfect name.  You could just imagine these bands as the twinkly lights around a Christmas tree, couldn't you?
Oh yarny stripes, how I love love LOVE knitting you!  Better yet, festive stripes!  I couldn't get enough.
What do you think?  I thoroughly enjoyed knitting these socks and it's always a bit of a wrench to have to hand them over to be photographed for the pattern.  Oh yes, the pattern!   It's free with yarn purchases and is a basic sock very similar to last year's Candy Cane pattern, updated to include instructions for adding the contrast yarn.  It has the ribbed heel stitch heel flap which is great if you find a regular heel flap a little tight on your foot as this one has more stretch.  Candy Cane was a limited edition yarn so the pattern was limited edition too and this new version means that those who missed out on last year's pattern can still get a copy, albeit updated for this year's yarn.
2022 update:  this pattern is no longer available on the WYS website.
Fairy Lights is out in the yarn shops now, and available online too.  You should find it quite easily as there's plenty of it around at the moment but don't leave it too long to get some if you like the look of it as it's selling out fast!  There is some available at Cityknits* at the moment if you don't have a yarn shop close to you (they are re-stocking this week as they were sold out).
There are also gift sets available with two balls of yarn, the pattern and two gift bands in a special box which would make an idea present to give away – or keep!  I haven't seen these and I know that there were only a certain number of them produced so if you want one you'll have to check with your local yarn shop quickly.
Something else with my name on … the nomination for Knitting Blogger of the Year in the British Craft Awards.  How exciting is that?!  I'm absolutely delighted that Winwick Mum is being nominated for blogging awards – I do tend to be very sock-orientated in my blogging and I know that socks aren't everyone's thing so I am thrilled to be on the list with some big knitting names.  It's a great honour!
If you'd like to vote and have the chance to support your favourite companies and bloggers (😀) you can click the picture below to go through to the website.  There are six different categories for you to vote in – Papercraft, Sewing, Quilting, Cross Stitch, Knitting and Crochet – and there's the chance to win a £100 Amazon voucher in a prize draw in each of the categories.  Thank you so much if you choose to vote for me, I appreciate it so very much xx
Finally … on Saturday 3 November, I will be at Peak District Yarns Studio in Tideswell from 11am to 1pm if you can come along to say hello.  It's been quite a while since I was in the Peak District and I've not been to Tideswell since I was very small on a family holiday so I'm looking forward to it very much!  I'll be signing books and also doing my usual sock clinic thing so do bring along any socks you'd like to show off (on feet or needles, I don't mind!), or if you've got questions about getting started then I'll have my sample needles for you try out circular knitting – plus Carrie at Peak District Yarns has some seriously gorgeous yarns for you to squish.  She also runs dyeing workshops at her studio so if you're interested in that sort of thing then it'll be a good opportunity to come along and ask her questions too!
The address is Commercial Road, Tideswell, Buxton, SK17 8NU.  There's free on-street parking in the village (don't park at the pub though, they don't like it).  The Facebook event page is here if it's easier for you to see details that way.
Hope to see you there!
* this is an affiliate link