Catching up
I've just been looking through my photos and I've realised that I've been busy snapping away but haven't actually shown you what I've been snapping recently!  Oh, the hardship of having to do exciting things like photo shoots and go away on holiday instead of showing you the garden 🙂  Anyway, this seemed like a good time for a catch up so here's what's been going on over the last six weeks or so. 
Firstly, I finally finished the IOU Christmas socks.  Here's big daughter's pair …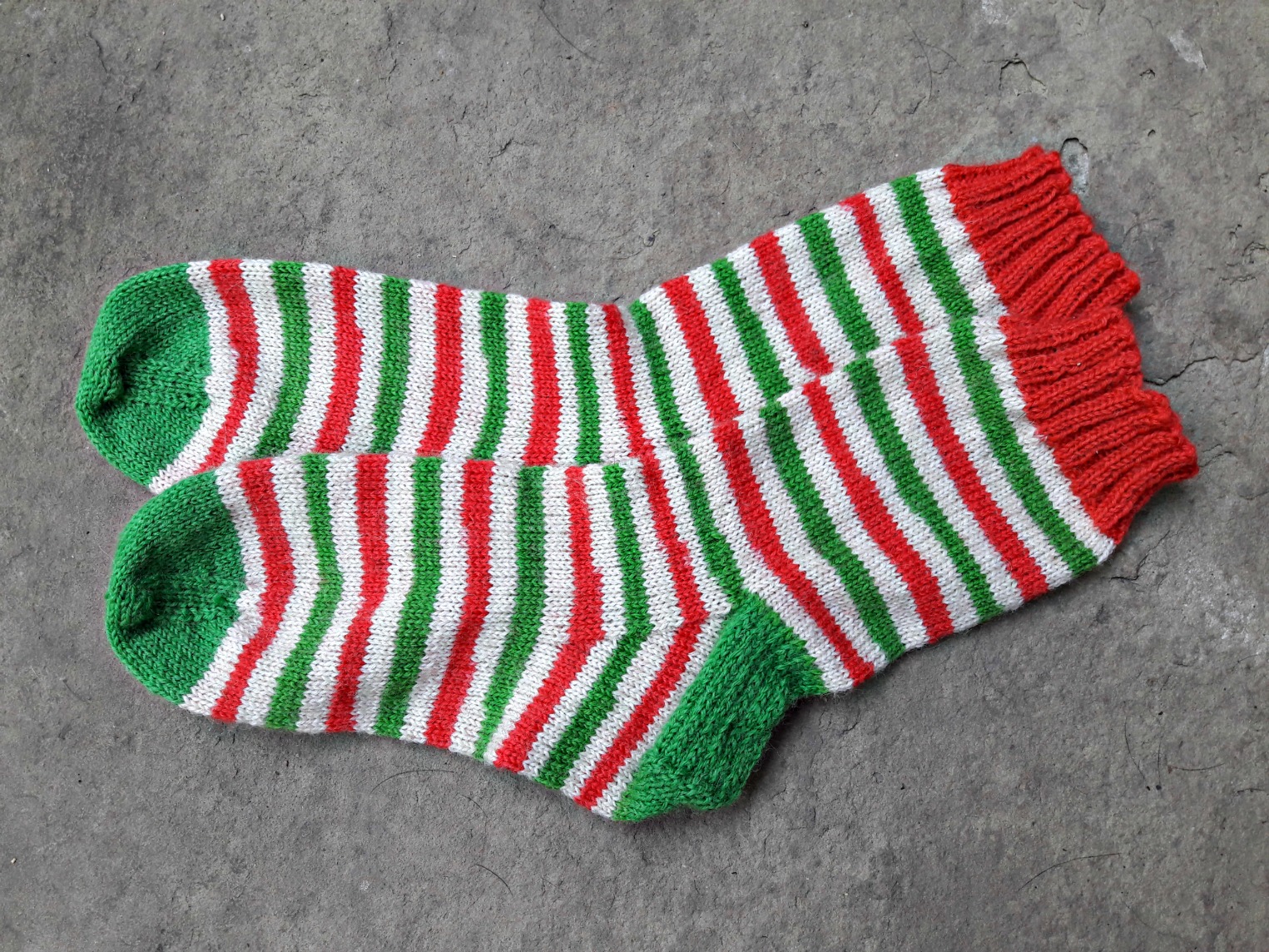 and here's her boyfriend's pair.  What do you mean, you can't see the difference?!
Can you see it now? 🙂
They are both super-pleased with their new matching socks …
and I am super-pleased to have them finished!  And also that despite it being quite a warm day and big daughter soon having taken her socks off again, this pair stayed firmly on their new feet …
Praise indeed! 🙂
The rest of my sock knitting recently has been my Patchwork Socks pattern which you saw a few weeks ago and the other socks which are for my new book.  After a bit of a panic a week or so ago when I went up to Skipton to see Lucy and she casually mentioned that there were only seven weeks until the school summer holidays (my self-imposed deadline for finishing the text of my book ready for proofing over the summer), there has been some frantic knitting going on and a mini-meltdown when it seemed like I was the only person in the world who would ever be able to understand the chart that I'd written (thank goodness for this software – worth every penny of the licence fee, I cannot recommend it highly enough!).  Thankfully, it's all back on track now but sadly, I have no knitting to show you just yet.  It's coming, I promise!
I can show you what's been going on in the garden, though.  Our garden is very definitely a spring garden; it's something that I do need to do something about as it's gone back to being very green at this time of year which is lovely, but some more colour is required!  I did plant up some more plants before we went away and sowed more wildflower seeds but the dry weather has hindered their growth and I often forget to water them. 
Oriental poppies and passion flowers are definitely my favourite flowers.  I lost my "Mrs Perry" and "Patty's Plum" poppies last year and I've been meaning to replace them – I'll get round to it!
I love their smudgy faces – it's like they've been rubbing them in the coal bucket!
I adore passion flowers; they're so exotic and they're purple.  Does it for me every time.  There are lots of different varieties of passion flower – this one is Passiflora caerulea.
This was taken late in the day – and you can tell it was a while ago because the lilac flowers are long gone now.  Ours are a lovely deep shade of pink and this year both of our trees were smothered with them.  They were just gorgeous.
Magnolia flowers are lovely – ours is Magnolia stellata or star Magnolia; this was a very late flower that I spotted after the others had gone.
This is a Weigela that was originally a cutting from my Mum and Dad's garden.  Weigela is pretty easy to propagate from cuttings; I went through a bit of a propagation obsession quite a few years ago and had cuttings from just about everything I could find all over the window sills.  Some grew, some didn't – this one did!
The bees have loved the flowers (this is a Welsh poppy); it's so important to look after our bees and provide them with food and I'm doing my best to encourage them – there's certainly plenty for them in the spring here!
These foxgloves are still flowering weeks after I took this photo.  I love foxgloves – I've got lots of them in various shades from white to this traditional deep pink, all self-seeded.  I just let them get on with it.  This one is in the middle of the strawberry patch which isn't the most convenient place for it to be, but the bees liked it and it does look very lovely every time you go past it.
I took this picture last night.  The roses have been stunning this year, presumably because of all the hot weather we've had.  I've seen more flowers on our rose bushes this year than I think I ever have before.  This was an inherited rose when we moved into our house and it's always looked a bit sorry for itself.  I think it's feeling better this year!
Right, I think we've just about caught up now.  I'll have more to tell you next week (oh, I've always got more to say! 🙂 ) but for now, enjoy the rest of your weekend!
Oh, I nearly forgot – thank you very much to everyone who said they'd voted for me in the British Knitting & Crochet Awards, I really appreciate it – and thanks for all your lovely comments on big daughter's unicorn too – she was delighted! 🙂 xx