What a week!
Hello to you!  It's Saturday and phew, what a week it has been!  
I don't want to write a whole post of doom and gloom so I'm going to start by showing you a photo of this peacock that I spotted on a wall when I was driving to Yorkshire the other day to see my friend Lucy (oh hooray for easing of lockdown restrictions!) because I was amused to see it just sitting there in the middle of nowhere.  He looks like he's surveying his empire, elegantly posed on the wall. I think there was a house down a hill on the other side of the wall and perhaps he belonged there.  Isn't he beautiful?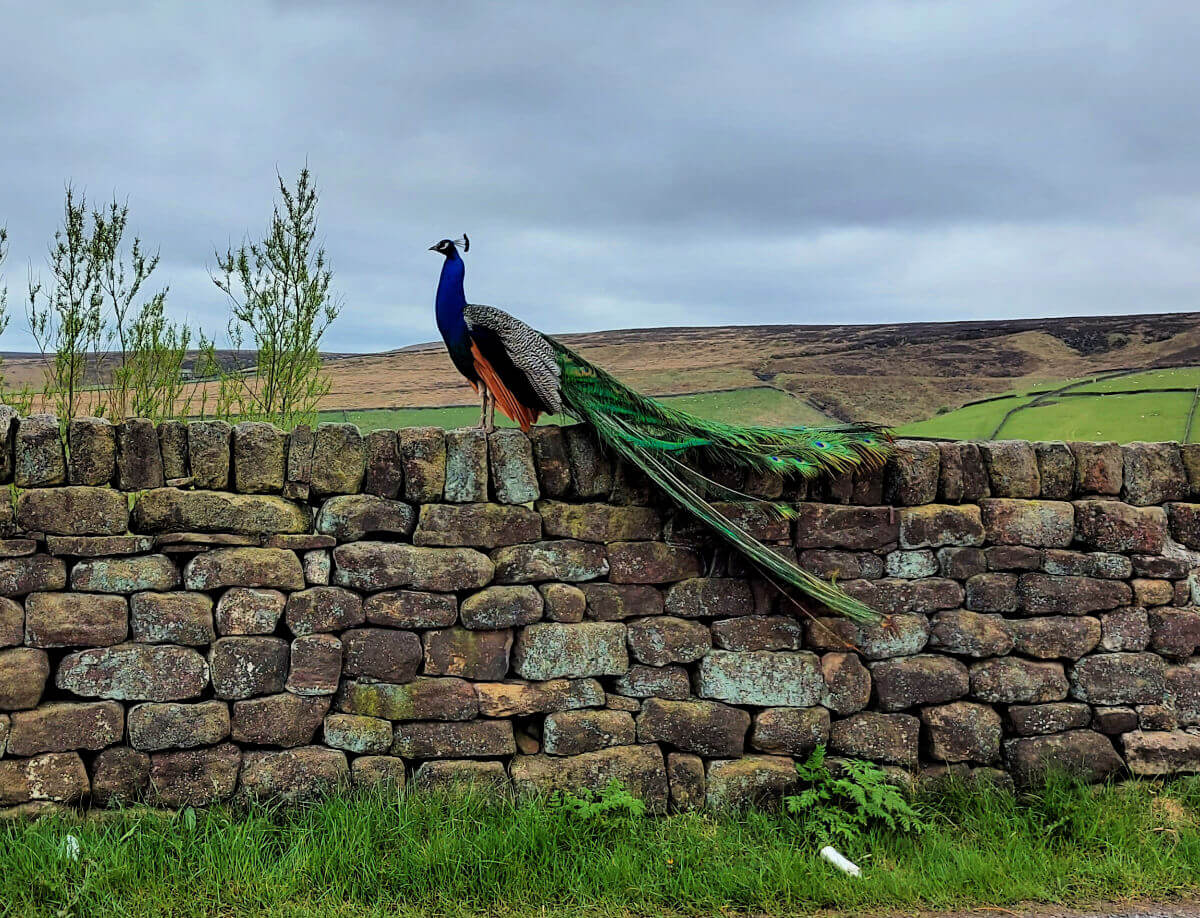 The rest of the week wasn't quite so much fun, though.
Do you ever have those weeks when you wonder what else is going to spring up to surprise you (or feel like it smacks you in the face)?  I have spent a lot of this week saying "well, that's my three things" as if somehow telling myself that that unexpected things happen in threes actually makes it any better, but I have made it to this Saturday without any more than the three "mishaps" and now I'm feeling like I have a fighting chance of having a good week next week! 😀
It started last Saturday with two emails from Blogger (my blog platform) telling me that I had violated malware policy and they had deleted my posts.  Just like that.  No other explanation and, so I thought, no way to appeal or get them back.  Although I was terribly upset because I would never knowingly add anything like that to my blog pages (and this is the reason that comments are held for moderation because most of the spam ones come with a web page link), I was less concerned about the "everyday" post that had gone missing than my Join the Sockalong page with the list of tutorials for learning to knit socks – definitely no links to malware there! – and the thought that someone who was ready to get stuck into their new sock knitting adventure couldn't get started.
Fortunately, it turned out that it was a glitch in Blogger's systems and my posts came back later in the day, but it did make me realise that it probably is time to move my blog off the free Blogger platform where I have no control over them deleting posts if they think I have done something wrong to a different platform where that's not an option.  I have thought about it on and off over the years – I've been on Blogger for nearly 11 years now! – but never quite got round to it.  Now, however, with nearly 700 Winwick Mum posts, including all my tutorials, patterns and Monthly Musings, it feels like something I should definitely do.  I've done quite a lot of research into it already and feel confident that I should be able to manage it quite easily – I'll keep you posted about when it's going to go ahead as it's likely that the blog will go offline for a short time whilst the transfer is made and I wouldn't want you to think something bad had happened!
So that was thing number one.
Let me show you some of the flowers in the garden to lighten the moment!  The Aquilegia are coming out; there are less of them than there used to be (probably because I keep pulling them up when they self-seed in the wrong place) and there are definitely one or two varieties that have taken over so perhaps they are a stronger strain.  I've been sorting my seeds out and found an old packet of Aquilegia seeds of various varieties so I might see if I can any of them to grow and fill up a few more spaces for next year.
The first marigold of the year is out too!  I thought it was a bit early and it's been a bit cold and wet too, but it's here and I am thrilled to see it.  I LOVE marigolds (Calendula officinalis) and particularly the "original" variety like this one with it's bright orange flowers.  I would never have said that orange was a favourite colour of mine but actually, I think it is – I've got an orange mug, I've got several varieties of orange flowers in the garden and the cover of Super Socks is orange too!
The new leaves of the twisted hazel (Corylus avellana) are out.  This tree had grown HUGE and I cut it right back at the end of last year to let some light into the border and also make the path it's growing next to look less closed in.  The plant seems to be coping very well!
The borders are looking very full at the moment already and that is exactly what I wanted.  I love it when the plants grow into each other and fill the space (not least because they crowd out the weeds!) and this border makes me smile every time I walk past it.  There's Erysimum or everlasting wallflower flowering through the green leaves of Tellima grandiflora which will produce pink flowers on tall stems in a week or so.   
I haven't been out in the garden quite as much as I wanted to this week – firstly because it's not stopped raining (although these ladies were very happy about that) …
This is a rare photo of them looking white – we hadn't realised quite how dirty ducks are and they seem to be constantly black at the moment.  You might think it's because their pond is full of dirty water, but oh no, they do that themselves by mashing mud into it as they get in and out (they love clean water but make it very muddy very quickly) and they are constantly mashing the ground into mud (hence the straw to slow the process down) or digging it up and covering themselves in more mud.  Still, they are obviously very happy because there's lots of head bobbing when they see us (apparently a sign that ducks are happy) and there are eggs.  Oh boy, are there eggs!  Still, it's making us popular with our duck-egg-eating friends! 😀
Anyway, the other reason that I haven't been out in the garden much (this is thing number two) is that last weekend I discovered a Something on my foot.  It was a lump on the sole that had come up out of nowhere and looked pretty sinister so I ended up in the Urgent Care Centre to get it checked out.  Nothing sinister, thank goodness, but a cyst that I get to live with until it decides to go away.  I can write about it in a paragraph now and it's done with – it's in a bit of an inconvenient place but as long as I wear shoes it doesn't bother me too much – but I don't mind telling you that it gave me a bit of a fright last Saturday!  The Urgent Care Centre staff were brilliant: they were super-efficient, I saw a doctor pretty much straight away, he was quite certain that it is nothing to be concerned about and very kind when I worried that I had wasted his time.  If nothing else comes out of our pandemic experience, we must do what we can to keep our NHS at all costs because we would be lost without it.
Have a look at a blue sky and some hawthorn flowers.  I know these are definitely hawthorn because the tree is in our garden and I know that's what it is!
Thing three was an unexpected "extra" at the garage when I took my car for a service and they wouldn't let me drive it away – they "recommended that I didn't drive it" so I did have a choice but my brake caliper had seized and the discs were corroded (listen to me with my technical car knowledge – ha! – I'm an expert now my husband has explained it to me!) so it meant that the brakes weren't safe and I wasn't going to risk driving around with the car in that condition.  The bill was considerably bigger than I was expecting for a service, but fortunately I was able to put it on the credit card and I have a savings pot in the bank for car maintenance so it will be OK.  It is something that you might need to check on your cars, though – it seems that not driving them very much for the last year has meant that our car brakes have been exposed to the elements and have corroded just as much as they might have worn out through being used so do be aware of that!
And now I'm going to show you a happy photo – and look, it's orange!  
This yarn was dyed by Shirley from Under An English Sky and she sent it to me aaages ago (so long ago, in fact, that she has moved house and county since!) and it's been sitting in my stash.  
The colourway is Candyfloss (I don't know if Shirley even dyes that colour any more, I've had a for such a long time!) but after chatting to her online this week, it felt like the right time to dig it out and see if it's ready to become a pair of socks.  We've had a talk, this yarn and me, and it thinks it might be so that could be something lovely for this weekend.  I certainly don't want another one like last weekend!
I hope you have a lovely weekend … no disasters allowed! 😀