Knit Now photo shoot
Hello!  What are you up to today, then?  D'you fancy coming to watch a magazine photo shoot with me?  I mentioned last week that I'd been over to Stockport to see how it all went on, so grab your jacket and come on!
First, though, I must say a huge thank you for all the lovely comments on my Patchwork Socks.  I do love writing tutorials, but I also very much appreciate you telling me that you love them too!  I'm so looking forward to seeing your socks, so do tag me into photos or add your projects to Ravelry so that I can see!
So, off to Stockport we go.  I'm not very familiar with Stockport which is a town not far from Manchester, but luckily the sat nav knows where we're going and it's not long before we arrive in this rather unassuming street of old mill buildings.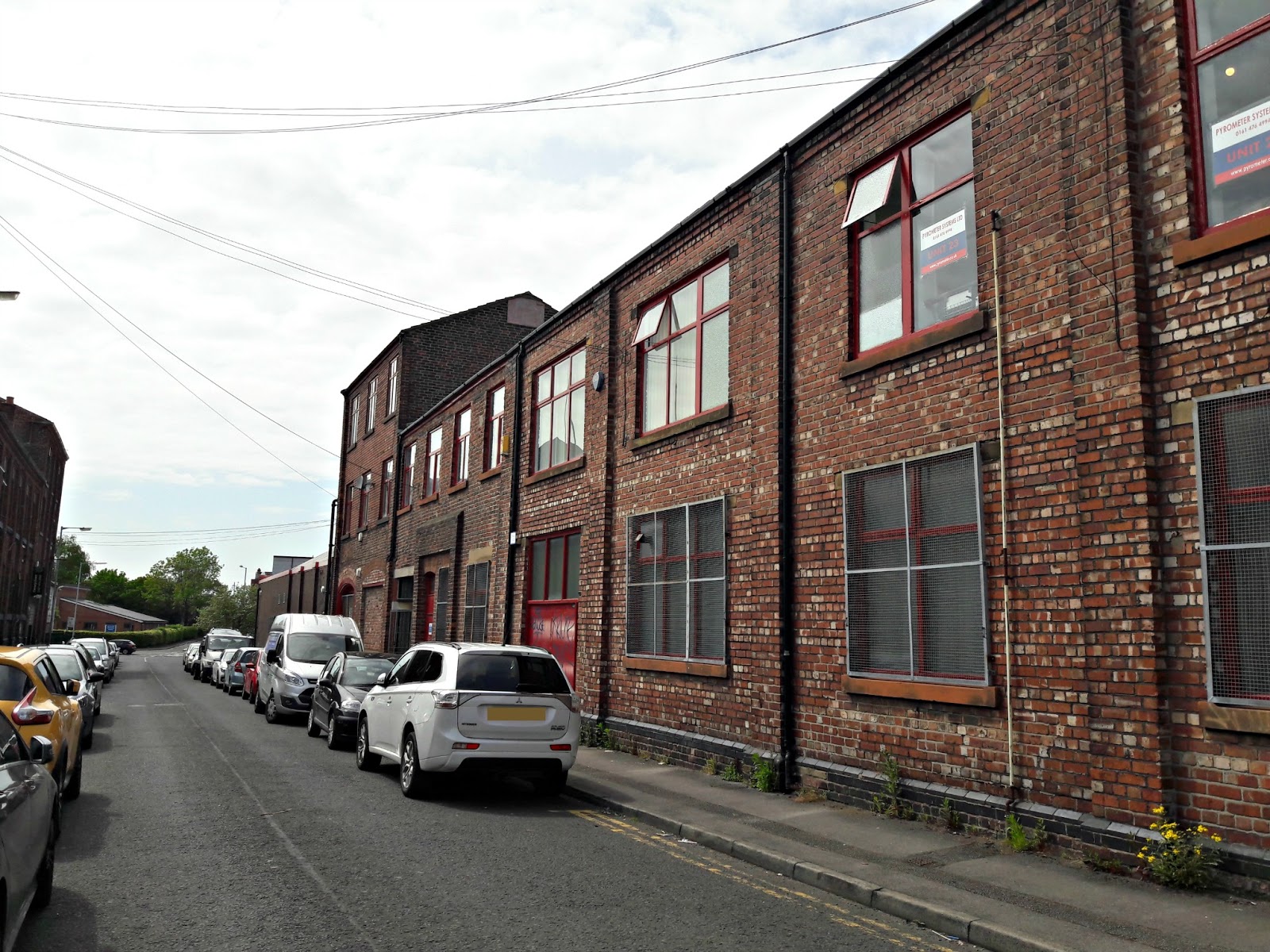 Did you expect somewhere more glamorous?  Some of the Knit Now shoots take place on location but many of them are in their own studio which is right here next to the magazine's offices.  Practical Publishing, the company which owns Knit Now, has the whole top floor of one of these buildings which they use for photographing projects for all the magazines in the group – Knit Now, Sew Now, Crochet Now, Quilt Now and Love Sewing, as well as the papercraft magazines in the group and other commissions for outside yarn companies.  
This is what fascinates me – the bit behind what you can see in the pictures; as you can imagine, I was the kid who was far more interested in how the rabbit got out of the magician's hat rather than the fact that it did!
Kate, Knit Now's editor, has come to meet us and we climb several flights of stairs to get to the top floor.  Mind that last step, it's bigger than you think!
Inside, the studio is very large, bright room divided into sections.  On one side is an Aladdin's cave of props and equipment …
Right at the back, behind those shelves, are Tym and Amy who photograph the smaller projects like toys, accessories and the papercraft makes – you can just see their umbrellas over on the right hand side if you look closely.  Every now and again, one of them pops out to take something off one of the shelves to enhance their photos – come and have a look at what's on them …
There are tins of paint, games, cushions, ornaments, craft items, Christmas items, artificial plants, bags of coloured feathers – you name it, it's probably on those shelves.  "They're short of nothing they've got," as my Nan would say.
Over on the other side of the room is where the larger projects are photographed.  The team has been working since early this morning so by the time we arrive after lunch, there's not too much left to photograph.  It's all in full swing – be careful not to knock anything as you walk past!
Did you expect to see so many people?  If you've ever seen a photo shoot in a film or on TV then you'll know that there are more people involved than you might think, but everyone here has a specific job.  Let's meet everyone whilst they've got a moment between outfits …
Left to right, Jen is the art and video director for Practical Publishing so she works on all of the magazines in the group; Kate is the editor of Knit Now; Angela is the editor of a brand new knitting and crochet magazine called Your Crochet and Knitting that's going to be published very soon (and was previously a designer at Sirdar – we actually met her a couple of years ago when we took a tour of the Sirdar mill, do you remember that day?  Angela is designing the dog in the photos); behind Angela is Rachel, who is this shoot's model, next to her is Laura who looks after Rachel's hair and makeup, and on the right is Renata, who is the photographer.
Only the right number of people to get the job done, wouldn't you agree?  Behind them is one of the walls that they take the photos against, with different coloured backdrops rolled up.  Take another look here …
Over on the right, propped up against the wall, are even more coloured backdrops so they can match to just about any scene or project that they need to.  There are more props against the windows …
and you can see some of the photographic equipment there too.  I was really interested to see what the difference would be between just taking photos and taking photos in a studio like this.  My blog photos are "just" photos – they're taken with my phone camera, and whilst I do my best to get the angles and the lighting right, I'm still an amateur with a phone in my hand.  It is what it is; I'm not trying to take professional photos and although I might do a bit of editing here and there, I am happy with the ones that I post on my blog as I think that they suit the style for which they are being used.  However, with a magazine it's a bit different.  Readers expect the photos to show off the projects in their best light and make the most of the details that the designer has incorporated.  Think of it as a type of job interview where each of the projects is trying to impress you enough to make you want to get your needles out and buy the yarn.  Wouldn't you want to look your best?
As Renata takes the photos, they appear on the screen so that everyone can see what they look like immediately.  It saves having to take thousands of photos or squint at a tiny digital screen on the back of the camera or – as in days past – wait until the film has been developed to see what the camera has captured.  Isn't it fab to watch them roll past on the screen as Rachel changes pose?  It feels like it's almost in time to the music which is playing in the background, and Rachel's technique of moving from one foot to the other is just like dancing.
Every now and again she'll stop as whatever she is wearing is adjusted and more photos are taken.
Here's the bit that I think is really magical, though.  Rachel is super-pretty even before she gets in front of a camera (although this photo is a bit blurry where I've cropped it to show you) – you just know that she'll look gorgeous in every one of her family photos whilst others of us are grimacing and trying not to look self-conscious in ours  …
but look at this!  On the screen is a magazine photo!  I don't know about you, but I find it amazing that Rachel – standing right in front of us – can look so different on screen!
Renata says that it's to do with lighting and controlling the shadows in any photograph and if you look, the on-screen photo is certainly much brighter than the ones I've taken whilst we've been here.  It's the flash bulb inside the umbrella that makes a difference.  You can see it in the photos above.  I never use the flash on my phone as I think it bleaches out the colours in my photos, but it's made all the difference here.  (This shawl is really lovely, it's going to be in issue 93 of Knit Now if you want to see the pattern, and the coloured crochet shawl in the photo above will be in issue 1 of Your Crochet and Knitting.)
It's a very relaxed atmosphere inside the studio, don't you think?  I'm sure there are days when it doesn't go as well as it should do, but it seems to me that everyone is very calm and everything is ahead of schedule.  You might notice that Rachel is checking her phone whilst Kate, Angela and Jen are looking through the clothes ready for the next shots but don't worry that she's not doing her job.  Rachel's job is to wear the clothes, not to organise them.  The clothes have already been picked specially to go with the knitwear that they're going to complement in a meeting that took place before the shoot.  The editorial team search the internet for the styles that they want and then source the clothes in time for the shoot.  They're actually photographing the knitwear that was put forward for the pattern selection that I helped with back in March, and it feels great to see the patterns knitted up after having seen them at the design stage.
Once the outfit is picked out, Rachel puts it on and then adjustments are made to make sure that it's shown off to it's best.  The neckline of the top she's wearing is a bit low for the knitted cowl that she's about to put on so there's manoeuvring of shoulders and sleeves to make it work properly.  I did wonder at first why Rachel didn't do that herself but it makes perfect sense for someone else to do it who can then stand back to check the result.  
The last few shots are of mittens and socks.  You can imagine that I am very interested to see how the socks would be photographed!  This style of photography is called a flat lay and basically means that the photo is taken from above with a few simple props to enhance the main focus of the picture.  Potted plants come off the prop shelves, some knitting is found and after a few adjustments to the layout, the photos are taken.  The background is a huge board resting on a box, whilst Rachel kneels on pillows to give her a bit of height and stop her knees hurting.  Simple, eh?
For the socks, it's the same method but this time Rachel sits on some white-painted boards, adjusting her feet as Renata takes the photos.  The pictures of the socks coming up on the screen look fabulous – so you can guess what's coming next … 🙂
What do you mean, do I always carry socks around with me?  Of course I do!  Usually they're socks in progress (and there was one of those in my bag too!), but I was really interested to see the difference in my photo compared to Renata's so I tucked my Patchwork Socks into my bag before I left home.  Just in case.  You know 🙂
What do you think?  I'm really happy with these pictures (and I love having them professionally modelled too!).  I love the simplicity of the shot with the coffee and the books, and I think the colours show beautifully against the white background.
Now look at these ones.
What a difference the lighting makes!  You can see if you look at mine above then there are shadows which aren't in Renata's photos – that's the flash, of course, and it's not helped by the fact that Rachel had her back to the window so was in her own light, but you can see the difference and it's quite significant.  It's another example of what you're paying your money for with a magazine; there's been no waste of expensive time here today, no diva demands which would use up the budget, and the props are re-used from magazine to magazine.  Rachel's time is used to shoot several issues' worth of photos plus some outside commissions, and once the shoot is over and everything is tidied up, it's back to the office for everyone.  It's all about value for money, but it's all professionally done with the proper equipment so that you get to read a quality magazine with beautiful photos.
You and I are going to travel home now (via the Knit Now office as there's a whisper that a raid on the stash cupboard might be an option – although we only take a ball of Cygnet sock yarn as we're trying really hard not to build up that Stash Above and Beyond Life Expectancy, aren't we? 🙂 ) after what has been a really interesting afternoon.  I love to see behind the scenes and I hope you've enjoyed your visit too – and we can look out for those photos in the magazines over the coming months!
Massive thanks to Kate at Knit Now for letting me come along to the photo shoot so that I could show you all what goes on, and to the rest of the team for making me welcome (and get my socks out)!  I had a fabulous time!