Projects on the go
Ask any crafter and the chances are that they've got more than one project on the go – and I'm no different.  Why do we do this?  Do we have a shorter-than-average attention span than requires us to hop from project to project?  Or does yarn bring out our "inner magpie", distracting us with something soft and squishy rather than bright and shiny, unleashing our creative minds to think what beautiful or practical item we can create next?
I don't know the answer to this, and I suspect that it's different for everybody, but I do know that in my case, I've usually got socks on the go along with something else as socks are such a portable project – and in the case of a basic pair of socks, pretty mindless too when you need to keep your hands busy but still be able to turn your attention to what's going on.
I've had lots of project ideas whizzing about in my head recently, so it seemed like a good idea to get out the WIPs (works in progress) that I knew were lurking to see just how much I needed to finish off before I could start something new without feeling guilty about it.
Ah.  There were quite a few.
The biggest project, of course, is the Yarndale Sock Line.  Seventy-six (yes, you read that right!) pairs of socks are now all photographed and available for the world to see on Pinterest here.  It's quite amazing to see all that socky love ready to go to new homes, and that's my next job – the re-homing process is underway!  I'll keep you posted on that one.
Next up and only just finished is this pair of socks in Regia Pairfect yarn.  These are going to be the subject of a future blog post so you'll see them again another day.  Edited to add: the write-up on this sock yarn is now featured as a guest blog post on the Black Sheep Wools website.  You can read part one here and part two here.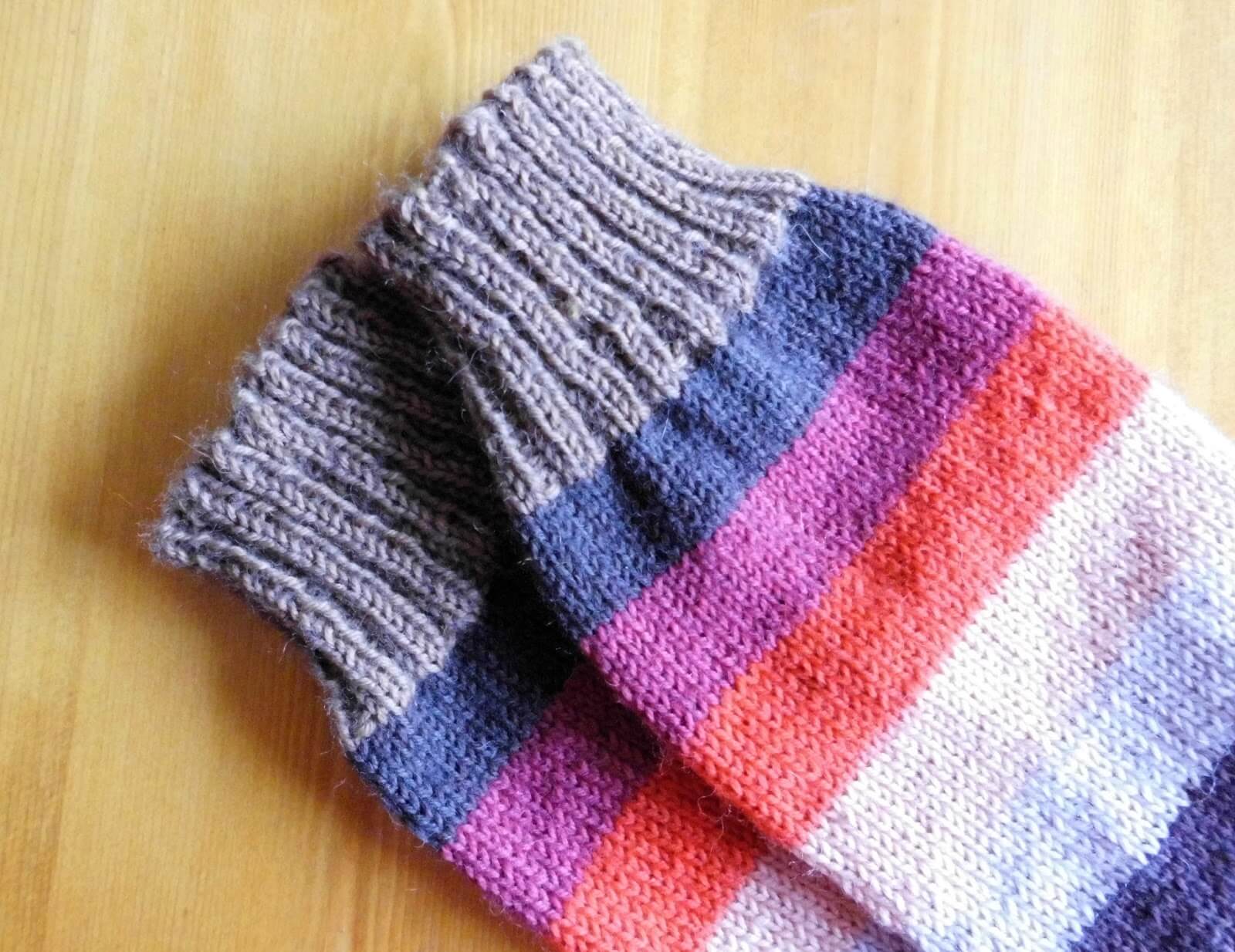 These are my Uncle's new pair of socks.  He told me the other day that he had finally worn out "his last pair of socks" so that's a few pairs he's managed to go through without even considering that I could have mended them for him!  Never mind.  This pair is in King Cole Zig Zag; they've brought out a new version of their Zig Zag yarn that has more wool content and knits up in stripes rather than swirls and I'm liking the way it's turning out.
Oh, and do you like my new stitch marker?  Isn't it lovely?  It was made for me by my very talented friend Tracy from Handmade over Yonder …
In fact, she made me five of them!
And she gave me these pretty Babushka stitch markers as well – I felt very spoilt! 
Back to the projects … a cotton top in Drops Muskat which I cast on after admiring someone else's top in a Facebook group.  Oh dear.  Surfing the internet can be an expensive hobby!  It's ever so pretty though, and easy to knit up as it's knitted in the round.  The good thing is that as it's a short-sleeved summer top, I don't feel quite so bad about putting this one further down the queue.  
Another gift, this time from Janine in New Zealand (how lucky am I to have been given all these gifts?!).  This yarn is such a beautiful teal-blue colour and beautifully soft and squishy … and made from possum fur mixed with merino wool.  I'd never seen possum yarn before and have to admit being just a teensy bit squeamish about how the possum fur becomes yarn, but the possum is such a big pest in New Zealand that it's good that something positive comes out of it – and, as Janine says, "everyone should knit with possum yarn at least once in their lifetime".  I'm up for giving it a go!  This isn't technically a WIP yet, but as I'm spending quite a lot of time searching Ravelry for that perfect pattern, then I think it counts.  It's DK yarn and there's no nylon in it so I won't be using it for socks – I've been thinking maybe a scarf or a shawlette, or possibly even a hat?  I'm having a lovely time on Ravelry looking around so I probably won't make a decision just yet!
Oh dear.  This list is longer than I thought it would be.
My Vivid sock yarn blanket which I first wrote about in November 2013.  This one was always going to be a slow project so I don't feel at all bad about how long it's taking.  It is growing, though. Slowly.  These are just two of the squares that I've done; I really need to start looking through them all and seeing if I can start to join them together so that it feels like there's real progress being made.
This one … I'm ashamed to say that this Viking version of the Central Park Hoody has languished in a bag pretty much since I cast it on – in December 2013!  This was the picture that I showed you then – and this is pretty much how it looks now.  I love the yarn but each ball goes from dark to light purple and I was worried that my jacket would just be too stripy.  I even tried knitting with just one of the shades from each ball and that was going pretty well until I discovered that my circular needle had two different sized tips on each end.  Oh, the joys of interchangeable needles!  I can't quite bring myself to unravel it just yet, so it's still languishing.
Finally! This one is just about to go on the needles – dog jackets for my friend's tiny little dogs. She asked me if I could make them and I said "yes" without considering that (a) I have never knitted a dog jacket before, (b) these dogs are too small for any pattern that I've found so far (they're teacup chihuahuas) and (c) I have all of the above projects to finish.  However, winter is approaching and these teeny tiny dogs shiver at the slightest draught so I will be trying to get the jackets finished over the school holidays next week so that they're ready to wear when the weather turns cold. We've been blessed with such a mild autumn so far, but you just know that the icy wind is waiting to blast in with a vengeance at being kept waiting for so long!
I haven't even mentioned all the yarn destined to be new projects that waves cheerfully to me every time I walk past it, hoping that I might just cast on yet another project and it might be the yarn chosen.  After reading this back, I don't think I dare!
What's your WIP list like?