Flaming June
It turns out (I have discovered since I started writing this post) that 'Flaming June" is actually a painting by Sir Frederic Leighton but in our house, the expression has always been used rather ironically to describe a month that isn't as warm and sunny as you'd expect but is more on the "don't forget your jumper" side.
Oh, it's not freezing, by any means, but it's been overcast with really heavy rain showers this week (if our bathroom shower was as powerful, I think we'd all have been washed away!) and if I've spotted anyone out and about in their shorts, I've been wondering what on earth they are doing because it's … June.  Oh yes, the month where you can put your shorts on.  Apparently.
Anyway, leaving the idea of frightening anyone with the sight of my bare legs to one side, how's your week been?
Mine has been a mix of trying to remember who I am and what I do all day (my usual state the week after we've had a school holiday), knitting, and waiting for not so small daughter to come out of school after an exam.  We've run the whole gamut of emotions this week from confidence to despair and back again in the way that the exam has gone – I've spent the week reminding her (and I'm sure you've had similar conversations if you've got exams in your household right now) that you really have no idea how it's gone until the results come out.  It's not as simple as "I did well so I should have got X grade" as the whole country's performance is taken into account so you might actually find that you've done better than you think if everybody else found the paper hard too.
Anyway, today was English Language paper 2 which involved transactional writing and something else that sounded inordinately complicated and we were very glad to tick it off the calendar when we got home.
In the photo above, you can see that my Emergency Sock is growing, albeit quite slowly.  This is vegan yarn which Adelle from veganyarn.co.uk sent me to try out (you can read more about it here) and I've been surprised to find that it knits up quite slowly – for me, at least – if you've used Pleiades sock yarn before then I'd be really interested to know how you found it to knit.  It's not so sticky on my needles that it's a chore to knit with, it's just different and I think that the elastic in the yarn is what's slowing my stitches down; again, something different to a wool yarn.  It's certainly an interesting experience and I do like the fabric that it's creating very much; it's still got a velvety feel to it and I think it's a bit denser than woolly fabric so I'm looking forward to seeing what it's like to wear.
And in case you're wondering why my Herdy mug is in the photo, it's because I was running late and decided it was quicker to run out of the door with my mug in my hand than try to find my travel mug.  "It'll fit in the cup holder in car no problem," I thought.  Fortunately, the cup holders in my car are plastic so it's easy to mop up spilled tea from mugs that don't quite fit, but it was nice to have my own mug in the car!
I've also made a start on the baby cardigan that I've been intending to knit since January.  The baby is due in a couple of weeks so I thought I had better get off my backside and make a start, otherwise there would be no point in making a newborn sized anything!
I decided that I would make the Newborn Vertebra (Ravelry link) cardigan after all – it's an open-fronted cardigan so no messing about with buttons and buttonholes and it does knit up very quickly.   This was how much I'd done in a couple of hours on a Friday evening/Saturday afternoon and there's not much more to go in the main body, but I do need to get on with it as I'd put it to one side and that baby's due date is getting closer!
I love the way that the Spring Green colours are knitting up and my plan is to soak the cardigan for a long time once it's finished to help the yarn bloom and soften so that it will feel nice on the baby's skin.  I did worry that I needed to use a baby yarn but when I picked up the socks that I've worn and washed many times, I realised that the yarn is soft and that a good soaking would probably do the trick.
I've also managed to get a bit more done on the Twilight Rainbow socks that I couldn't resist casting on the other week.  This yarn does knit up very quickly and I'd reached the heel almost before I knew it!
In case you're wondering why the sock is on two DPNs, it's because I have 50 million 2.5mm short circular needles and couldn't find one when I needed it for something else so I had to take it off this sock!
What else?  Oh yes.  The triffids have arrived.
I wasn't really watching what she was doing when big daughter announced that she was going to plant the vegetable seeds she'd been given in an "weird and wonderful veg" gift box.  I don't think it was actually called that, but the seeds will grow purple carrots and yellow courgettes and veg that we don't usually see in the supermarket every day.  Anyway, as I said, I wasn't really taking much notice of what she was doing and this was the result.
I have no idea what we are going to do with 9 yellow courgette plants, more red Brussels sprouts and tiger-striped tomato plants than you can shake a stick at and whatever else is in those pots, but it is quite late in the year now for planting some of these so who knows whether we'll get anything at all from them.  "Maybe plant a few less seeds next time," I suggested.
The dog and I have dodged the showers to get out and about this week.  These photos were taken at the Newton-le-Willows end of Sankey valley earlier this week, when the sun shone, the wind blew and we made it home minutes before the heavens opened!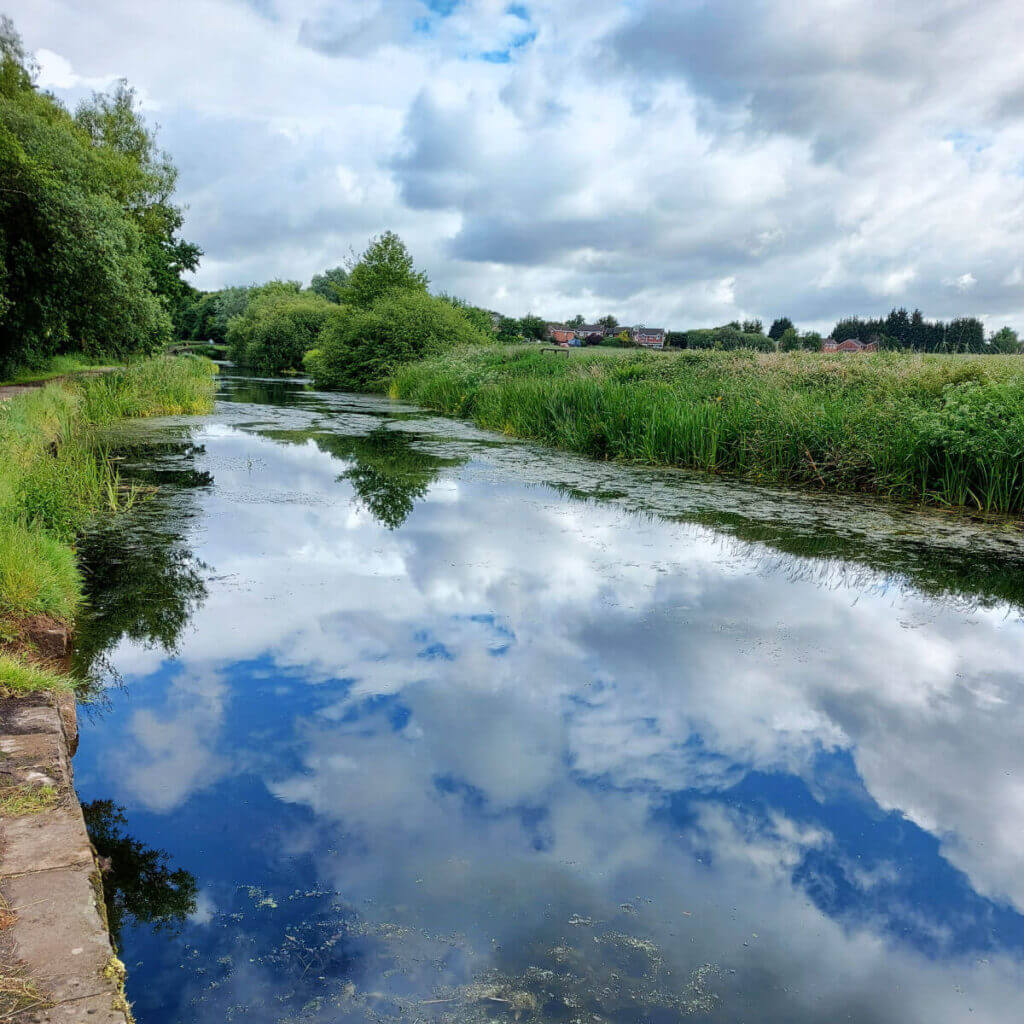 Do you remember this post that I wrote in April?  I took some photos of a swan on a nest and here are the cygnets!  There are six of them, little grey fluffy things that will be growing bigger by the day.  It seems to be a thing that if you meet anybody whilst you're looking at the swans, the conversation is always about how many cygnets there are and there's always a sense of relief to know that the number hasn't changed.  (This canal has pike in it and they eat cygnets).  In case you're wondering, the lady I met when I was looking at these cygnets told me that there should be six of them and we were both pleased that there were.
And that's about it for today.
Oh, I've got of a couple of last things, and they're thank yous to you for your comments on my last couple of posts about the kittens (now apparently adolescent cats but just bigger trashers if you ask me!) and letting them outside, and also about your experiences of children growing up and moving out.
The kitten-cats did go out for the first time the other day – we tried keeping hold of them on "leads" but they found it a bit stressful coupled with the sky that is so much higher than the ceiling in the house so we will re-think that one.  I think we just need to be brave and let them explore but not so small daughter really doesn't want that before her exams are over in case anything untoward happens, so I guess that waiting for another week or so won't be the end of the world.
And you are all so right about letting our children go … but it's not easy!  There's a pause here as the estate agents tried to pull a fast one with the rental so big daughter told them to keep their house and she's staying here for a bit longer, but I have to say that reading all of your comments did make me feel so much better about it that I think I'll be less worried next time.
Thank you … have a lovely weekend, I'll see you again soon! xx