Spring Greens
This is such an amazing time of the year – it seems that so quickly, all of the bare branches and garden spaces fill up with so many shades of green leaves and I absolutely love it.  All of that new, fresh life all around us … unless you're on the other side of the world and you're heading into Winter – so you can either bookmark this page to read once your Spring arrives, or this can be a reminder that the Spring will return.  Either way, this is a warning that I'm about to wax lyrical over leaves! 🙂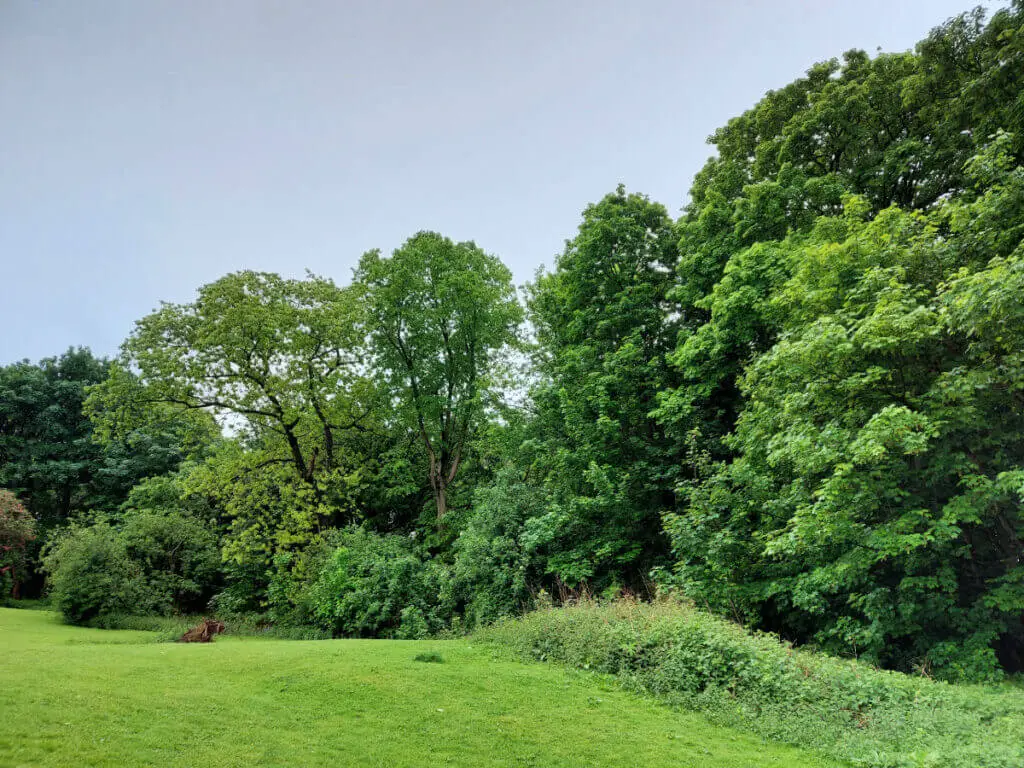 The dog and I were out in the rain yesterday and there's something about the way that leaves shine in the rain that kept stopping me in my tracks – our walk took much longer than usual and we were soaked by the time we got home!  I don't think the dog was too bothered, he never feels the rain through his thick furry coat!
I've not edited this photo in any way, the leaves really were this bright green and shiny!  These are sycamore leaves, and I'm not the biggest fan of sycamore trees, if I'm honest, but these young leaves look beautiful.  They were so bright that they made the woodland behind them where we often walk look much darker!
I think what I love the most is that there are so many shades of green.  We don't often notice when we're going places in the car or on the bus, or even walking the dog with something on our mind that means that we don't pay as much attention to what's around us.  Looking at trees and bushes from a distance can make us think that the colour is just "green" as well, and it's not until we stop to take a good look that we can see all the subtle shades that make up the "green".
I'm assuming that there's a logical explanation, such as the weather being warmer at this time of year, but I feel that I can even breathe more easily when the leaves are appearing.  I'm lucky that I don't have allergy issues (and you have my sympathy if you do), so I can take deep breaths when I'm out in the fields or in amongst the trees and breathing in all of that Spring energy definitely puts a spring in my step.
Back home in the garden, I'm in my element!  I have lots of green in the garden; we're just at that time of year where the Spring flowers are starting to appear after the daffodils and tulips have gone over, and I love that sense of promise, of knowing that something new is coming.  Here are some more beautiful greens from the garden – I've been taking photos at various stages of plant growth so some of these are earlier than where the plants are now, but those leaves!  They called to me and I couldn't resist!
Aquilegia …
Oriental poppy (Papaver orientale) …
Arum lily (Arum italicum) – this plant is in the garden to stay.  I've tried to dig it up so many times (it's poisonous and I find the red berry stalks that appear later in year a bit creepy) but it's having none of it and it's still here.  I've got hellebores and foxgloves in the garden and they're poisonous too – it's not having poisonous plants that bothers me, but there's just something about this one that I would not have chosen if we hadn't inherited it.  Anyway, it's here and at this time of year, the leaves do look fabulous!
Poisonous or not, the foxgloves are definitely encouraged into my garden!  I grow the wild Digitalis purpurea variety, happily shaking the seed heads all over the borders every year to see what comes up.  I've had all kinds of colours, from white to pale pink to the deepest shade of Barbie and they're all beautiful.  The white ones don't stay too long – as the bees pass from one plant to another, it seems that the "traditional" pink shade is the most dominant and that's the one that I have most of now, but I don't care.  It makes me so happy to hear the bees buzzing into the bell-shaped flowers and you can be sure that there will be photos of foxglove flowers later in the year!
Look at all those shades of green in that one plant!  Oh, I'm getting quite giddy just uploading photos! 🙂
This is one of my favourite plants in the garden, it's my Oak-leaved Hydrangea (Hydrangea quercifolia) and at this time of year, the young leaves are beautiful.  Such a vibrant colour and the leaves are ever so slightly fuzzy to the touch as well.  Later on, there will be large white flowers but for now, I'm enjoying these leaves!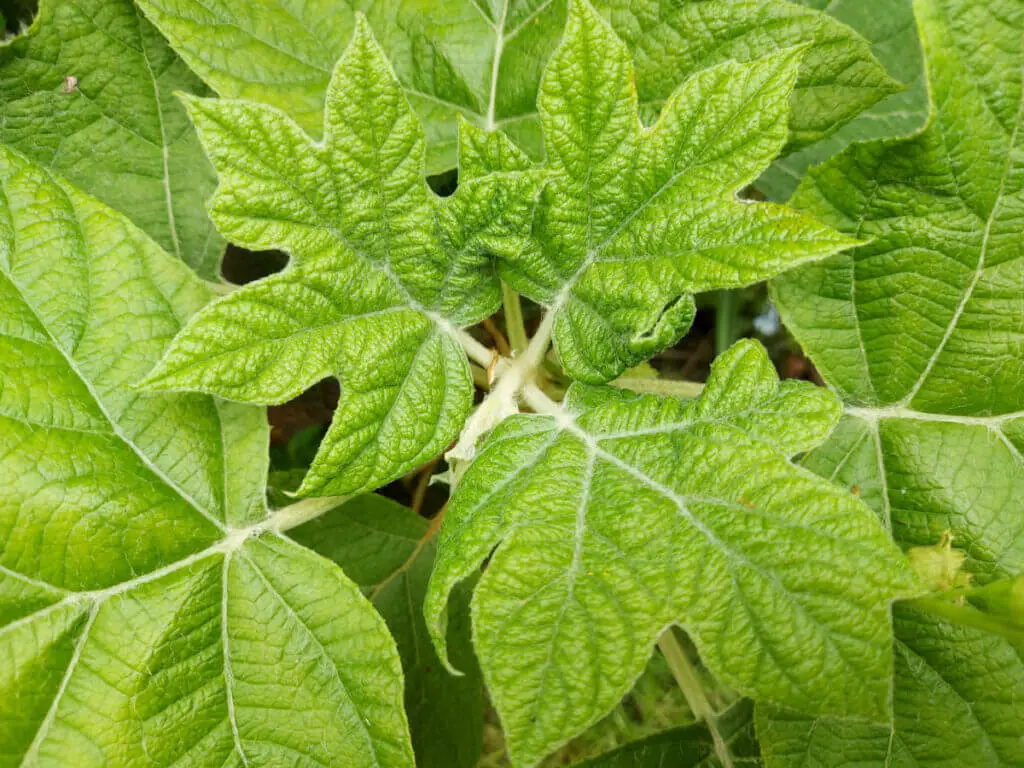 As well as all the greens, I wanted to show you these.  These are cowslips, or Primula veris, and they do have green leaves, but the reason I'm showing them to you is that they're yellow – and all will be revealed in a minute!  I grew them originally from seeds but that was almost 19 years ago when we first moved to this house and now, they pop up wherever they feel like.  I like that, I like that they feel at home here and they want to come back every year.
The first of the Welsh poppies (Papaver cambricum) are out now as well …
Oh, the bees love them!  Isn't it good to see the bumble bees again after the Winter?  We've had some huge ones in the garden, and some that are obviously looking for some place safe to build a nest so I hope they can find somewhere in amongst the borders that they like.
And finally, primroses growing along the grass verge of a footpath.  They look almost white in this photo after the bright yellow of the cowslips and poppies, but they are definitely yellow, the palest of yellows and so lovely to see.
And the reason for the yellows with all the greens?
My Spring Green yarn!
Can you see where the colours came from?  They came from all around!  Shades of green and the yellows from the hedgerow … I look at the colours and I can see dog walks, the garden, the woodlands – and not just around our house either but everywhere we go.  I love them!
This yarn is one of the Seasons collection shades that I created with West Yorkshire Spinners and you can read the original inspiration post here.  The yarn is available from WYS stockists and online yarn stores, and you can find a list of stockists here.
I've almost finished my Winter Icicle Emergency Socks and I'll need a new cast on – I've got a few choices but these greens are calling to me very loudly at the moment.  I was going to knit for big daughter's friend's baby which will be due soon (I've just found the post where I talked about this – and it was during the Winter Haven KAL in January!!  I know I've had a few other things on my needles, but how has the time flown like this?!) and I wanted to use Spring Green so if I'm going to do that, I'll need to get a move on or the baby will be starting primary school before I've finished 🙂
That's it from me today, I hope you have plenty of green to lift your spirits where you live and that you have a lovely weekend!  See you soon! xx