Blogtober 2021 : Day 2
It's Day 2 of Blogtober and so far so good … I'm still here! 🙂
My plan for today was to finish off working on the garden border that I've been revamping – it had got horribly overgrown and as it's right in front of the window, it was well overdue a good tidy up.
There are quite a few plants that are supposed to be there – there's a lovely Acer (Japanese maple), Liriope muscari (big blue lilyturf), a single sad-looking Kniphofia (red hot poker), Jasminum nudiflorum (Winter jasmine), Helleborus foetidus (stinking hellebore) and quite a few that aren't – like the enormous dock plants that seem to have roots that go down to the centre of the earth.  And yes, the sink that's there for the birds to drink from (including a very large black "bird" with a waggy tail!) is full of plants in pots that were drying out.  It's not exactly RHS Bridgewater standard!
I did make a start a couple of weeks ago and of course set out with the "I'll have this done in an hour or so" intention.  Here's where an hour or so took me …
I had more than a few plants of Hypericum calycinum (St John's Wort) which I think in a fit of "seemed like a good idea at the time" I brought over from my parents' garden.  Oh my life, this stuff is everywhere.  It's almost as bad as the Crocosmia – worse, perhaps, as it becomes a tough, woody shrub that is far more difficult to dig out than the Crocosmia corms.  It does look lovely when it's in flower with bright yellow flowers and then red berries which turn black – but I don't want or need 5 plants of it in this border!
This is where I got up to last weekend.  I managed to clear the rest of the plants and I got as far as putting the new pots where I wanted to plant them.  I've also re-sited the sink so that it is level (you can see how offset it was by the tide mark around the top!) and it's quite a bit higher than it was so I am less worried that any wildlife will fall in now, although I have put brick steps inside just in case.  I want this border to be yellow, orange and red so I've got Rudbeckia, Coreopsis and more Kniphofia, and next year I'll plant some different annual Rudbeckias and pot marigolds (Calendula) which I absolutely love.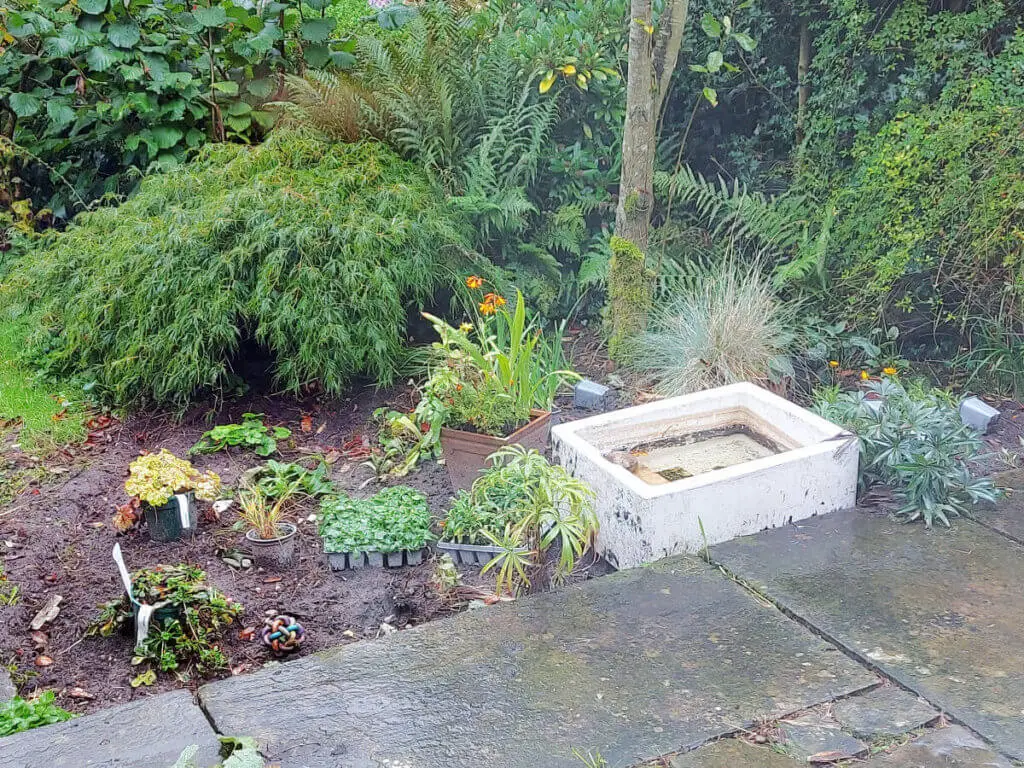 Even like this, the border doesn't look as bad as it did but it will need until next year for the plants to fill out properly and in the meantime, I really must keep on top of the weeds.  I have a lot of couch grass in my garden which is a real pain and can get right out of hand if you don't keep pulling it up.
I had intended to be up and out early to get it done but it was raining more heavily than I would have liked so I decided to leave it.  I'm not particularly a fair-weather gardener – I don't dissolve in the rain – but standing on the soil when it is very wet would only compact it and it made more sense to wait until the rain had gone off.
As I was stuck inside, I decided to take the time to fix this sock.  It's my Carousel sock that I started knitting a couple of weeks ago.  I'm just about up to the heel flap now and I noticed that I'd gone wrong on one of the twisted poles right up at the top of the sock.  To leave it or not leave it?  Would I notice it once the socks were finished?  Maybe not – but then I would always know that one of them was wrong and I don't like that.  Luckily, because of the way that the pattern works and where the mistake was, I was able to undo the stitches in that section without anything else unravelling and although it was a bit of a painstaking job with extra needles to fix it, I was convinced it was still faster than taking it all back to the top and re-knitting it.
Or not …  Ah well!
Let me also show you where I'm up to with my Changing Staircases shawl.  As it's Saturday, I consider it my day off to do exactly what I want to do and if that means sitting and knitting for a bit then I do that.  Funny, I don't feel in the least bit guilty about doing that on a Saturday whereas I might do on another day.  Anyway, as the shawl is still only a small number of stitches wide, it's growing nicely.
I should probably start thinking about a lifeline – a thread that runs through the stitches so that if I go wrong and have to take it back, I won't end up losing all my stitches (you can see my video on sock lifelines here) – but it involves going to find the thread so as you might expect, I'm hoping that I don't go wrong.  Hmm, we'll see!
As I'm going to be here every day this month, these Blogtober posts will probably be shorter than usual as I've generally got a week's worth of doings to tell you about – but that might be a good thing!  I think it will be good for me to think about what I've done in the day to tell you about … I wonder if at the end of the month I'll feel as if the month has gone more slowly or quickly than usual?  That's an interesting thought, isn't it?
I'll see you tomorrow! xx