I see skies of blue …
It really has been the most glorious Spring week or so here.  The sun has shone, the skies have been cornflower blue and the birds have been singing at top volume from morning till night.  Small daughter went back to school this week and it's been a joy to be out with the dog in the mornings.
We've been to the Nine Arches end of Sankey Valley this week – actually, the particular part of the valley that we've been starting at is known locally as the "Mucky Mountains"; created from the by-product of inefficient soda production in the 1830s, these "mountains" are formed from old chemical waste which in it's day was apparently so toxic that escaping gases caused teeth to rot and clothes to burn – fortunately, those days are long gone and the Mountains look like this …
Source: https://newtonheritagetrail.weebly.com/mucky-mountains.html
You'd never know they were the source of such pollution, would you?
Anyway, the dog and I don't go over the Mountains, we go the other way over the bridge you can see here.  We've not had any rain for a couple of weeks now and the water level is very low.
This particular walk that we've been on this week is a circular walk of about two miles or so – just long enough for the dog to have a proper run and not so long that I end up worrying that we're never going to get home!  The path goes up through the woods; the morning light has been lovely to walk in.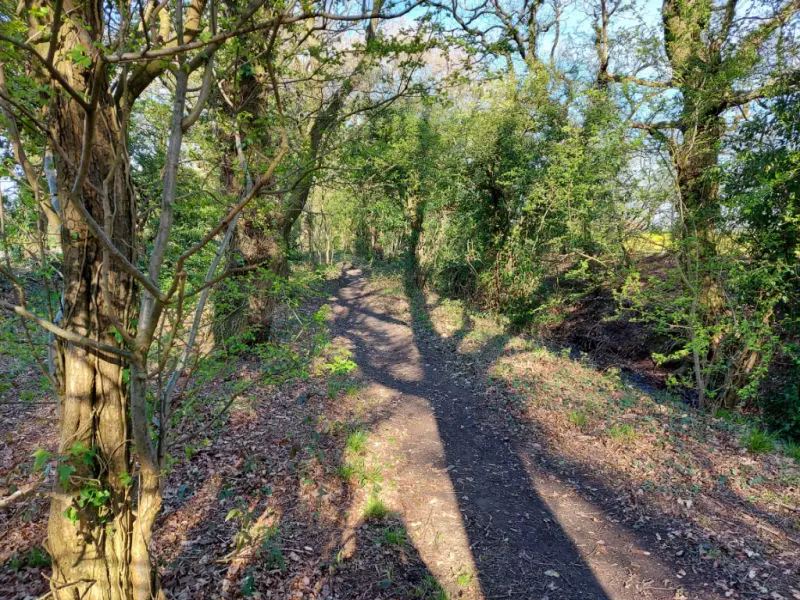 At the end of the path is a huge field of rape which has burst into bright yellow flower since we last walked up here.  It's such a cheery colour!
As we follow the path round, it brings us to another wood, known as Gypsy Wood.  I imagine that once upon a time, it was much bigger than it is now – it's pretty much just a strip of trees with a footpath through next to a disused road these days – but it's a good place for the dog to explore and for me to listen to the birds.
There were plenty of blackthorn flowers out.  I first mentioned blackthorn in this post as I'd originally thought they were hawthorn, but Lynne helped me out through the comments and I now know that blackthorn flowers before the leaves come and hawthorn flowers after in May.  And now you know too!
The bluebells were starting to come out, and the pink campion, and these white flowers that I can't identify.  Any ideas?
The path goes on for quite a good long way, just straight through the trees …
I always quite like being able to walk past road closed signs like this one.  It makes me feel like I'm able to get exclusive access to somewhere 😀
The forget-me-nots were out in the hedgerows.  We've got them out in the garden as well, it's lovely to see their little blue faces at this time of year.  Sometimes you have to look quite hard or you miss them, but it's good to have to do that, isn't it?  It makes you more aware of what's going on around you and I don't think that's ever a bad thing.
And just past them is this field, full of machinery.  It fascinates me.  Why is it there?  Does any of it still work?  There are horses in the field as well, and I wonder if they even notice the horsepower that's contained within the metal hulks.  Probably not.
Just a little bit further along, I spotted this.  Can you see it?  Huge furrowed lines stretching out across the field.  They reminded me very much of the furrows that I spoke about in my post about the new Seasons yarns – the Spring Green pattern is based on the memory of the farmer who lived on my road who was a champion ploughman, and although the furrows didn't look quite like these because where I lived the soil was clay-based and this is much more sandy, I had to stop for a moment to admire them and let the memories wash over me in the sunshine.
When I was out later in the day, I drove past the same field from the other side and because it was quiet and safe enough to stop, I did.  Oh, those furrows were just fabulous!  I loved how they curved and how they stretched out into the distance around the tree.  
Can you see them, those lines and furrows and the turned earth in the cables of the Spring Green socks?  They make me so very happy!
This post has come out a bit later than I intended – it's Friday evening now, the sun is still warm and the birds are still singing.  I hope the weather is fabulous and you have a wonderful weekend wherever you are too!