Outside
The snow came out of nowhere last Thursday; we opened the curtains and there it was.  It may have been on the weather forecast but we hadn't listened to it so it was quite a surprise to see the snow falling heavily and what's more, sticking to the ground.  Small daughter kept checking the school website but much to her disgust, the school was open.  I think it will take a lot more snow before she gets the day off!
The dog and I headed out for a walk at a different park – Lyme and Wood Pits Country Park at Haydock which is a short drive away.  It's been created on a landfill site which in turn was created following the closure of Wood Pit, the last colliery in Haydock, and although it's not a huge site, it's a good place to take the dog for a change.  I discovered quite early on that it's good to vary the time and place of our walk each day otherwise he gets a bit over-confident and tends to make up his own route – often without checking that I'm following!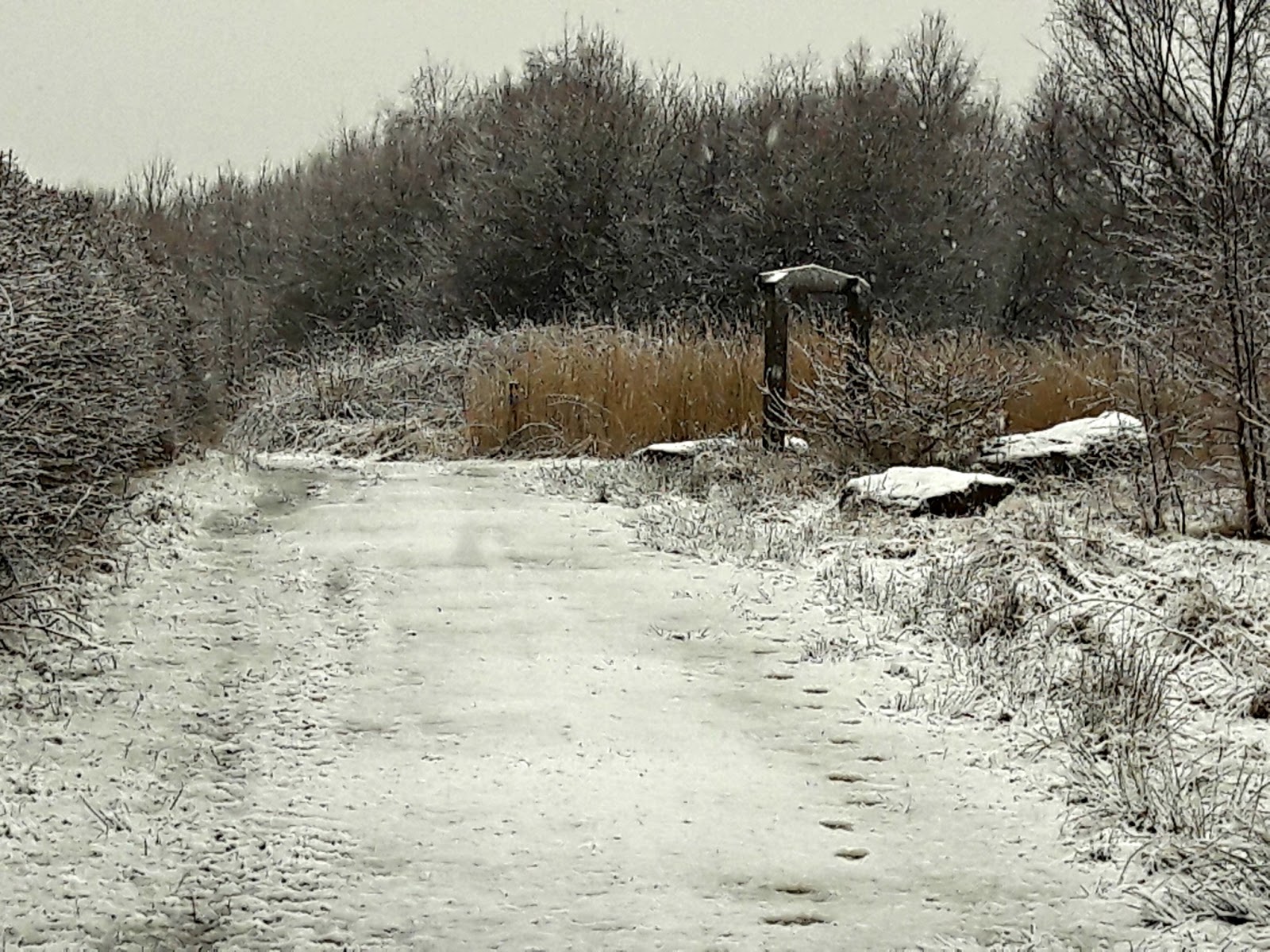 It was very wet underfoot and although it snowed for most of the morning, it had started to disappear by the early afternoon.  Nice whilst it lasted, though!
By Saturday, the temperature had risen quite considerably and I spent a happy few hours out in the garden doing some tidying up.  Most of the plants are quite overgrown so I've been pretty ruthless in cutting them back to let the light in and also to take a view of what I want to do with the garden this year.  It's got to that stage where I need to take a serious look at the borders and see what's going on as they're not the same as when I first planted them.  This always happens, of course; some plants live, some die, some try to take over the whole garden, others try to knock the sun out of the sky by growing much taller than you'd expected.  It's all part of the fun of gardening and I'm looking forward to sowing seeds and putting some new plants in this year.
We have so many snowdrops this year, it's wonderful!  I spent some time a couple of years ago transplanting some of the bulbs from this huge clump around the garden and now we've got patches of snowdrops everywhere.  This clump hasn't shown any ill-effects as there seem to be more snowdrops than ever!
You don't normally get to see what they look like under their drooping heads but this one got knocked over so I photographed it so that you could see.  Isn't it pretty?  It stood up again once I'd moved the cuttings that had squashed it, so don't worry!
I love Hellebores and have a few different varieties in the garden.  These are Helleborus orientalis or Lenten Rose.  
Just like the snowdrops, you don't normally get to see their faces as they keep them turned down, but this one was in a sociable mood …
Elsewhere, the daffodils are in bud …
and this little one by our front door is flowering already …  I think it might be a Tete-a-Tete daffodil but couldn't tell you for sure.
Another Hellebore – this is Helleborus argutifolius or Corsican Hellebore; it's huge compared to the others and I love it with it's sharp-toothed leaves and pale green flowers.  I think it was the first plant I ever saw with green flowers and it has always fascinated me.
Even the Viburnum tinus is starting to flower so I'm sure the plants must have been wondering what the weather was doing last week when it started to snow!
I do like a good fire when I'm outside; not everything will go through my shredder and there's a limit to how much I can get in the green waste bin too.  Typically, for the few hours it was dry the fire wouldn't get going no matter how much kindling and newspaper I tried to start with it, but as soon as it started to rain and I wanted to go indoors, the flames blazed up and the fire was just right for getting rid of all those twigs that had been making the place look untidy.  I stood by my fire in the rain and told myself that I am not a fair weather gardener and I don't dissolve if I get wet, and wondered if I needed to go and get a waterproof coat. 
Luckily, the rain didn't last for too long and the twigs burnt quickly so I took myself back indoors, very happy with what I'd been able to do.
You can see the result of the rain that we've had since the weekend on today's walk.  We were back in Culcheth at the Linear Park (I told you I like to keep the dog on his toes!) and the path was really muddy in places.  I like being able to see the reflection of the trees, it's one of the good things about puddles!
I like these little waterfalls too, created by water run-off from the farmers' fields above the footpath.  They'll be dry again once the rain stops, those tree roots looking like little ladders in the bank.
Who doesn't love a gate, even one that's broken?  I do.  It must speak to the explorers in us who want to know where it leads to, and whether it's an invitation or a defence.   This is an odd place for a gate as there's nowhere for it to lead to; it's on the edge of a field with a steep bank on one side and the field on the other which is probably why it's been left to disintegrate, but it must have been used once.  I wonder what it kept in – or out?
I'm hoping it might be a bit less soggy next week although the forecast is for more cold weather on the way.  Have a lovely week and wrap up warm! xx