The Makery in Rainford
A couple of weekends ago I spent the morning at The Makery in Rainford, near to St Helens.  The weeks have flashed past and I haven't had time to tell you about it so let me show you my photographs now.
It's a lovely place, tucked away in a parade of shops along one of Rainford's main streets.  Just the kind of shop that you'd like to find in your village, where you can buy special gifts and learn new skills as easily as buying a loaf of bread or a newspaper.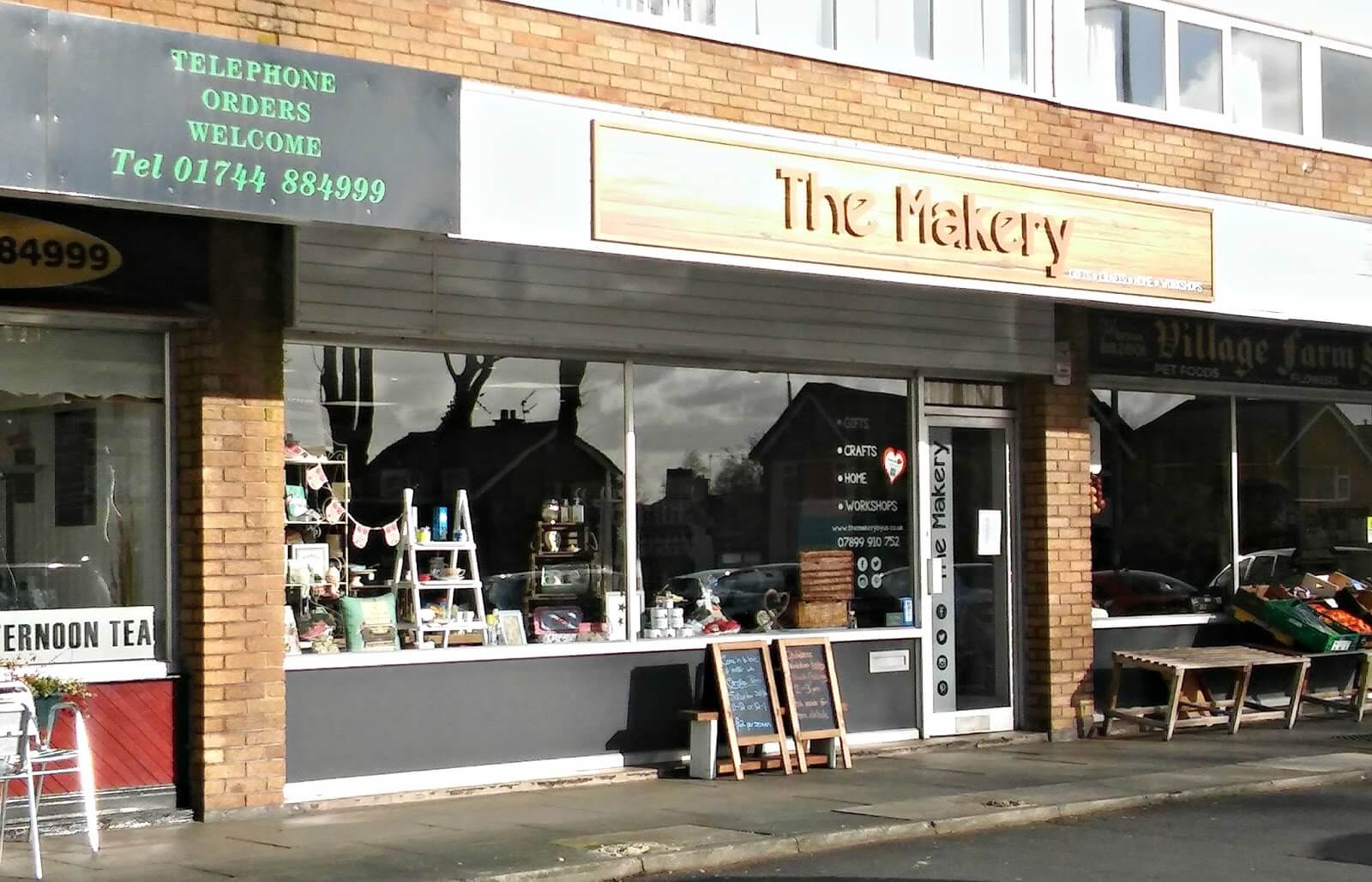 And this is Catherine, who owns the shop.  She's lovely too, friendly and welcoming, and doing what so many of us would like to do for a living by owning a craft shop.  
She has a good eye for what people like, and her shop is filled with all kinds of treats – some to buy and some to make.  
Catherine runs regular workshops on sewing, crocheting and lots of other crafts – you can find out more here on her Facebook page.  She even teaches people to turn old books into unique ornaments by folding the pages in clever ways which seems like some kind of magic to me!
Whatever your craft, I'm pretty certain you'd find supplies here.  From yarn for knitting and crocheting to buttons and material to card-making resources, it's all here!  I could have spent a very long time poring over every item; there's so much to see and I know that I would have loved a shop like this in my village when I was growing up.  I always had something creative on the go and this would have fed my habit nicely!
One of Catherine's specialties is re-painting old wooden furniture and she has a good range of paints for the job.  I love shops like this, they make me itch to try out new skills!
On this particular Saturday, a certain sock knitter was visiting for a sock clinic and drop-in knit n natter session.  It was lovely to meet new people who were able to try out the various sock needles and stay to chat for a while.  Knitting and nattering is such a sociable activity!  The workshops all take place around this table too; small groups who have the chance to get to know each other as well as what they are learning.  Why not make new friends at the same time as honing new skills? It sounds perfect to me!
I've written before about how important I think it is that shops like this one should be supported by the local community so that they – and the community – can thrive.  How wonderful to have an oasis of crafting calm in the centre of a busy village!  It's something that every village should have, in my opinion, and aside from it being someone's dream and all dreams should have the opportunity to flourish, I feel that if we don't support our local businesses, we all become the poorer for it.  We will be left with generic superstores that offer us what they think we should want, without any room for individual taste or desires.  That would be a very sad day.   
There's a knit n natter group here every week (and you don't get many of those in your local supermarket!) and some of the workshops run in the evenings too, so that there's as much opportunity for people to attend as possible.  Catherine even holds children's parties – children love having a go at all types of crafts and where will our designers and crafters of the future come from if we don't teach them from a young age?
I thoroughly enjoyed my morning at The Makery and will be back later in the year to run a sock-making workshop which I'm very much looking forward to.  If you live close enough, I can definitely recommend popping in to visit – you'll be glad you did!
The Makery, 12 Ormskirk Road, Rainford, WA11 8BT
01744 884567