Saltaire
Hello Monday!  I didn't expect to see you quite so soon, but here you are, reminding me that it's nearly a week since I went to visit Saltaire, the village built by mill owner Titus Salt and now a World Heritage site – and I still haven't shown you the pictures!
Last Tuesday was another Skipton Day.  Yes, I know it isn't that long since I last went and I've been the one muttering about not having enough time to get ready for Christmas so days out should have been way down the list, but this was the last opportunity for Lucy and I to get together before Christmas so the preparations had to wait!  And on this particular Tuesday, we had a Plan.  
My husband took small daughter to school for me so that I could leave a bit earlier in case the traffic was bad on the motorways caused by the bad weather that we've been having recently. Winwick has got off lightly with the floods but I knew that parts of Yorkshire had been affected, so I wasn't quite sure how the traffic would be.  As it happened, the traffic wasn't too bad, but the weather wasn't promising … until I got to Skipton and the sun peeped out from behind the clouds. It's the first sunshine I've seen for weeks!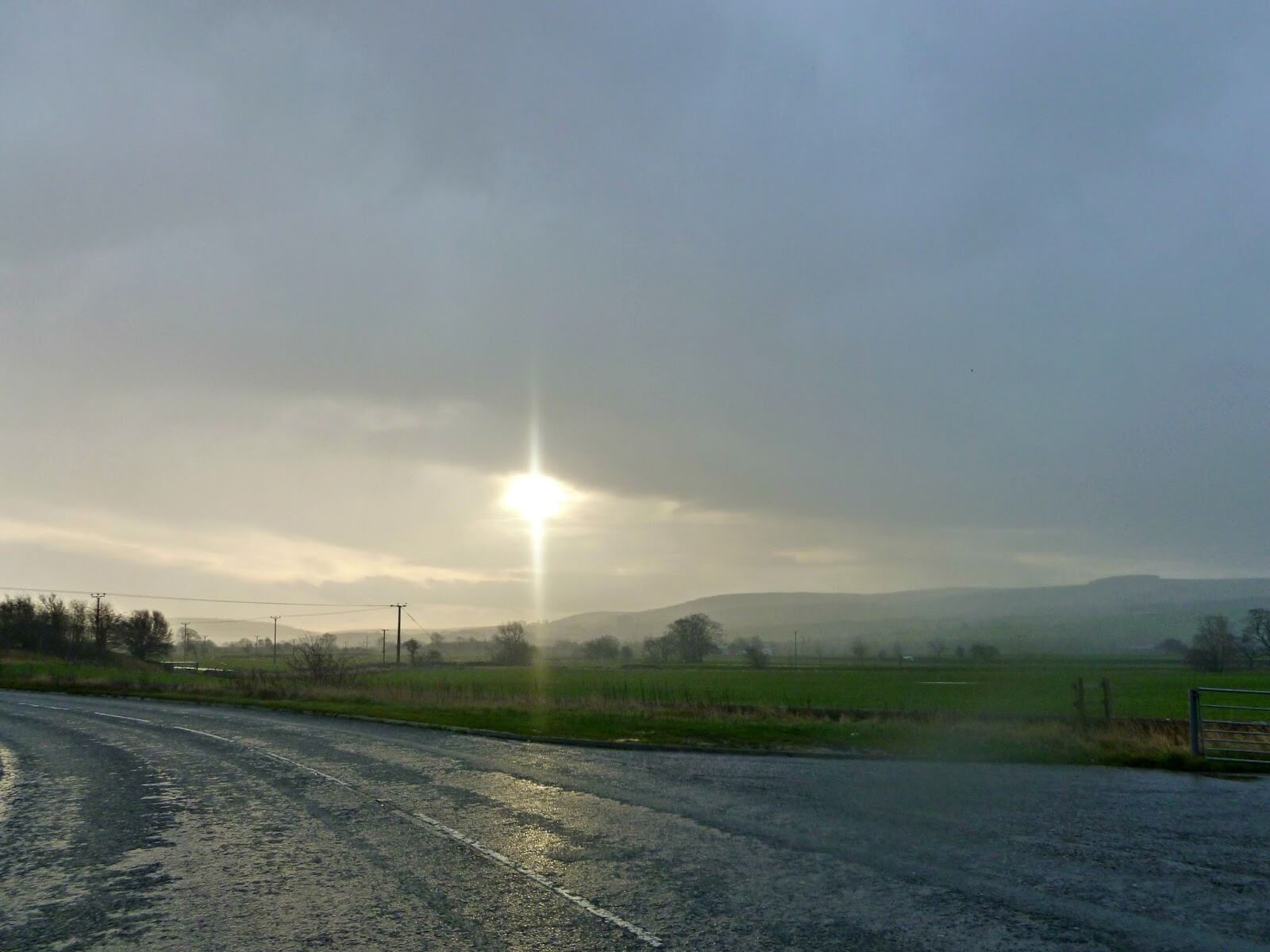 And then more excitement (for me, at least!) … Lucy and I hopped on the train at Skipton and took the short journey to Saltaire.  It always seems funny to me to drive somewhere and then get on the train, but I enjoyed the view from the window, past flooded fields and disused mills (which prompted a debate about whether the chimney stacks in Yorkshire are all square whilst the ones in Lancashire on the drive over seem to be round, although no doubt it was just coincidence) until we arrived in Saltaire just 25 minutes later.
We got off the train right outside the mill, an imposing square building (complete with square chimney stack) which houses a fabulous book shop which takes up an entire floor, a diner, a rather grand homeware shop and an art exhibition by David Hockney, along with other exhibitions – you can find out more here. 
We headed straight for the book shop.  It's a very welcoming book shop with places to sit and read, and notices that encourage you to look at the books with your children – but oh, the joy of being able to look at books without them!  We browsed, flicked through books on crafting (of course), poetry, gardening, mindfulness, humour and practically any other subject you can think of, looked at Christmas decorations and stationery and spent a good long time there, all without being interrupted or having to say "look with your eyes, not with your hands!" whilst picking things up ourselves.
Time for elevenses next … at the end of the book shop is Salts Diner, a large, airy cafe which serves extremely good fruit toast and jam, amongst other tasty treats. 
I would have shown you, but as usual we were too busy talking and eating and once again, all there is to show is crumbs J.
Suitably fortified by our break, we had a quick look in the homeware shop, marvelled at the designer furniture (and the prices) and then headed outside to look around the village.  It was built in 1851 by Sir Titus Salt to house the workers at Salts Mill and as well as better standard housing than many of them were used to, there was also provision for recreation with a park and a gymnasium and a school for the workers' children.  There were a number of model villages, as they were known, built around the same time – you may have heard of Port Sunlight on the Wirral (home of Sunlight Soap) and Bourneville in Birmingham (home of Cadbury's) – where the mill and factory owners wanted to give their workers a better standard of living.  It's an admirable achievement.
This is the United Reformed Church, and one of the landmarks of the village.  Sir Titus and his family are interred in the mausoleum here.
I liked the way that the tidy places mingle happily with the untidy; I always have a feeling that villages like this should also be a model of perfect living, a bit like the ideal of the American Disney town of Celebration, but in reality they are villages where real people live and as such they won't be picture perfect.  Sometimes in life there are just cobwebs!
We crossed the river where the tour boat was resting for the winter and the ducks were sitting a bit higher in the water than usual.
You can see the water cascading down the weir here …
and here.  Lucy told me that the river is never usually this high and you can see the outline of the weir; today you could only see tumbling water and even the ducks were staying well out of the way.
We strolled around the park, originally Saltaire Park and now known as Roberts Park, which was built to encourage the mill workers to spend time out of doors.  There's an ornate band stand and unusually for a Yorkshire park, statues of alpacas, although we discovered that Salt's fortune was based on his discovery of alpaca fibre bales in a Liverpool warehouse which he was able to spin into fine cloth so that explained it.  We wondered what this chap with his rather cool specs would have thought of it all! 
This is the view of the mill from across the park.  It's very impressive, isn't it?  We were even more impressed that the rain had held off and the sun had come out – we were seeing blue sky for the first time in some considerable time!
There was just time to take a quick look at the streets of terraced housing before we caught the train back to Skipton.  Neat rows of stone houses with small gardens to the front and yards to the back, many of which are now privately owned instead of being owned by the mill.  They are a far cry from the overcrowded streets of Bradford where Salt's original mills stood and where many of his workers will have come from; it must have seemed incredible to be able to live in a place that was so much healthier.
It seemed very fitting that we should find one or two quirks in amongst the regularity!
And the bins, an essential of modern life, would certainly never have been seen in Salt's day.  They may not usually be seen now either, though – it might just have been bin day!  I like the steep streets and the way that the houses are so close – you feel that you could almost lean out of the window to touch the house opposite!
Time to catch the train back to Skipton for the knit n natter at Coopers cafe.  I do love these Skipton Days, these days which are so different to my everyday routine.  It does us good, doesn't it, to step outside the norm from time to time.
Back to the Christmas presents now, though, and to posting out the Yarndale Sock Line socks – I'm delighted that they're all heading off to their new homes now and I'll tell you all about that next time, so come back soon!