Skipton Day
Tuesday was a Skipton Day, always a highlight of my month.  I just love driving to Yorkshire, knowing that I'll get to spend the day with yarny friends, eat cake and not feel guilty at all about sitting and chatting instead of doing something far less interesting (like the ironing).  From the moment that I drop small daughter off at school, this becomes my day and if you've ever been driving up the M6 and noticed someone in the car next to you with a huge beam on her face and singing at the top of her voice to whatever was on the radio, that was probably me on my way to Skipton.
On this particular Tuesday, the weather was dull and overcast and the forecast was for another big storm to blow in, but Lucy and I decided to risk the elements and headed for the River Wharfe by Bolton Abbey for a walk whilst we still could – the Winter is drawing ever closer and soon the opportunity could be over until the Spring.
We left the car at Barden Bridge and set off.  The river was very high, flowing fast and sweeping debris up the base of the bridge.  When we'd talked about going for a walk, I'd briefly wondered about bringing the dog but seeing the river I was glad that I hadn't.  Even on his lead, he would have wanted to go and investigate and I had no intention of going anywhere near that riverbank! You can come with us, though, as long as you promise to keep your feet dry!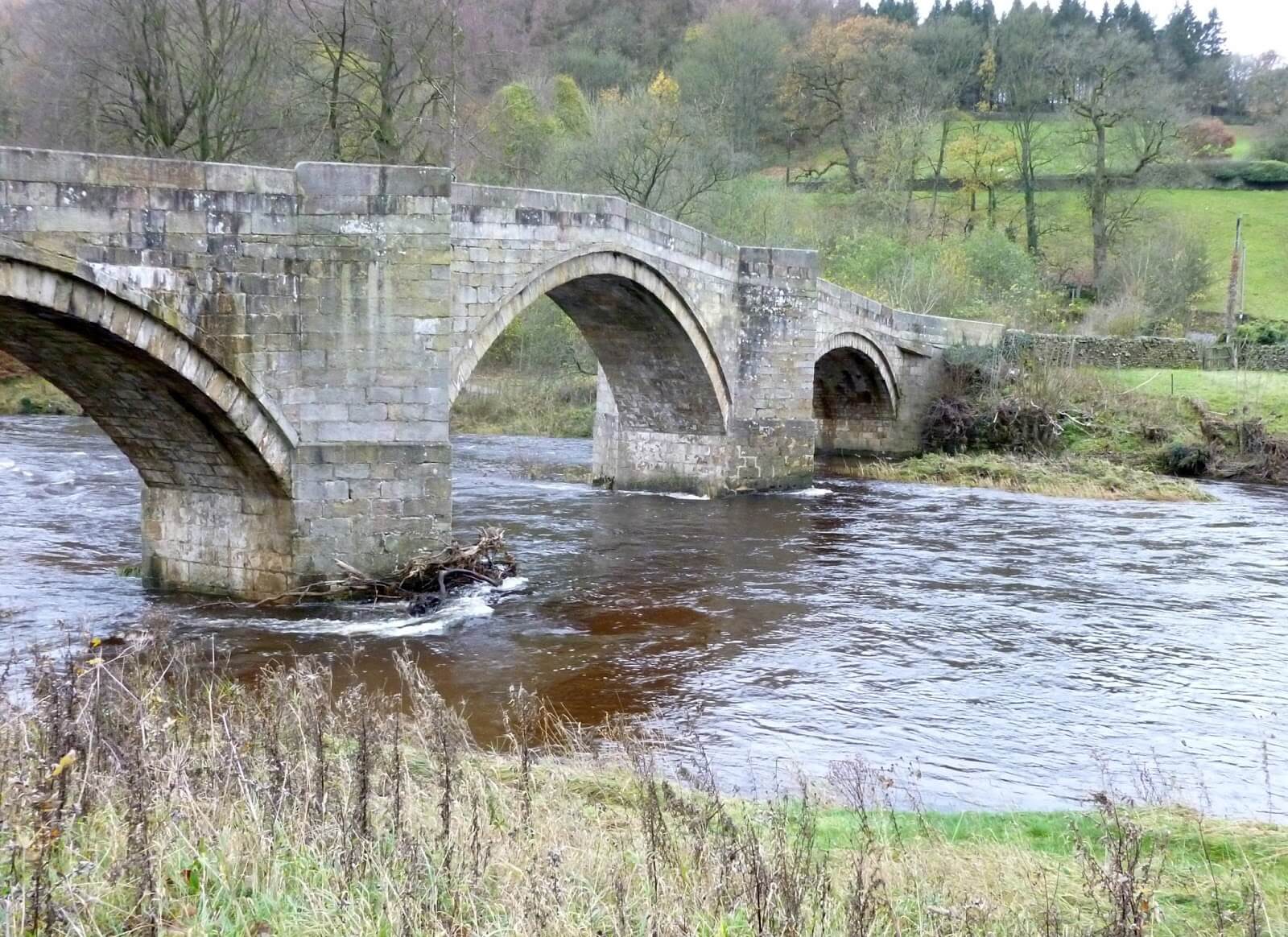 We headed out across a field and slightly away from the river, although we could always hear its relentless rushing on our right. 
Before long, we came to a bridge to cross over again.  I love bridges like this.  They make me think of castles and knights, even though there aren't any castles just around here.  
I love that although the purpose of this bridge is to get from one side of the river to the other, someone took the time to create these turrets; it's not just a common or garden bridge now, it really does feel like a castle!
From the top of the bridge, we could look right down the river and watch the water churning below.  Lucy told me that there are several river beaches along this stretch of the water where you can paddle and skim stones – there was no chance of that today!  You can see that the water has come right up the banks to submerge the roots of the tree in the middle of the picture.  There has been so much rain recently, and Yorkshire seems to have got more than its fair share.
So what fabulously glamorous conversations did we have, Lucy of Attic24 and I, as we walked along the riverbank?  We talked about socks and about blankets of course – and we talked about the colours of the leaves and the rushing torrents of peat-coloured water and about how we thought this green boat had got stuck in these trees.
Not so fabulously glamorous after all, perhaps!  We talked about our children, homework timetables, how we were getting on with navigating the settings on the new cameras that we both had, how many more Mondays there are till the next school holidays and what we were making for dinner.  Just two Mums out in the mizzle (misty drizzle) talking about Mum things.
It made for pleasant walking, and it was lovely just to be out in the fresh air.  There were still a few patches of colourful leaves, although most of them blew out of the trees in the winds over the weekend, much as they did in Winwick.
I'm a bit of a sucker for "fairytale" footpaths; narrow paths which wend their way into the trees out of sight …
or down into little tunnels …
steps created by the stones and tree roots rather than placed by human hands.  In my imagination, it's the kind of place where elves and fairies watch from their hiding places by day and go about their business by night.  Are there such things as fairies?  Why not?  The world would be a very serious place if we couldn't allow our imaginations free rein every now and again!
A little further on we reached the Strid.  It's a place where the  a river narrows to just a few feet across and where today the water boiled and churned with a frightening ferocity.  There are large signs which warn of the danger of going near to the Strid – and apparently with good reason. According to this website, the water doesn't disappear as it is forced through that narrow channel – it has eroded the ground underneath so that it is now probably as deep as it is wide in other places, and full of chasms and strange rock formations.  No one actually knows this for sure, because anyone who has gone into the water here has never lived to tell the tale.  It was a sobering thought, and Lucy and I kept well away. 
We decided to head back the way we had come and started back up the path.  Just a short way away are the Strid Wood Tea Rooms and it was about time for elevenses, so we shook the dampness off and warmed ourselves up with steaming mugs of coffee and hot chocolate and something tasty to keep ourselves going until lunch time.  By the time I remembered to take a photo to show you, there was nothing but crumbs left – but you can take my word for it that if you're ever in the area, it's a very nice cafe to visit!
It's funny how it never seems to take quite as long to get back as it takes you to get where you're going in the first place.  We stopped to admire the view along the river, although the mizzle was getting heavier and the view was limited.
By the time we reached the car again, we were really quite damp around the edges and glad to get back into the warm and dry at Coopers.  This time, I remembered to take a picture and this is pea and ham soup with cheese and onion bread and a rather large slab of chocolate brownie (which I did share J).
What a treat – a walk in the countryside and a knit n natter in one day!  I've started writing a list of what I am grateful for at the end of the day and this was right at the top of Tuesday's list.  I don't know if we'll get chance to get out for a walk again before the end of the year, but I certainly enjoyed seeing a bit more of the area, and I hope you did too!
Don't forget that if you're in the Bristol area I'll be at The Wool Stop on Saturday (21 November) from 11am-4pm – do drop by and say "hello" and bring your knitting to show off – I'm sure we can squeeze another knit n natter in! J