Beside the seaside
It's been lovely looking at all the seaside photos in Blogland recently, especially as we hadn't planned to have a holiday this year after our big adventure last year, but it had got to the point where we were in need of a break.
Unfortunately, having left it to the last minute, we were a bit short of options for places to go that would take the dog as well, but then, magically, a holiday offer popped into my husband's email inbox that was just perfect for us – a dog-friendly caravan park not far from Abergele in North Wales.  So last Friday, we packed up our car with our clothes and our dog and we headed out to Wales for the weekend.   
It's a part of Wales that we're very familiar with; we often choose to go to Colwyn Bay, Rhos-on-Sea or Conwy for a day out as they are within easy reach and provide a good opportunity for our dog to dance in the waves as dogs like to do.  Small daughter was terribly excited at the thought of staying in a caravan.  She's always liked the idea of it but this is the first time we've actually booked one for a holiday.
My job is always to be the navigator – and it gives me an opportunity to knit as well, something that I've not had as much time for recently as I usually have.  This is my second Yarndale Sock Line sock so the pair is nearly finished.  (I'm hoping to have an update for you on how the donations are going very soon!)
The weather forecast wasn't fantastic for the weekend, but we don't dissolve in the rain so it was just a case of making sure we had our waterproofs packed.  All of my childhood holidays were spent in Wales on the Lleyn Peninsula and I can distinctly remember paddling in the sea in my wellies one year because of the weather!
After travelling on the coast road for a while, we headed inland towards the caravan park.  We haven't driven inland in this part of Wales before as we've always made a beeline for the shore – and this was our view from our destination.  I love the lush green-ness of it all.  There was a farm at the bottom of the hill so we were surrounded by sheep and cows, too – and yet still only ten minutes from one of our favourite parts of the beach.  
There was time to quickly explore the site and let the dog stretch his legs, and then we were off in search of fish and chip sustenance.  We arrived in Rhos-on-Sea just as all the day visitors were leaving.  Usually that's us, but today we got to stay behind and watch as the beach became empty and the evening began to settle in. 
We ate our fish and chips on a bench overlooking the sea, overlooked ourselves by a seagull which made regular noisy updates to it's friends wheeling overhead but didn't try to pinch our chips.  The seagulls are becoming a big problem at many seaside towns now, large greedy birds which think nothing of aggressively swooping in to steal your food.  Perhaps the seagull was too wary of our dog who had his eye on our leftovers for himself – although even he was disappointed as they were very good fish and chips and we polished off the lot.  It's surprising what an effect the sea air has on your appetite!
After that, it was up to Colwyn Bay and Porth Eirias to walk off our dinner.  The sun peeped out from behind the clouds …
and we had fun trying out all of these unusual benches!
Big daughter and I particularly liked the "M" shaped one that you can see in the picture above (I've no idea who the child is, but she didn't want to move so she's in my photo!); it was quite strange but surprisingly comfortable sitting with your feet up in the air!
We seemed to spend a lot of time eating over the weekend … lunch at a lovely cafe in Rhos where my husband tried out a goats cheese, rocket and elderflower baguette …
and big daughter and I both chose turkey, Brie and cranberry baguettes.  I really like this trend for tiny milk bottles in cafes at the moment, it reminds me of being at school although I seem to remember the bottles being bigger – or perhaps I was just smaller!
It's not always easy to find somewhere dog-friendly to eat, especially if it's raining, but the cafe had a sheltered outdoor table and we were quite happy to sit and enjoy our lunch in the fresh air.  Just around the corner and down the road is a lovely Welsh craft and gift shop – I couldn't resist this fused glass angel, and even though I later discovered that she comes from Ireland and not Wales, she still reminds me of the hills where were stayed.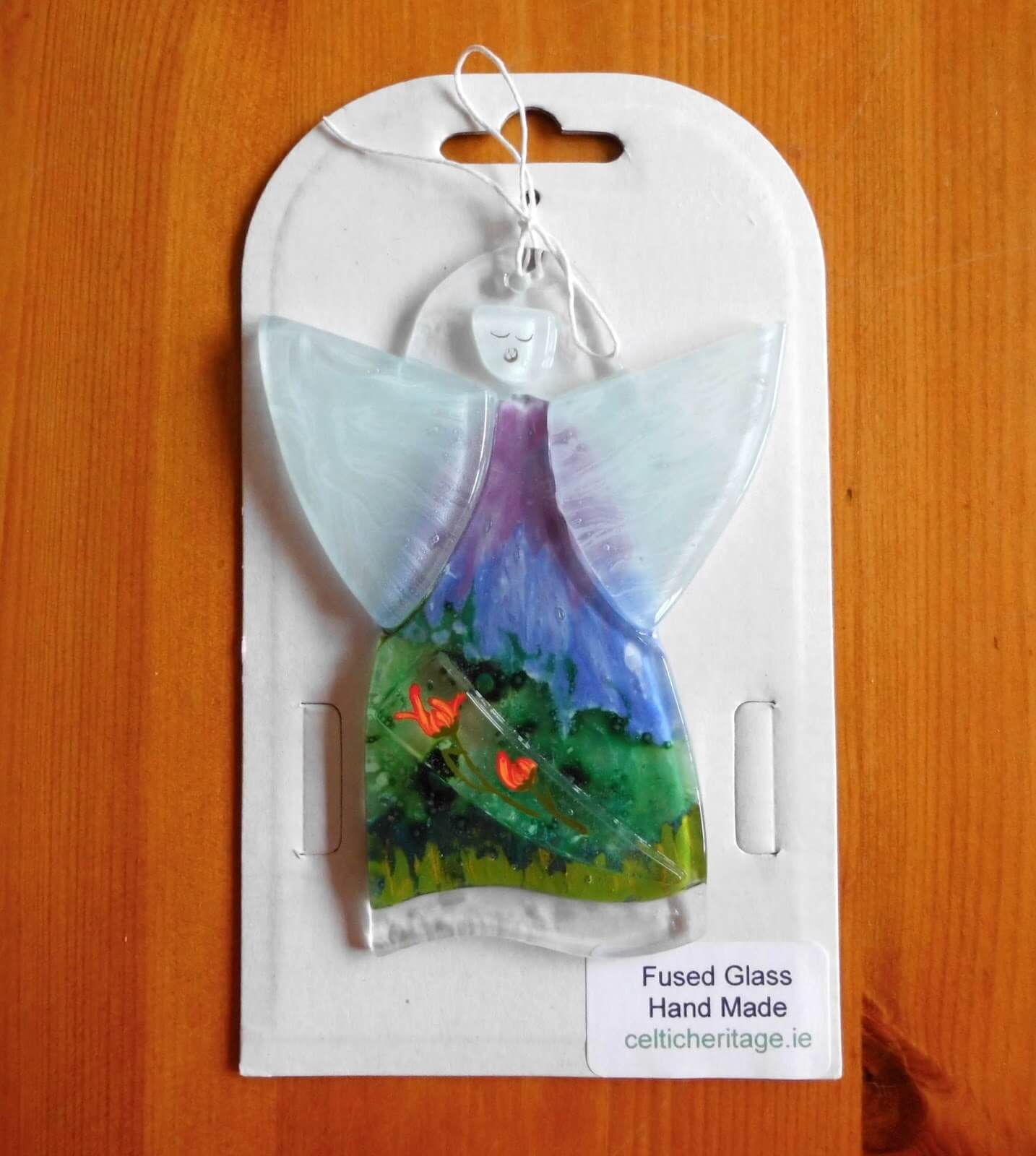 We managed to find a dog-friendly pub in Conwy the next day and enjoyed huge home made burgers before walking past the medieval walls and through the town towards the beach.
I love the way that the town is built right up against the walls so that the old and the new are blended together.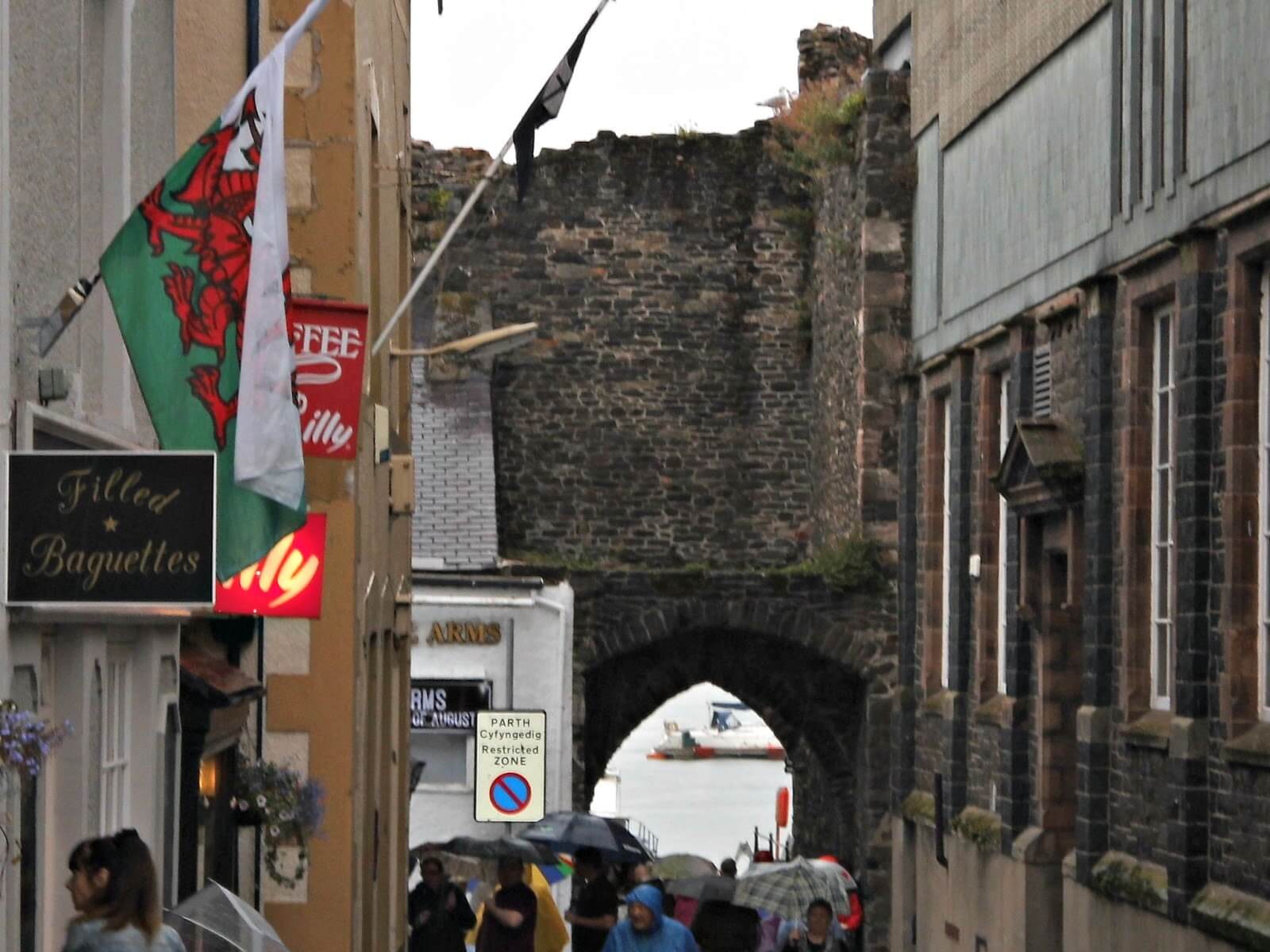 The castle walls are still pretty much complete and give an imposing feel as you drive across the bridge into the town.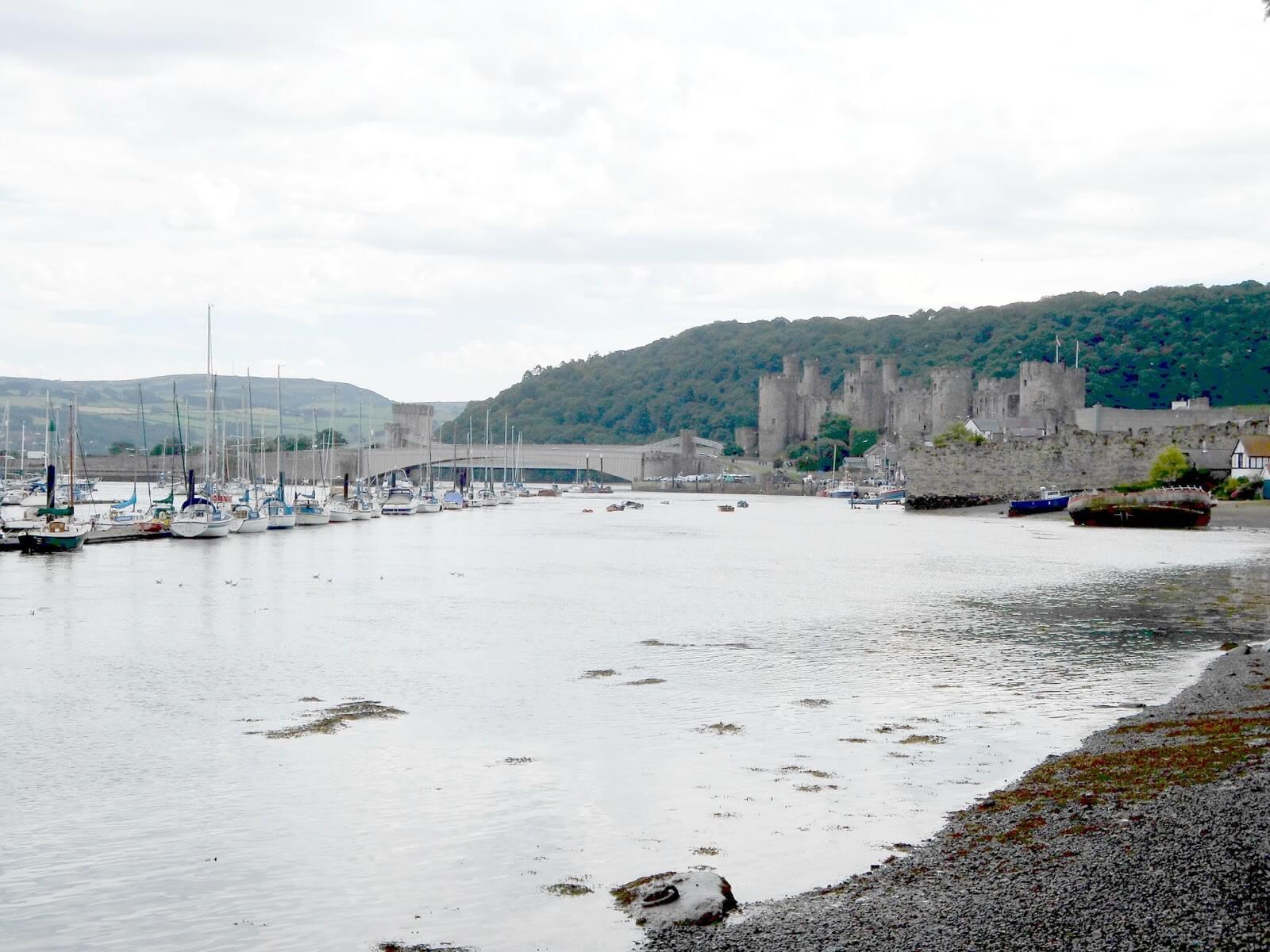 On our last evening, we visited Llandudno.  One of the highlights for small daughter when we're at the seaside is to visit the amusement arcade where she's allowed to have a little bit of money to spend on the slot machines.  We avoid all of the one armed bandits and other games with their flashing lights and tinny music, choosing instead this type of game where you have to time the drop of your penny onto the sliding bar in the hope that it will push coins off the edge and into the tray below.  Whilst we never come out of the arcade any richer than we went in (and never expect to do so!), it always passes a happy half hour or so.
Considering that we were in a seaside town at the height of the summer season, Llandudno is remarkably unpolluted by lights at night.  It was also surprisingly warm and we were happy to sit in the semi-darkness listening to the waves on the pebbly shore for quite a while.
We left our caravan early the next morning, the car packed and the dog safely on his bed in the boot, and headed back to our favourite promenade cafe in Colwyn Bay for breakfast.  I told you we did a lot of eating!  Perhaps it seemed that we ate more because we ate out so much which is always a holiday as far as I'm concerned – it doesn't matter where I am, if I'm not cooking then I'm on holiday!  We sat out in the salty morning air with big mugs of tea and coffee and fried egg sandwiches …
before heading onto the dog-friendly part of the beach for the last time.  The dog was in his element, in and out of the sea and rocketing off across the sand to greet other dogs.  He even managed not to drink his body weight in sea water for which we were very grateful, given the usual unfortunate consequences!
He wasn't the only one who was enjoying himself on the sand.  The girls were having fun too, walking on the ridges the sea had left and collecting shells.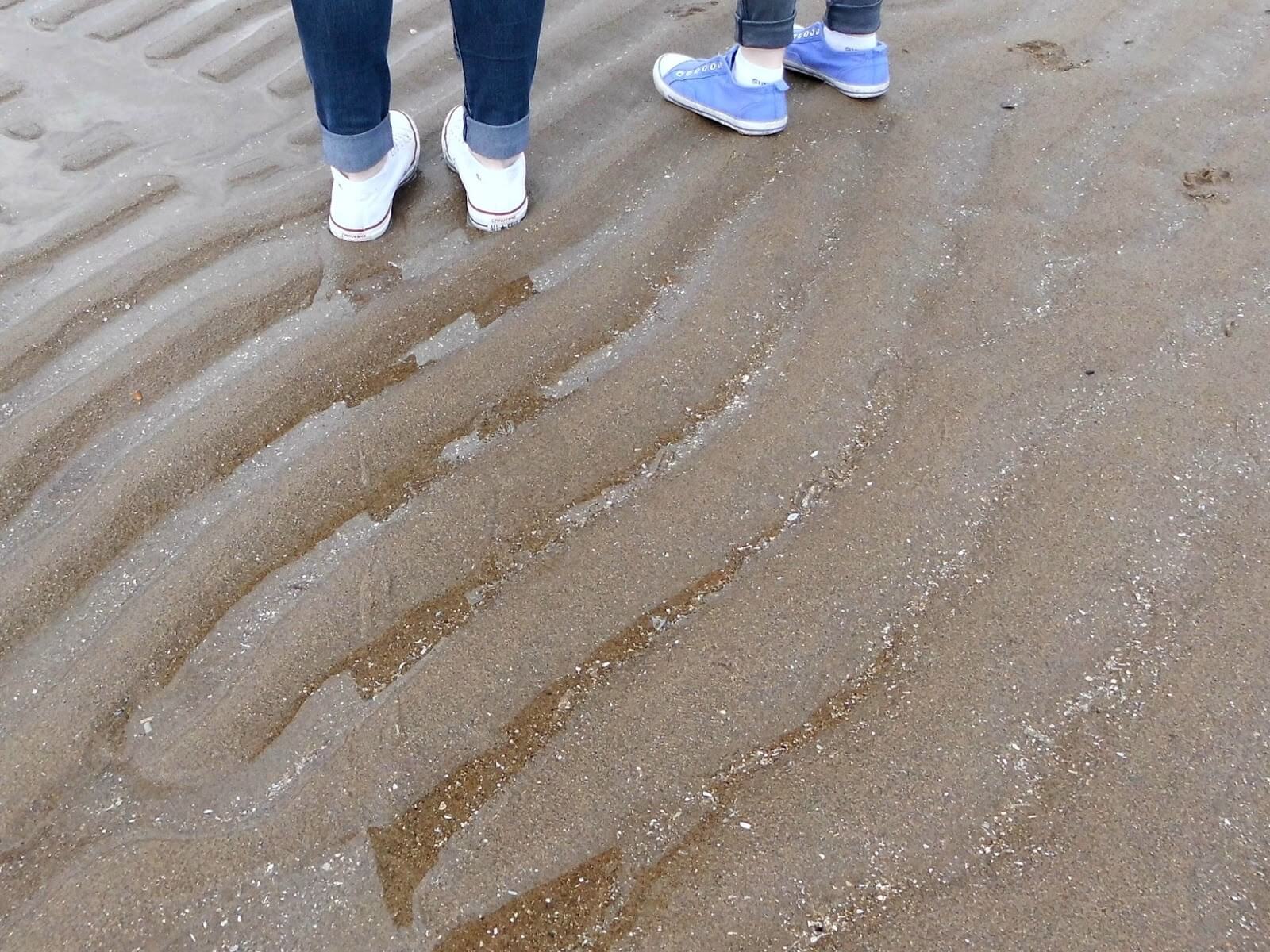 Finally, it was time to climb the steps back up to the promenade and head for home.  The beach was still pretty much deserted, although by the time we drove away we started to see more people arriving.
We took the coast road back through Rhyl and Prestatyn.  I like the signs that are in both English and Welsh.  In fact, I like the Welsh language very much; I think it's very musical and there's something about it that always appeals to me.  I can remember the lady who owned the guest house where we stayed every year when I was small teaching me phrases like "it's raining cats and dogs" which I would then proudly repeat to my parents over and over again.  I even learnt Welsh at night school for two years just before small daughter was born but I could never find anybody that I could practise speaking to and now it's mostly forgotten until we go back to Wales and then I remember random words which I am unable to string together in any kind of coherent sentence.  I don't think I could even ask for an ice cream these days.  Maybe one day I'll give it another go.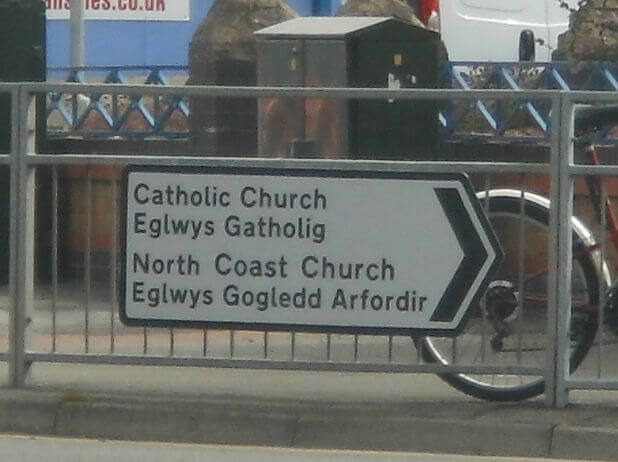 It wasn't a long holiday but it was time away and sometimes that's just what you need.  We have really felt the benefit this week of a change of air and scenery, and not doing very much at all over the weekend apart from what we wanted to do.  Long may it last!