Skipton Knit N Natter
I had such a lovely day on Tuesday. Firstly we woke to the sky doing this …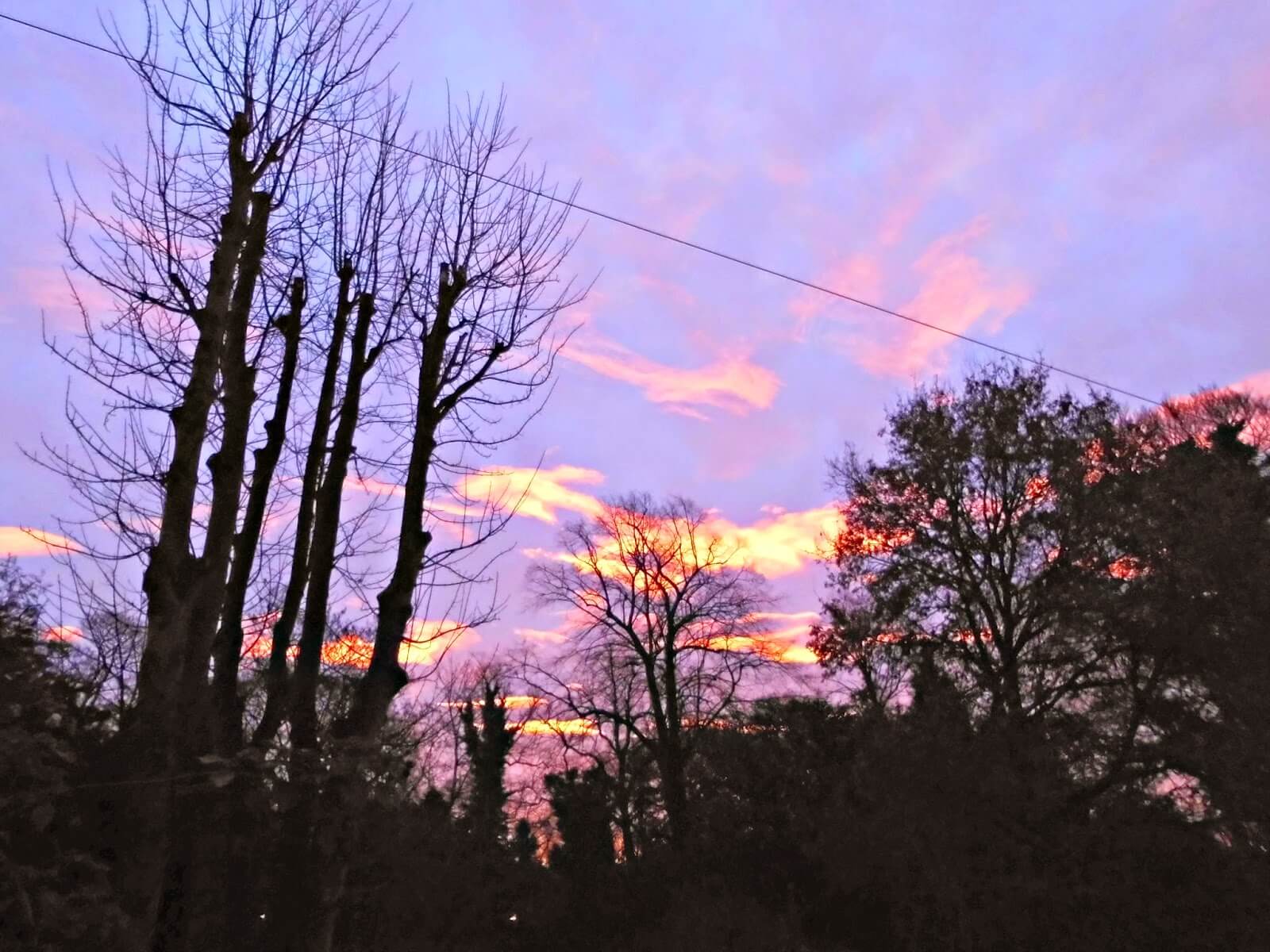 Isn't it beautiful?  I think there must have been similar skies all across the country because my husband was working in Nottingham on Tuesday and took an amazing picture of the sky there. How could you not have a great day after that?!
I knew my day was going to be especially great, though, because I was having a Day Out.  I dropped small daughter off at school and headed north up the M6 away from Winwick.  I drove through Cheshire and Lancashire, watching the landscape grow gradually hillier until I reached these hills …
Yorkshire.  I like Yorkshire hills, I like the way they roll rather than have steep precipices.  I like the sheep too.  We have sheep in Cheshire, but I like to see sheep behind proper stone walls.
And not just any place in Yorkshire.  I was going back to Skipton, only a few months after visiting Yarndale so the road was nicely familiar.
I turned off the main road before reaching the Auction Mart where Yarndale is held and headed into the town past the canal.  Canal boats always look so peaceful, even in the winter, although I know that being below the water line can be a bit cold!
It was a shame that the weather wasn't better as the light wasn't great for taking photos, although I was glad that it wasn't any worse or it might have been a difficult journey.  As it was, there wasn't much traffic and I got to my destination in good time.  Just at the right time, as happened, for a mug of hot chocolate with whipped cream and a mountain of marshmallows!  Delicious!
And this is where I was heading.  If you're thinking that the cafe looks familiar, then you're absolutely right.  It's Coopers, the cafe bar where Lucy of Attic24 has her Studio and where there's a twice-weekly knit n natter which she regularly blogs about.  I've been speaking to Lucy recently about a certain pair of socks and because I've called them Neat Ripple Socks, it only seemed fair to me to ask Lucy if she'd like a pair for her very own feet.  I was delighted when she said that she would, and after she choose the yarn she liked, I set to work.  What fascinated me was that although the pattern was the same, the way that the yarn stripes makes the two pairs of socks look completely different.  I'm sure Lucy won't mind me showing you them side by side so that you can see.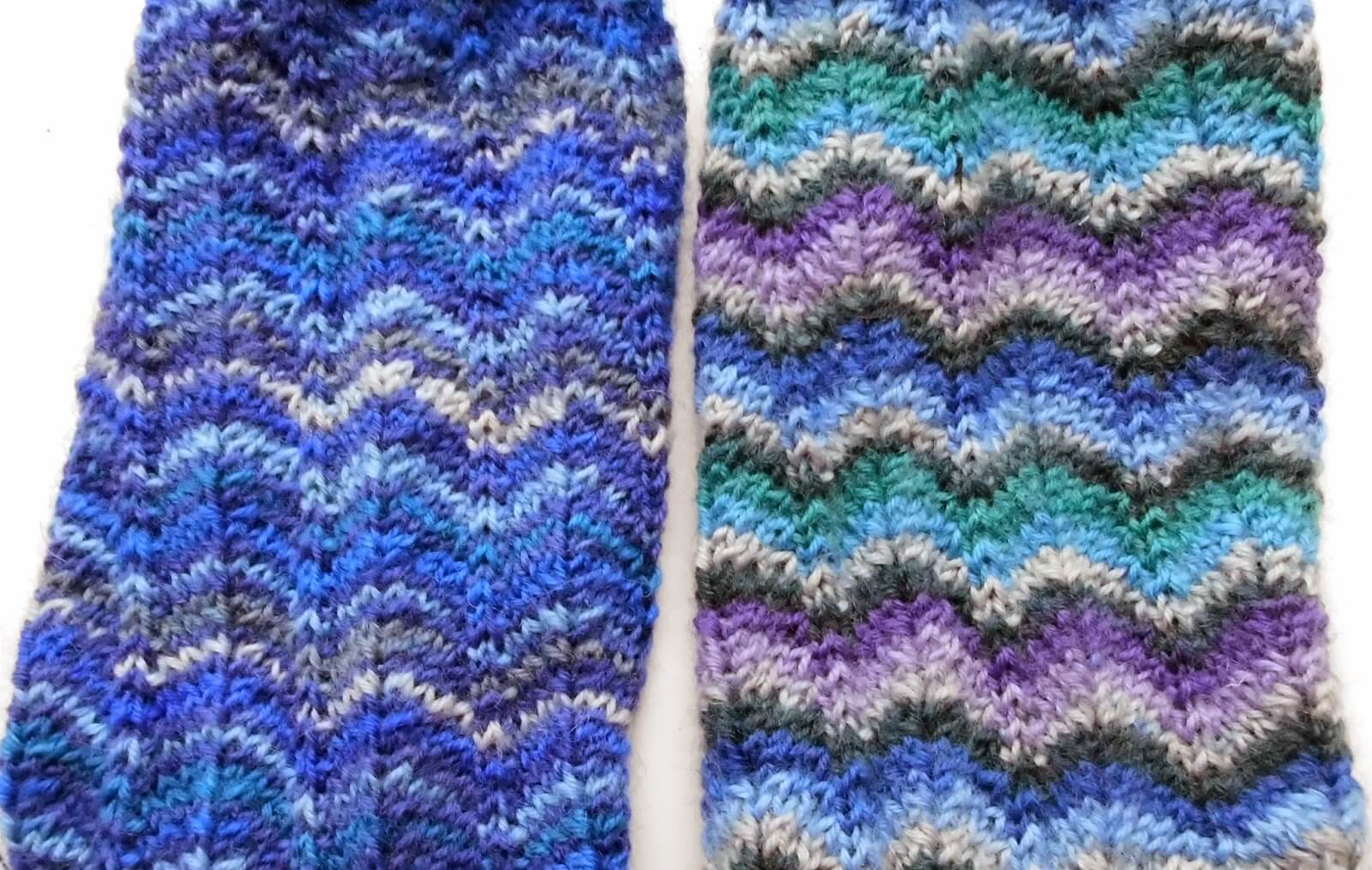 Whenever I make socks for people, I usually like to give them in person if I possibly can.  After putting all that effort into them, it seems a bit half-hearted to just post them so I arranged to join the knit n natter and arrived in Skipton early enough to spend some time with Lucy.
If you've ever wondered if she's just as nice in real life as she seems in her blog, then I can tell you that she is.  With her trademark frothy coffee (and me with one of the biggest hot chocolates I've ever seen!), we sat and chatted about all sorts of things; blogs, yarn, families – just the sort of stuff you'd expect to sit and talk to her about.  For me, the highlight was talking about bloggy stuff. Lucy's very generous with her advice and I found the time we spent together invaluable – after all, if you're going to aspire to blog-writing heights then you could do worse than look at Lucy's blog. She gets over a million views a month, you know!
Before we knew it, it was lunch time.  We chose one of the two soups of the day – this is Christmas mushroom and chestnut.  I was rather disappointed to learn that there isn't a new variety of mushroom called a Christmas mushroom, but instead it's festive soup.  Nothing wrong with that!
It was fabulous soup, too!  I'm definitely going to have a go at making it for dinner – Tuesday night is Soup Night in our house – although I'm not sure that small daughter would appreciate the pumpkin-seed bread croutons as much as I did.
The Tuesday knit n natter takes place in a little room upstairs in the cafe.  Friday, apparently, is so busy that they can only fit downstairs in the main cafe but there were only eight of us on Tuesday afternoon.  The ladies were all lovely and made me feel very welcome.  I've never actually been to a knit n natter before; the ones closer to home are always on the wrong day for me so it was a real treat to be sitting knitting (socks, of course!) and chatting in the afternoon.  One of the people there was Tracy, who was busy making Christmas items for her shop, Handmade Over Yonder.  It felt quite surreal to be sitting in a room with two people whose blogs I've read and enjoyed for such a long time!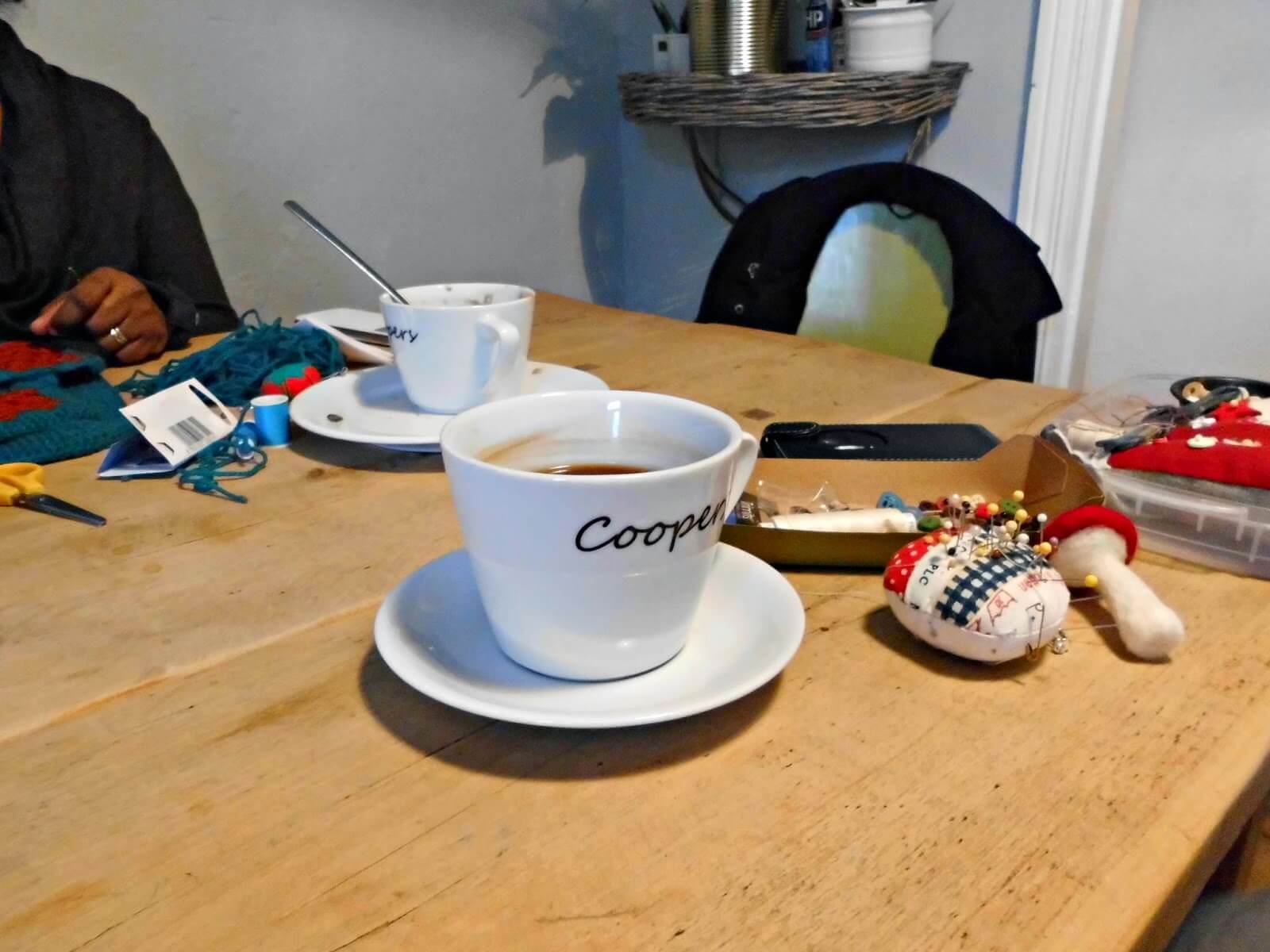 Lucy was busy working out the border for her Cosy blanket, mixing sets of colours together in small trial sections as she decided which she liked best.  Do I know what she chose?  Yes, I do, but you'll have to read her blog to find out!
All too soon, it was three o'clock and time to pack up.  It's certainly true that time flies when you're having fun, and crafting with a group of people is such a sociable thing to do.  Where else could you spend an afternoon knitting, stitching and crocheting with impromptu lessons and advice thrown in, along with a lot of laughter and conversations about Nativity performances?  I think knit n natter sessions should be compulsory for anybody with an interest in crafting wherever they live because they're good for the soul.
After Lucy and I said our goodbyes, it was time to head back through the hills (and the torrential rain which was creeping through Lancashire) towards home.  I've written about the Five Ways to Wellbeing before, and as I negotiated the M6 traffic, I realised that my day had encompassed all of them.  It was no wonder I had a huge grin on my face, in spite of the rain.