Tuesday evening
Tuesdays are always a bit of a rush for us with after-school clubs, so it's usually soup night.  Tonight's flavour is cauliflower and Stilton.  Making soup is soup-er easy (sorry!) and makes a great meal for when we're rushing in and out between appointments.  I do have recipe books but these days I generally just throw vegetables into a pan with a stock cube, add about a litre of water and then cook the vegetables until soft.  Having an Aga is ideal for this as I can leave the pan in the bottom (simmering) oven for several hours and know that the soup will be ready when we get home.  After that, I blitz it in the blender (a nifty trick I learned years ago which allows me to put absolutely any vegetables into the pan without fear that someone will announce "I don't like that") and serve with some bread warm out of the bread-maker.
Whilst I was making the soup, I happened to look out of the window and spotted this little fellow sitting on the flags ….
I watched him for quite a while, admiring his neat feathers and the way that they change from red to grey to brown.  When he didn't move, I decided to grab my camera, thinking that if he'd gone when I got back then at least I'd been able to see him.  I was quite surprised to see him still there and started to wonder if something was wrong.  Then someone else appeared …
and still the little robin didn't budge, so I thought there definitely must be something wrong with him.  Fortunately, so did our cat (our other cat wouldn't have been so understanding!) and after I'd knocked on the window and shouted at him, he sat down with the robin to wait …
giving me time to rush outside and scoop him up before he changed his mind.  At this point, the robin decided to leave but clearly something had shocked him as he couldn't fly properly and ended up on the windowsill …
before finally disappearing into the hedge.  I didn't see him again so I hope he got back to his nest safely.
Back indoors and with the soup eaten (it was very nice, by the way!), I had another job to do.  Do you remember me showing you my sock project bag way back in March?  I've had it for a good few years now and it's travelled some miles with me. It's been on lots of holidays, for lots of car journeys, to lots and lots of after-school clubs and music classes and to visit friends and relatives all over the world.  So it was a sad moment tonight when I had to say goodbye to it – my scissors and pens have poked too many holes in the bottom now and the handles are about to snap so it's time for a replacement.
I've bought myself a new one, as close to the shape and style of my old one as I could get, but it doesn't feel quite right at the moment.  There's not as much junk in it (it's amazing what you find at the bottom of bags, isn't it?) but it's still a bit stiff and unyielding.  I'm sure a bit of travelling will soon sort that out!
Tuesday must be a night for creative things.  A few Tuesdays ago, big daughter and I went to a workshop run by The Make and Do Studio.  It's been quite a while since I last went to one of Maeri's workshops – in fact, it was the curtain workshop in January (and no, since you ask, I still haven't made any curtains!). This one was a wire ring workshop held in a lovely pub called The Rams Head in beautiful Grappenhall village.  Big daughter has started to make jewellery as a hobby and is producing some lovely stuff.  She fancied having a go at making rings but didn't want to go on her own – and I was very happy to go with her!
Unfortunately, I forgot my camera so could only take pictures with my phone, and they're not as good as I wanted them to be.  (I also forgot my reading glasses.  I'm devastated that I actually need to use them and am usually too vain to take them out of the house but I couldn't do without them during the workshop so I was very grateful that Maeri was able to lend me hers!)  So, just a quick tour of the best ones from the night …
The workshop was run by Marie Griffiths from Redstones Creative, who had the room in the Rams Head all set out and ready for us …
we each had a workstation with the equipment we needed …
and more tools and ring samples within easy reach as we got started.
This is big daughter showing how easy it is to create a spiral wire ring – she was much better at it than I was!
We had a break for tea and cake – huge cream scones and wonderful chocolate brownies – it would have too easy to have spent the rest of the evening just eating cake and chatting!  But instead we continued with our mission and moved onto working with Swarovski crystals.  It was difficult not to choose too many but I was determined to go home with something that I would actually wear, not a knuckleduster, so made myself be very selective with my colour choices.
And here are the rings that I made, taken at home later with my camera.  Firstly, a simple spiral …
then on to wrapped wire and Swarovski crystals …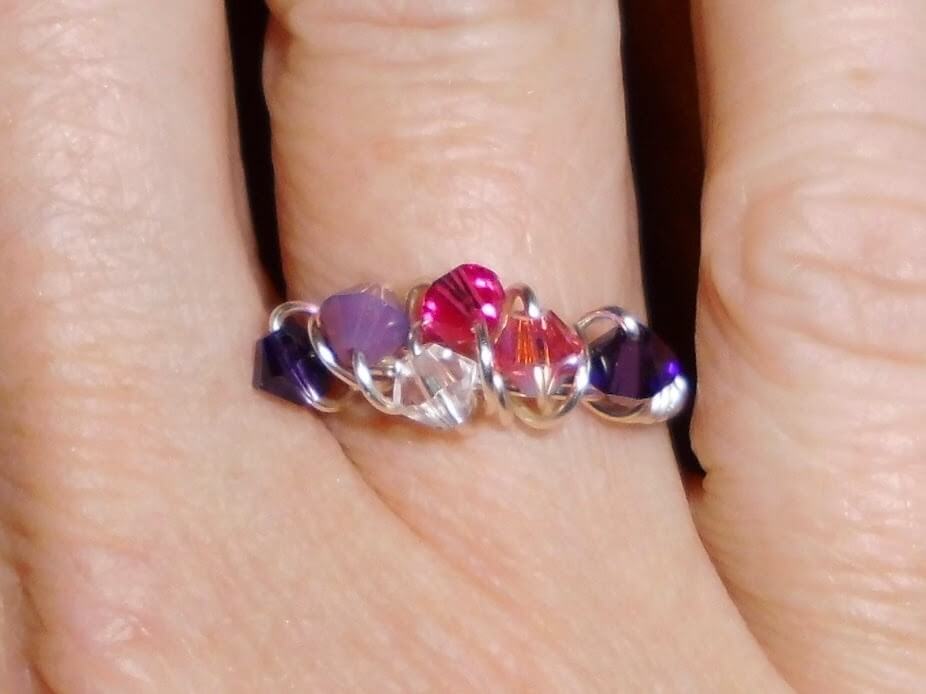 and finally a free-form spiral with crystals.  This one's my favourite, I love the way it looks like a little solar system!
Big daughter thoroughly enjoyed the evening as well.  Marie is an excellent tutor, calm and encouraging, and all the participants left proudly displaying new jewellery – some with intentions to create more as favours and gifts for bridemaids at their forthcoming weddings which is a lovely, unique idea.  I don't think it will be long before I'm back to The Make and Do Studio – and I have a feeling that big daughter will insist on coming along too!