It's all about the socks
It's been quite a while since I wrote a post that was about nothing but socks – but here it is!  I've got plenty to tell you about yarns and knitted socks, so get yourself a brew and let's get started!
Here are the latest Yarndale Sock Line parcels.  If you've missed the post from earlier this year, you can find out all about the Sock Line here.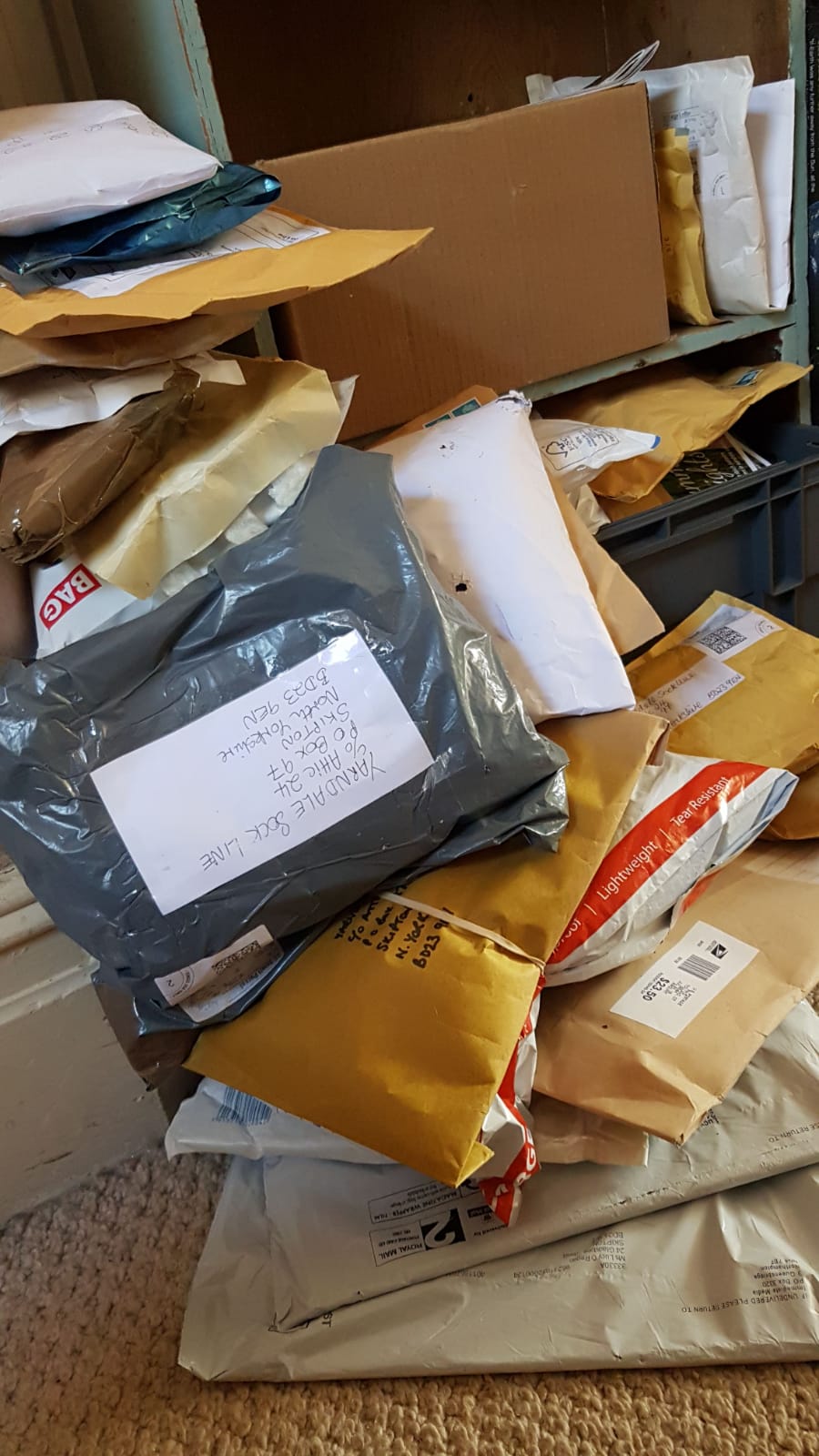 They've been coming in thick and fast and there are so many of them – and they're all still in Yorkshire with Lucy!  Oh these school holidays, they do get in the way sometimes 🙂  Routines go completely out of the window, don't they, and Lucy and I haven't had chance to catch up with each other since before the schools broke up.  I'm regretting leaving that bag-full in her studio the last time I saw her as at least I'd have some socks to show you, but it is how it is, as someone once said to me (he was a builder, so imagine saying it whilst shaking your head, drinking very strong tea and explaining why your house extension was running three weeks late).  However, it's a useful phrase to remind you that not everything is in your control and I seem to have been saying it a lot just lately!
What I can tell you is that it's a delight to be part of a community where people are so generous with their time and skills, and I am so looking forward to opening these parcels and seeing the socks, knowing that they will all go to people who need some extra woolly love.  Thank you!
Another yarn involved with a good cause is this one here, and I'm thrilled to have my sticky mitts on a ball of this (thank you, Cityknits)!
This is the new limited edition Marie Curie yarn produced for CityKnits (Christine's Wool Shop in Bourneville) by West Yorkshire Spinners.  A donation of £2 is made to the charity for every ball sold, and last year's stock ran out very quickly, so if these colours appeal to you then you'll need to get your yarn sooner rather than later.
Last year's ball knitted up as stripes …
and this year's is more of a random colourway …
which will suit some people better than stripes, and will also make shawls and scarves knitted with this yarn look completely different.  I do like the way this yarn has knitted up very much – it looks very "socky" to me and I'm looking forward to casting on.  This year's contrast colours are Bubblegum, Turmeric and Milk Bottle and you can find the yarn on the Cityknits website here.
Another new yarn is the 13th birthday yarn from Blacker Yarns and they have very kindly sent me some samples to review.  I've reviewed their birthday yarns for a couple of years now and it's been really interesting to see the different blends they have come up with each year.
This year's blend is called Tor, named after the Westcountry where all the fibre for the yarn was sourced: 55% Romney cross from the south of Devon, 28% Merino cross from the north of Devon, 5% North Ronaldsay, 4% Shetland and 8% British Alpaca.  The two colours that I've been sent to try out are Lanlavery at the top and Carn Brea at the bottom, both beautiful heathery shades.  It's an Aran yarn, suitable for socks (there's an accompanying pattern book which be published in time for the launch which has sock patterns in it), and it certainly looks like another very interesting yarn!  I've been asked on a few occasions whether you can use my Sockalong pattern with Aran yarn and the simple answer is yes – all you need is to know the stitches per inch that you knit at on 4mm needles to be able to use the sock stitch calculation to work out how many to cast on – so this might be a great option for people looking for thicker-than-DK boot socks.
The yarn is going to be launched at Yarndale in September so it's worth looking out for it if you're coming up to Skipton; I'll have knitted my sample up by then so will be able to tell you a bit more about it before the weekend.
Also launching at Yarndale this year … a certain brand new sock book …
And changing the subject completely … 🙂
My husband's Mind the Gap socks are coming along nicely.  They've been great for taking out and about this week and those delicious stripes have just been stacking up, round after round.  This is going to be one of those yarns where I'll be sorry to reach the end of the socks.  Half a foot and a second sock to go, though, so the fun's not over yet!  Apparently these stripes are dyed up in a different order with every batch so you never get the same run of colours – makes them easier to find in the wash if you've got more than one pair!
I keep saying that I don't need more yarn and I really don't, but I absolutely couldn't resist this yarn after spotting it on Instagram.  It's called Biscuit Delight by The Knitting Goddess and it's dyed in Tunnock's biscuit colours.  How fabulous is that?  We love Tunnock's biscuits and they were my Mum's favourite too.  I never got to knit her a pair of socks so in this case I was prepared to ignore the "do you really need that yarn?" voice in my head and these can be "her" socks – although I will wear them on her behalf.  She won't mind.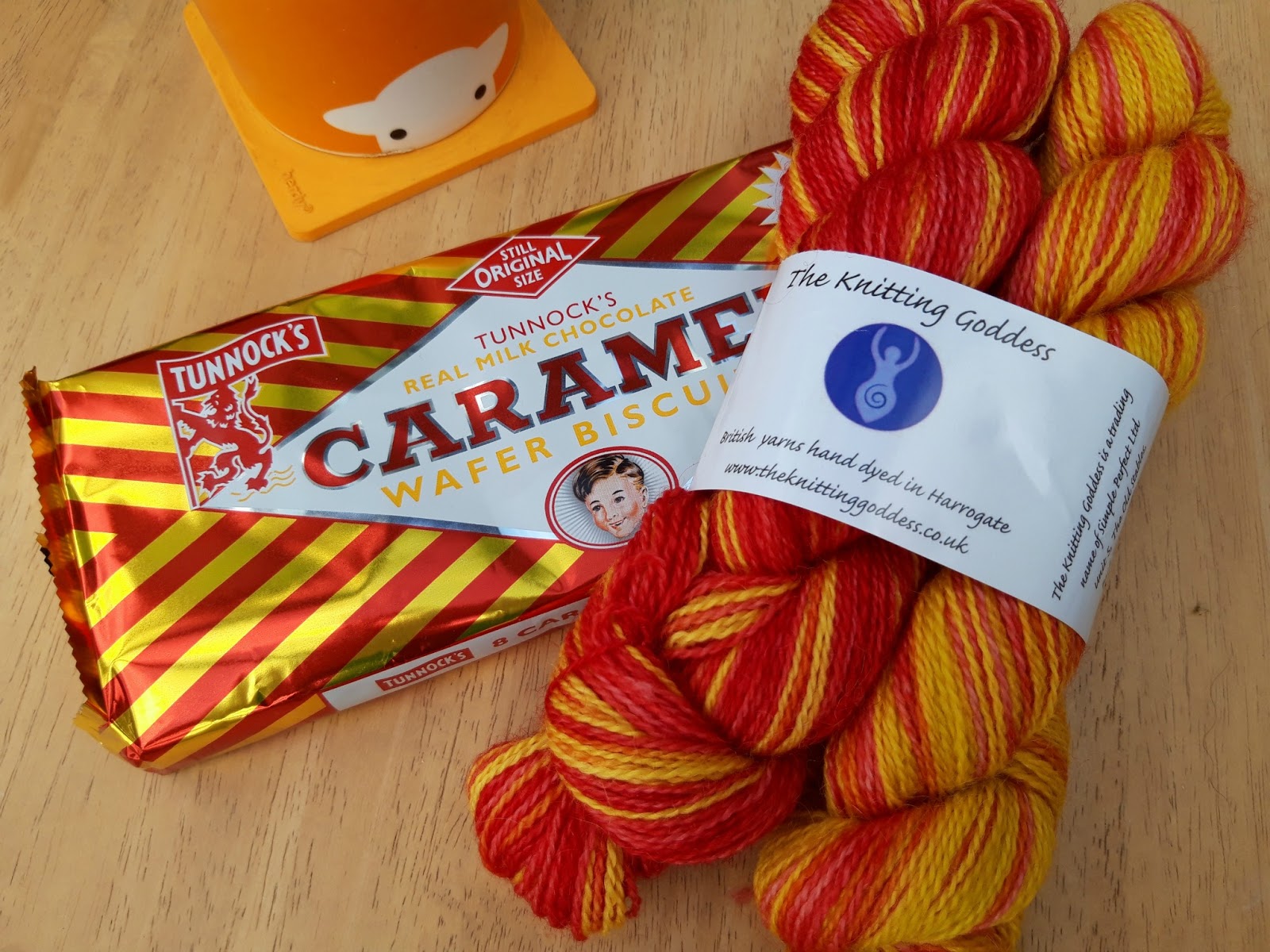 There were two versions of the yarn; a self-striping one which made a donation from the purchase price towards The Migraine Trust and this one which I think will look much more like the Marie Curie yarn when it's knitted up.  I preferred this version as although I love stripes, I do like the idea of the colours being more variegated for these socks.  Sadly, it looks as if all of it has sold out now on The Knitting Goddess website, but it might be worth keeping an eye on it in case you'd like some and she dyes some more.  This yarn is a Blue-faced Leicester and mohair blend which means they will be no-nylon socks, so there'll be a review coming up at some point when I've made them too!
Phew, we're nearly done!  I've got one more pair of socks to show you, and it's this pair …
Actually, this is two pairs because I was able to get a second pair of socks out of my yarn, which always makes it great value!  These socks are going to be the subject of a new tutorial which I'm hoping to be able to share with you very soon.  It's another technique tutorial and I'm editing the videos to go with it at the moment – I'm nearly done but everything takes longer than I think it will as I will never learn that nothing is ever a "five minute job" so you'll have to bear with me!  Not much longer now, I promise!
Finally, I might have mentioned a certain new sock book earlier …
and here's the proof!
This actually is my proof copy for checking – it's finally in my hands and everything's on track for the book to be with me at Yarndale at the end of September.  It's very emotional unpacking this kind of parcel you know – relief that it's arrived safely and that it's even ready to become something physical rather than a computer document, anxiety that there's still so much to do and not much time to do it, overwhelming exhilaration that this is my book and it's right here – I've been walking round with a big grin on my face and I'm super-excited that I'm even able to show you this picture.  I'll tell you more about the book over the next week or so, but for now, it's here 🙂
This has been a very long post so thanks to you if you're still here at the end of it!  I've got some exciting stuff coming up over the next couple of weeks with the tutorial and more to tell you about the new book but for now, enjoy your Bank Holiday weekend if you're in the UK – and your weekend generally if you're not 🙂