Saturday
Hi, how's your weekend going?  It's been another warm and sunny one here, and the Trachelospermum jasminoides (star jasmine) has been a wonder to behold and smell (besmell? Could there even be such a word?).  It grows up a sunny wall at the front of the house and is absolutely smothered in white star-like blooms that pack a really powerful punch in the scent department.  Even our postman has noticed and he's normally too busy to stop and smell the flowers.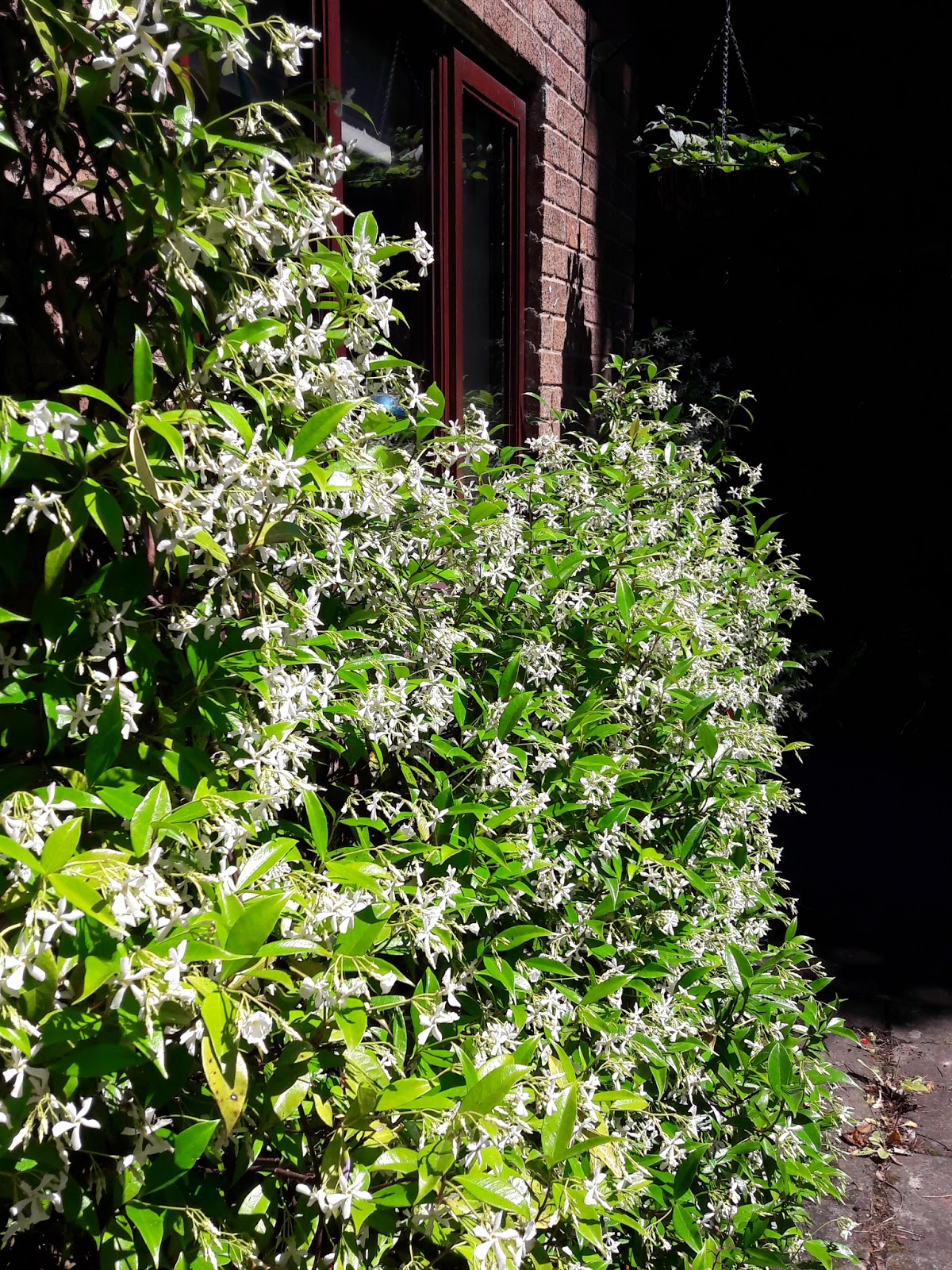 Ahh, jasmine.  Definitely one of my very favourite smells.
And my absolutely favourite vegetable, peas in a pod.  Nothing can beat popping that green case open and seeing those peas all snug together, admiring the way that nature has designed them to grow in perfect form – and then eating them.  Even tomatoes warm from the greenhouse only come a close second.  I should have been picking the peas and bringing them into the house for dinner, but instead I have found myself standing in the garden eating pod after pod of them and smiling at the memory of getting into trouble for the very same thing when I was little and lived with my parents.  We grew most of our own vegetables so for me to snaffle all the peas that were supposed to go into the freezer for the winter was something that was frowned upon, but now there's no one to tell me off except myself and that's not going to happen 🙂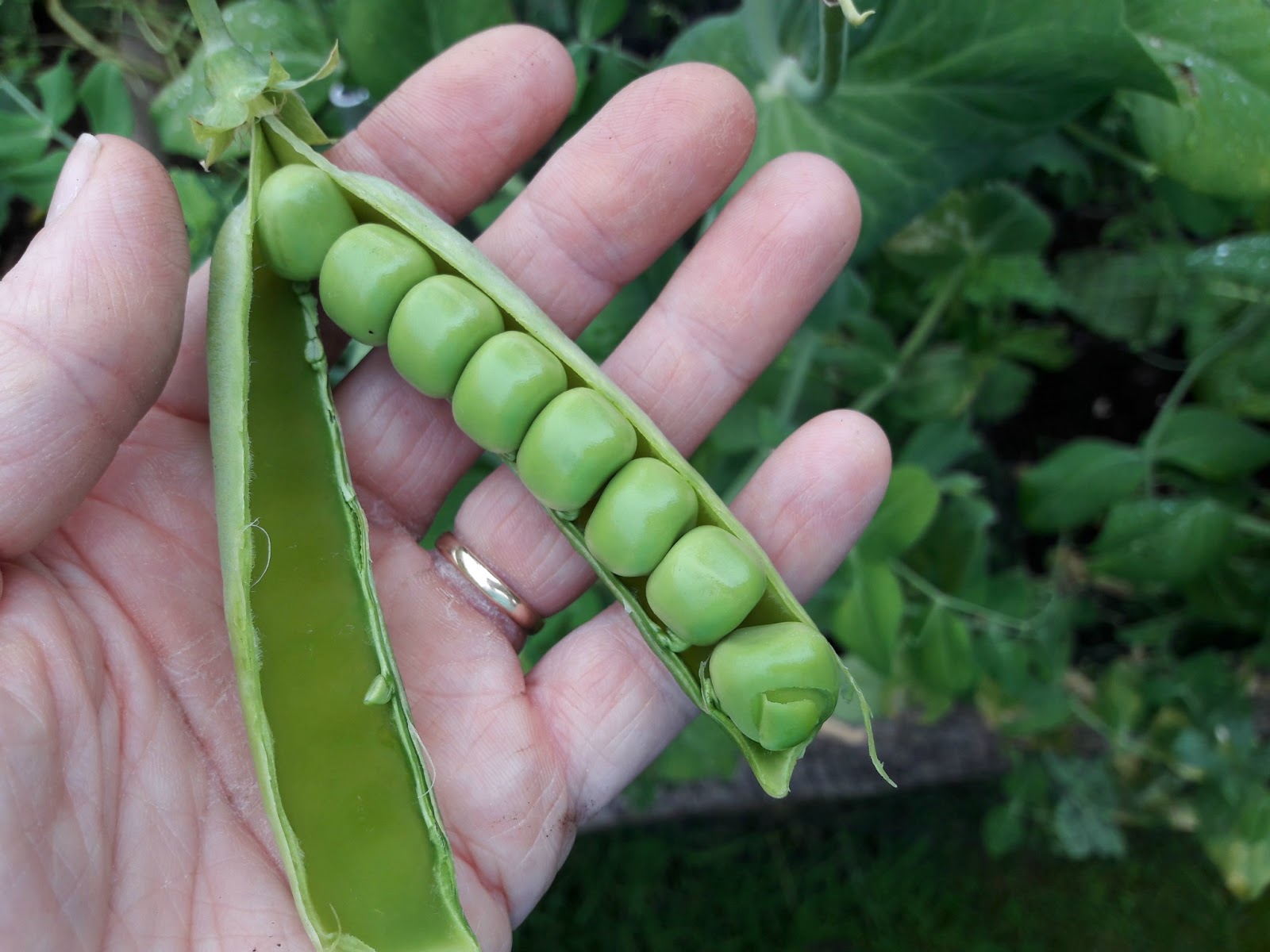 I have spent this weekend working on the lace sock tutorial.  It's been slow going as the girls have been around and I've been easily distracted, but I've done the bulk of it now so with a fair wind and a bit of luck it should be ready to post this next week.  I finished the socks themselves ages ago but I've procrastinated over the video editing and have learnt my lesson now as it's not fun to leave it all till the last minute.  Still, it'll be worth it – I hope!  
I've also finished my West Yorkshire Spinners Marie Curie socks.  These are the ones made from the limited edition yarn that is supporting the Marie Curie charity – you can read more about it here (and you can see a bit about the tutorial socks too!).  They've been a quick knit – WYS yarns always do seem to knit up very quickly and are always even nicer once they've been washed and worn.  There's a donation from each ball of yarn being made to the charity which makes it an even better excuse to buy the yarn whether you need it right now or not! 🙂  (Incidentally, someone suggested to me recently that this yarn might look good in the Couthie shawl pattern and I think those bold stripes would lend themselves very well to that if you don't fancy socks.)
At the risk of running out of WIPs (works in progress) – ha! – I've cast on another pair of socks. This pattern is Curved, Bumpy Trail socks by Rich Ensor and I thought it would be perfect for this Wool is the Answer 4ply in colourway Blueberry Mash.  I've admired Rich Ensor's patterns for quite some time although it's only now that I've finally got to cast one on.  It's working out just as nicely as I hoped it would, although I have to agree with other people who've posted their projects on Ravelry that this pattern is not written for beginners.  The actually knitting part isn't difficult but it took me some time to work out what the charts and written pattern were telling me to do. I'll be sure to make notes on my Ravelry project for this sock so if you're tempted to have a go at it at some time, do check them if you get stuck.
Finally, before I go and see a bit of the weekend sunshine before the sun goes down, Let's Knit magazine have reminded me to remind you that if you are so inclined to vote in the British Knitting and Crochet Awards this year and haven't done so, there's still time before the closing date in August.  I would be thrilled if you would like to vote for my blog in the Favourite Knitting Blog category – thank you!
Have a brilliant rest of the weekend, whatever you're up to! xx