Yarndale Sock Line 2017
Are you sitting comfortably?  I'm going to tell you a story.
It's a story about socks and knitting and the generosity of people who want to help complete strangers, and it all started with a germ of an idea that came about two years ago, not long after the Winwick Mum Sockalong started.  
With the Yarndale festival due to take place a few months after the Sockalong tutorial posts were published and with Yarndale being all about celebrating creativity and craft, the question was raised in the Sockalong Facebook group about whether sock bunting could be displayed along with the miles of crocheted bunting that decorates the entrance to the Auction Mart where Yarndale is held.  What a great idea!  What better way to show that socks are a fantastic project (and encourage a bit more yarn-squishing) than to hang them up where everyone can see them? Attic24 Lucy, who's a huge supporter of the Sockalong and one of the Yarndale organisers, also thought it was a great idea and the Yarndale Sock Line was born!
The idea was that anyone who wanted to join in could send socks to hang up on the Sock Line and they would become part of the Yarndale decoration for the weekend.  But then I thought that it seemed a bit of a shame to have to put all the socks away after Yarndale and have them sitting in storage for the rest of the year, so instead I decided to ask for pairs of socks with the intention of giving them away to people who could use them.  I knew that this was quite a big ask – sock yarn isn't always cheap and socks can be quite time-consuming to knit – but I had reckoned without the kindness of the crafting community and before long, pairs of socks were flooding in.  The rest, as the saying goes, is history!
So far we've been able to give away over 230 pairs of socks.  We have been asked if we will sell the socks and give the money to charity, but we have chosen not to do that.  Instead, the idea of the Yarndale Sock Line is always to give the socks directly to people whose life might be brightened to know that someone is thinking of them, and what better way to show that than to be able to wrap their feet in woolly, socky love?  We have been able to send socks to hospices for both adults and children, to homeless charities, to crisis centres, to residential homes … you can see the where they've all gone over the last two years here and if you need another reason to persuade you that giving the socks is preferable to giving money then just read the letters that we've received from the places we've sent them to.  And be ready for the lump in your throat. 
I am delighted to tell you that after the success of the first two years, the Yarndale Sock Line is now to become a regular feature of the Yarndale festival.  We're hoping that you will still want to join in this year and we will be able to send more socks to people who will appreciate the effort and the sentiment behind the woolly gift in their hands.  You would?  That's wonderful!  Let me tell you more about it!
Here's what you need to do to get involved:
1  Knit a pair of socks.  Any size, any pattern, any yarn – just a pair of socks that someone will be able to wear, although please consider when choosing your yarn that depending on their circumstances, it may not always easy for the recipients to wash the socks regularly and they will need to be hard-wearing unless they are specifically knitted as bed socks.  From plain socks to patterned, those of us who are sock knitters know that a kind of magic happens when someone puts on a pair of hand knits and they will be delighted with their socks of any style.  Top down, toe up, two at a time, even crocheted if that's your thing – whatever your preference!
This is my pair of socks for the Sock Line this year – they're knitted in Stylecraft Head over Heels in the colourway Everest and these are a size 4.5.  I've reinforced the toes using heel stitch – you can find my tutorial on reinforcing soles and toes here.  One of the things that I hadn't realised until I started looking into re-homing the donated socks is that places that look after children also need bigger sizes as well as the tiny sizes as poorly children are not always very young with small feet.  It really doesn't matter what size you knit as we will find a home for them all.  Last year we had sizes from tiny baby socks to size 12 men's socks and they were all gratefully received so you can take your pick!


2  Create a tag for the socks.   It's lovely to be able to see where the socks have come from, but it's also practical as it's easier to see where the socks should go when they are clearly labelled.  A luggage label is an ideal size, but you can make your own labels if you'd rather, and this year we have some very special Yarndale ones that you can download too.  Please don't use a label that wraps right around a pair of folded socks as it's not easy to hang them up for everyone to admire.
The label needs to be securely attached to your pair of socks and have your name (your first name is fine), the place you live, the size of the socks (in UK size, please) and what the yarn content is in case anyone has issues with wool.  If there are any particular washing instructions you may want to squeeze those on too. 
On the back, feel free to write a message to whoever might receive your socks, but please don't give any personal information.


3  Attach the socks securely together.  I don't want any socks going AWOL at the Auction Mart!  You can either do this by using a safety pin or by threading the string or yarn from your label onto a wool needle and taking it through both socks …
before bringing the yarn back through to the front and tying with a secure knot.
4  Post your socks.  Requests for the Yarndale Sock Line will be running alongside requests for the Yarndale Creative Project which Lucy will be announcing on her blog shortly – whether you plan to take part in just one or both of these, we're asking for everything to be sent to the same address to help to reduce postage costs.  To be sure that I will have enough time to photograph the socks and get them up on the Yarndale Sock Line Pinterest board (this is last year's, you can find 2015's here) then I need your socks to arrive by Saturday 26 August 2017 please.  Here's the address:
Yarndale Sock Line
c/o Attic24
PO Box 97
Skipton
North Yorkshire
BD23 9EN
If you've got both socks and the Creative Project item in your envelope, please write on the envelope somewhere that you've done that so Lucy knows to take her item out!
If you're coming to Yarndale and want to bring your socks with you to hang on the Sock Line yourself, then please do so – I'll bring plenty of spare pegs.  I'll still make sure that your socks are shown on the Pinterest board so don't worry that you'll miss out if you bring them on the day.
What to do if you live abroad.  I am well aware that Yarndale is a UK-based festival and that to take part might involve a hefty expense with postage.  So, instead of sending me your socks from around the world – although you are very welcome to do so if you'd like to – I thought that you might prefer to gift your socks locally.  All of the Yarndale Sock Line socks are sent to UK organisations and you might know of somewhere near you where they would be equally appreciated.  So that you can still join in with the Yarndale Sock Line, just follow the steps above and take a picture of your finished socks, complete with the label so we know who you are, and email it to me at winwickmum(at)gmail(dot)com.  I'll print out your picture and hang that on the Sock Line alongside the other pairs so if you can let me know whereabouts in the world you are and where you will be gifting your socks, I'll add that information so that we can see socks being gifted all over the world!
What if I've got a suggestion of where the socks can go?  Please tell me!  Remember that we send our socks to UK-based organisations and we want to gift them to the people who need to put them on their feet, not sell them on.  Send me your suggestions at winwickmum(at)gmail(dot)com or drop me a note when you post your socks and I'll get in touch with the places you suggest when we know how many pairs of socks we can give.
Where can I get those Yarndale sock labels that you mentioned?  Right here!  They've been specially designed just for the Yarndale Sock Line and have space for all the information that you need to add.  We've got them in three different colours so that you can choose the one you like the best, and feel free to add your own decorations too if you want to.  We also have labels without the Yarndale logo if you prefer to use those (these are also ideal for general socky gifts!).  Just click on the picture of the labels that you want to go to the download page.
Yarndale Sock Line orange
Yarndale Sock Line blue/green
Sock label blue/green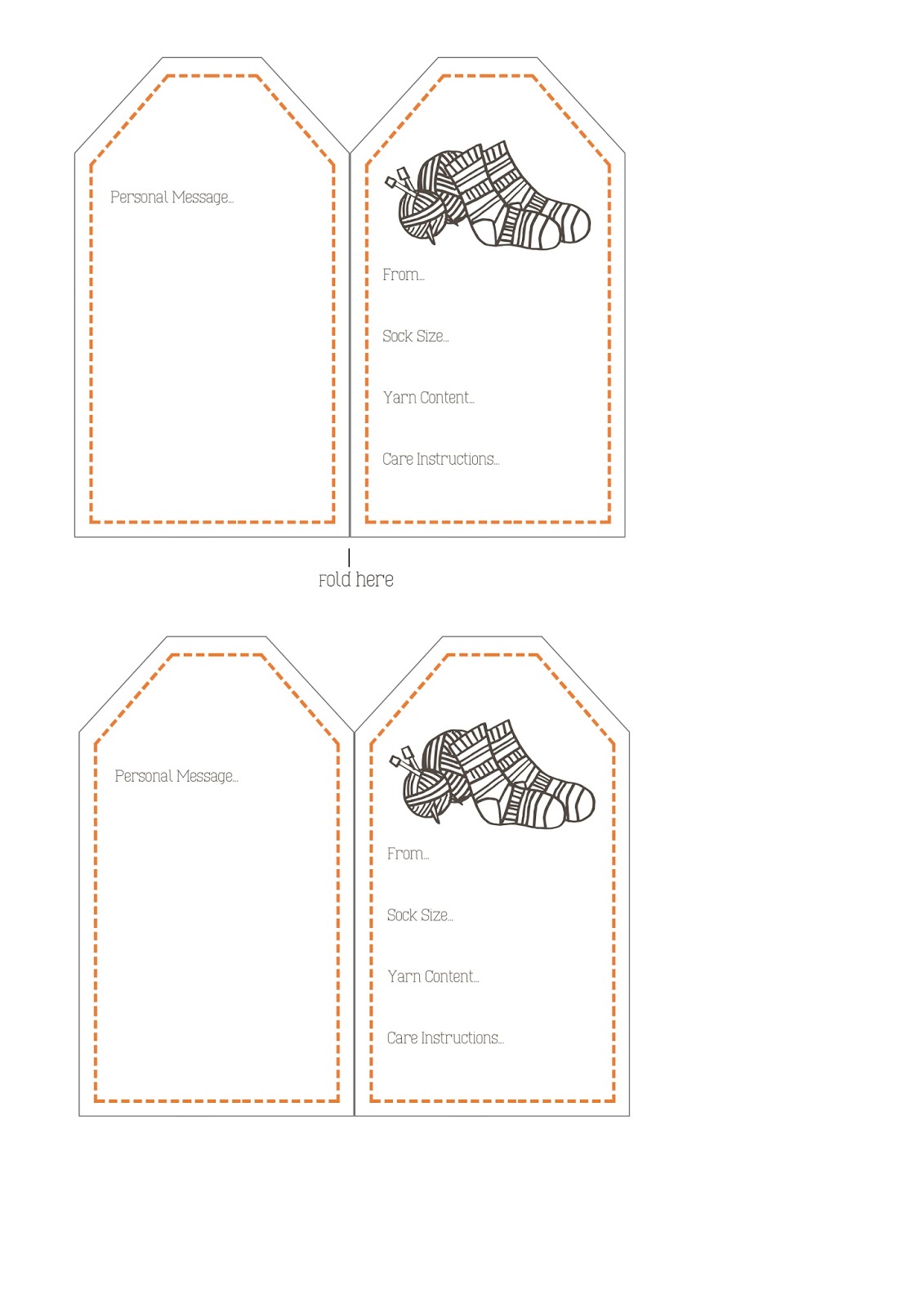 Sock label orange
And that's it.  There's not really much to it but I know that the socks we have gifted so far have been very much appreciated so the effort that you make to get involved is more than worthwhile.
Do ask if you've got any questions – and thank you if you are getting involved this year.  Your bit of knitted love goes a long way! xx