Wednesday
Today is, I have been reliably informed by big daughter who knows about these things, "hump day".  It sounds vaguely rude to me, but according to the Collins Dictionary it's the middle of the working week. (Interestingly, the definition from the Urban Dictionary showed up on my Google search for what exactly "hump day" was as "The absolute BEST day of the week, the day of maximum hope that maybe, you might make it out of this week alive" but when I tried to click on it, our internet safety settings informed me that this search involved pornography and I wasn't allowed to look at it.  So perhaps I'm not the only one who feels that "hump day" is vaguely rude!)
Anyway, here we are the in the middle of the week and what have I got to tell you?  Well, I had a day out to see my friend Lucy yesterday and no trip to Coopers Cafe Bar in Skipton is complete without one of their "fully loaded" hot chocolates.  Ooh, I can't tell you how much I enjoyed that mug of calorie-laden, marshmallow-and-chocolate-covered sweetness!  The scone that we shared was warm from the oven too … mmm!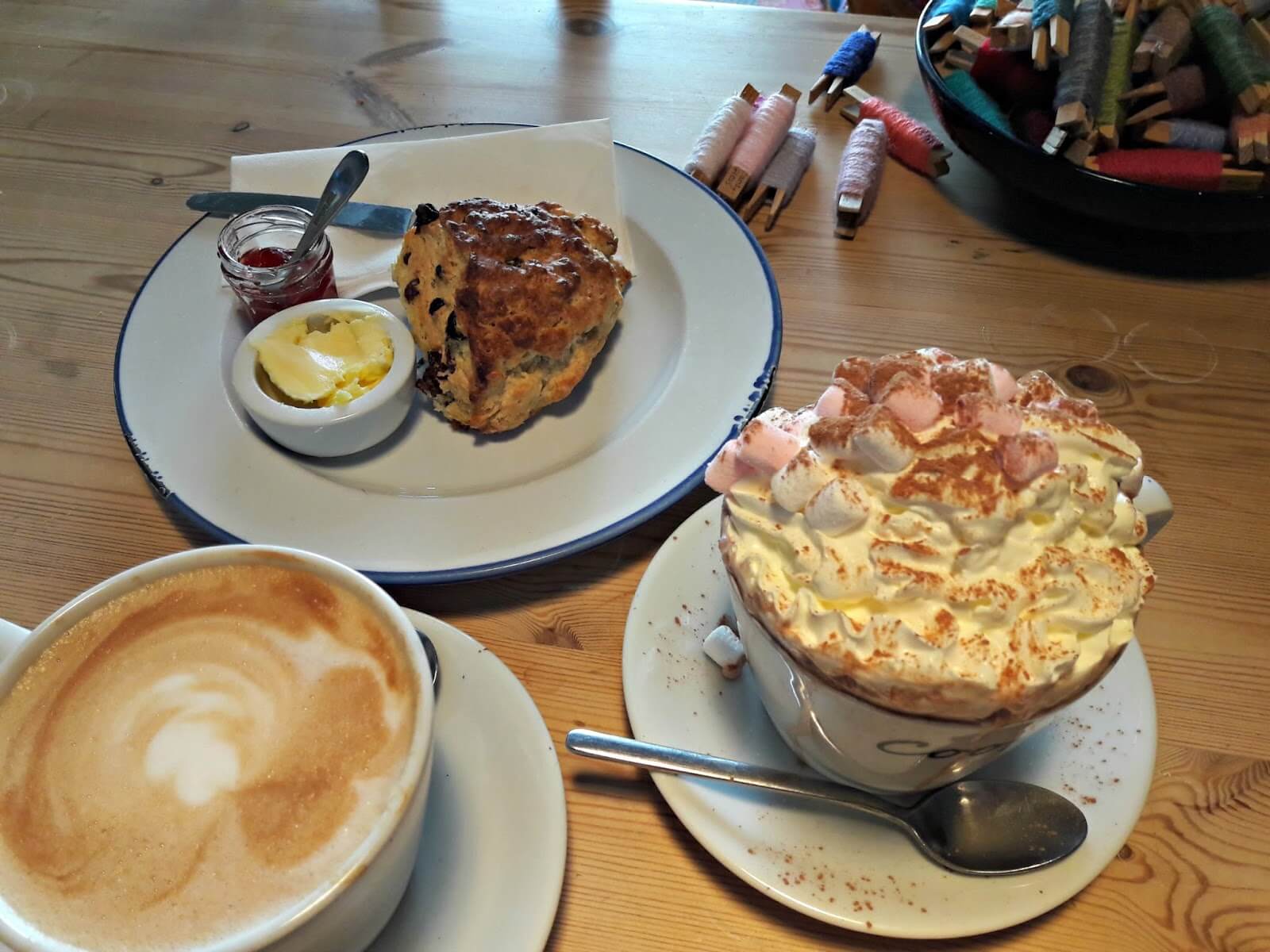 We had our chimneys swept today.  Our old sweep has retired so it was the first time that the new sweep had been to see us.  He over-estimated how many rods he would need to get the brush out of the chimney which looked rather funny when we went outside to check that it was out of the top of pot.  No matter how many times I've seen it, I always love to see that brush pop out of the chimney pot – it feels so very traditional in our modern world.  Chim-chiminee-chim-chiminee … 
Big daughter and I went to have a look at some student flats this afternoon – she needs to make her choice for next year already.  I was very pleased to be asked to go with her as I know that she's old enough to do these things without her Mum in tow if she chose to.  She's already seen quite a few places that didn't meet her expectations but today's viewing seemed to go very well so I think she may have discovered what she was looking for!
A few days have passed and my Hartland Cliffs shawl and I have made friends again.  In fact, I'm steaming ahead now that I've read the pattern properly, and I've nearly caught up to where I was when I realised it had all gone horribly wrong.  
I'm really enjoying knitting with this yarn – it's Blacker Yarns St Kilda Laceweight – and it's lovely and springy and not at all bothered by the fact that I've had to frog a huge amount of the knitting. You can see the woolly fuzziness (I think the technical term is "halo"!) of the yarn in this picture, and I can't wait to wrap myself up in this shawl.  It's not feeling itchy at all whilst I'm knitting it, despite the fact that it's 100% wool.  It's been a long time since I've knitted a laceweight shawl – over three years ago, in fact – and I'd forgotten that you have to do a lot of knitting to make it look like you've done anything much at all, but I know that it will be worth it in the end.  The finish date for the Blacker Pod KAL is 4 March, just before the Edinburgh Yarn Festival, so I've got some knitting to do if I'm going to finish this and my socks before then, although the world won't stop if I don't – I've learnt a lesson or two about deadlines after the Easy Cable Sock tutorial!  
Finally, before I leave you to enjoy the rest of your week, I've got some very exciting news!  On Friday morning I was lucky enough to get a Woolly Muckers package from KnitBritish – only 10 of them were available and it was a case of the fastest fingers when they went on sale.  Luckily, I have had years of practice at fastest fingers thanks to trying to buy concert tickets to bands that big daughter wanted to see when she wasn't old enough to go on her own, and this training stood me in good stead at 11am on Friday morning.
So what is it? I hear you ask.  Well, I mentioned KnitBritish in my last post when I was talking about podcasts; KnitBritish is one of the few podcasts that I will make sure I have time for, and Woolly Muckers is the way that Louise, who records the KnitBritish podcast, has decided to support her work.  The 10 Woolly Muckers packages contained a project bag designed exclusively for this project by The Knitting Goddess, a pen, badge and notebook (always handy!) and two skeins of Blacker Yarns Cornish Tin II DK in Levant Grey (yet more Blacker Yarns yarn in my stash – hooray!).
These are certainly lovely treats, however what really drew me to the Woolly Muckers package is that buying it means that I am now going to be sponsoring an episode of the podcast.  I'm really thrilled about this as KnitBritish and Louise's contributions to other websites such as Wovember have been really helpful with my search for British breeds and no-nylon sock yarns and quite honestly, I'd have sponsored the show without all the treats just as an opportunity to return the favour.  I don't know which episode of this year's podcasts I'll be sponsoring just yet, but I'll let you know when I do!
Enjoy the rest of your week; apparently Thursday is now the unofficial start of the weekend so it's all downhill from here – in the best possible way, of course!