Delamere Forest
We woke to a frosty morning yesterday, and after a rather lazy start decided not to waste the rest of the day and get out in the fresh air.  Big daughter had homework to do, so we bundled small daughter and the dog into the car and headed out for Delamere Forest, near Frodsham.  It's the largest area of woodland in the country and just perfect for letting off steam on a cold day.
Originally the hunting grounds of the Norman Earls of Cheshire in the 11th Century, the woodland covers 2,400 acres and is now owned by the Forestry Commission.  It's a fabulous place for walking the dog, for riding horses and bikes (my husband often comes here to make the most of the off-road trails through the trees).  There are even outdoor concerts here in the summer with some big name bands coming to Cheshire to play amongst the trees.
We parked our car and headed into the woods.  The dog was beside himself with excitement at the new smells and small daughter (as small people do) headed straight for the water.  Luckily, she's old enough these days to know that you don't get too close as you never know what's going to be under your feet (or not) at the bank, but she was fascinated by the jurassic-looking tree stumps in the water and half-expected some prehistoric creature to lift it's head as she got closer.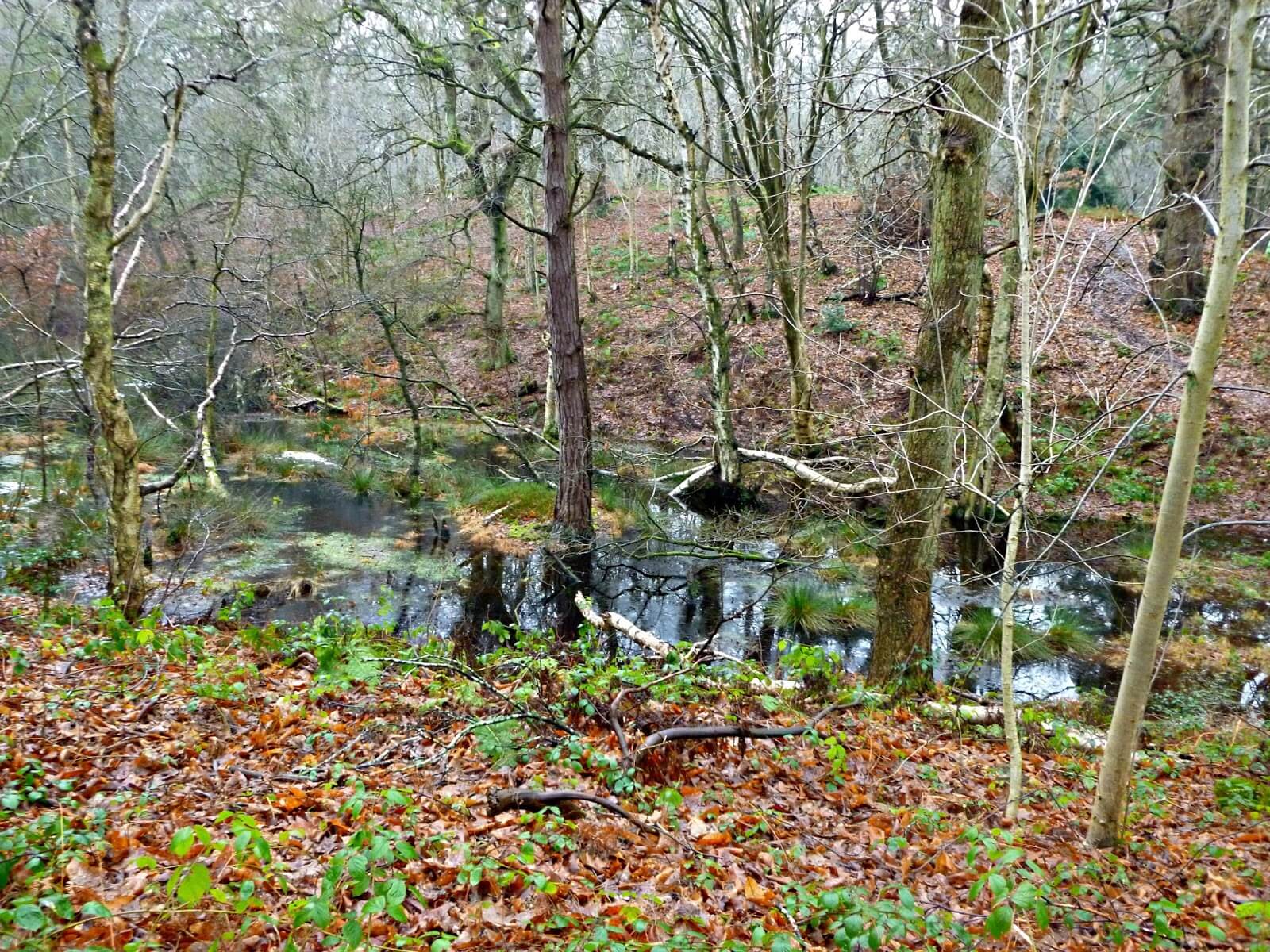 I was surprised (and, truth be told, a little disappointed) that there wasn't more snow on the ground.  If you've read my blog for any length of time you'll know that I get inordinately excited by the snow – the small girl in me hopes every year that we'll get snowed in even as the adult me knows that the reality of that isn't always that great – and I've been waiting for a proper glimpse of the white stuff all winter.  
We did find a little bit, although it was more like frozen hail.  
And this path did look distinctly wintery.
The view across the lake reminds me very much of the forests that we saw in Canada when we visited Algonquin Park many years ago.  It doesn't feel like the heart of Cheshire at all!
I liked the way the algae had frozen.  Small daughter poked at it with a stick to break it into pieces and had a lovely time doing that until the dog decided to help and jumped in.  It didn't look quite the same after that.
There are clearly marked trails to follow which start and end at the visitors' centre, although we joined one part way along from the path that we had taken from the car.  The forest is so big and there are so many paths that it's easy to get yourself lost so we were glad of the markers to remind us of the way back.  There's a Gruffalo trail here too, although we didn't see any little brown mice or Gruffalos.  I expect it was too cold for them to be out.  The thing about these forest paths is that you can find yourself walking further and for longer than you intend to.  We could have spent a lot longer exploring but we had promised small daughter hot chocolate and as her hands started to get colder she reminded us of this so we headed back to the car.
We went to the Station House cafe, next door to the railway station.  I hadn't been there before but it's my husband's favourite place to stop off when he's been to the forest on his bike.  It was starting to snow and we decided that the dog would be happier sitting in the car rather than at an outside table, so we parked where we could see him and went inside.  
It was warm and cosy and small daughter loved her huge cup of hot chocolate and the biggest cherry bakewell she had ever seen!  
The snow continued to fall as we drove home and by the time we got back to Winwick, it had started to stick. 
You'll be pleased to know that I kept a close eye on the snowfall during the evening.
And this is what we woke up to this morning!  Hooray!  Snow at last! 
Small daughter is already outside playing in it, although it's very wet and I don't know how long it will stay for.  I don't mind, though.  It's snowed and I'm happy.