Striding out
Hey there, how are you doing?  It's a lovely sunny day here, and with the schools closing in the UK from today (Friday) until further notice (I'm trying not to be nervous about quite how long that might be!) and goodness knows what else might happen over the coming weeks, big daughter and I are taking the dog for a walk whilst we can.  Come with us!  You'll need your jacket – it's warm in the sunshine but there's still an early Spring nip in the air.  We're going to up Culcheth Linear Park so you'll need your wellies too as it's been very wet there recently.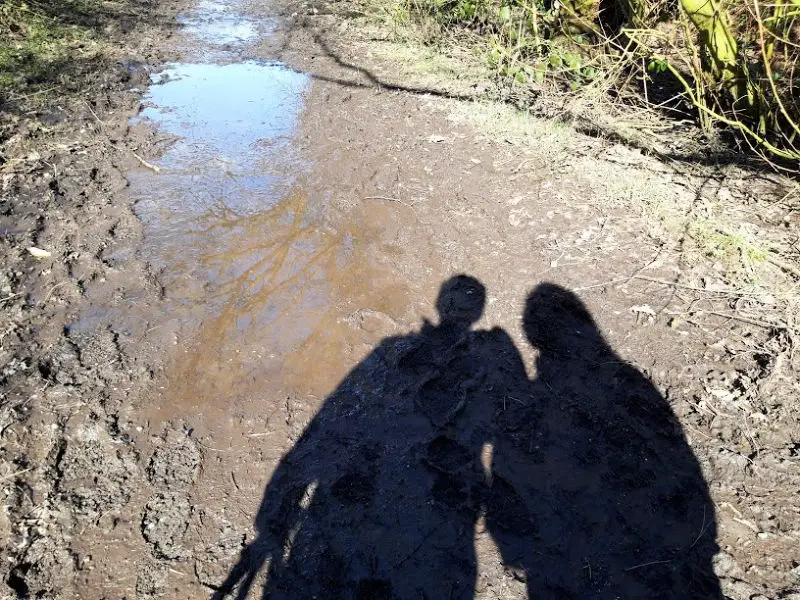 Look at that path!  I told you that you'd need your wellies!
You've been to the Linear Park on the blog with me before but that was quite a while ago so I'll just remind you of what it is.  Many years ago, it used to be a railway line but the platforms and buildings were cleared in the 1960s and since then, it's been managed by Warrington Borough Council and is now a long straight footpath (hence "linear") that runs up to the edge of the new railway line.  There are a few other paths that intersect it and take you off to different parts of Culcheth, but we tend to stay on this path. It's about 2.5 miles from the car park to the top and back, which is a good run for the dog and a nice walk for us.  The train tracks have long since gone and over the years, nature has reclaimed the area between farmers' fields and a golf course and there's now an abundance of wildlife, birds and flowers here that mean there's something to see whatever time of year it is.
Someone is burning something nearby – one of the farmers, perhaps – can you smell it?  It's definitely wood smoke and it doesn't really smell as if it's coming from a fire or a log burner either.  I can't see anything and there's nobody around who seems to be worried so we'll just keep walking.  It's quite a nice smell; homely, comforting, it reminds me of being curled up by the fire at home with my knitting.  But that can come later.  For now, we need the fresh air!
At the moment, the Spring flowers are starting to come out (and today, 20 March, is the Spring Equinox).  It's not hard for us to spot the signs of life – look there, just by your feet … wood anemones growing in large clumps, their white faces turned to the sunshine …
There's plenty of wild garlic that grows around here too; this is the first that I've seen but I don't think it will be long before the banks are covered.
You can still see that that it used to be a railway cutting (it once carried the Lowton to Manchester branch of the local railway) because of the steep banks that go up from each side of the lower path.  Up to this old bridge, there's a lower path which is usually very muddy when it rains, and an upper path that is much narrower and winds through the trees.  Either is good to walk on, and we tend to vary which one we choose to keep the dog on his toes (he tends to stop listening to me if he thinks he's on the same-old-same-old walk).  After here, there's just one path that goes right to the end – it might get very muddy up there!
I like the railway bridge.  I like the way the brickwork is curved (a curve makes a much stronger bridge) and also that it's been left here.  In Liverpool – and probably other places too – there are apartments and hotels built into the old warehouses at the docks and they still have their curved brick ceilings.  I love them!  Imagine living somewhere with a ceiling that's seen so much history … amazing!
The dog likes it because there's a drainage ditch right underneath it that's always full of muddy water.
Look at that blue sky!
It's such a glorious colour!  I can remember talking about blue skies like this when I was working on the colours for my Winwick Mum yarn with WYS.  You might even spot the same shade of blue in the Wildflower yarn …
We're nearly at the end of the path now; we've walked just over a mile to get here, but I don't think we'll be going right to the end today!  I know we've got our wellies on, but that water where the path has flooded is still pretty deep and because it's churned mud underneath, it's still easy to miss your footing.  I'd rather not take an early bath!
We're just going to turn around and take a walk back now.  Big daughter is wishing she'd brought her sunglasses with her, and I'm inclined to agree.  That sun is really bright, isn't it?  How are you finding it?
It's so lovely to be out in the fresh air.  I'm remembering to take my big breaths as I said I was going to do in my last Monthly Musing.  It's been so nice to spend a bit of time with big daughter too, and it's been good for her to get outside as well as she's been working hard on her dissertation.  What's really special for me is that she talks to me about all kinds of things; sometimes I have to remind myself that she is my daughter and not just a friend, and then it always strikes me how lucky I am to have both.
Who knows what the next few weeks or months are going to bring us, and I do hope that as Spring unfolds we are able to still get out and about, even if it's just in the garden.  Already, if you've seen photos in the media, it seems that the wider world is appreciating us humans being about less, and with more time at home inevitable as most children are kept off school (thankfully, at the time of writing this, children whose parents are involved in key roles to keep people safe will be able to go into school to relieve pressure on their parents; we all owe a great deal to our front line workers in whatever capacity), I sincerely hope that we are all able to find some positive in this experience that we can carry forward with us when the restrictions are lifted.
Thank you for coming for a walk with us.  It'll be time for a brew and possibly a shortbread biscuit or two when we get home; they always taste so much better after fresh air!
Stay well xx