Getting closer
It should never be a surprise to me that Christmas is on 25 December; the date doesn't change and I've been around for a fair few Christmases now, but despite my good intentions of being organised by the beginning of December, it very rarely happens.  I've written some Christmas cards, I've wrapped some presents, I still need to write more cards, buy more presents – and it feels as if Christmas is just around the corner, waiting to pounce on me shouting "Not ready?  But you knew I was coming!"
This year, I've struggled to feel festive at all which hasn't helped my preparations, despite small daughter kindly keeping me up to speed on how many sleeps it is before the big day ("How many?" Oh no!) but over the weekend something happened that has made a big difference.
This!
It started snowing on Friday morning and it's snowed on and off all weekend.  We haven't had as much as people in other parts of the country (those whose power went off would say that's a good thing) as we generally tend to miss the snow here in Warrington – always deeply disappointing for someone who loves the snow (that'll be me) – but by this morning there was still a layer on the ground and now, finally, I'm starting to feel festive.  Bring on the Christmas songs!
It was a beautiful morning to be out with the dog.  I have other things to tell you in this post but I'm afraid I'm going to bombard you with photos of snow first!  There was steam rising from the brook as we made our way along this path.  I try to avoid coming this way as there are people in the houses nearby who leave food out for the birds and the dog likes to hoover up whatever there is (often an eclectic mix of leftover takeaways and bread) but he decided this morning he fancied a bit of fried rice and was coming this way whether I liked it or not …
The sun was low, the air cold and crisp, the sky a beautiful winter blue.  My favourite kind of day!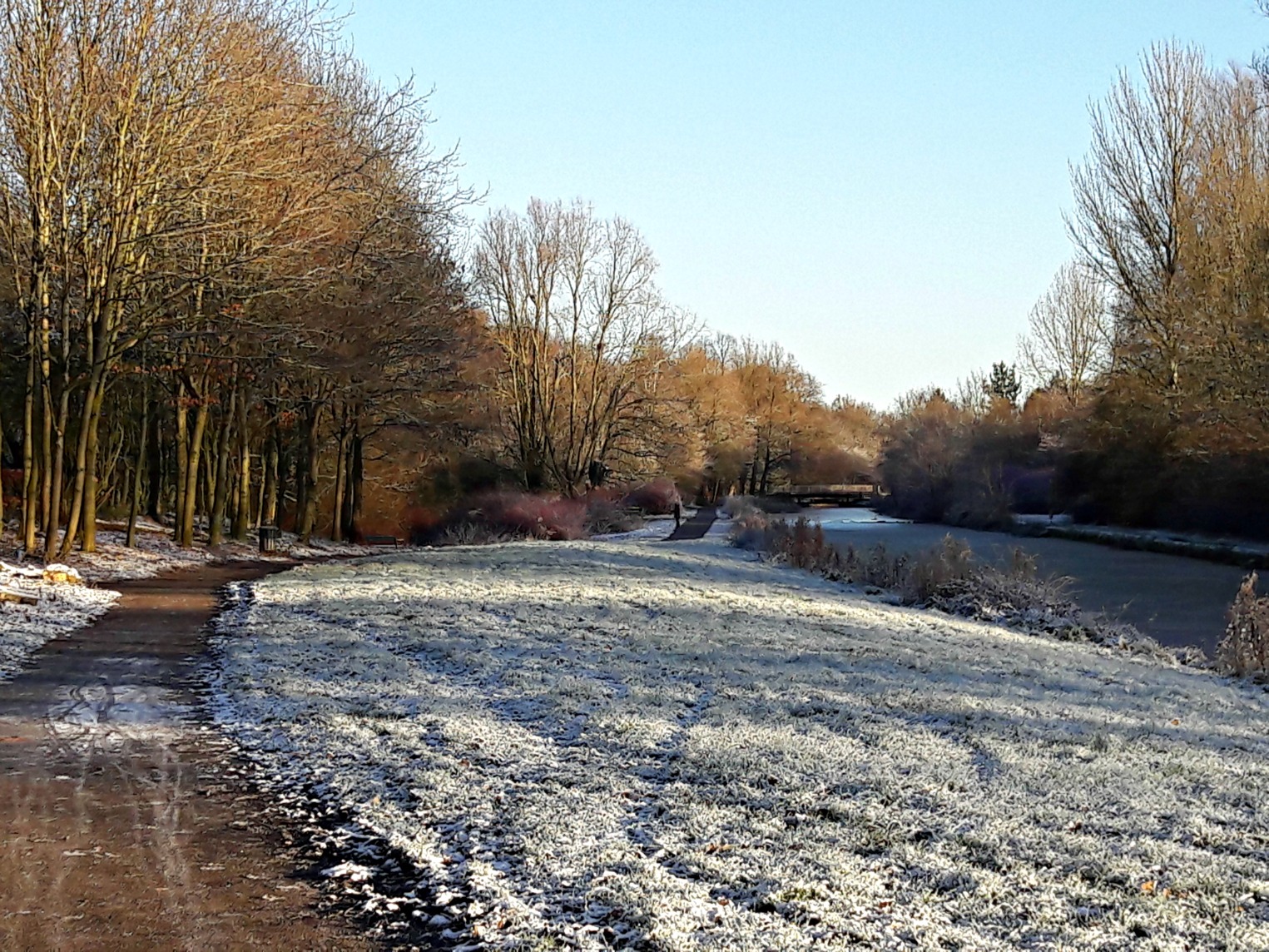 Back home again now, I've got my brew, the fire is stoked up and crackling in the fireplace and the dog is snoring gently on his bed in front of the Aga.  Ahhhh!
I've got some sock news to tell you … the ginormous socks are finished!
Here they are shortly before I gave them to big daughter's boyfriend – they were too big for my blockers so I just pressed them lightly under a damp cloth to make them look a bit more presentable as they were a gift.
Actually, I needn't have bothered.  "I'm putting them on now," said big daughter's boyfriend, with a huge grin on his face, and they got blocked on his feet.  I have to say that I am very very pleased with how these have turned out and so is he.  The yarn is West Yorkshire Spinners Signature 4ply in Rum Paradise.  I started with 84 stitches, worked a 3″ heel flap and then reduced to 76 stitches and finished the toes on 40 stitches instead of 28, and as you can see, they fit perfectly.  If I hadn't matched the stripes, I would have got both socks out of one ball of yarn but because I did, I needed to use three stripes' worth from a second ball.  Even so, that's pretty good going!
"I think you need to model them properly," said big daughter, arranging her boyfriend and his feet on the sofa.  So here they are, artistically modelled in front of a Christmas tree.
We also decided to take a couple of pictures with big daughter wearing my Rum Paradise socks for comparison.  We noticed that the colours are slightly different and I'm sure that mine haven't faded that much in the wash, but both pairs are still lovely rainbows – and reminder to always check dye numbers if you need more than one ball of yarn for a project!  As you can see, big daughter won't be borrowing her boyfriend's shoes any time soon!
I liked that the stripes still matched up (mostly) on both pairs despite the fact that there are three rounds per colour in the big socks and four rounds per colour in the smaller ones.  
I have to say that knitting these size 14 socks weren't as bad as I expected – I think that knitting with stripes or a definite pattern takes away a lot of the pain of bigger socks – and I will make him another pair.  He fancies Candy Cane socks next time (thank goodness he's into bright sock colours!) so I'll need to pick some of that up sooner rather than later as I might not be able to get hold of it if I leave it until I'm ready to knit the socks.  Any excuse to go yarn shopping! 😉 
I've got my Candy Cane socks on today, as it happens, which goes with my more festive mood.  I've had a couple of candy cane treats recently too.  Small daughter made me a salt dough Christmas tree decoration (although I think this one might stay with me in my study when we put the decorations away) …
and my lovely friend Mark had these biscuits made for me as a Christmas surprise.  Aren't they fun?  They tasted great too!
Oh, before I go, I want to show you what happened to the knitted tinsel.  It was always destined to be a decoration on our stairs and I finished in time to put it up when we put our Christmas tree up last weekend.  
It looks a bit sparse despite me knitting a thicker i-cord and it stretches as well so I've noticed it drooping down the hand rail a bit, but at least it's something to replace our broken plastic garland that I've been wanting to lose for the last few years.  I've got some ideas for improvements to it for next year – I spotted this on sale at Aldi …
so I'll be able to make more knitted tinsel, and I've started a Pinterest board to store the knitting and crochet patterns that I think might useful.  The main thing is that I've made a start now and I can add to it every year which is all part of the fun.
Right, I'm off to write some more Christmas cards now and check my present list to see what I still need.  I hope your preparations are going well!