Here comes the sun
We bought a new garden table and chairs last weekend.  Our old wooden ones, having lasted for the best part of ten years, finally gave up the ghost over the winter and aren't fit for very much at all any more.  So when my husband spotted this new glass table and four very comfy chairs, we decided that the time had come to buy something more substantial to sit on. We are terribly pleased with them – not least because our purchase seemed to come with the addition of free sunshine so we've been making the most of it!
We ate our Sunday dinner al fresco – the first time since last year.  And yes, that is a bottle of Prosecco on the table because food eaten outside should always be celebrated …
and no, small daughter didn't have any despite the glass.  This is her tipple – tap water with a parasol (of course!) – but she does like to have a glass the same as everyone else's.
Monday morning came and the sun was still shining – hooray!  I set up my office outdoors, ready to tackle receipts and expenses from my husband's business, the weekly menu in my bullet journal and a just a few rounds of sock knitting.  I think all offices should encourage knitting because of the beneficial effects on the knitter's state of mind – unfortunately, though, I'm not sure exactly how much other work would actually get done!
I took my lunch outside today as well – ham salad on pitta bread with coleslaw.  I've taken quite a fancy to pitta bread stuffed with various fillings recently – it seems so much more exciting than plain old sandwich bread.  I've no idea how long this nice weather is going to last for so I'm trying to spend as much time outside as I can.  This little wooden table is just about all that's left of our old garden furniture and is just the right height to put your feet up on whilst you get into the knitting groove.  I thought you'd rather look at my nearly-finished socks than my feet, though J.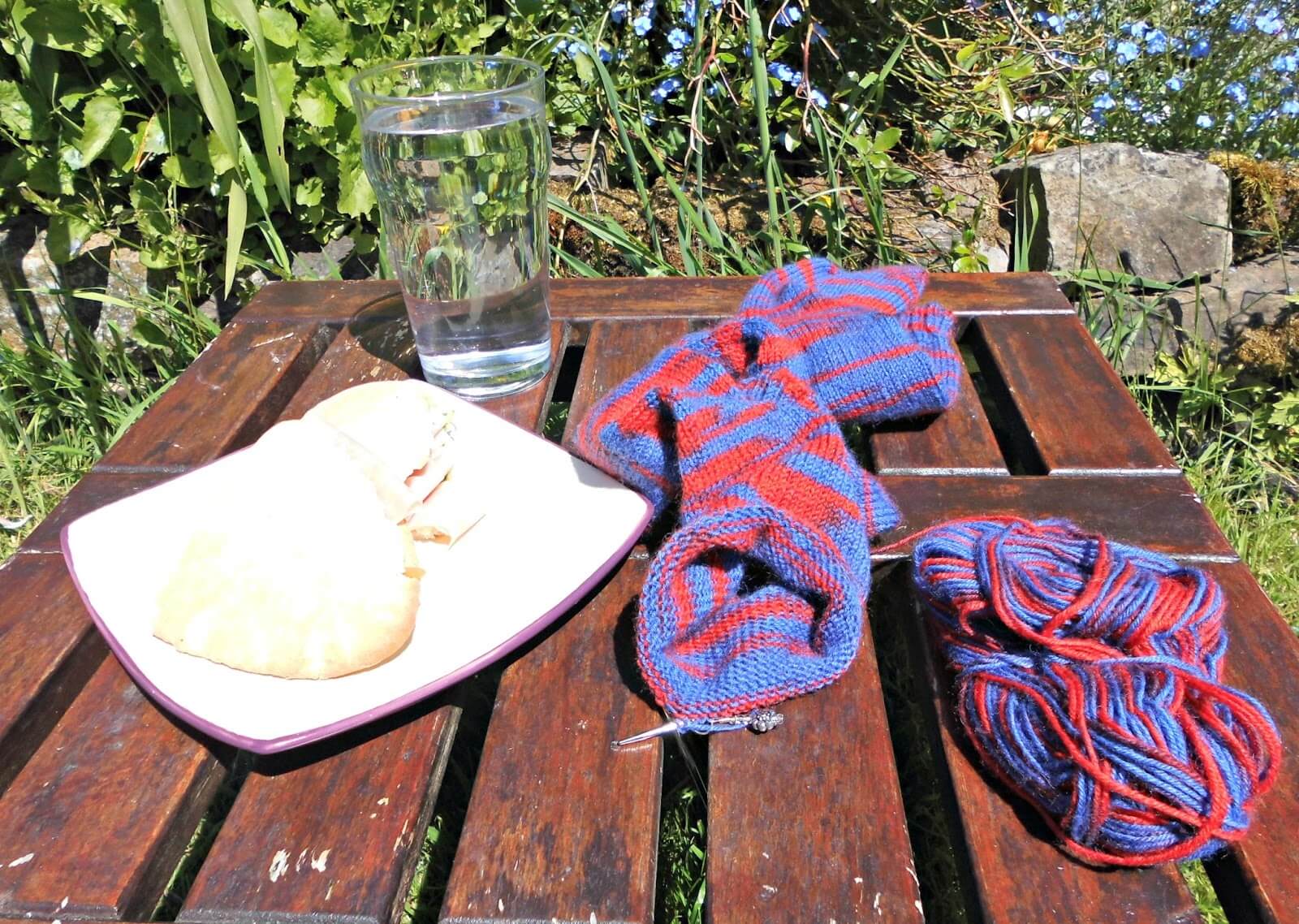 If you think you've seen the sock yarn before then you're absolutely right – I started making these socks back in March when I went to the Yarn in the Barn knit n natter at Black Sheep Wools.  Yes, it has taken me rather a long time to finish them off, but I've had a couple of other things on the go recently … not least of which is a Sockalong!
I'm still quite stunned with how the Sockalong has grown … it's not so easy to tell from the blog quite how many people are joining in (apart from my page visit statistics which are regularly causing my jaw to drop) and the lovely comments that people are leaving, but the Ravelry group now has over 170 members and the Facebook group has over 800 members. That's an awful lot of socks!  One of the best things about the Sockalong for me is the number of people who thought they could never knit socks but then just a few weeks later they're modelling a stunning pair of their very own.  It makes me so happy, I can feel the pride and joy across the internet – and across the world as we've got socks being created from Australia to America and lots of places in between. I'd like to tell you more about it and show off some of those pairs of new socks, so I'll write about that soon.
It's not too late to join in if you'd like to learn how to knit a pair of socks as it's an ongoing Sockalong with new people finding us all the time.  It's designed for beginners with step-by-step pictures and best of all – it's free!  You can find all the tutorial posts and the pattern link here.
These socks are knitted to the basic 4ply sock pattern that we're using for the Sockalong.  I know this pattern so well now that it feels like coming home just to sit and knit, not worrying about whether they will fit me or not, just enjoying the way the stripes are knitting up (these are blue and red zebra stripes, apparently – because you never know when you might need to blend in with a herd of blue and red zebras) and enjoying the process.  They're nearly finished now – just the toes to do on this second sock.
I'm still not very good at just doing one thing at a time, so here's my other pair of socks which I've got on the go.  I bought this yarn from Black Sheep Wools when I was at the knit n natter; it's Superba Bamboo Uni Superwash 4ply, a mix of virgin wool, polyamide and viscose.  I've never used it before but my husband is in need of some new socks and his preference is always for black socks with coloured heels as toes.  It'll be interesting to see how it compares to the wool yarn that I've used for his socks before and whether they are any more comfortable over the summer as I know that sometimes his feet get a bit hot in his wool socks.  I use a short row heel rather than a heel flap for these ones, and I'll be writing up a tutorial later on in the year in case you'd like to try for yourselves.
I've been trying to master a new knitting technique with this particular pair of socks – Russian knitting, which as far as I can work out is very similar to Norwegian knitting, and not that different from Continental knitting.  It basically involves holding your working yarn in your left hand rather than your right hand as you would do for English knitting and is supposed to be much faster.  I like the sound of this as it implies that I can knit more pairs of socks, but the reality at the moment is that it isn't the case at all!  I'm also trying out a 9″ circular needle to see how it compares to my usual 12″ needle.  Like any new skill, I'm finding that I have to concentrate and watch what I'm doing much more closely than usual.  My hands are in a different position and that makes them ache after a while – but every now and again I have a burst of speed and can see the potential which makes it all worth while.
Simply add a comfy chair in the sunshine, something to put your feet up on and a background soundtrack of birds and bees, and that sounds like a lovely summer afternoon to me!