Out of the comfort zone … onto a TV show!
It's Wednesday already!  How are you doing?
It's been a proper "back to work" week here.  My husband started back to work – he had last week off which I was very glad about because as someone who works for himself, he often "forgets" to take holidays, so last week was added to his Christmas break and he had a lovely time watching films in the afternoon, reading a novel, listening to his music … he was properly in his own Winter Haven KAL!
Small daughter was back to school last week working remotely; her school has been absolutely brilliant in terms of getting everyone online and she's having lessons that match her in-school timetable through Microsoft Teams.  We did have a debate about whether she should be texting a friend at the same time, but her argument was that the friend was in the same class, they would sitting next to each other and talking to each other during the lesson about how to do whatever it is they were doing, so it wasn't unreasonable to do the same thing even though they were all separate.
It's a tough one, isn't it?  We assume that texting on the phone is a social activity and not at all related to school work, and yet our young people are being denied their own social contact as much as we adults are, and we have certainly learnt over the last year how important social contact of any form is for our own well-being.  We've agreed that as long as her school work doesn't suffer then it's OK.  Everything has to be more flexible these days, we think, and small daughter is smart enough to know that life will return to some kind of normality one day and not making any effort at all now will only make things more difficult for her in the future.  We're very proud of how she's getting on with it – and I am sure you are very proud of your young people too.  None of this is easy.
I was back in the swing of things last week too – well, I say that but the first week back after a holiday always feels like wading through treacle for me.  It takes me a full week to get myself back up firing on all cylinders so I was glad not to have to do any of my "other job"* stuff as well as the other things on my calendar.
The big thing on my calendar last week was appearing on Yarn Lane TV.
I know, me on TV!  It was very exciting but oh my life, I have to tell you that when I started to get messages about whether I'd be interested in going on the show, my first thought was a big fat NO!
I thought that all TV studios looked like this …
Source: https://en.wikipedia.org/wiki/Television_studio
and you'll already know from the number of selfies that I post (you can probably count them on two hands!) that I am much happier behind the camera so the thought of going somewhere like this was nothing short of terrifying!
But then I had a word with myself.  I'm extremely good at telling people to be fearless with their knitting and that once you can knit socks you can do anything; I'm fantastic at encouraging my family to consider new opportunities when they're offered and I love it when someone has been brave enough to step out of their comfort zone to try something different.
It was time to take a bit of my own advice!
So I chatted with Rebecca, one of the presenters of Yarn Lane TV and the head of programmes there, and she told me that their studio doesn't look like that at all.  "All the cameras are remote," she said.  Hmm.  That didn't sound too bad.  "It'll only be you and the presenter, it won't feel like you're on TV."  That sounded even better.  I took a deep breath and we put a date in the calendar – and it felt good!  Making that first step out of our comfort zone is the hardest thing, isn't it?  But now I was booked to appear on TV and in the analogy of the swimming pool that I use when talking about my Sockalong tutorials (I created them as a ladder into the swimming pool so that you don't have to jump into the deep end), I was on my way down the steps!  By the time I'd had a few more phone conversations with Rebecca, I was an old hand at this TV malarkey (even though I'd not set foot inside the studio at this point!) and driving down to Redditch where Yarn Lane TV is based last Wednesday felt like the most natural thing in the world.  Don't worry, it was an officially approved journey as Yarn Lane TV is classed as an essential service, and everything was Covid-secure so I felt that I was very safe and I was able to keep others safe too.
I've learnt that not everywhere looks quite like you'd imagine it to from the outside and so I wasn't expecting a Disney theme park-style studio – and I'd been right!  There are a few shows that are recorded here (Sewing Street and Jewellery Maker as well as Yarn Lane) behind that unassuming door on an industrial estate in the middle of the country – you'd never guess from the outside!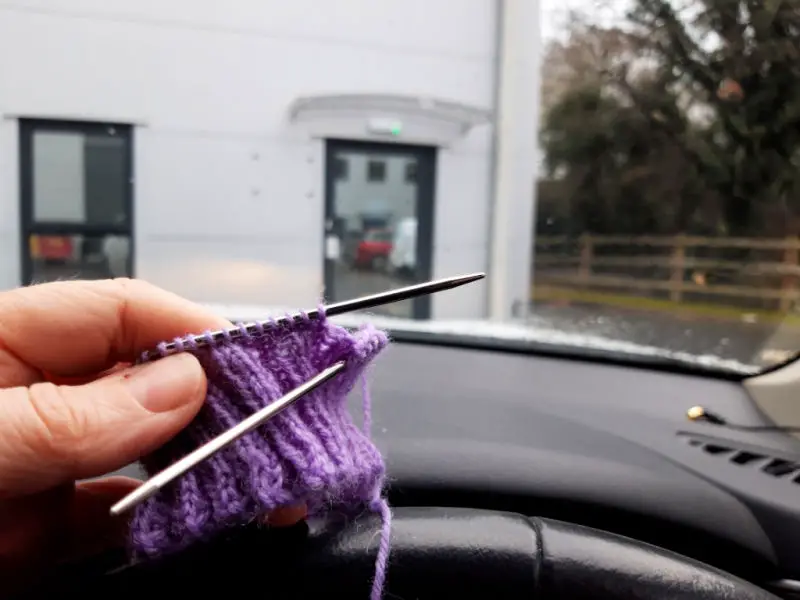 (I was a bit early so thought I'd get a few rounds of my sock in – nothing like a bit of sock knitting to calm the nerves!)
I've only got a couple of photos to show you as they asked me not to take pictures of certain things, but this is what it looks inside the studio.  This is what you can see from the TV …
Source: https://www.youtube.com
(It's very difficult to take a still screenshot from YouTube without looking like you're pulling the daftest of faces! 🤣)
You can probably see why I thought the studio would be huge, but in reality, this is what it looks like …
I think this was a Sewing Street show that was being aired, and the presenters have to jump from one craft to another within the space of minutes as the show and even the channel changes depending on their filming schedule.
The studio doesn't really look that daunting at all, does it?  I was surprised that it was the size that it was, and so dark apart from the studio lights, but that actually makes it feel less like a TV studio and more like a conversation with friend.  The oddest conversation, of course, as I don't usually go to meet a friend and demonstrate how to pick up heel stitches, but John the presenter was very easy to chat to, it was very easy to ignore the camera and I even started to get the hang of seeing where I should have my hands on the monitor in front of us – although you'll notice that I still did quite a bit of moving about!
I didn't look at how many cameras were actually there (there were more overhead as well) but all of those images are sent to another room called the Gallery where they are put together to make the show that goes out.  As it's live, you can imagine that everything has to happen very quickly, so the cameras are controlled remotely to zoom in and out depending on what is being discussed, and John had an earpiece which connected him to Hannah, the producer, who told him what she needed him to do or show at any particular time.  It all worked very smoothly and I was impressed by how little contact there needed to be to make it all happen.
Thank you so much to all of you who watched and sent in messages and photos.  There was a problem with the computer system on that particular day so they couldn't show them but I really appreciated you being there with me! 💕
If you want to watch the whole show, it's here on YouTube:
The sock patterns are Lovespoon, Carousel and Boxy Rib which were first published in a Knit Now supplement in 2019.  I think there might still be some kits left on the Yarn Lane website, and at some point I'll put the patterns up on Ravelry if anyone would like to buy a single pattern – they can't be published free on the blog as they've already been for sale previously and that wouldn't be fair on those who've already bought them.  I do need to ask you, though, irrespective of whether you'd want to buy my pattern or not, whether you still use Ravelry or whether you've moved over to using another platform to buy patterns from such as Payhip?  I don't have many for sale as I like to gift them to you, but some of them are and I don't want to put them someplace where they are inaccessible!
I was feeling pretty good when I drove home, I can tell you!  The thing about pushing ourselves out of our comfort zones is that we can't quite remember afterwards what it was that had seemed so scary in the first place – or at least, that's how it is for me.  I'm not ready to be the next host of BBC Question Time (imagine that … "stop arguing, politicians, and knit socks instead, the country will be a calmer place!") but I've made my first step outside of this particular comfort zone and I'm glad that I did.
In closer-to-home news, big daughter's ducks have discovered how to get back into their duck house on their own so they're putting themselves to bed at night.  It's very funny to watch them walk up the ramp, although probably much nicer for them than being picked up and put in through the door!  They're not particularly friendly creatures; they go everywhere as a flock of three and always quack loudly in alarm and try to hide or run laps around their enclosure when you go in to see them.  Big daughter is a bit disappointed, having seen videos of ducks being cute and cuddly on the internet, but I imagine that those ducks haven't spent the first three years of their lives as a commercial commodity.  Our ducks are certainly looking healthier than they did when we first got them and are obviously feeling more comfortable in their surroundings, but I don't know if they'll ever consider us as more than an alarming presence that brings food and fresh water.  And boy, they don't half make a mess!  Everywhere is very muddy and that brown water you can see?  That was clean about 2 minutes earlier!  Still, big daughter loves them and that's what matters, isn't it?
And look what I spotted when I was out in the garden!  Doesn't that make you feel good?
It's no secret that I love the snow and if I'm honest, I'm hoping we might get a bit more of it before the Winter is out, but it always feels so good to see the snowdrops appearing.
And this.  I'm going to leave you with this, spotted on Instagram yesterday after somebody else shared it.  It made me feel better, and I hope it does the same for you.
See you on Friday for the next Winter Haven KAL post! xx
* In case you didn't know, I have another job as well as Winwick Mum – my husband has his own business and I work with him on that.  It does eat into the knitting time but it pays the bills! 😀